| | | |
| --- | --- | --- |
| | - - - - - QUERIES - - - - - | |
You can also find more Queries on The Bigelow Bulletin Board.....................ROD 08/22/2008
Looking for some information on the Bigelow Family?
Have a question or have at Query that you would like to Post?
If you do then please E-mail your Question/Query to me
and I'll post it on this page.
Important ---- Note
Please include Your Full Name, Complete Address, and Phone Number. Please also Indicate if you would like to have your query Posted in the Forge
(No Cost)
Please give as much information about the individual you are seeking information on as you can.
I reserve the right to edit all questions/queries to conserve disk space

---

Charles Bigelow

From: Duane David E-mail wzbngpop@worldnet.att.net

Charles Bigelow was born in Canada circa 1850. Conflicting information from cousins (I'm the youngest at 41) places the birth event in Quebec or Ottawa. Information from my paternal grandmother's bible has Charles Bigelow married to Christobell Butler on May 27, 1878 in Eau Claire, Wisconsin.
Their children were Pearl (b. 26/6/1883), Gussie (my grandmother, b. 4/11/1885) and Leslie (b.30/6/1887 d. 22/9/1887). Christobell (Butler) Bigelow died 29/5/1893 in Eau Claire from cancer and supposedly received some kind of medical care in Chicago.
Charles then married (23/9/1896) Jennie Sterns (b. VT, 24/10/1871). Their children were William Glen (b.19/6/1897 Eau Claire), Charles Vernon (b. 1/7/1899 Eau Claire), Alice Adeline (m. McNutt) (b. 2/2/1902 Towner, North Dakota), Margaret (m. Magnuson) and Emily. My grandmother married in 1904 and homesteaded in North Dakota and Montana. I'm
assuming that since she didn't record any birthdates in her bible for Margaret and Emily, the family may have moved away to
California by this time. The only other information I have on Charles Bigelow is that he died in California (possibly Whittier) in
1920. Grandma did visit and decorate his grave once when she was living in Los Angeles with my uncle in the 1970s. I am most interested in finding Charles' birthdate and place, siblings, and obviously his parentage. I have supplied you with the recorded birthdates that I have in the hope that it might help someone with a missing link. I've had problems in my own research on this man, so he may be the obscure one for someone else also. I can supply much more information from my grandmother's generation on down if anyone has any interest. She lived to be101 years old by the way, and was a goldmine of information. I will be posting what I have for my own geneaology to the Internet in the very near future also. I'm working on the pages now.
Duane David
1825 Nagle Place #107
Seattle, Washington 98122
(206) 726-1420
wzbngpop@worldnet.att.net

Return to Index

---

Randal(Randel) Lee Bigelow

From: Carolyn Wright E-mail cfwright@mmind.net

I have 2 nephews who are Bigelows, father's name Randal Lee Bigelow, jr; grandfather Randal Lee sr. As far as I know, their line has been in OK for some time. Any help would be appreciated. I made an error when I mailed you the name of my nephews father and grandfather. The spelling of their name is Randel, not Randal. I also found out their great-grandfather's name is Delmar. Great-grandmother was Grace. Her maiden name is unknown to me. I hope this helps and do appreciate your time in this. Thank you, Carol Wright ..........Same family as below...................ROD

Return to Index

---

Delmer Bigelow

From: Keith Bigelow E-mail tman128@hotmail.com

My Name is Keith Bigelow of OK. My father's name is Randel L. Bigelow, jr.; married Sue Chitwood 04 May 1973. My grandfather is Randel L. Bigelow, sr.; married Wanda Ellis, date unknown. My great-grandfather is Delmer Bigelow, married Grace Wilson, date unknown. I have little information beyond what is here printed. Any help would be appreciated. Thank you, Keith.........Must be the same family as above..................ROD

Return to Index

---

John Russell 9 Bigelow

I've been chasing down some family information for quite a while now. My father is Neal William 10 Bigelow (b 28 Feb 1917), Mum's name is Maureen Eilen Mullings. Dad's father is Russell John 9 Bigelow (b 1884) who was married to Eleanor Greenwood.. Russell John 9 was the 6th child of Ebenezer 8 Bigelow (1836-1916) and Jemima (1841- 1917).. Ebenezer 8 is the 3rd child of David 7 Bigelow (b 11 Sept 1813), and Martha Jane Weaver..
I have visited the two cemeteries around Canning Nova Scotia (not too far from where I live) and have found bits and pieces of information. Would you possibly have some more information on the names above? If so, please email me and we can exchange other information if you like.
Terry R Bigelow
Phone 902 864-4125
Internet E mail terry.bigelow@ns.sympatico.ca or ve1trb@rac.ca
Amateur Radio Packet ve1trb@ve1bbs.#iparn.ns.can.na

Return to Index
---
Mary J. Bigelow

From: Marcia Buescher E-mail mbuesch@megavision.com

I am seeking Mary J. Bigelow, d/o James and Alvina (---) Bigelow. Mary was born in Preble County, Ohio in 1836. James was born circa 1810 in New York, and Alvina was born in Kentucky circa 1819.
Mary married John T. Wickard 28 Dec 1858 in Wayne County, Indiana. They resided in Henry County, Indiana, where several children were born.

Return to Index
---
Daniel Bigelow

From: Roberta Lewis email blew37@webtv.net

My name is Roberta Lewis. I am looking for a Daniel BIGELOW who may have lived in Winsor Co. Chester township in the early 1820's He married Jamima Johnson, daughter of Willard and Sarah Holbrook Johnson. I do not know the marriage date. They had two children , my great grandfater Warren Bigelow, born on June 29 1822 and Fanny Jemina Johnson Bigelow born in 1827 . Both children were born in Winsor County VERMONT. Daniel is not listed as having been born or died in Winsor Co. The earliest record of him is on June 8 1820 when he bought a farm from Silas James. Henis mentioned in a road survey dated June 30 1821 where Daniel Bigelows house is listed as a reference point. On April 20 1824 he sold a farm (a different one) to a James Henry.. He recorded the births of both of his children 20 years after they were born????, on Feb. 18 1842 in Chester Co. Vermont. This is all the data I have on him. Can anyone help? I would like this query to be posted. Thank you.
Roberta Lewis (Bobbi)
P. O. bOX 93.
Inverness Florda 34452. e-mail blew37@webtv.net

Return to Index

---

Mary E. Bigelow

From: June Cougle email jccougle@cpros.com
224 Western Ave ,
Grants Pass OR 97526
phone 541 476 7304
I am seeking information on a Mary E Bigelow b 11 Oct 1845 CT. She married 14 May 1866 Kane Ill to William Cougle.
They had 3 children born in Ill , but they moved to Danbury CT. Also for someone else seeking Russel Bigelow b abt 1834 Ind to John and Sarah Bigelow he ended up out here in Southern Oregon where family still lives. Thank you June

Return to Index

---
Hiram 7 Bigelow

From: Anna Bertram email abertram@hotcom.net
2100 Bradyville Hill Road
Bradyville, TN 37026

Looking for Hiram BIGELOW and his wife, Betty _____, from the area of Worcester Co., MA. Their daughter, Aulinda BIGELOW, married Dexter BALDWIN in Spencer, Worcester Co., MA on 8 April 1847. A Rev. Levi PACKARD

performed the service. I have no other information on these BIGELOWS. Dexter BALDWIN was born 2 Sept. 1818 to Benjamin and Betsey BALDWIN in Leichester, Worcester Co., MA. This is my direct line. Will gladly exchange information.
Return to Index

---
David Bigelow
From: Michele Bigelow e-mail mbigelow@netscape.net
Subject: David Bigelow
Born: abt. 1873, New York
This David BIGELOW is known to have been in San Diego in 1896 and 1897. He married Sarah Catherine SMITH. After a civil marriage in Mexico, they were married by Patrick Murphy, a Catholic Priest, in San Diego, CA, on April 29, 1897, according to a Marriage License and Certificate of San Diego County, issued on April 28, 1897.
Sarah Catherine SMITH gave birth to their son; James David Nathaniel BIGELOW, May 12, 1897, in San Diego, CA. Sarah Catherine died November 13, 1900, at the age of 30 years 5 months. She left the child to be raised by her parents;
Phillip Nathaniel and Catherine Lynch SMITH in San Diego, CA.
David possibly went to Bakersfield, CA. and was not seen or heard from again by the family. Having no records of David BIGELOW, we are seeking information as to who his parents were, any siblings, dates, and lineage. Any information
would be helpful, as we are now down to James David Nathaniel Bigelow, IV.
David is listed b ca 1871 NY; m Sarah Catherine SMITH. dgtr. of Phillip and Catherine ( ___ ) SMITH.from Vol II pg 552..................ROD
Michele Bigelow
1118 NE 105th St.
Vancouver, WA
email: mbigelow@netscape.net
Return to Index
---

James Wheeler Bigelow

Hello! Anybody out there? who has the lineage of Dollar Richard 9, Isaac Leatherman 8 , Lebbeus Loomis 7 , Israel 6 , Isaac 5 , Isaac 4, Isaac 3, Samuel 2, John 1 ) and me 10 (James Wheeler Bigelow)? I have the basics obtained from the Bigelow Society files -- thanks to Don Bigelow of the Whistle Hill Gang, but would like to know more of the family of Lebbeus Loomis 7, and Isaac Leatherman 8. I do know many of the descendants, my cousins, of Isaac Leatherman and am contacting and obtaining information from some of them (by snail mail and phone) that I will upload soon -- when I get it all together, preferably, before this generation is gone). I will appreciate any correspondence and would like to share information with anyone interested, especially by Internet.
James W. Bigelow
1515 Kiler Canyon Rd.
Paso Robles, CA 93446
My home page is www.home.inreach.com/jbigelow
My e-mail is: jbigelow@inreach.com
========= Return to Index
---
Daniel Bigelow
I am looking for info on a Daniel Bigelow from MO he was married to a
Katherine and was my great great grandfather. I am 41, I am not sure
when he was born.
Any info or suggestions are greatly appriciated!
Thank you,
Cammie Noel email cheznoel@earthlink.net
Return to Index

---
Jerome Hilton Bigelow
---
My grandfather, Jerome Hilton Bigelow, recently passed away and I have been attempting to "dive into the past." After his death, our family found a photograph of his mother, Grace Hillard Bigelow. The back of the picture made reference to "plaintiff's exhibit B" and included a case number. After some further searching, we learned that his mother was killed in an accident around 1928-1929. My family is eager to learn more about this incident as well as the
rest of the family
My family came from CT years ago and we know very little of the Bigelows there. When I was trying to look up who to contact in Hartford in regards to my great-grandmother I stumbled on to your page.
Do you have any suggestions as to how to gather information in regards to that case?
Matthew Beckwith and I live in Stockton, CA. e-mail Majebek@aol.com

Robert Bigelow
---

I am trying to locate a Robert BIGELOW who served with the 424th Field Artillery Battalion during the Korean War.

Edward A. Bicknell
424th Field Artillery Battalion Association
19 Myrtle Ave
South Portland, ME 04106
(207) 799-4760
E-mail: EAB424@aol.com

Return to Index


Richard Bigelow
---

I am looking for information on Richard R. BIGELOW, who married Sarah LISTON. Richard R. Biglow, born
somewhere in Canada 1843, died 1917 in Jackson Co. Iowa, married a Sarah Liston.. I just got back from Iowa and found the grave, and that he was born in Canada.
Somewhere between his death and my grandfather the (e) was attached to Bigelow
They had three children: Emma b 1872 in Salineco, MO; Francis B., b 10 Apr 1880 at Iron Hill, Jackson co, IA; and George.
see attached photo of grave...
John E. Bigelow
582 Linda Ct
Kaukauna, WI 54130
E-mail: < jackb@tpo.org >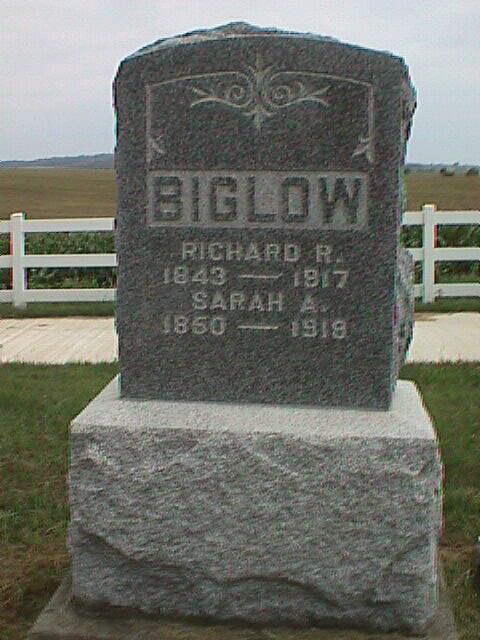 Return to Index

Persis Ellen Bigelow -Family
---

My great-great-grandparents were Persis Ellen (BIGELOW) and Elisha NEWTON. They came from the United States up river to Glen Almond, Quebec. I was told Elisha was pure Indian and a Commanche chief. I would appreciate any infor mation on them. My grandmother was Easter Ann NEWTON and my mother was Caroline Victoria BIGELOW.



Kathleen Bigelow
Box 165
Brownsburg, Quebec
J0V 1A0 Canada

Return to Index



James H 8 Bigelow
James H. Bigelow(8), born APR 1865, Meridian Twp., Ingham Co., Michigan, son of Horace E.(7) [Elisha(6), Josiah(5), Jotham(4), John(3), Samuel(2), John(1)] and Almira M. (Sturgis) Bigelow. He married Pauline Mary Dyer on 25 AUG 1892, Lansing, Ingham Co., MI.
They had two children: Irving F., born OCT 1895, MI and Blanche Irene, born 5 JUN 1903, Ingham Co., MI, died 27 SEP 1985, Macomb Co., MI
James and Pauline were divorced before 1910 and James moved to New York state. He is found with a wife Harriett, born 1889/90, NY and two children; Charles, born 1911/12, NY and Harry, born 1916, NY, in Tioga Co., NY (ED-155, sheet 15), In 1925 he is mentioned in his sisters obituary as being in Ithaca, NY.
Seeking information on what happened to James and further information on this second family. Also Information on his first son, Irving.
Mark Jamieson
218 Arcola Ct.
Bay St. Louis, MS 39520-3002
e-mail: crownfire@msn.com
Return to Index

Thomas Louis Bigelow Sr
---

Madeline Bigelow
Cond. Villas Senorial
Apt. 2001
Rio Piedras, P.R. 00926
E-Mail Address: mbigelow7@hotmail.com



Can anyone help with information on the ancestors or descendants of Mr. Thomas Louis Bigelow Sr., my paternal grandfather.

According to my father's Certificate and Record of Birth No. 26066, date 6/29/27 and issued by the State of New York, my grandfather was 36 years old, was a U.S. Citizen, and lived at 540 Willoughly Ave. My father was born on 6/22/27 at the Brooklyn Hospital, Brooklyn, N.Y.

Based on this data, I can assume my grandfather was born sometime in 1891 and according to available Marriage Certificate he was married to my grandmother, Flora Hanna, on August 27, 1924 in Kings County, Brooklyn, N.Y.

The only other information I have is that possibly he had been previously married and had a daughter by the name of Margaret. This has never been confirmed, nor do we know if he ever re-married and had any other children.

Thanks for any leads on this subject.

Sincerely,

Madeline Bigelow
Cond. Villas Senorial
Apt. 2001
Rio Piedras, P.R. 00926Tel.: (787) 761-2353

E-Mail Address: mbigelow7@hotmail.com





Return to Index


Lewis E. 8 Bigelow
Lewis E. Bigelow, son of Horace E. 7 Bigelow (Elisha 6, Jotham 4, John 3, Samuel 2, John 1) and Almira M. Sturgis, was born ca 1856 in Ingham Co. Michigan. He married Ellen Haggerty on 14 Dec 1880, Ingham County.

He moved to Oklahoma, known residence are Gurthrie, OK (1920), Lunien, OK (1923-5). I am seeking information on their children and dates of Death.

Mark Jamieson
218 Arcola Ct.
Bay St. Louis, MS 39520-3002
e-mail: crownfire@msn.com

Return to Index


Almira M. Sturgis
I am seeking information on the parents and siblings of Almira M. Sturgis, wife of Horace E. Bigelow (above) She was born 3 June 1827, Cattarougus County, New York. She married 29 Jan 1845, Batavia, Genesee County, New York. She died 12 May 1894, Ingham County, Michigan. Horace and Almira moved to Michigan in 1849.

Mark Jamieson
218 Arcola Ct.
Bay St. Louis, MS 39520-3002
e-mail: crownfire@msn.com

Return to Index


Elisha 6 Bigelow
Elisha 6 Bigelow son of Josiah 5 Bigelow (Jotham 4, John 3, Samuel 2, John 1) and Sarah Culver, was born 27 June 1796, Guiford, Windham County, Vermont; died 24 Feb 1883, Batvia, Genesee County, New York. He married Maria Reed on 8 April 1817. Maria was born 1795, died 23 November 1833. Their known children were Mary (1819 - ?), Horace E. (1821 - 1891), James R. (1823 - ? ), William Reed (1826 - 1907), others maybe Jerome, born 1797, died 4 December 1869. Family Lived in Onandaga County, Oswego County, and Genesee County, New York.

I am seeking information on Elisha, and his two wives and children.

Mark Jamieson
218 Arcola Ct.
Bay St. Louis, MS 39520-3002
e-mail: crownfire@msn.com

Return to Index

George Amos Bigelow
Requesting parentage information on my grandfather, George Amos Bigelow, b 8/25/1876, possibly in Nova Scotia?, Canada. He married Elsie C. Hedstrom of Buffalo, Minnesota on, or a few days after 4/4/1905, probably in Buffalo, or less likely in the Minneapolis/St. Paul area.

They lived in Minnesota for a few years, then moved to Libby, Montana in 1911. In Libby, George worked as a store clerk for a few years, then he worked as a lumber grader for J. Neils Lumber Company until his retirement. The J. Neils Co. was a Minnesota-based lumber company. Many lumberworkers had moved to Minnesota from Nova Scotia and Maine in the late 1800's. Some of these Minnesota lumber workers then moved to Libby from Minnesota.

George reportedly had a sister (name unknown) who settled in the Providence, Rhode Island area. She may have owned, or worked in a jewelry store, and she lived at least into the 1940's.

George died during a visit to Bend, Oregon on 7/9/1945, and he is buried in Libby, Montana. This is all I know.

If you have any information on George's parents, please help. Although I have no evidence that he ever lived in the following areas, I would still appreciate information regarding any Bigelows living in Digby County, Nova Scotia during the 1870's-1880's.


Phillip Bigelow
916 1/2 Mason Street
Bellingham, WA 98225
E-Mail: bh162@scn.org
Return to Index
Robert Purdy. born ca 1829
I am looking for any information about Robert Purdy. born ca 1829; died 1921 or 1929 in The Gore, Papineau, Quebec; buried in The Gore, United Church Cemetery; married Jane (8) Bigelow 11 March 1850 at Cushing, Quebec.

Lois (Purdy) Martin,
#23, 4001 Old Clayburn Rd.,
Abbotsford, British Columbia V3G 1C5
telephone or fax: 604 853 8570
see Jane 8 Bigelow........................................ROD

email: loal@telus.net

Return to Index


Irad Bigelow of Clinton County NY
Subject Irad Bigelow Family
Date:Time: 03/01/97
From: Diane J. Hill

I would like to correspond with anyone researching the line of Irad Bigelow of Clinton County, NY in the early 1800's. I believe my ancestor, Almira Bigelow, may be one of Irad's daughters. Almira married Lyman Parkhurst in Black Brook, NY and had a son named Irad Bigelow Parkhurst, who was born in 1843. I am a descendant of another Son Daniel, born 1845.

Diane J. Hill
4094 Balsam Drive, RR3
Cobble Hill, BC
VOR 1L0 Canada
see Irad 6 Bigelow........................................ROD

Return to Index


Dee Anne BIGELOW
Subject Dee Ann Bigelow
Date:Time: 02-21-1997- 18:53:00
From: Lisa Christiansen

I am currently researching information about my Great-Grandmother, Dee (Dea) Anne Bigelow, whose father was Abraham Lincoln Bigelow. I know she was born in Archibald, Ohio on June 3, 1893, And married Herbert Beglinger. They resided in Superior Wisconsin. She died in 1930 of Tuberculosis of the Spine. My direct line is: John Biglo 1, Samuel Bigelow 2, Thomas Bigelow 3, Abraham Bigelow (married Anna Fiske) 4, Samuel Bigelow 5, Andrew Bigelow 6, Samuel Smith Bigelow 7, Abraham Lincoln Bigelow 8, Dee Anne Bigelow 9, Elizabeth (Bertha according to church records) Jane Beglinger 10, June A. VonSuskil 11, Lisa Beth Bigelow Smiraldi Christiansen 12 (me). I have been unable to obtain anything other than what I have here about generations 4 through 9. If you can help me in any way, I would appreciate it! Especially about Dea, as my grandmother did not have her mother with her very long and would love to know more about her!

Thank you,

Lisa Christiansen
Email: Dansndoll@aol.com

Debra (Deborah) BIGELOW
Subject: Bigelow genealogy Debra Bigelow
Date: Sat, 01 Feb 1997 10:29:22 -0500
From: JOSEPH & CANDACE BUCKLEY <jbcb@sprynet.com>
& Estelle Pringle rhoward@netinc.ca

Debra (Deborah) BIGELOW b 1725, married about 1745 possibly Danbury CT. to Joel PRINDLE, died in Canada abt 1790 (as a Loyalist). The family resided in Skenesboro (Whitehall), NY, after the Seven Years War (French Indian War).

When I searched records in Danbury I was informed that they had been burned by the British in 1777, so I must resort, hopefully, with some success, to some family's genealogy.

Sincerely

Candace E Buckley, Baltimore, Md
E-Mail: jbcb@sprynet.com
and
Estelle Pringle
E-mail rhoward@netinc.ca

Return to Index

Frances Irvene BIGELOW
Subject: Frances Irvene BIGELOW
Sent: 11/14/96 2:37 PM
Received: 11/14/96 6:27 PM
From: Connie Downs, connie@akamail.com



I am trying to locate information on my great-grandmother, Frances Irvene BIGELOW (Alexander, Levi, Noah, Noah, Cornelius, Samuel, Samuel, John).

She was born 29 APR 1897 in Gibbon, Nebraska, married Mearl Thomas SCHRODER 28 SEP 1918 in Wheatland, Wyoming, and died 14 JUN 1956 in Portland, Oregon. Her parents were Alexander A. BIGELOW and Florence Irvene BENDERMINE (sp?). Any information you have would be greatly appreciated!

Connie Jean DOWNS
HC2 Box 612
Soldotna, AK 99669-9721
(907)262-6712
E-Mail : connie@akamail.com

Return to Index


MARY BIGELOW / HUYDORF
Received: 10/26/96 at 11:29 AM
From: James McKnight, mcboggs@inreach.com



I am looking for information about MARY BIGELOW. Born N.Y. ca 1830. She married Anthony HUYDORF. Had daughter Barbara Louise b. sept 21, 1853. No further information available.

Thank You,

James McKnight
1015A S. Central Ave.
Lodi, CA 95240
Ph: 209) 333-1571
E-mail: mcboggs@inreach.com

Return to Index


Joseph Warren Bigelow
Received: 10/15/96 19:55

From: Damon T. Cagle,
E-Mail: cagled@ou.edu
Snail Mail: 316C Wadsack Dr., Norman, Ok 73072

I am looking for info on Joseph Warren Bigelow b. 1824 in Maine. He married America Young in KY on his way west to Missouri. He died in Rush Hill Mo. in 1889. Don't know his parents or anything else.

Thanks

Damon T. Cagle
cagled@ou.edu





Return to Index


- Ruel H. Bigelow -
---

Date: Mon, 02 Sep 1996 10:45:59 -0700 up dated 2/98

From: Bill Scholtes
E-Mail afterhrs@skylink.net

I'm looking for information on- Ruel H Bigelow
--------------------------------------------------------
Ruel H__________ BIGELOW
DEATH: Muskegon Co, Muskegon, MI
BIRTH: ca 1893, _______________IN

MARRIAGE: 20 SEP 1920, Berrien Co, MI
TO
Alta Zelda MAIN
DEATH: _____________,____________
BIRTH: ca________1895, Berrien Co, MI

Father: Norman E MAIN
Mother: Laura Jane HYLAND

Thanks

Bill

Return to Index


- Asa6 Bigelow -
Date: Sun, 18 Aug 96 15:28:41 -0700

From:
Andrew Sidamon-Eristoff
ging@pipeline.com
129 East 69th Street
New York, NY 10021

I am a great, great grandson of John 7 Bigelow (d. 1911), the noted American lawyer, publicist, writer, and diplomat. I would appreciate your help in locating information about the descendants of his father, Asa6 Bigelow. ( David5, David4, John3, Joshua2, John1)

Andrew Sidamon-Eristoff

Return to Index


Benjamin F. BIGELOW
Date: Sun, 23 Jun 1996 22:49:11 -0400
From: Susan Mundy E-Mail at - - mmundy@mindspring.com

I have had trouble tracing this line.

Benjamin F. BIGELOW was born in VT 16-May-1817. He married Eliza WHITE and died 7-Oct-1906 in Allegany Co., NY Eliza WHITE was born 28-Feb-1824 in MA and died 13-Mar-1894 in Allegany Co., NY

They had the following children:
Jane E. BIGELOW born 1843 in MA
Estella or Sarah L. BIGELOW born 1845 in MA
Henry L. BIGELOW born 14-Feb-1847 in MA and died 9-July-1864 in Battle of Monocacy Junction
F. Agusta BIGELOW born 15-July-1850 in MA and died 26-Mar-1880 in Allegany County, NY
Frances A. BIGELOW born 1851 in MA
Willie BIGELOW born 25-Apr-1854 and died 28-Sept-1854 in Allegany Co., NY
Charles F. BIGELOW born 1861 Allegany Co., NY (twin to Jessie)
Jessie Benton BIGELOW born 1861 in Allegany Co., NY (twin to Charles)
Libbie W. BIGELOW born 20-July-1858 in Allegany Co., NY, married Frank G. DODGE and died 4-Oct-1901 in Allegany Co., NY
Libbie and Frank G. Dodge are my great-grandparents. Any information that you can provide would be appreciated.

Return to Index


Thomas Bigelow Family Montreal Canada
Subject: Re: Bigelow Information
Date: Mon, 24 Jun 1996 13:30:06 -0600
From:
Joan Say E-mail at - - - thesays@inquo.net
J1031 East 120 North
Orem, UT 84057
At the foot of the Wasatch Mountains!!

Bigelow is a line I am stuck on and don't know how to make the break through. Thomas Bigelow b. abt 1820 (there is a large Thomas Bigelow family Nail Manufacturer in Montreal, Canada, but I have not been able to connect to it.

I spent several days in Montreal. When I left a local genealogist told me I should search 'greater' Montreal for another Thomas. We have tried. Does anyone know of another Thomas Bigelow in Canada in that time frame? Family information shows him of Montreal but born in Scotland.

THOMAS LISTED AS KATE'S FATHER ON KATE'S SECOND APPLICATION OF MARRIAGE TO VORHIS, FOUND IN KOSCUISKO CO. IND OCT 7 1908

My GGMother is Kate E. Biglow. She is the only Biglow that I have any real information on.

Below are my notes on her, just in case you do know something.

--CHILDREN--
Francis Elsworth MASON
William Nathaniel MASON
Murray Joseph MASON
INDIVIDUAL DATA
Name: Kate E. BIGLOW Sex:F ID No:5
Birth: 3 Jul 1852 Place:Montreal,,Canada
Marr: 16 Jul 1871 Spouse:William H. MASON
Marr: 7 Oct 1908(div) Spouse:Alvarado VORHIS
Marr: 3 Nov 1916 Spouse:John J. MACKEY
Death: 2 Jun 1926 Place:Logansport,,Indiana
Burial:1926 Place:Columbia City,Whitley,Indiana
Kate is listed on the 1900 Census and Newspaper acct . of her husband death as Catherine, but in Family bible and Applications of marriage and on tombstone it is Kate E. or Katie. Her signature was Kate on 2nd marriage application. In Family bible which it looks like Williamfilled out in several places it is Katie E. Bigelow and another place in Bible "Biglow". Newspaper has Biglow. Marriage application also has father as Bigelow. First and third marriage recorded in family Bible. Second marriage and Divorce found hall of records State of Indiana, Kosciusko Co. Birth record found in Family Bible, and on second Marriage Application Death date on Tombstone next to Hushand Wm H. in Columbia City, Whitley Co. Indiana , South Park Cemetary, #85 - Kate E. Mason 1852-1926. Kate Biglow and Wm Mason were married in a Catholic Church in Chicago, Cook, Il Marriage license application, and deed for cemetary lot, she has Kate orKatie. Also 2nd marriage license has Bigelow. Mason Family Bible has Biglow

She is buried beside Wm Mason on lot #85 of South Park Cemetary

Birth dates: 1900 Census Jul 1852, Canada (Eng). I think this means English speaking.

Return to Index


ONTARIO BIGELOWS (c I 750-1900)
From ----
Anne Bigelow
104 Winslow Drive
Winnipeg, MB R2M 4M9
Canada

I have a special interest in early ONTARIO BIGELOWS (c I 750-1900) and have started to compile them on computer. So far I have input some 500 names collected from the sources listed below. I would appreciate any further information members could share with me on Ontario Bigelows during that time period. I would be happy to share my information with anyone who cares to write.
International Genealogical Index (IGI)
Index to the 1871 Census of Ontario
County Marriage Registers of Ontario (1858-1869)
Index to Ontario Civil Registrations
Births 1869-1898, Marriages 1873-1913, Deaths 1869-1923
most microfilmed Birth and Marriage Records as per Index above
all Forge articles
The Bigelow Family Genealogy, Vols. I and II
The Central Canadians, 1600-1900
Return to Index
---

GO TO
|| Home Page || What's New (1999) || Stories of General Interest ||
|| Bigelow Society ||

---

Modified - 08/23/2007
(c) Copyright 2007 Bigelow Society, Inc. All rights reserved.
Rod Bigelow - Director
rodbigelow@netzero.net