GENEALOGY HOME PAGE
Welcome to the Genealogy Home Page. The following are families I am tracing. If anyone has information on these families please E-Mail me.
Families:

........

........

........
.........

......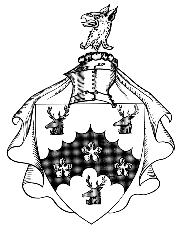 Bigelow Brennan Lesperance Haff (Hoff) Hall Rice
Links:
New Genealogy at Home https://porch.com/advice/genealogy-at-home

Genealogy Resources by Veritas Prep Suggested by Seattle Genealogy Club

U.S. Citizenship. info...Trace your Family Roots from Immigration to US Citizenship

25 Best Genealogy Sites- The Definitive Guide.


Vital Records Information - State Index


The Bigelow Society Home Page "The Place" for BIGELOW Genealogy.


There is now a Family Search site from The Latter Day Saints (LDS)........................5/10/99

Also check out a Bigelow Bulletin Board from ROD........................ 11/19/2002


Bigelow Files by Kimber Straight.


Roots Web Surname list


The Brennan Page My wife is a Brennan (nuff said).


Gagy's Page My maternal grandmother. I named her Gagy. She turned 98 in Oct 1999.


The Lesperance Page Gagy's maiden name is Lesperance.


The Rice Page The Rice Family intermarried with Bigelows (7th & 8th generations).


The Haff Page My paternal grandmother was a Haff (Hoff).


The Hall Page My paternal great-grandmother was a Hall.


My Roots Page Traces my genealogy back (Mostly Bigelow).


Bateman Genealogy. connects with Bigelows on Edward 7 Bigelow..


Fuller Page Traces my line back to the Mayflower, starting with Ezra 5's wife.


Fuller Page 2 Early ancestors of Edward Fuller (Mayflower Passenger).


Lathrop Page Family of Jane Lathrop, wife of Stephen 2 Fuller (Mayflower Passenger).


Diary of Margaret REED M. Reed's home was Schuyler Falls, same as Jared (7) etc.


Wolcott Family, by Jim Wolcott, formerly of Dannemora.


Angie's Genealogy Email: <Angie@AngieGenealogy.com> Free Genealogy lookup.


Cyndi's List of Genealogy Sites Great list of sites on internet.


The Genealogy Home Page Great source for Genealogy info.


KANSAS University Heritage Page Links to local Genealogy sites in Kansas.


RAND Genealogy Club


George Archer's Guide Genealogist's Guide to the Internet.


ROOTS Surname BIGELOW ROOTS Surname Homepage "BIGELOW"


Mayflower Web Page Great Site with Passenger List, History, etc.


Genealogy Helplist Volunteers to do Genealogy searches


GenServ Genealogical Server System


New England Historic Genealogic Society Has links to many other archives.


Ancestral Quest 2.0 Gen. Program compatible with PAF


Family Gathering Interactive site for program, chat and message board.


Family Tree Maker Deluxe Edition II "The" Genealogy Program for 1996.


Family Ties Version 4 Another Genealogy Program.


Journal of Online Genealogy Online Magazine only on Web.


Genealogy Toolbox Articles on Genealogy Research.


The Genealogical Researchers Index is online!


Internet Sleuth-Great Search Engine!


Genealogical Journeys In Time


The Master Genealogist & More


Family Tree Maker


GeneDex = (Global Genealogy Links)


Worldwide Source List


GENDEX - WWW Genealogical Index


Genealogy Resources on the Internet


Link-O-Mania


Immigration History Research Center: Sources for Genealogy


Genealogy


A Guide to Genealogy on the Web Version 1.1


Internet Ancestor Hunt Page


GNN Select Recreation: Genealogy



USA People Search: http://www.usa-people-search.com/content-genealogy-on-the-web.asp

Media Finder ( Genealogy)


Genealogy Books (Lycos)


Z.D. Net shareware


Jumbo shareware


Family Tree Maker


Family History Data Base


Family History Research Register


Mayflower Web Page ( Removed by AOL )

Lineages

Yates Surname Check


Lineages Activity Center


Lineages & Surnames


Roots Surname List Name Finder


THE WARREN FAMILY Info on the WARRENS, rel. by marriage to John Biglo

Homepages


Searchable Genealogy Links


Barrel Of Genealogy Links


Brian's Hotlist


Genealogy Chat

W.B.S. Chat Rooms Galore


Genealogy Corner Chat

Misc.

Old Time Music Online


Free Genealogy Clipart For Homepages


Index of /ftpdir/genealogy/LDStext


Genealogical Websites of Societies & CIGS - Family & Surname Associations


Civil War Info.


Telephone Directories on the Web

Countries & State Info.

Canadian Resources


Archives in Germany


OMII Genealogy Project & Kidron Heritage Center


Germany


Palantines to America


Seeking Pre-1800 German-Speaking Ancestors


Prussian-Russian-Canadian Mennonite Genealogical Resources from Manitoba.


GEOserv - a German town locator


Ontario Cemetery Finding Aid


Scotland, gathering of the clans


Welcome to Canada's geographical names!


Genealogy in the North East of Scotland and Beyond


People Search (US) - with Map Information


Genealogy's Most Wanted


National Genealogy Society


How to get Birth Certif, Marriage Licenses, Death Certificates, or Divorce Records


Treesearch Genealogy Club

Search Engines

Argo's Ancient Search Engine


Yahoo


Lycos


Metacrawler


Excite


HotBot


AltaVista

---
Rod Bigelow (Roger Jon12 BIGELOW)
Box 13 Chazy Lake
Dannemora, NY 12929

rodbigelow@netzero.net