THE HALL FAMILY
---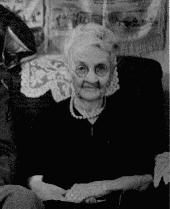 Addie HALL (picture ca 1943-1944)
Addie (Adelaide) HALL, born 4 May 1857 and died 1950 ; both Ellenburgh Center. Addie was the daughter of Cyrus L. HALL and Mary Elizabeth DREW; married Orson HOFF (HAFF) 24 Feb 1884 in Ellenburgh, Clinton, NY. I refer to my grandmother Pearl Hoff as Granny and Addie (her mother) as Old Granny. Cyrus and Mary had 2 other children.as far as I have found so far (1998). One was Ida HALL, b 1858; d 1940; married Merritt B. REED who died in 1909. Granny's Scrapbook page 5 mentions Mrs. M. B. REED of Plattsburgh shooting a deer weighing 185 lbs. It was shot at Wolf Pond not sure of date. Pearl Bigelow refers to her as Aunt Ida my mother's sister. Another was Alonzo HALL who was mentioned in Pearl's scrapbook: Mrs C.L.HALL and son Alonzo visited from Plattsburgh early 1900's page 8 Pearl's scrapbook.;
Alonzo HALL, b 1868?; d 11 Jan 1941.
Parents of Addie HALL:
Cyrus W. HALL, was born 01 July 1834 Isle La Motte, Grand Isle co, VT; died 24 September 1910 Ellenburgh Center, Clinton co, NY; buried in Riverside Cemetery but no stone?; married 15 November 1856 at Chateaugay, Franklin co, NY to Mary Elizabeth DREW; she was the daughter of Nathaniel and Betsey (?) DREW of Glover, VT. Mary Elizabeth was born 17 October 1832 at Glover, VT and died at the age of 88 , circa 1920, according to family records. Cyrus known as Cyrus W. HALL by LDS and Cyrus L. (family records). Cyrus was recorded in census 01 June 1905 Ellenburgh: Cyrus Hall m age 69; Mary E. Hall f age 72; Alonzo N. son age 39. Also listed Ida M Hall, wife of Merrett Reed.
Cyrus was the 8th child of Ira and Sally (WAIT) HALL. He was a talented man and had many interests. Took many tintype photos of family,etc in mid 1800's. Also an inventor, picture of fire escape as an example. Played drums in Sheepskin Band of Ellenburgh and picture included. Mary Drew Allen HALL 1832-1921, not sure of Allen (previous Marriage?)

Parents of Cyrus HALL:
Ira Franklin HALL, Rev., was born 8 Feb 1800 Isle La Motte, Grand Isle co, VT; died 28 Feb 1873, age 73, Ellenburgh Center, NY, buried in Riverside Cemetery. He married Sarah (Sally) WAIT on 04 March 1819 in Vineyard, Grand Isle co, VT; she was born 04 March 1804 Isle La Motte, Grand Isle co, VT; and died 17 March 1892 in Ellenburgh Depot.
Sources:
History of Town of Isle La Motte, VT; compiled by Allen L. Stratton; North Hero, VT.
LDS files Salt Lake City, UTAH;
cemetery inscriptions.
Hall Descendant Notes:
Census 16 Feb 1892 Ellenburgh, NY:
Elihu Hall m age 64
Caroline Hall f age 60
E____ Hall m age 58
Mary Hall f age 51
Lorenzo Hall m age 26
L____ Hall m age 66
Amelia Hall ___;
Subject: Hall Geneology
Date: Tue, 30 Mar 1999 13:50:20 -0800
From: "Dr. Joseph R.Hall" < jrhall@linkport.com >

Dear Rod:
My family and I have spent quite a bit of time over the years in working on our family lines. I happened onto your Ira Hall web page and of course immediately got interested in getting in touch. Our line begins here in the States with John Hall (b. 1606) from Wallingford, England. Is there any connection here? Dr. Joseph R. Hall.

---
Rod Bigelow
P. O. Box 13 Chazy Lake
Dannemora, N.Y. 12929

rodbigelow@netzero.net

BACK TO THE GENEALOGY PAGE

BACK TO BIGELOW HOME PAGE