Wilfred Gordon 9 BIGELOW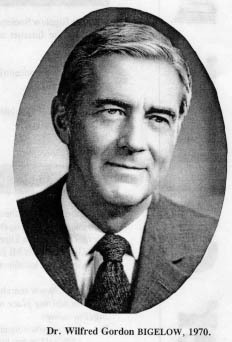 ---
1592C.1653 Wilfred Gordon 9 MD, BIGELOW, son of Wilfred Abram 8 ( Abraham 7 ( Ebenezer 6 , Amasa 5 , Isaac 4, Isaac 3, Samuel 2, John1) and Grace Ann (GORDON) BIGELOW, was born 18 June 1913. He married Ruth Jennings on 09 July 1941. He was a surgeon who invented the technique of hypothermia for open-heart surgery, and performed the world's first such procedure on a dog at the Banting Institute in 1949, was also a co-inventor of the pacemaker. He is considered father of Cardiovascular surgery in Canada and received the Order of Canada in 1981. He was inducted into the Medical Hall of Fame. Last residence, Brandon, ONT. Dr. Bigelow died 27 March 2005 in Toronto at the age of 91. (see below)

4 Children of Wilfred and Ruth (Jennings) Bigelow:

1592C.16531 John, b _____ ; d _____ ;

1592C.16532 Dan, b _____ ; d _____ ;

1592C.16533 Bill, b _____ ; d _____ ;

1592C.16534 Pixie, b _____ ; d _____ ; m Ian Currie.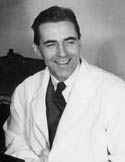 earlier photo of "Bill"

Sources:
Bigelow Society,The Bigelow Family Genealogy, Vol II, pg 426;
Howe, Bigelow Family of America;
Note 06/26/06:

From: Peter Flood < pflood@torontohydro.com >
Rod: 
I have been trying  to contact Dr. Bigelow for a while now. My efforts - even through the College of Physicians & Surgeons - have proved fruitless.
I met him twice many years ago(1963 & 1969 ??) 1st @ the wedding of Marion Turner to Peck Turner & then at the dinner party given by Marion & Peck for their friends which included Dr. Bigelow & myself. Medicine was even discussed but he had so many other interests & things to say. Peck died in 1977 & Marion several years  ago after she had married for second time Hugh ? Perry in 1988.
Peter Flood
http://www.hrsonline.org/ep-history/notable_figures/bios/wilfred_bigelow/
Subject:
dad-thought you might want to read this
Date:
Tue, 29 Mar 2005 07:41:14 -0800 (PST)
From:
Matt Bigelow <biggs44_13@yahoo.com>


Wilfred Bigelow, 91, giant of medicine
Revolutionized heart surgery
Co-inventor of the pacemaker
PHILIP MASCOLL
STAFF REPORTER Toronto Newspaper

Dr. Wilfred Bigelow was the father of open-heart surgery in Canada and one of the great pioneers in the world, say former students and admirers. The surgeon who invented the technique of hypothermia for open-heart surgery, and performed the world's first such procedure on a dog at the Banting Institute in 1949, was also a co-inventor of the pacemaker. He died on Sunday evening at age 91 in his Toronto home. "Generations of doctors across Canada and the United States and around the world were trained by him," said former student and friend Dr. Bernard Goldman, who worked with Bigelow on the staff of Toronto General Hospital for 20 years after training under him. "He was a real mentor to me ... a tremendous supporter," said Goldman, who is now professor emeritus at the University of Toronto and former chief of heart surgery and surgery at Sunnybrook Health Sciences Centre. Goldman said one of the legends that grew up around Bigelow was how he and Dr. Edouard Gagnon at the Montreal Heart Institute shared a trans-ventricular dilator. The instrument would be mailed back and forth as one or the other needed it, Goldman said. Bigelow's daughter, Pixie Bigelow Currie, said her father epitomized "passion, perseverance, energy and caring. "He was a man who loved his family, close friends, horses and dogs. He loved children ... he was delighted with his great-grandchildren," said Bigelow Currie, an actress and filmmaker. His other passion was the outdoors. He loved the environment, hunting, fishing and golf. Bigelow and his wife, Ruth, also had three sons, John, Dan and Bill. Ruth died before her husband. Dr. David Naylor, dean of the Faculty of Medicine at the University of Toronto, called Bigelow "a legendary figure in Canadian medicine and global cardiac surgery. "Dr. Bigelow was not only a pioneer in the use of hypothermia — deliberately cooling the heart — to make open heart surgery safer, he was also a leader in the development of the cardiac pacemaker, an innovation that has saved countless thousands of lives." "A superb clinician, researcher and teacher, Bill Bigelow had a truly remarkable career, and his passing marks the end of an era." Born in Brandon, Man., Bigelow studied medicine at the University of Toronto, graduating in 1938, then did his surgical residency at Toronto General Hospital. He served as a captain in the Royal Canadian Army Medical Corps during World War II, first with the Field Transfusion Unit, and as a battle surgeon with the Sixth Canadian Clearing Station in Belgium, a front-line facility. In 1946, Bigelow trained in cardiovascular surgery at Johns Hopkins in Baltimore, Md., before joining the staff at Toronto General. At the U.S. hospital, he was present at the birth of cardiac surgery in 1947, when the team at Johns Hopkins became the first in the world to make heart operations a daily procedure rather than an occasional special event. A passage in the online edition of the Canadian Medical Association Journal of June 1997, when Bigelow was inducted into the CMA's Hall of Fame, describes him as one of Canada's most distinguished surgeons and the 1992 recipient of the CMA's F.N.G. Starr Award. Among his many honours, Bigelow won a prestigious Gairdner Foundation award in 1959 for his work on hypothermia. In 1981 he was inducted into the Order of Canada. The funeral and interment will be private. A memorial service will be held at Rosedale United Church at 2 p.m. on April 23.
From: Toronto Globe and Mail, sent by Larry Baxter 03/30/05
WILFRED GORDON BIGELOW After a life lived with caring, intellectual curiosity and a profound sense of spirituality, Bill died peacefully in Toronto on Easter Sunday 2005. Born in Brandon, Manitoba, Bill was the son of Dr. Wilfred Bigelow, founder of the first medical clinic in Canada, and Grace Gordon, nurse and midwife. He was raised in an environment that encouraged a love of family, nature, music and education. Bill attended Brandon College in the early 1930's and graduated from medicine at the University of Toronto in 1938. Following this, he ser ved overseas as a Captain in the Royal Canadian Medical Army Corps, performing battle surgery on the frontlines. Returning home from the war, he furthered his studies at John Hopkins in Baltimore, Mar yland specializing in cardiac surgery. His experiences in the war with amputations due to frostbite led him to explore the principle of hypothermia. He felt strongly that to make progress in cardiac surgery, surgeons needed to open the heart and operate directly. Building on his wartime experiences, he theorized that if you could cool the heart, you could reduce oxygen requirements, inter r upt circulation and open the heart. In 1947, Bill retur ned to Toronto, and established a hypothermia research unit at The Banting Institute. There, he performed the world's first open heart surgery on a dog using the principal of hypothermia, paving the way for its use on humans. At his lab, Dr. Bigelow and his colleagues Dr. John Callaghan and Dr. John Hopps also developed the cardiac pacemaker. Bill was recognized internationally as the father of Canadian heart surgery. He received the Gairdner Foundation Award in 1959, was inducted into the Canadian Medical Association's Hall of Fame in 1997 and into the Order of Canada in 1981. Bill published numerous medical articles in scientific journals, educated aspiring cardiac surgeons from around the world, and authored two books, Cold Hearts and Mysterious Heparin. Along with his passion for medicine, Bill will be remembered for his love of the outdoors and his work on environmental causes. He ser ved as a director of the Audubon Society and the Nature Conser vancy of Canada. He spent many happy hours on the islands of Georgian Bay, and at his farm in Collingwood with his beloved family, horses and dogs. He was an avid bird watcher who went on frequent field trips with his longtime friend Dr. Br uce Charles. In his latter years, he enjoyed many happy hours with his golf buddies at the Toronto Hunt Club. First and foremost, Bill was a family man and a devoted and loyal friend to many. He was predeceased by his beloved wife of almost 60 years, Ruth Jennings, who attracted his attention as a caring and efficient operating nurse at Toronto General Hospital. He was also predeceased by his infant brother Jack, and his sisters Mary Grant (Millard), and Toody McKinnon (Keith). He is survived by his brother Dr. Dan Bigelow and his wife Dr. Sonia Saceda. As a loving father and grandfather, Bill led by example, demonstrating the importance of loyalty and the power of positive thinking and perseverance. He will be deeply missed by his daughter Pixie Bigelow Currie (Ian) of Toronto, and sons, John (Ellie) of Honolulu, Hawaii, Dan (Blanche) of Petersfield, Manitoba, and Bill of Toronto. He is remembered with affection by his grandchildren Scott Currie (Sarah), Susanne Coutts (Rob), Mathew Bigelow, and Angela Beatton (Don) and his nieces, nephews and their families. Bill adored children and was delighted with the birth of his three great grandchildren, Sophie and Chloe Coutts and Stella Currie. The family recognizes with gratitude his caregivers Alma Ablona, Beth Lara and Helen Ablona and the staff of Belmont House. The funeral and interment will be private. A memorial service will be held at Rosedale United Church on Saturday, April 23, 2005 at 2:00 p.m. Donations in his memory may be made to establish The Bigelow Lectureship, Department of Surgery, University of Toronto, The Banting Institute, 100 College Street, Room 311, Toronto, Ontario, M5G 1L5, telephone (416) 978-5148; or to continue The Bigelow Book Prize, Cardiovascular Sciences Collaborative Program, 150 College Street, Room 83D, Toronto, Ontario, M5S 3E2, telephone (416) 978-7744.
http://www.partnersoftheheart.com/break/heart3.html
correspondence with family descendant and Bigelow Society historian/genealogist.
Forge Oct 1997, Vol. 26, No. 4, page 68.
Newspaper clippings submitted by Reid Bigelow, Winnipeg MB and Dorothy Hoffman, St. Catharines, ON.
Thanks to Dr. Bill Bigelow for supplying the photograph and further information.
Related articles in Forge: Vol. 25, No. 2, April 1996. Vol. 25, No. 2 (April 1996).
Also Forge article on Wilfred Gordon: Wilfred Gordon
October 1997 FORGE: The Bigelow Society Quarterly Vol. 26, No. 4 Page 68
The decades following World War II produced Phenomenal advances in the diagnosis and treatment of disease, but none were more spectacular than the development of cardiac surgery. Indeed, the years between 1950 and 1990 have been called the golden age of cardiology. Canadians were in the forefront, led by Dr. Wilfred Gordon "Bill" Bigelow (1592C.1653), an innovative surgeon-scientist at Toronto General Hospital.
His pivotal role in hypothermia research and in developing the cardiac pacemaker were recognized in February of this year when he was named to the Canadian Medical Hall of Fame.
"I was surprised," Bigelow said, adding he hadn't expected to be named since awardees can be selected from the entire sweep of Canadian medical history.
It was through an idea that came to him in his sleep that Dr. Bigelow made medical history, by chilling patients during heart surgery - a move every other doctor thought would kill them.
He had developed an interest in hypothermia as a resident surgeon after having to amputate the frost-bitten fingers of a young man. During the time he served with the Canadian Army in World War H, he again thought of hypothermia as a way to save limbs in which the main artery had been severed.
"I was interested in cooling limbs to see if you could protect them," he said. "One day I woke up and thought why not cool the whole body."
Plunging the body into hypothennia delays deterioration of tissue when a patient's circulation has been stopped, which allowed surgeons in the 1950s to perform the first heart operations.
It was a landmark discovery that left the profession speechless when Bigelow presented his findings before the American Surgical Association in Colorado in 1950.
"When we presented the paper there was no discussion," said Bigelow, 83, retired head of thenToronto General Hospital's division of cardiac surgery.
"It was one of the very few basic medical discoveries where no one stood up to say they'd done something similar."
After 5 years of research on the effects of hypothermia on body and heart metabolism, the first open heart operation in humans was performed in 1953. It was soon widely used throughout the world and is still used today in modified forms.
Another crucial observation arose from these studies. One morning in 1949, during an experiment on hypothermia, the heart stopped and did not respond to cardiac massage. "Out of interest and desperation," Bigelow gave it a poke with a metal prod to which the heart responded with an effective contraction. It was then found that an electrical impulse had the same effect. Thus was bom the concept of an electrical pacemaker, an invention credited to Dr. Bigelow.
Considered the father of cardiovascular surgery in Canada, Dr. Bigelow has received many awards for his contribution to medicine, including the Order of Canada in 1981 and now his induction into the Medical Hall of Fame.
Newspaper clippings submitted by Reid Bigelow, Winnipeg MB and Dorothy Hoffman, St. Catharines ON. Thanks to Dr. Bill Bigelow for supplying the photograph and further information.
This Forge article originally recreated by Don Bigelow.
Related Forge articles. Vol. 25, No. 2 (April 1996).
From: April 1996 FORGE: The Bigelow Society Quarterly Vol.25, No.2
Like Erastus Bigelow in the following article, Dr. Wilfred Gordon Bigelow
(1592C.1653) is noted in Trivial Pursuit as an inventor. Although his accomplishments in
the medical field are many, he is known first and foremost for his invention of the cardiac
pacemaker, Wilfred Gordon Bigelow, better known as "Bill," was born 18 June1913
atBrandon, MB, the son of Dr. Wilfred Abram Bigelow and Grace Ann Carnegie
Gordon. Wilfred Abram was a pioneer horse and buggy doctor who
combined general practice and surgery in rural Manitoba. He is noted for the formation
of Canada's first private medical clinic, in Brandon in 1913. The Bigelow Clinic served
a large section of the West with distinction for half a century.
Bill Bigelow attended Brandon College and the University of Toronto (B.A., 1935;
M.D., 1938) and received his postgraduate training at Toronto General Hospital and
Johns Hopkins Hospital in Baltimore. On 9 July 1941, he married M. Ruffi Jennings.
Bigelow, who was to become an eminent cardiovascular surgeon, pioneered
research on the physiological effects of lowering body temperature and developed the
techniques which were later to make possible the first open-heart surgery in humans. He
credits his curiosity and interest in research to the example of his father. Dr. Wilfred
Abram taught his children an appreciation of the limits of scientific and medical
knowledge. He firmly believed that open-mindedness gives free rein to one's curiosity
and imagination.
Bigelow first became interested in hypothermia, or the artificial reduction of body temperature to slow metabolic
processes, in 1941. As a resident surgeon at Toronto General Hospital, he had to amputate the frostbitten fingers of a man
from the Canadian northwoods. In preparing for the operation, he was amazed to find how little had been written on the
subject. He expressed his concern to a professor who suggested that perhaps Bigelow should do something to redress
the problem. That challenge hit home, and eighteen years of absorbing research in that area were to follow.
During the Second World War, Dr. Bigelow served four and a half years overseas, working in English hospitals and then
a casualty clearing station in Normandy. After the war, he trained as a vascular surgeon at Johns Hopkins Hospital under
Dr. Alfred Blalock, a pioneer in heart surgery on "blue babies." This surgery was palliative; that is, the medical problem
was not
cured but a remarkable improvement in condition was brought about, allowing the children to grow and develop.
Bigelow realized, as others had, that heart conditions would never be cured until the circulation of blood through the
heart could be stopped during an operation. One night he awoke with a simple solution cool the whole body, reduce the
oxygen requirements, interrupt the circulation and open the heart. This idea undoubtedly sprang from his previous interest
in hypothermia. He could hardly wait to return to Toronto General in 1947, after completing his residency, to investigate the
effects of general hypothermia on the metabolism of the body. This was radical thinking for a fall in body temperature at that
time was considered dangerous and something to be avoided at all costs.
For the next three years, Bigelow and a research team concentrated on exploring the effects of hypothermia on animals.
In 1949, the first open-heart surgery was conducted on a dog whose body temperature had been cooled to 200C. Bigelow
and his team reported their findings for the first time in a paper presented at the meeting of the American Surgical
Association in Colorado Springs in 1950. This report was to initiate a flurry of hypothermia research around the world.
For the next fifteen years, Bigelow perfected surgical techniques involving the use of hypothermia. Although his team
did not perform the first open-heart surgery on a human, it was through their procedure that the operation was made
possible. Flushed with the success of having pioneered hypothermia but frustrated by its limitations in heart surgery,
Bigelow next turned his attention to research in hibernation. The groundhog was chosen as a true hibernating animal whose
body temperature varies with its environment and may fall as low as 30C, and also because of its size and unlimited supply
in Ontario. To attempt as full a study as possible, the only known groundhog farm in the world was set up at Collingwood,
ON. It housed as many as 400
groundhogs at one time. Hay was placed at the bottom of 400 tubes; when the sleeping animals were needed, up they
were brought through trap doors. After ten years of fascinating research on the mysteries of hibernation, Bigelow's team
was forced to admit defeat. The groundhog farm was closed and to this day the hibernators retain their secret.
As is the case with many inventions, Dr. Bigelow stumbled upon the idea for a cardiac pacemaker accidentally, during
the course of his hypothermia research. In 1949, while performing a routine experiment upon a dog whose body
temperature had been cooled to 210C., the dog's heart unexpectedly stopped beating. Cardiac massage did not restart it.
In frustration, Bigelow poked it with a probe he was holding which immediately produced a strong contraction. He poked it
again, with the
same result. After some minutes with this stimulation, the anaesthetist observed a blood pressure, indicating these were
real contractions forcibly expelling blood in a normal manner.
Thus Bigelow discovered that an outside, artificial stimulant could get the heart to beat. He was fascinated by this idea.
An electrical impulse had the same effect as a prod. This was the genesis of the first electrical pacemaker for the heart
now used as a matter of course in thousands of human patients around the world. A paper on the subject was first
presented at a Surgical Congress in Boston in October 1950. The early pacemakers were external, with the first operation
for an implant occurring in
Sweden in 1959. The introduction of the long-life, dependable lithium battery revolutionized the pacemaker by 1975.
Modern pacemakers are now outfitted with a microchip programmed to automatically shock the heart in the event of
cardiac arrest. What an amazing advancement over a few short decades!
Heart surgery was virtually nonexistent in 1946. Anyone with heart disease, regardless of their age, would die because
nothing could be done for them. Because of Bigelow's research in hypothermia and other corresponding developments,
there was suddenly an explosion of surgery on the heart in the 1950's, the golden decade of discovery in that area. Dr.
Bigelow
was instrumental in the opening of a cardiovascular investigative unit at Toronto General Hospital in 1956. The concrete
block extension was soon dubbed "Bigelow's Bungalow." This was followed in 1958 by the opening of one of the most
efficient cardiovascular surgical units on the continent, of which Bigelow became the head. He also created one of the first
university programs to tram cardiovascular surgeons.
Since his retirement as professor of surgery in Toronto, he has devoted his energy to writing and working to protect the
environment through the Nature Conservancy of Canada. He lives in Toronto and Collingwood ON with his wife Ruth. They
have four children, one daughter and three sons.
More Sources:
W G. Bigelow, Cold Hearts, Toronto. McClelland and Stewart, 1984;
newspaper clippings; biographical dictionaries.
Clippings submitted by Betty Watson, Port Elgin ON and Lois Mattson, Edmonton AB.
Related Forge articles.' July 1990, April 1991.
Other books by W. A. Bigelow.' Forceps, Fin and Feather, Toronto: 1969.
Mysterious Heparin, Toronto: McGraw-Hill Ryerson, 1990.
Cold Hearts: The Story of Hypothermia and the Pacemaker in Heart Surgery
by: Wilfred G. Bigelow
Magazine article: QUEBEC CHRONICLE-TELEGRAPH,
Weekend Magazine Quebec, February 1,1964
Bill Trent/Peter Desbarats/Andy O'Brien/Dora Albert/
Book Description: QUEBEC CHRONICLE-TELEGRAPH,Weekend Magazine Quebec, February 1,1964, volume 14 number 5, , 28 pages (27x37 cm -- 10 ½x14½") - cover :Groundhogs-articles & photos: Hibernation -The riddle that may help heart surgery ( photo of Dr. Wilfred Bigelow - total of 5 photos) by Bill Trent; They Tunnelleled to freedom in wartime Canada - second of three aprts by Peter Desbarats;Jughead The Gentle Ostrich ( 3 photos); The Marlies Learn how to skate ( photos of Ray Lockwood/Junior Marlboros by Andy O'Brien;Glynis Johns -She's Kookie Like a fox ( 3 photos) by Dora Albert; photo of Billy Daniels with shot art.; Phil Goyette New York Rangers

---
Modified - 08/04/2007
(c) Copyright 2007 Bigelow Society, Inc. All rights reserved.
Rod Bigelow - Director
< rodbigelow@netzero.net >
---
Rod Bigelow (Roger Jon12 BIGELOW)
Box 13 Chazy Lake
Dannemora, N.Y. 12929

< rodbigelow@netzero.net >

BACK TO THE BIGELOW SOCIETY PAGE

BACK TO BIGELOW HOME PAGE