Nelson Levanway 9 BIGELOW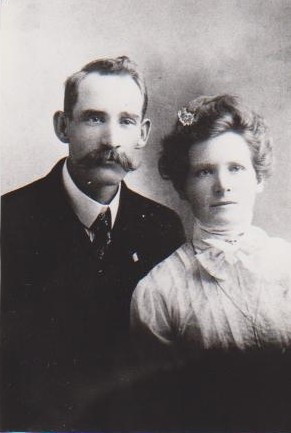 Nelson Levanway 9 Bigelow and wife Margaret Evelyn Bell.
---
15146.1149 Nelson Levanway 9 BIGELOW, son of Edwin Wallace 8 ( Henry 7 , Ephraim 6, Nathan 5 , John 4, John 3, Samuel 2, John 1) and Margaret Ann (McGRAVEN) BIGELOW, was born at Preemption, Mercer co, OH on 24 April 1874. He married 12 September 1900 Margaret Evelyn Bell. She was born 19 November 1874 Topeka, KS, the dau of Robert S. and Lucy E#llken (Holt) Bell. Margaret died 30 June 1956 Salina, KS. Nelson died 23 January 1943 Manitowoc, WI. He and his father were early Kansas Pioneers. 7 children.
A family reunion was held at Detroit Lakes, MN during the first week of August 1976. The gathering made its headquarters on Lake Melissa at a spacious cottage owned by Walter Bigelow, son of Nelson and Margaret (Bell) Bigelow, before his death in 1971. In 1976 the cottage was owned by Walter's daughter and husband, Jean and Jerry Waldera.
Nelson and Margaret had seven children who grew up on the family farm in Woodson co., KS. the six remaining brothers and sister, their children and grandchildren, and the in-laws, came to the reunion, making a total of 48 present out of a possible 65. the ages ranged from four months up to over seventy years.
Three members of the 10th generation had prepared beautiful memory books which were full of family history and autobiographies they had gathered from various members of the family. The reunion booklet prepared by Edwin Hobart 10 is in Bigelow Society Library.

Children of Nelson L. and Margaret (Bell) Bigelow:

15146.11491 Helen Maurine, b 09 July 1901 Yates Center, Woodson co, KS; d _____ ; m Raymond Martin; 3 children;


15146.11492 Lucy Evelyn, b 08 Dec 1903 Yates Center, KS; d 28 July 1985 Los Angeles, CA; m 03 Apr 1948 Matthew Kirsch, b 09 Sept 1907 MT; no children;


15146.11493 Walter Bell, b30 June 1905 Winslow, AZ; d __ 1971; m Clara Bell Gray; 1 child;


15146.11494t Edwin Hobart, b 17 May 1907 Yates Center, KS; d _____ ; m (1) 20 Aug 1927 Golda Patricia Rice; 2 sons; m (2) 18 Apr 1958 Opal Pauline "Polly" (Freeland) Mong; (see below)

15146.11495 Margaret Marie, b 08 Feb 1909 Yates Center, KS; d _____ ; m Robert Yealon; had dau: Carol Yealon, m Harold Schneider.had son Brian Eric Schneider, born 28 Mar 1976 in WI.

15146.11496 Nelson Levanway, jr, b 16 Aug 1910 Yates Center, KS; d _____ ; m Mabel Russell; 1 child;


15146.11497 Isabel Deane, b 29 Mar 1919 Yates Center, KS; d _____ ; m Robert McFadden; 1 child

Sources:
Bigelow Society,The Bigelow Family Genealogy, Vol II, pg 312;
Correspondence with descendants;
Lucy (Bigelow) Kirsch, Forge: The Bigelow Society Quarterly; Vol. 5, No. 4, p. 74, Oct 1976.
Forge: The Bigelow Society Quarterly; vol 8, pp 3-8.
Forge: The Bigelow Society Quarterly; vol 15 no 1; Jan 1986. pic above
obituaries.
---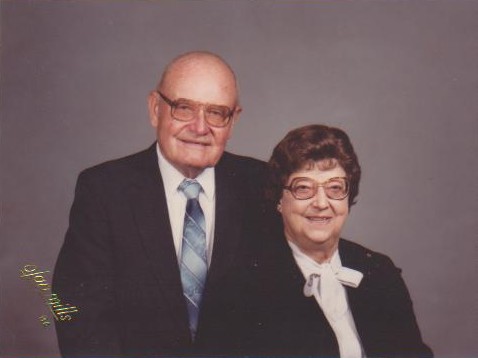 Edwin Hobart 10 Bigelow
and Opal Pauline (Freeland) Mong Bigelow
15146.11494 Edwin Hobart 10 Bigelow, b 17 May 1907 Yates Center, KS; d _____ ; m (1) 20 Aug 1927 Golda Patricia Rice (she b 28 May 1909 Buffalo, KS, dau of Bert and Margaret Rice; d 25 May 1957 El Dorado, KS, bur Buffalo, KS; 2 sons; m (2) 18 Apr 1958 Opal Pauline "Polly" (Freeland) Mong; (Edwin was Salesman for 35 yrs (Standard Oil) and 1st Lt US Army Ord. 23 Dec 1943 - 26 Aug 1946) (see below)

Children with Golda (Rice):

15146.11494.1t Edwin Bruce, b 07 July 1932 Manhattan, KS; d _____ ; m 08 Oct 1954 Carolyn L. Morris; 2 sons (FTM)
15146.11494.2t Donald Hugh, b 20 May 1937 Concordia, KS; d _____ ; m 12 Aug 1962 Billie Allene Hickman; 2 sons (FTM)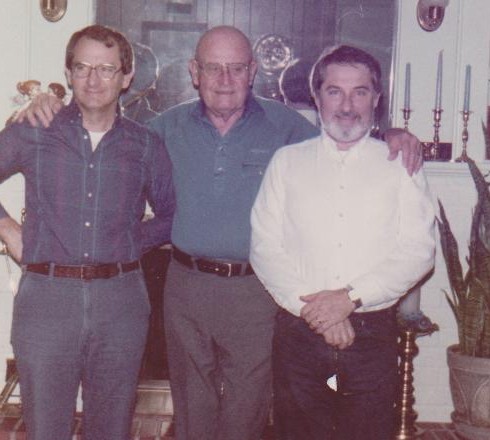 L-R son Donald Hugh father Edwin Hobart son Edwin Bruce

Edwin Hobart Bigelow was born on the family farm fifteen miles southeast of Yates Center KS. He had an intense love for nature and wild animals and birds which were plentiful in the timbers and pastures of the farm.
He attended Blume School Dist. 29, along with his brothers and sisters. The school had one room, and was one and one half miles west of the family home. He attended High School in Buffalo riding horseback to and from each day. Graduating in spring of 1925.
He farmed with his father until Aug 1927 when he decided there were better ways of making a living. On 20 Aug 1927 he married Golda Patricia Rice in Buffalo. They soon went to Manhattan KS to make their home, He worked. as partsman for the Ford Dealer there. On 7 July 1932 son Edwin Bruce was born.
In Mar 1935 he went to work for Int Harv Co. and they moved him toTopeka KS. to work as Truck Service Clerk. In Aug. 1936 Int Harv transfered him to Concordia KS. to work as assistant in the Company store there. Here, on 20 May 1937 son Donald Hugh was born.
The next move was back to Manhattan, KS to the Company store there. In Aug 1938 he took over the operation of the Dunlop Tire Store in Manhattan, until Feb 1942. In the meantime it was manditory to register for the draft for WW2. His name was No 1 drawn in Riley Co. and 243 in the national lottery.
In Feb 1942 he started to work for Standard Oil Co as operator of two of their stations in Manhattan. In Aug 1943 Standard transfered him to Atchison KS as territory salesman for NE KS. Here the family settled in, and Bruce started to school, and all was well. But in late Nov 1943 he received "Greetings From The Pres" On 23 Dec 1943 he was sworn into the army at Ft. Levanworth. After moving his family back to home in Manhattan, he was sent to Fort Knox, KY. On 13 Jan 1944. Here it was Armored School until 1st of July when he got a two week furlough. He was home two days and got a wire from Ft. Knox to report back immediately. He was sent out once to Ordinance OCS at Aberdeen Proving Ground in Maryland, for seventeen weeks of rigorous training. This was a rough assignment for a 36 yr old. He was one of 135 who graduated out of the class of 275, and was commissioned 2nd Lt. AUS on 11 Nov 1944. Then home for two weeks.
In Dec. he was assigned to the Ballistics Research Lab on the Proving Ground as Property and Supply Officer. In Jan 1945 his wife and sons joined him and they lived in an apt in Middle River, a suburb of Baltimore. He commuted to the Post. This was an enjoyable time for the famity. Weekend trips to Atlantic City, New York, Washington DC, Etc. He was released from active duty as a 1st Lt. Ord Dept. in Aug 1946. He returned to work for Standard Oil. He was sent to a territory in northcentral KS and lived in Washington, KS. In Nov 1953 the Company transferred him to El Dorado, KS to operate the Standard Oil Agency there.
This was a very enjoyable assignment where his customers were farmers and contractors. On 25th of May 1957 his wife died. Son Donald came home to live until he, Donald, joined the Air Force the next January. On 18 Apr 1958 he married Opal Pauline (Polly) Freeland Mong. She had a married daughter, who had two daughters and a son. So right fast Edwin got some girls in his family.
When his 65th birthday arrived on 17 May 1972 Standard Oil retired him as was their policy. At the same time Polly retired from many years as Medical Records Librarian at the local Hospital. This opened up a brand new life. They traveled by Air to Florida, Nassau, Hawaii, Engand , Switzerland , France, Italy, Spain and Morrocco. They also had a travel trailer which took them many places in the US, as well as Canada and Mexico. This was just right for their hobbies of golfing, fishing and exploring. Now. Feb 1985. they are enjoying the luxuries of their home in El Dorado, KS.

---
Modified - 12/08/2009
(c) Copyright 2009 Bigelow Society, Inc. All rights reserved.
Rod Bigelow - Director
< rodbigelow@netzero.net >
---
Rod Bigelow (Roger Jon12 BIGELOW)
Box 13 Chazy Lake
Dannemora, N.Y. 12929

rodbigelow@netzero.net

BACK TO THE BIGELOW SOCIETY PAGE

BACK TO BIGELOW HOME PAGE