Ephraim 6 BIGELOW
---
15146.1 Ephraim 6 BIGELOW, son of Nathan 5( John 4, John 3, Samuel 2, John 1), and his wife ___ (CURTIS) BETTS [widow of Jesse BETTS], was born 15 May 1772 at unknown place, possibly MA or VT. In the 1790's the family removed to Sandy Hook, Washington co, NY, then after the mother's death, to Peru, Clinton co, NY. There Ephraim married, circa 1794, Polly WOODRUFF. According to census, she was some years older than he, and this is confirmed by her headstone. They had four or five children, and farmed a small place near Peru. Polly died 16 December (Oct) 1831, aged 68 (63?)(see below) years. He died 25 April 1844. Buried in Port Douglas cemetery. (see below) In addition to being a farmer, he was also a carpenter.(see below)

Children of Ephraim and Polly (WOODRUFF) BIGELOW, all born Peru, NY:

15146.11t Henry Woodruff, b 09 Dec 1795; 08 Aug 1855 probably at Rock Island, IL; m (1) 11 Oct 1821 Betsy LEVANWAY; (2) 15 Dec 1823 Julia LEVANWAY; In 1850 they resided St. Lawrence co, NY, but then removed to the Quad City area. 13 or 14 children.

15146.12t Almon Woodruff., b 22 May 1798; d ____ (but after 1850); m Mary LEVANWAY; In 1850 he had 3 children living at home.

15146.13t Erastus Woodruff, b 04 Oct 1800; d 24 Feb 1862 Peru, NY; m Lavinia RANN; 6 children.

15146.14 Polly Woodruff, b 04 June 1803; d 01 Oct 1830; unmarried; and buried beside parents.

A. BIGELOW, d 16 Oct 1830, is also buried with the family above. Identity unknown, but possibly another child, or the stone may be worn so badly that it is misreading 1850 as 1830, in which case this may be Almon.

Sources:
Bigelow Family Genealogy Vol I , p 216-217;
Howe, Bigelow Family of America, p 477;
cemetery inscriptions, Peru, Clinton, NY;
US censuses 1790-1850;
Pensions record Bartlett Betts, alias Bigalow;
Bible Inscriptions of Ephraim Bigelow family;
Correspondence Schuyler Falls Historical Society;
1798 Tax assessment for Clinton co.;incomplete but interesting: http://www.rootsweb.com/~nyclinto/1798tax.html
From Peru: Ephraim Bigalow (heirs of Zacheous Newcomb, owners), 72 acres near the river Sable joining David Gorges. $312.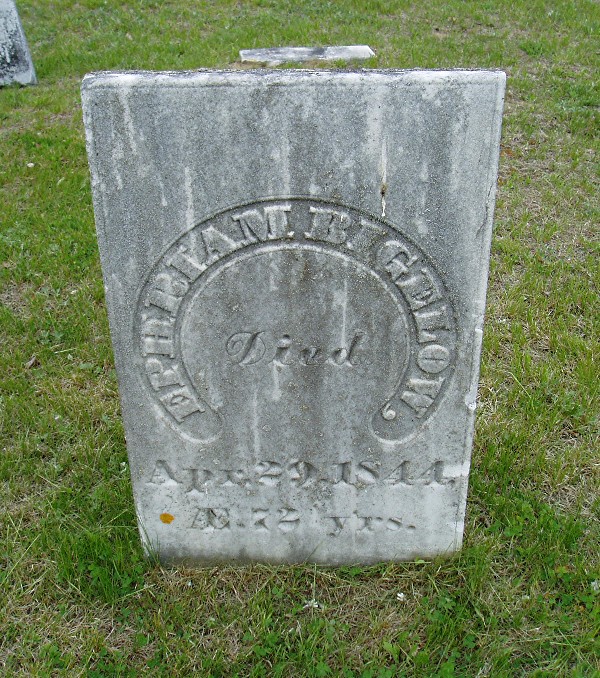 (ephra6a.jpg) Headstone in Port Douglas cemetery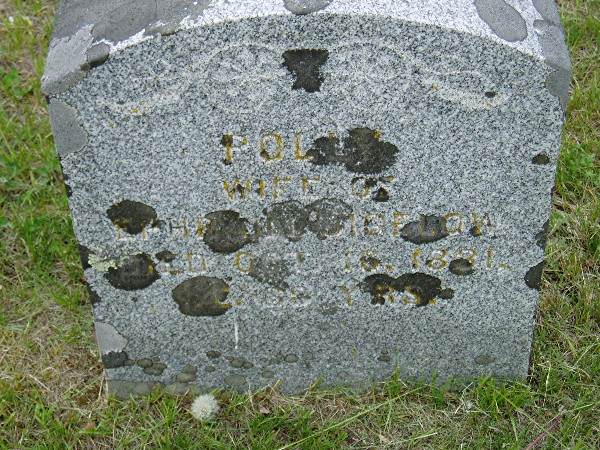 Legend2:
Polly
WIFE OF
EPHRAIM BIGELOW
DIED OCT. 16, 1831
AGE 63 YRS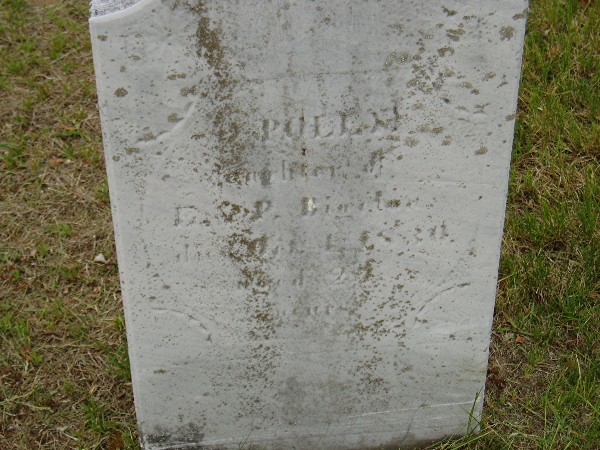 Legend3:
Polly
daughter of
D. & P. Bigelow
died Oct 1, 1830
aged 27 years....
---
Rod Bigelow
Box 13 Chazy Lake
Dannemora, N.Y. 12929

rodbigelow@netzero.net

BACK TO THE BIGELOW SOCIETY PAGE

BACK TO BIGELOW HOME PAGE