Dr. Leslie Lawson 9 BIGELOW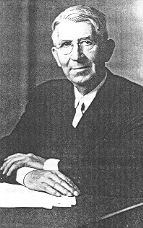 ---
15923.7B91 Dr. Leslie Lawson 9 BIGELOW, son of Timothy Lawson 8 (Timothy C. 7 , Israel 6 ,Isaac 5, Isaac 4,Isaac 3,Samuel 2, John1) Bigelow and Mary Louise (BIGELOW) BIGELOW, was born 15 April 1880 at Camp Chase, Madison co, OH. Leslie Lawson went on to medical school, his brothers joined their father at the Naughten Street firm. Leslie Lawson graduated from East High School, possibly in 1898, and then attended Ohio State University for one year. But there are no institutional records available for either of these events. Records do indicate that he spent 8 years at Harvard University, obtaining an AB in 1903, an MD in 1906 and completing a 2-year surgical internship at Massachusetts General Hospital in 1908.
Upon returning to Columbus in 1908, Dr. Bigelow married Elizabeth Cole and opened a private practice at 185 E. State Street. He soon became involved with Children's Hospital located at Miller and Fair Avenues, 'not far from his home at 45 W. Franklin Park Avenue, which he purchased in 1913. Dr. Bigelow was one of the few physicians able to afford free time to Children's Hospital while he was establishing his private practice. (see below) In 1940, Dr. Bigelow stepped down as chief of the medical staff at Children's Hospital but remained head of the surgery department until his appointment as dean of the College of Medicine in March 1942. His tenure was abbreviated by his sudden death in January 1943. OSU President, Howard L. Bevis stated that during Bigelow's tragically brief tenure as dean, he guided the college into an accelerated program that hastened the preparation of students for military service in WWII, while coping at the same time with increased demand for hospital services.

Children of Leslie L. and Elizabeth (Cole) Bigelow:

159237B911 Leslie Cole, b _____ ; d _____ ;

159237B912 Edmund Lawson, b 25 Mar 1911; d 04 Aug 1985; m _____ ; (see below)

159237B913 Robert Gibbons, b 29 July 1921Camp Chase, Madison co, OH; d _____ ; m 07 Dec ____ Marion Prentiss;


Sources:
Bigelow Society Genealogy Vol. II Page 420.
Bigelow Society historian/genealogist records.
Page 24 April 1986 FORGE: The Bigelow society Quarterly Vol. 15, No. 2
Page 49 July 2001 FORGE: The Bigelow society Quarterly Vol. 30, No. 3.
Don's article from Forge: http://bigelowsociety.com/TBHorses.html
Note:
Subject: Possible missing information for you
Date: Wed, 7 Mar 2001 20:04:02 EST
From: Alexis (Bigelow) Fangmann Tigandtheboysmom@aol.com
Someone was doing some research on my Grandfather Leslie L. Bigelow and sent my mother Marian P. Bigelow (widow of Robert G.) information from your site on Timothy C. Bigelow. It showed who he married and the numerous children he had, though many passed away early.
I note that Timothy L. 8/27/1854 married Mary Helen ___ . I presume that means you are unsure of her maiden name.
Apparently is was also Bigelow(?) I don't know from what branch - hopefully distant! But apparently the sons of Timothy had great difficulty convincing people they did know their Mother's maiden name and it was Bigelow. You might want to check that out!
All of Leslie L. Bigelow's direct family have passed away
Leslie - Edmund and Robert G. as well as Elizabeth his wife
Just thought you might be interested
Alexis (Bigelow) Fangmann


Biography of
Leslie L. Bigelow, M.D.
Leslie L. Bigelow was born in Camp Chase, Ohio, April 15, 1880, son of T. Lawson and Mary Helen Bigelow. He received his A. B. from Harvard College in 1903 and his M.D. from Harvard Medical School in 1906. He married Elizabeth Cole on June 8th, 1909 and had three sons: Edmund Lawson, Leslie Cole and Robert Gibbons. Bigelow taught at Starling-Ohio Medical College from 1912-1914. He then taught surgery at The Ohio State University Medical School, attaining full professorship in 1938. He also served as surgeon at Grant, St. Francis and Children's Hospitals, where he was Chief of Staff for 25 years. He was one of the original founders of the Ohio Society for the Prevention of Tuberculosis, a Fellow of the American College of Surgeons in 1914, the Ohio State Medical Association President from 1927 to 1928. Dr. Bigelow was also a former President of the Chesapeake and Ohio Association of Surgeons and member of the Columbus Medical Academy of Medicine. In 1942 he was appointed Acting Dean of the OSU College of Medicine. He died suddenly on January 15, 1943.
--------------------------------------------------------------------------------
Sources: The Ohio State University College of Medicine, vol. 1, 1934.
The Ohio State University College of Medicine, vol. 2, 1961.
The Ohio State Medical Association Journal, v. 39, 1943, pg.172-173.
2013 Note:
From: Betty Turner < heresbeef@aol.com >
Sent: Tue, Jan 29, 2013 8:15 pm
Subject: Chazy and Bigelow

My name is Elizabeth Turner, my Late husband''s mother, Charlotte Baker (father was Otis Baker) was born in Chazy, NY i 1889. That is all I've ever known about the town and that is because it is listed on my husband, Bill Turner's birth certificate . I just got an email on the is also i and was delighted to see your address. My granddaughter, Sarah Preston Turner Richardson is

Edmund Bigelow

's, granddaughter too. she lives in Mill Valley,CA with her husband, Jed Richardson and 2 sons. They are William Turner and Benjamin Rice and loves. Hope to hear from you and that you might know something about the Canadian connection with Chazy and tell me about the Bigelow Society. What fun!

Betty Turner

John seems to be a good early name. My Lanhams were led by John Lanham into Maryland in 1667 and Bill's Bates into Jamestown by John Bates in 1623. Those are both my husband's & my original ancestor

Response to a question I had:

Wm & Ben Richardson. /

Mother, Preston Turner Richardson, /
Mother, Nancy Bigelow Turner, / Father, Edmund Lawson Bigelow, b 03/25/1911; d 08/4/1985 /
Leslie Lawson Bigelow b 04/15/1880/ d 1/15/1943 in Columbus OH. /
Father , Timothy Lawson Bigelow, b1854, d 1916 Plant City (part of Columbus OH,/
Father, Timothy Clippinger Bigelow b 1819 d 1876,/
brother, Hosea Bradley Bigelow, b 1830, d 1871

Ed's Mother was Elizabeth Cole - Eliz Turner





---
FORGE: The Bigelow Society Quarterly Vol.30, No.3
Dr. Leslie Lawson 9 Bigelow
Timothy Lawson 8 (Timothy C. 7 , Israel 6 ,Isaac 5, Isaac 4,Isaac 3,Samuel 2, John1) Bigelow
By Samuel Meites, Ph.D., Columbus OH


In 1919, Leslie Lawson Bigelow, M.D., chief of the medical staff and of the department of surgery at the Columbus [Ohio] Children's Hospital, said that it was wrong for a community to support a charitable hospital that did not obtain the best known and most successfrl men on its staff. "Rarely will you find a medical man in our older, larger, eastern communities who has risen to and gamed a large practice who does not portion of his time and effort to charity in a free hospital," he said. Yet he retained x~ that the hospital should not become an mark for those who could afford to pay, and lose the esteem of the medical profession.
Lawson Bigelow [15923.7B91] was born 15 April 1880 at Camp Chase, Madison County, OH. His grandfather, Timothy Clippinger Bigelow (1819-1876), was a breeder of horses who eventually joined Dr. Marcus Brown of Circleville OH to form Brown, Bigelow & Co. [not in any way connected with the Minnesota firm, Brown & Bigelow, of the calendar fame] for the purpose of buying and selling horses In 1851, Dr. Brown had visited France and brought back a Percheron stallion, an outstanding draft horse of the era and a competitor of the Clydesdale. The Percheron horse became popular in Ohio and Timothy was known as one of the foremost horsemen of his time.
Timothy Clippinger Bigelow's family had moved to Plain City, Madison County, OH about 1829 from Lancaster County, PA where Timothy was born. In 1838, Timothy married Hannah Marshall and they had 12 children, of whom five survived to adulthood. Timothy became the proprietor of the Four Mile House, so called because it was four miles west of Columbus. The Four Mile House had been a traveler's lodge on the old National Road (Broad St. West, Highway 40) since pre-Civil War days. It was probably located between the current Chase and Roys Avenues. By 1880, it needed repairs, and it was razed in 1913.
Camp Chase was created on a federally leased 160- acre field south of the Four Mile House. All who lived in that area were part of the Camp Chase postal zone. At one time during the Civil War the camp housed 27,000 Union troops, and the prison held 9,243 Confederates. We have no information on when Timothy and his family moved to the Camp Chase area. It seems likely that they lived in the Four Mile House.
Timothy Lawson Bigelow, son of Hannah (Marshall) and Timothy Clippinger Bigelow, was born 27 August 1854 [d. 1915] in Plain City. On 27 March 1879, he married his cousin, Mary Bigelow [1857-1935], daughter of Mary (White) and Hosea Ballou Bigelow [15923.7E]. They had three sons, Leslie Lawson, Hosea Bradley [1881-1930] and Merrill Loving [1883-1948].
Like his father, Timothy Lawson Bigelow was a horse breeder for several years. In 1881 he became a partner in the Columbus firm of Engeike and Bigelow, a "job wagon line" that specialized in the hauling and storage of household goods, machinery, pianos, etc.; it also dealt in coal. The partnership lasted 26 years until 1907, when Timothy became the sole owner. The firm then became T. L. Bigelow & Sons Co. It was located on east Naughten Street (19, 21, 23 and later 31) with stables nearby. Timothy and his family lived at 1288 Bryden Road.
All three Bigelow sons apparently obtained advanced education. While Leslie Lawson went on to medical school, his brothers joined their father at the Naughten Street firm. Leslie Lawson went on to medical school, his brothers joined their father at the Naughten Street firm. Leslie Lawson graduated from East High School, possibly in 1898, and then attended Ohio State University for one year. But there are no institutional records available for either of these events. Records do indicate that he spent 8 years at Harvard University, obtaining an AB in 1903, an MD in 1906 and completing a 2-year surgical internship at Massachusetts General Hospital in 1908.
Upon returning to Columbus in 1908, Dr. Bigelow married Elizabeth Cole and opened a private practice at 185 E. State Street. He soon became involved with Children's Hospital located at Miller and Fair Avenues, 'not far from his home at 45 W. Franklin Park Avenue, which he purchased in 1913. Dr. Bigelow was one of the few physicians able to afford free time to Children's Hospital while he was establishing his private practice.
He served as an assistant to Dr. James F. Baldwin, then a leading surgeon in Columbus, and the founder of Grant Hospital in 1900, as well as a surgical consultant to Children's Hospital. Perhaps as early as 1911, Dr. Bigelow was a surgeon, later chief surgeon to the Hocking Valley Railroad, and surgeon with the Chesapeake and Ohio Railroad.
The board of trustees at Children's Hospital formally appointed Dr. Bigelow to the surgical staff in 1910 and later refered to him as the secretary of the medical staff. By 1915, he was chief of staff. Dr. Bigelow was also on the surgical staff at the charitable St. Francis Hospital as well as at Grant Hospital, Protestant (White Cross) Hospital, and at the Ohio State University (OSU) College of Medicine when it opened in 1914. He was actively involved in teaching surgery to OSU medical students beginning as instructor in 1914 through his time as a full professor from 1938-43, particularly at St. Francis Hospital.
Dr. Bigelow's free services to Children's Hospital were unparalleled among his medical colleagues. These services as a general surgeon and chief of staff were in keeping with the needs of a charitable institution built on the foundation of a triumvirate of extraordinary public-spirited Columbus citizens: the board of trustees, the women's board and its auxiliaries, and the volunteer physician staff.
Dr. Bigelow authored six scientific papers which were published between the years 1920-30. It is a tribute to his interests and ingenuity that he could publish any at all, in view of his responsibilities as a teacher, a practicing surgeon at five hospitals, as well as an absence of financial and physical resources needed to conduct research. His dozen or so non-scientific publications were centered on social and economic problems adversely affecting the medical profession, medical ethics and the encroachment of governmental and other institutions on private medical practice.
After 32 years of service, Dr. Bigelow gave his valedictory address at the 47th annual open meeting of the hospital's board of trustees on January 25, 1940. He said, "What we are trying to do here, all of us who work for the Children's Hospital, quite simply, is to be kind and generous to little children who are in need of help; and that in a world where there is so much unkindness and little generosity is a very important thing."
Earlier in his life before the Great Depression struck the nation in 1929, one would think that perhaps Dr. Bigelow was more an angel of wrath when he served as President of the Ohio State Medical Association in 1927-28. His long inaugural address was a bilious attack on what he perceived as the growing intrusion of state and federal government into private medical practice, its paternalistic jnj~~ngemert on "individualism" eroding doctor-patient relations, and the physician's economic stability. He deplored indiscriminate "free" services including immunizations and diagnostic tests not totally restricted to indigents, whether offered by public health agencies or free clinics. Earlier he condemned the social worker's practice of offering medical services without prior consultation with the physicians involved. His gratuitous professional services and characteristic gentle kindness and sense of humor were undisturbed by his philosophic convictions.
In 1940, Dr. Bigelow stepped down as chief of the medical staff at Children's Hospital but remained head of the surgery department until his appointment as dean of the College of Medicine in March 1942. His tenure was abbreviated by his sudden death in January 1943. OSU President, Howard L. Bevis stated that during Bigelow's tragically brief tenure as dean, he guided the college into an accelerated program that hastened the preparation of students for military service in WWII, while coping at the same time with increased demand for hospital services.

Dr. Meites is a former director of clinical chemistry at Clinical Laboratory, Chilaren's Hospital, and professor emeritus, Department of Pediatrics, at the Ohio State University College of Medicine. He gathered this material to serve as a basis for an article in the Columbus Children's Hospital publication, Pediatric Directions.

---
Modified - 02/06/2013
(c) Copyright 2013 Bigelow Society, Inc. All rights reserved.


Rod Bigelow - Director

rodbigelow@netzero. net

---
Rod Bigelow (Roger Jon12 BIGELOW)
Box 13 Chazy Lake
Dannemora, N.Y. 12929

rodbigelow@netzero. net