Lebbeus I. 9 BIGELOW
---

15923.73B2 Lebbeus I. 9 BIGELOW, son of Eliphaz Custer 8 ( Lebbeus Loomis 7 , Israel 6 , Isaac 5 , Isaac 4, Isaac 3, Samuel 2, John 1 ) and Elizabeth (HORTON) BIGELOW, was born at Dubuque, Washington, IA on 30 March (May?) 1869. He married at unknown date Priscilla Randolph. Lebbeus also known by some in family as Lebbeus S. Bigelow. He was a well known doctor in Dubuque area and died ca 22 May 1905 (see obit)

Children of Lebbeus and Priscilla (Randolph) Bigelow:

15923.73B21 Older brother of Clay, b _____ ; d ______ .


15923.73B22 Clay Wilbur 10 Bigelow, b 08 Oct 1897; d 02 Dec 1962; married with children. (see below)

Sources:
The Bigelow Family Genealogy Vol. II Page 414 child?;
Howe, Bigelow Family of America;
various censuses.


Obit 24 May 1905:
Dr. Lebbeus I. Bigelow
At 8 o'clock Tuesday evening, Dr. Lebbeus I. Bigelow of 503 Seventh avenue, Juniata; died at the Altoona hospital of paralytic dementia.
He was taken ill several weeks ago, and on April 27 was admitted to the Altoona hospital for treatment. He seemed to improve for a time, but
taking a turn for the worse a few days ago, he gradually grew worse until he passed away. His wife and brother were with him when he died.
Deceased was born at Dubuque, Iowa May 30, 1869. He was educated in his native town and when a young man decided to study medicine.
He entered the Baltimore Medical college, at Baltimore and was graduated from that institution several years ago. He came to Juanita two years
ago and located there, was building up a good practice and stood high in the esteem of the community in which he lived. He was a member of the
Lutheran church and is survived by his wife and one child. He is also survived by his mother, Mrs. Elizabeth Bigelow of Burnham, PA; three brothers:
Jesse H. and Eliphas C. Bigelow of Juniata, and William Frederick Bigelow of Belleville, PA; and two sisters: Mrs. G.E. Middlesworth of Pittsburgh
and Mrs. David Yingling of Burnham. The remains will be interred at McConnelstown. (see note)
New Note Clay:
from magazine article 1937;
SEVENTY-Five Thousand --
That's a lot of trees for one man to care for ....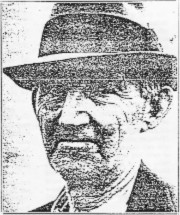 Head Forester:
Clay Bigelow
If you take the footpath up behind the Armory and hike up the mountain some eightenn hundred yards you'll enter upon a secret few people share. Or then perhaps you've heard that up on the moutainn there's a shady and sweet-smelling arboretum that streches leisurely over seven of Lehigh's Acres and that right beside it are five more acres of experimental plantation covered with maybe fifty thousand trees-the yellow pine, the jack pine, linden, pin oak, larch and a host of others. There are seventy-five thousand trees on those twelve acres and at least one of every kind that grows in Pennsylvania.
It was in 1918 that the arboretum and plantation first gained proportions. That was the year Clay Bigelow came to Lehigh as Forester. He had spent most of his life working in forestry and he's going to spend the rest of it there. At the turn of the century he was working in the middle of the state, somewhere near Lewistown. In the steps of his father and older brother he spent a good twenty years in the forest lumbering for the charcoal kilns. Working practically independently, he received wages according to his cordage. A cord is a stack of wood, ranked and cut to size, eight feet long, four feet high and four feet in the billet. Clay will tell you, and quite proudly. too, that at the end of a day's work be hauled six cords of wood out of tbe forest.
Now, at sixty-five he doesn't fear his advancing years. What he has lost in stamina he has gained in skill, and life has been kind to him, After twenty prosperous years in the forest he applied for and won a position as a forest ranger for the state of Pennsylvania. He modestly attributes his success to the fact that he worked in that region so long that he couldn't help knowing it by heart. Acting as a combination fire and game warden, he patrolled his districts for five years and had no mercy for those who were careless with matches and cigarettes, but he usually missed young fishermen who tried their luck on state property.
Then in 1918 when Lehigh, after the chestnut blight of that year, decided to start an experimental plantation of local trees to study their growth, he was sent by the state to superintend the planting. In 1919, a fire swept through that area, and in 1920 a plague of locusts produced the same results. By that time the university had realized that it needed a permanent forester to take care of their woods and so tendered the position to Mr. Bigelow. Clay however, was loath to leave the more rustic life to which he had been accustomed. He offered the position with the additional raise in pay to several of his associates, but they all refused. He
doesn't mind admitting that there was plenty of doubt in his mind when he took this position. but now he's getting used to it.
Clay has his vegetable plot, and he has his cbick­ens, buthe emphasizes that trees are hisbusiness and his hobby, and hewants nothing to do with anything lsee. He looks at his trees and tells you, "The first nine years were all right and I had plenty of time to take care of the arboretum but the next ad­ministration changed thing's
and had me on the campus more than up here, I don't mind chopping down trees, but when they make you sweep out cellars and carry papers there's not much use being a forester." There is no anger in his voice, just regret.
He doesn't like to see alumni visit the arboretum and frown at the unraked ground and uncut grass just because he has no time to care it the way he wants to. Yet you can hardly blame the university for asking him to cut down trees when you see how skillfully he does it. Take the tree in Mr. Litzenberger's backyard, for instance. There, to prevent the crushing of a young hedge, he built a crib of brush just a bit higher than the hedge, chopped some here, a little more over there, and the tree fell, It upended and bounced on the crib over the hedge onto the road, nestling nicely on a little trestle that had been set there by ............Clay Bigelow
There's an interesting story he tells about the case of the boxwood huckleberry. It seems that there are only two places in the entire world where the boxwood huckleberry grow. One is in Sussex county, New Jersey. and the other is in Perry county, Pennsylvania. On a hunting trip, a companion of Mr. Bigelow's, told him that he would send a dozen plants with which Clay could experiment. When Clay got the plants he had a pernicious desire to work on his own hook, but, as he tells it, "They saw me as I went to plant them, and they asked me what they were. I told them they were boxwood huckleberries, and that they grew in only two other places in the world. Naturally, they told me where to plant them and I did. Every one of 'em died."
The next year his friend took him where they grew and he saw them grow "as thick as hair on a dog's back", He also noticed that they grew in thickly rooted soil. When the next batch came he again planted them where he was told but not all of them. The rest were planted under what he thought were the same conditions. This time he didn't stop to argue.
If you go up to the arboretum he'll show them to you. You'l1 see the shoots be planted, struggling little things; about an inch or so high. They look
well cared for in their tight bed of peat moss. You'll get quite a shock when he tells you that they were planted ten years ago.
Just ask Clay Bigelow and you'll see many an interesting tree up in the arboretum, There's the Chinese chestnut that refuses to be consumed by the chestnut blights; the charter oak, as wide as it is long; the beautiful Colorado blue spruce. trees presented by alumni. He knows them and their habits. their common names, Latin names, and pedigrees. and if you want to know what the Latin name means, he'll tell you that, too.
If you don't like trees, argue with him about the Supreme Court. but be careful, he know"s the Constitution backwards and forewards. Or perhaps; you're interested in poetry, then go on up and match verses with him, that is, if you memorize them as he does. He likes James Whitcomb Riley, Mark Twain, and Longfellow, but he doesn't care much for Edgar Allen Poe.
And now, after nineteen years of service, he looks at the well-grown young red oak that "was about as big as my wrist when I came," and he thinks about the time on Christmas Day in 1919 when he chopped and ranked a cord of chesttnut from eleven o'clock until dinner.
Note2:
Subject: Eliphaz Custer Bigelow
Date: Wed, 20 Nov 2002 14:58:33 -0500
From: "Jessica Goss" <jeem@acsworld.net>
Hi Rod, I have been working on the Dr.Eliphaz Bigelow tree for many a year.He was my Great grandfather's Clay Bigelow's Grand-Dad. I have learned not to take any information for granted. I have all of Eliphaz Children and Photo's of their headstones and have researched all the children to the present which was a task. I have come up with a couple things that I do not agree with things I find on the net.Also I have done all Eliphaz brothers that lived in my area: Lewistown, Allensville, Belleville all in Mifflin Co.Pa. And McAlevy's Fort Huntingdon County. I was lucky enough to remember a lot of what my Great-grandfather told me,and
have found so far thru research that it has checked out.He said that thru his father's Lebbeus S..Bigelow 's,Uncle, Lebbeus Lummis Bigelow that thru the Custers it went back to General Custer and thru his Mothers side Priscilla Randolph's Bigelow to Pocahontas and this really put me on a chase but he was right.
Lebbeus S. son of Dr.Eliphaz married Priscilla Randolph Her father sure does go back to Pocahontas. But back to the Custer or Custis I believe the name is Custer.I realize that some where down the line they could have changed from Custis to Custer. All I know is what I was told and from records
in our area. He went by Eliphaz Custer Bigelow. He is buried about 15 miles from where I live. I also have a friend that her husband comes down from that side of the family and all her family records are Custer.
Also I can not match to Dr.William Gantz Bigelow his wife that is listed as a Mary Ann Baker(2ndWife). All the records state she was the daughter of Nathaniel Baker. I have turned our area upside down and can find no information on a Mary Ann Baker d/o Nathaniel. On the records I sent for:
Dr.Wm.Gantz filed for pension she is listed as Mary Jane Rakerd, and that they where married by a Rev.Hanawalt. He did exist and was a preacher in our area..At this time she gives Dr.Bigelow as her first husband, but when she files for her Widow's pension she still states no prev. marriage she must have been turned down because she filed again, and gives her name as Mary Jane Ross and that she had been married to a Ross before she married Dr.Wm.Gantz Bigelow. But on this she still gives her maiden name as Rakerd. Also on the General Affidavit the witness list has a J.F.Rakerd of Belleville and a J.E.Rakerd swearing to the truth of the Affidavit. I can find that a Rakerd had a daughter Mary Jane and the dates would fit. But can find nothing on a Mary Ann Baker. She remarried after the death of William G Bigelow to a Henery Sones in 1902. in Centre County,Pa.
I have all records on Family Tree Maker and want to send what I have to the Bigelow Society.With a copy of records, I think that the Web page is great and you do a great job, I do not know how you do it.So many Bigelow's just doing what I have done took many years and had my head spinning.
Thanks Bobbi

---

Note:
Subject: Bigelow Society
Date: Mon, 10 May 1999 21:50:43 EDT
From: PHILAPHIL@aol.com
My name is Philip Bigelow and I live in Burlington NJ. I thank you for putting such a great site for us to gather any information about our family line.
My lineage has been traced back to Jon Biglo (at least that is what I was told) and my father's family came from Belleville Pa. Do you know anything about the Bigelow family from Belleville? I am trying to authenticate the family liniage and would like to know if you may have any knowlege of this side of the family.
Any help would be appreciated. I have a photo of my father as a baby with his father, John, and his grandfather Issac.
Thank you for any help you may provide. Phil Bigelow
5/11/99 Thank you very much. I have been told the story of how Eliphaz joined the army and served at the end of the Civil War. This helps out in a big way. Thank you, Phil Bigelow

---
Modified - 11/11/2005
(c) Copyright 2005 Bigelow Society, Inc. All rights reserved.
Rod Bigelow - Director
rodbigelow@netzero.net
---
Rod Bigelow
Box 13 Chazy Lake
Dannemora, N.Y. 12929

rodbigelow@netzero.net