Charles Justus 9 BIGELOW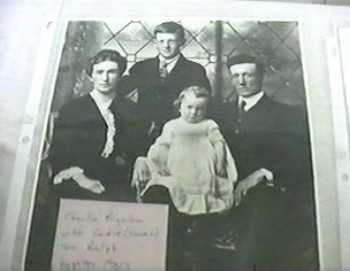 "Charles Bigelow"
"wife Sadie (????)"
"son Ralph"
"daughter Mary?"
---
1592C.1114 Charles Justus 9 BIGELOW, son of Thomas Ebenezer 8 ( Justus 7 , Ebenezer 6 , Amasa 5 , Isaac 4, Isaac 3, Samuel 2, John1) and Lois (KNOWLTON) BIGELOW, was born 02 March 1877. He married 21 January 1901 Sadie Jerusha Lyons. Charles died 12 December 1941, buried Kingsport,, NS. They had three children.

Children of Charles Justus and Sadie (Lyons) Bigelow:

1592C.11141t Ralph M., b ___ 1904; d 10 July 1984; m Priscilla Newcombe (b 29 Sept 1911; d ____ ) 3 children: including Irene Sheila (see below).

1592C.11142 Mary, b ____ ; d _____ ; Kingsport, NS? m Burnham Cox

1592C.11143 Thomas, b _____ ; d _____ ;

Sources:
Bigelow Society,The Bigelow Family Genealogy, Vol II, pg 423;
Kings Co. Historical Society 2/22/1997
Howe, Bigelow Family of America;
1996 Addenda from Loring Bigelow, Bigelow Society;
Kings Co. Hist. Soc. 2/22/1997, Lorna Evans; Addenda 1996, Bigelow Society.
photo from 2002 reunion.
Note:
obit from Larry Baxter <larrybaxter@ns.sympatico.ca> :
Irene was a member of our 2002 Reunion Planning Committee and will be sadly missed.
Her lineage is:
Irene(11), Ralph M.(10), Charles J(9), Thomas Ebenezer(8), Justus(7), Ebenezer(6), Amasa(5), Isaac(4), Isaac(3), Samuel(2), John(1)
BARKHOUSE, Irene Sheila - 61, Canning, Kings Co., passed away Monday,
April 5, 2004, in Valley Regional Hospital, Kentville. Born in
Wolfville, Kings Co., she was a daughter of the late Ralph and Priscilla
(Newcomb) Bigelow. She was a kind and loving wife, mother, grandmother
and friend. She had helped to operate the White Rose Service Station in
Kingsport for six years. She was very talented and enjoyed making
clothing, helping people and swimming. She was a member of Emmanuel
United Church in Kingsport, where she taught Sunday school for many
years, and a former member of the Royal Canadian Legion, Habitant Branch
73, Ladies Auxiliary. She is survived by her husband, Daniel Barkhouse;
sons, Gary (Evelyn), Brow Mountain Road, Kings Co.; Danny (Angela),
Meteghan, Digby Co.; Alan (Kim), John (Susan), all of Canning; sister,
Anna (Robert) Young, Hampton, N.B.; brother, John (Cheryl), Stellarton,
Pictou Co.; aunt, Lois Newcomb, Canning; six grandchildren; one
stepgrandchild; several nieces and nephews. Visitation will be 2-4, 7-9
p.m. Thursday, April 8, in W.C. Hiltz/White Family Funeral Home,
Kentville, where funeral service will be held 2 p.m. Friday, April 9,
Rev. David Hewitt officiating. Burial will take place at a later date in
Habitant Cemetery, Kings Co. Donations in memory may be made to Canadian
Cancer Society. Funeral arrangements have been entrusted to W.C.
Hiltz/White Family Funeral Home, Kentville.

---
Modified - 04/13/2004
(c) Copyright 2004 Bigelow Society, Inc. All rights reserved.
Rod Bigelow - Director
< rodbigelow@netzero.net >
---
Rod Bigelow (Roger Jon12 BIGELOW)
P.O. Box 13 Chazy Lake
Dannemora, N.Y. 12929

< rodbigelow@netzero.net >

BACK TO THE BIGELOW SOCIETY PAGE

BACK TO BIGELOW HOME PAGE