Alfred Potter 9 BIGELOW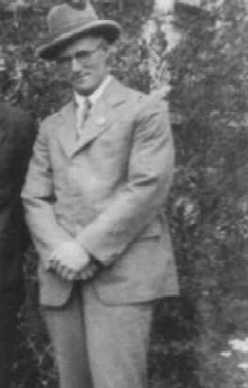 Alfred Potter 9 Bigelow at Carrott River Sask. about 1925

---
1592C.1591 Alfred Potter 9 BIGELOW, son of Samuel 8 ( Ebenezer 7 , Ebenezer 6 , Amasa 5 , Isaac 4, Isaac 3, Samuel 2, John1) and Catherine (POTTER) BIGELOW, was born at Canning, Kings, NS on 26 August 1895 and married on 23 January 1924 Hilda A. Dingham. They resided in Aylsham, Sask., where he was a school teacher. Alfred died on 06 July 1955 Nipawin, Sask. Hilda died in 1986.

Child of Alfred Potter and Hilda A. (Dingham) Bigelow:

1592C.15911 Richard N., b ___ 1924; still living in White Rock, BC; m Jean I. Brumwell (1924- ); 3 children:
1. Susan C.; m Karl Mueller; res Vancouver, BC
2. Daniel R.; res Zurich, Switzerland
3. Howard P.; m Judith Tepper; res Philadelphia, PA

Sources:
Bigelow Society,The Bigelow Family Genealogy, Vol II, pg 425 child;
see Samuel 8 Bigelow article by Don Bigelow taken from:
Forge: The Bigelow Society Quarterly Vol. 19, Nos.1, 2, & 3..1990.
family records of descendants;
Bigelow Society records.
Research by Donald J. 10 Bigelow, Lumby, B.C.

---
Modified - 10/31/2007
(c) Copyright 2007 Bigelow Society, Inc. All rights reserved.
Rod Bigelow - Director
< rodbigelow@netzero.net >
---
Rod Bigelow (Roger Jon12 BIGELOW)
Box 13
Chazy Lake
Dannemora, N.Y. 12929

rodbigelow@netzero.net

BACK TO THE BIGELOW SOCIETY PAGE

BACK TO BIGELOW HOME PAGE