Silas Leland 8 BIGELOW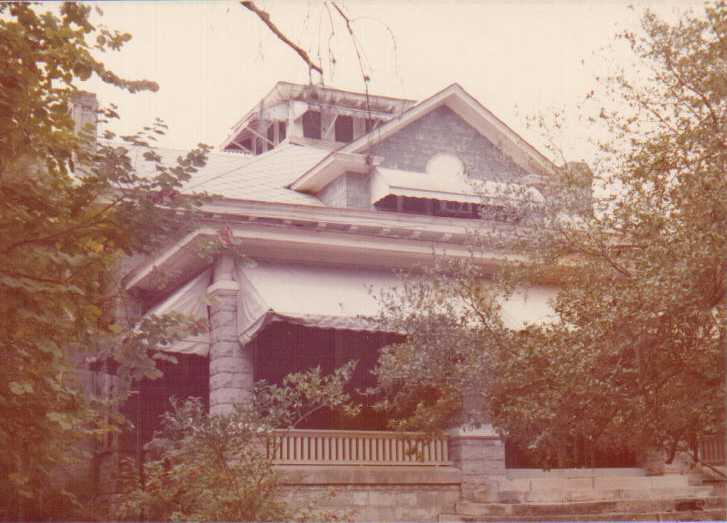 This is the Mansion built by Silas L Bigelow in 1908. It is located at 4807 Bayshore Boulevard, on the
corner of Gandy and Bayshore Boulevard. Prior to 1908, Silas lived in Ybor City. Both areas are in
Tampa, Florida area. (Photo above from 1970 era.) Find more info on Bigelow Mansion of Tampa Page 1.
---
15326.392 Silas Leland 8 BIGELOW, son of John Boynton 7 ( Silas 6 ,Solomon 5 , Samuel 4, Samuel 3, Samuel 2, John 1) and Martha ( ______ ) BIGELOW, was born 12 December 1841 Brooklyn, NY; moved to Tampa, FL where he died __ July 1913 (suicide? another source says 22 April 1913 of natural causes); He married first Mary L. ______ and married second 27 February 1900 Mattie L. Lucas; he a merchant, real estate and held city offices; 7 children. (This is information from The Bigelow Family Genealogy Vol II; see below: Note1: Note2:Note3: for info gathered by Jean Legereit and myself (photos).

Children of Silas L.and Mary L. ( __ ) Bigelow:

15326.3921 Leland J. (or "G" [obit of bro. John A.], was given in obituary of Silas Leland and Mary L. as their son by his first marriage. Nothing further known of him in Apr 2000, except that on 15 Sep 1928 he lived in Washington,D.C.

15326.3922 Mary Edith Bigelow, was second of their three children. She married Alvin Robey and 15 Sep 1928 lived in Hendersonviulle, NC.

15326.3923 John A. Bigelow, son of Silas Leland Bigelow, was born in 1878 possibly in Brooklyn, L.I., NY. At age six, he moved to Tampa, FL where he lived for 42 years when he died on 17 Sep 1928, age 50. He was president of the Tampa Sheet Metal Contractors Association, and died at hishome, 704 Louisiana Avenue. He was buried at Oaklawn Cemetery, Tampa, FL. Funeral was at the Tampa Heights methodist church, Rev. T.L.Z.Barr conducting services. The W. Windhorst lodge of Masons, of which Mr. Biglow was a member, will have charge of services at the grave in Oaklawn cemetery. He was survived by two daughters, Misses Annie and Gladys Biglow and two sons, Thomas and Frank Biglow, all of Tampa; a brother and a sister. Mrs. John A. Bigelow died 5 July 1941, age 41 and interred at Jackson Cemetery, Tampa, FL. Miss Barrett was daughter of William J Barrett of Charleston, SC. Her pallbearers were Oscar Worrall, A. D. Pimm, J. L. Brown, Garnet Robey, J.J. Beddingfield and A. E. J. Anderson. Rev. Steinmeyer officiated at her funeral and the address was given 3315 Tampa St.

Children of Silas L.and Mattie (Lucas) Bigelow:

15326.3924 Troup Lucas Bigelow, was born about 1902 in Tampa. He lived in Jacksonville as an adult when his sister, Charlotte Louise, died there at age 22 in 1926. He with his mother accompanied her body to Tampa for burial. Nothing further known of him in Apr 2000. Recently heard from grand-daughter of Troup (see below)

15326.3925 Charlotte Louise "Louise" Bigelow, was born at Tampa, Hillsboro co., FL in 1904. According to her obituary in the Tampa Tribune on 22 Jan 1926, at age 22, she had married a Bigelow and they had a daughter, Maxine. Relatives accompanied her body from Jacksonville where she died, to Tampa where she was buried. Funeral held at parlors of B.Marion Reed, burial in woodlawn cemetery. Survived by her mother, brother Troupe Bigelow and a daughter, Maxine.

Sources:
Bigelow Family Genealogy Vol II , p 72;
Howe, Bigelow Family of America.; p 318;
records of Bigelow Society historian/genealogist.
records of Bigelow Society historian/genealogist prior to 1995; Rod Bigelow and Jean Legereit 14 April and 18 April, 2000 went to Tampa and Rod took videos of the Bigelow Mansion built by Silas which still stands in beautiful condition and obtained history of the Mansion. On 18 April 2000 Jean and Otto went to the Tampa Library and copied obituaries of Bigelows including Silas and family and records of his activities in Tampa.
Note1:
15326.392 R15204, Silas L. Bigelow, son of John Boynton Bigelow, (Silas, Solomon, Samuel, Samuel, Samuel, John) and Martha Bigelow, was born December 12, 1841 in Brooklyn, L.I., NY. He attended public schools until the age of 14. For the next six years he worked as a clerk for various business establishments. During the Civil War, while stationed in VA and NC, he served as a clerk in the Quartermaster Department of the 18th Army corps. In 1865 he traveled West and worked for railroad and express companies for the next 18 years. Silas went to Tampa, Florida in 1884 from Brooklyn, L.I. He was a merchant, real estate and held city offices in Ybor City and Tampa, FL. 7 children (two died in childhood) Silas married (1) Mary L. by whom he had three children. He married (2) Mattie L. on 27 Feb 1900 and they had four children, two living in 1913. Silas died 22 April 1913 of a heart attack after a weeks illness. Bigelow Society Genealogy says he died by suicide,
but his obituary [below in total] does not indicate that. He was a highly respected citizen of Tampa. His second wife, Mattie L. (Lucas) Bigelow was born 1867 and died in Jacksonville, FL 11 July 1942 at age 75, presumably living with her son Troupe who lived in Jacksonville. She died at St. Luke's hospital in Jacksonville. She was survived by one son, Troup (this family used Biglow without the "e") Biglow, Jacksonville and a brother, Eugene H. Lucas, Tampa. The body was taken to Tampa for burial.
Sources: Howe, "Bigelow Family of America"; records of Bigelow Society
historian/genealogist prior to 1995. Vol. II, "Bigelow Family Genealogy";
Records of Bigelow-Helms Mansion, April 2000; Videos of Mansion taken by Rod
Bigelow and research 12 April 2000 and 14 April 2000 with genealogist.
Library research done by Jean Legereit 18 April 2000.
Note2:
Silas Leland Bigelow's Obituary 21 April 1913, from Tampa Tribune states:
Silas L. Bigelow, who was among the first members of the city council and who since he came to Tampa thirty years ago has become one of the city's most
prominent business men, died suddenly at his Bayshore home early yesterday morning of heart failure. As it was not generally known that he was ill, the
news of Mr. Biglow's death came as a dread shock to his army of friends, many of whom are pioneer citizens and leaders in the business life of the city.
Although Mr. Bigelow has been at his residence the past 10 days complaining that he was unwell, his condition was not regarded as serious. The weight of
seventy-one years of strenuous business life proved too great, however, and yesterday morning when he arose, he stayed up only a short while. His
weakened condition forced him to return to his bed. When he reached it his heart failed him. His death occurred at about 7 o'clock.

The funeral will be conducted this afternoon at 2 o'clock by the Rev. J. E. Skinner, pastor of the Palm Avenue Baptist church, at the late residence
[corner of Gandy Avenue and Bayshore Boulevard in Tampa]. The pallbearers will be L. C. Bigelow, J.A. Bigelow [see obit.], A. G. Robey, E. W. Monrose
and Allen Thomas. The honorary pallbearers will be C. L. Knight, A. Ramirez, W. V. Cole, A. Manarra and John Savarese. Interment will be at Woodlawn
Cemetery.

Mr. Bigelow is survived by his second wife, Mrs. Mattie Bigelow, and by five children--three by his first wife and two by his second. Those by his first
wife are Leland J., Mary Edith and John A.. Those by his second, Troupe L. and Charlotte Louise.

A native of Brooklyn, L. I., he came to Florida in the early eighties, settling first at Cedar Key. He came to Tampa in 1884, before the first
railroad had been built. When the old Plant system began running trains into Tampa he was appointed this city's first express agent. He organized the
wholesale grain firm of Ross & Bigelow in 1890, but in later years abandoned it to devote his time and energy to other endeavors. He dealt actively in
real estate and at the time of his death was secretary of the Ybor City Land and Improvement company, and secretary of the Ybor city building and Loan
Association.

Also, he was president of the Bigelow Machine company, a separate line of business with shops on the Hyde Park side of the Hillsborough River.
Up to this time increasing business began to make greater drafts upon his energy. Mr. Biglow took active interest in the city politics. He was a
member of the first city council after the consolidation of the old town of Tampa with the surrounding territory [including Ybor City] He was elected
councilman from the Fifth Ward, five consecutive times and during the last term of office was president of the city council. He was the first chief of
sanitation. When the board of public works was organized he was appointed its secretary, which honor he retained a number of years.

Funeral arrangements will be in charge of Undertaker J. L. Reed."
Note3:
The Bigelow Mansion is one of the most historically significant early twentieth century residences on Bayshore Boulevard in Tampa. In 1917 or 1919,
his second wife, Mattie, sold this "mansion" to Dr. John Sullivan Helms who had a hospital there called Bayside Hospital. After building a wing on the
west side of the Hospital in 1920, the success of the hospital required more space yet, and in 1927 Tampa Municipal Hospital, known today as Tampa General
hospital, was built in place of Bayside. Helms restored the mansion to a residence, which was home to his family until 1974. In spite of the fact that
the added west wing was removed between 1927 and 1930, some pictures indicate possibility of an addition being built during the time the Helms lived there
as a residence. Two pictures show a curved structure with white round columns in back. A picture taken before rennovation began shows a wood frame
addition in bad condition and records state there was one at the rear built with curves in compliance with a curved plate glass window. Records state
that between 1927 and 1930 the west wing that had been added during the time it was used as Bayside Hospital, was removed. Until 1965 Jack Bonaker Wilson,
(b.Lakeland, FL 2 Feb 1913-d.at the Bigelow-Helms mansion 28 Apr, 1965, age 52.) a first cousin of the Helms family, (nephew of Mrs. Dora Helms) lived on
the second floor of the attic of the mansion. He was a well-known artist who painted portraits of prominent Tampa families. After his death in 1965, the
fate of the mansion was undecided until it was purchased and restored by the Borel Saladin family of Perroy, Switzerland. It was restored in 1982-1988 as
"Bigelow-Helms Mansion". Large Banyan trees on the property were destroyed by a freeze in the 1980s and had to be removed. The original Bigelow home was
located farther back on the property than it is now and was moved nearer Bayshore Boulevard. "The Bigelow House also has architectural significance.
It was built in what is known as the Prairie style, an American school of design associated with Frank Lloyd Wright. The emphasis is on the horizontal
line with low-hipped roof and flared eaves. This style was particularly prevalent between 1905 and 1915. Also of note is the use of concrete blocks
molded to simulate rusticated stone. This technique was part of the contemporary fascination with technological innovation." House is 10,000
square feet in size. "Interior of second floor measures approx. 3,100 sq. feet and originally was divided into ten rooms. Central entrance hall is flanked by parlors on either side and terminated by the staircase. The curvilinear hall to the left leads to dining room., butler's pantry and back rooms. Rooms to the right and back of house were used as bedrooms. Rooms are panelled with a varnished yellow heart pine, milled in a corduroy pattern. Halls and stairway have a raised panel dado and cornice of hearty pine and cherry, respectively..."(Hist. & significance of Bigelow-Helms House); Silas was a member of Tampas first City Council and was 1st Chief of Sanitation in Tampa. Silas died in 1913. In 1916, his second wife, Mattie, sold the house to Dr. Helms. Mattie lived some years after Silas died. Rod
Bigelow, in charge of the internet for the Bigelow society, researched this information 12 Apr 2000 when in Tampa. He and genealogist then went to Tampa
and visited this mansion, fully restored to A-1 condition and beautiful, 14 April 2000. Carriage house is still there also, in use, and also restored. Townhouse apartments are built on property at the rear of the mansion.(April 2000).

Note: An employee at the mansion said the house sat empty for several years at one point and was considered to be "haunted." After some discussion, it
was discovered that, besides having been a hospital for eight years, the artist, Jack Bonaker Wilson died in the mansion in 1965 at age 52. She said
some employees working at the mansion since, have had a priest come and bless the house before they would work there. She has never met the "supposedly
illusive ghosts," nor has anyone else she knows of.

Sources: Records of the Bigelow-Helms mansion in Apr.2000; Reports to authorities in order to save the mansion from demolition 1982-1988 and
restoration records; (III.) Statement of Significance of Bigelow-Helms House--(gives Dr. Helms middle name as Sullivan);Research by Dr. L. Glenn
Westfall, in "Bigelow Mansion a Gold Mine of Local History" which states in part..."history of Mansion and its owners in June 1980 in an effort to place the home on Tampa's list of historical buildings and avoid demolition by developers, stating home sold to Dr. John Helms in 1916 (other dates are 1917 and 1919 in other records). (Dr. Helms used it as Bayside Hospital for eight years so the 1919 date is when it was started as a hospital and could have been purchased in 1916 or 1917); All material related to research and designation of Bigelow-Helms House in on file at -- Historic/Tampa Hillsboro County Preservation Book, 2009 North Eighteenth St., Tampa 33609, Phone 813-272-3843. In Apr 2000, 4807 Bayshore Boulevard is called Bayshore Partners, a general partnership comprised of Tampa Bay Resources, Inc. and Robert Borel-Saladin purchased the property in August 1989 and restored the mansion to as close to original state as possible. Present owner is Lee Scarfone (1988). See photo: Adobe Photoshop5, New Briefcase: biglmansn.jpg.
Note4:
Subject: membership
Date: Thu, 06 Jul 2000 09:39:49 -0400
From: Lois Crew < lcrew@mailer.fsu.edu >
I am interested in becoming a member of the Bigelow Society. Do I need to fill out an application form? Please let me know what I should do. My name is Lois Barkoskie Crew and I live in Tallahassee, Florida. My mother was Beverley Gray Biglow. She was the daughter of Troup Lucas Biglow and he was the son of Silas Leland Biglow of Tampa who built the Biglow-Helms mansion on Bayshore Boulevard. I have quite a bit of information on this branch of the family including the family Bible of John Biglow dated 1840 which lists many births, deaths and marraiges. Thank you.
email: jlcrew39@hotmail.com.......................................
Find more info on Bigelow Mansion of Tampa Page 1.

---
Modified - 06/20/2007
(c) Copyright 2007 Bigelow Society, Inc. All rights reserved.
Rod Bigelow - Director
rodbigelow@netzero.net
---
Rod Bigelow
Box 13 Chazy Lake
Dannemora, N.Y. 12929

rodbigelow@netzero.net