Reuben 8 BIGELOW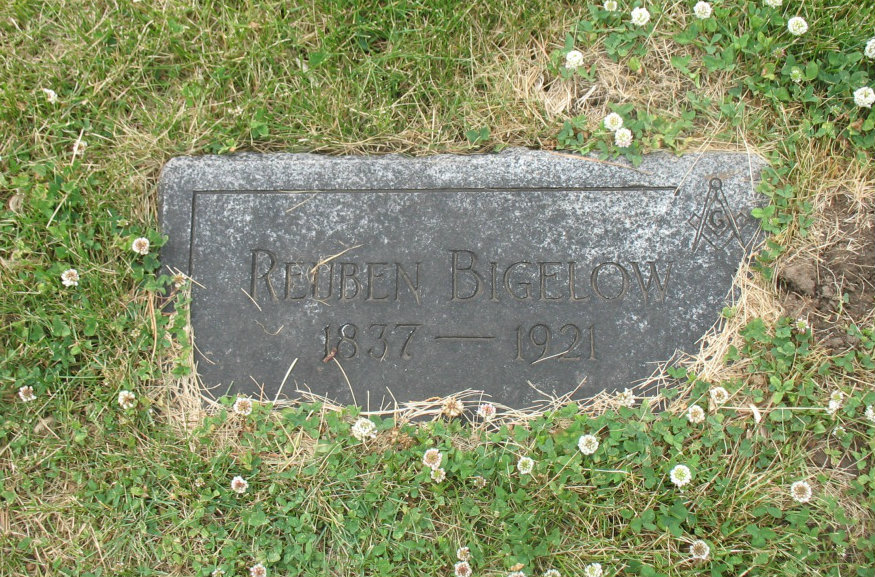 Graceland Park Cemetery; Omaha, Douglas co., NE
---
15337.12B Reuben 8 BIGELOW, son of Levi 7 ( Noah 6 , Noah 5, Cornelius 4, Samuel 3, Samuel 2, John1) and Anna (DODGE) BIGELOW, was born at Leicester, Livingston co., NY on 28 September 1837. He married at unknown date Sophronia Sturdevant. She was the daughter of Joel STURDEVANT-and Sarah (Chapman) Sturdevant, born 23 January 1845 at Hobart Lake, IN. Reuben was a carpenter and moved his family into WI, then into IA in 1871 and later to Omaha, NE 1879 where they both died. Reuben died 29 March 1921 at Omaha, Douglas co, NE. Sophronia died 02 April 1925 (21?) Omaha, NE.

Children of Reuben and Sophronia (Sturdevant) Bigelow:

15337.12B1 Eliza, b ___ 1863 Janesville, Rock co, WI; d _____ ; Flora Eliza (see below)

15337.12B2 Annie, b ___ 1866 Janesville, Rock co, WI; d 1937 ; m Alvernon Thurlow(1857-1930)

15337.12B3t Ira E., b 27 May 1868 Janesville, Rock, WI; d 24 Dec 1947 Bayard, NE; m 1895 Esta Ford; 5 children, (see below)


15337.12B4 Perry Reuben, b 23 Feb 1882 Omaha, NE; d 23 July 1968 ; m Inez Nichols; He was a "counter" at Union Stockyards; 1 child known.(see below)


Sources:
Bigelow Society,The Bigelow Family Genealogy, Vol II, pg 379;
censuses NY, IN, WI, IA;
Bible records; vital records IA;
correspondence between descendants and Bigelow Society historian/genealogist;
Ord, Valley, NE courthouse and probate records of Alexander.
Pat bigelow...Bigelow Family Society and Family Bible of Merle (Bigelow) (Mitchell) Finck. The Levi Bigelow family moved from Rock, WI to Iowa in 1871 then Reuben moved to Omaha, NE.

Note:
Name: Brenda Snyder sgladwell@uswest.net
From: Kent, WA
Time: 2000-08-31 05:37:38
Comments: Descendent of Flora Eliza Bigelow daughter of Reuben 8, Levi 7, Noah 6, Noah 5, Cornelius 4, Samuel 3, Samuel 2, John 1;
More:
Date: Sun, 14 Oct 2001 13:17:05 -0700
From: "Stan Gladwell" < sgladwell@uswest.net >
---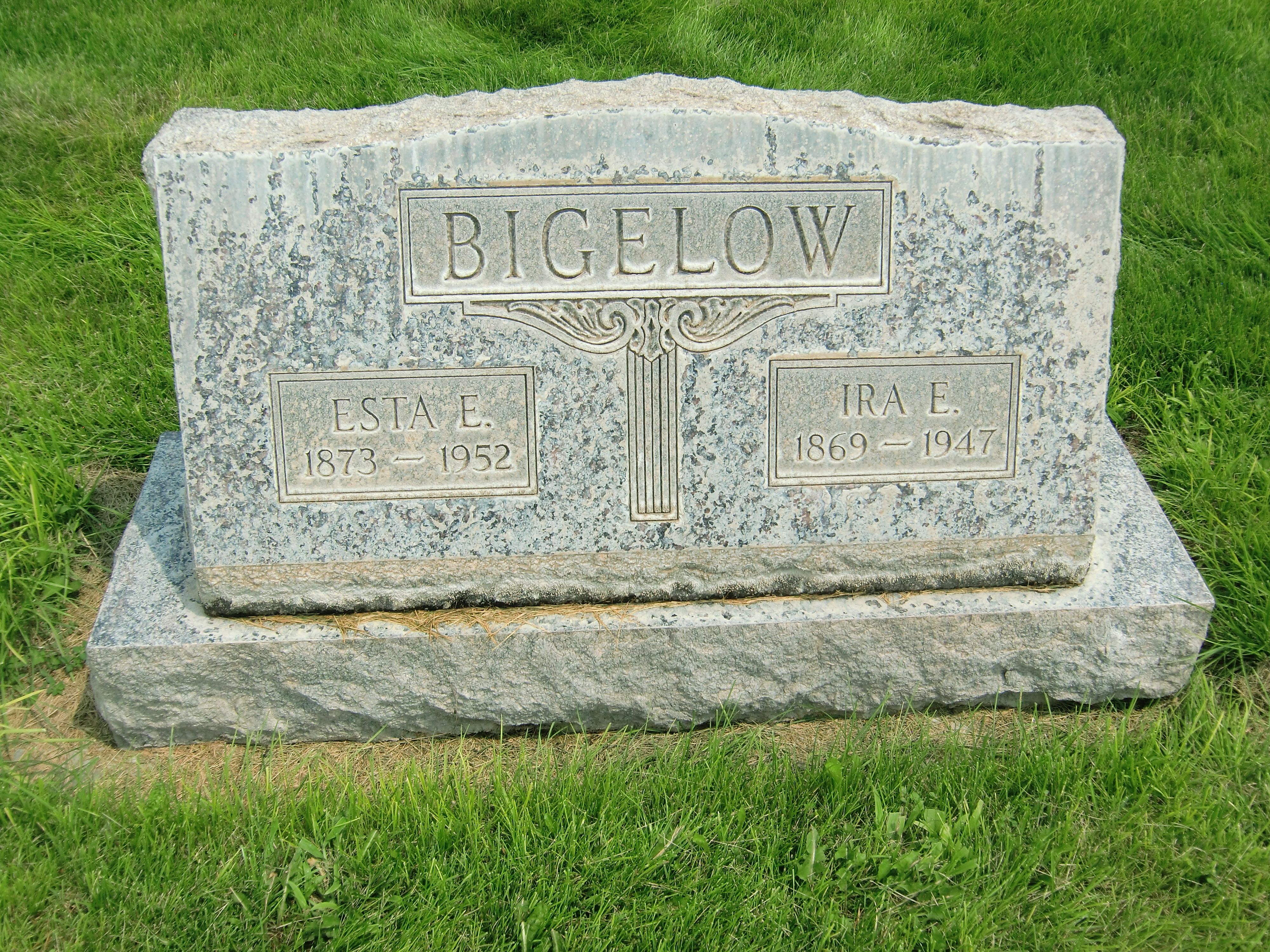 ---




15337.12B3 Ira E., b 27 May 1868 Janesville, Rock, WI; d 24 Dec 1947 Bayard, Morrill co, NE; m 1895 Esta Ford at Kearney, NE; Esta was the dau of Samuel and Angelina Ford; Ira was Treasurer of Tri-State Ditch Project for 3 years; In 1871 family moved to Iowa and 1879 to Omaha and 1910 to farm in Morrill co; 5 children, resided in Bayard, NE;

Children of Ira and Esta (Ford) Bigelow:

15337.12B31 Helen, b _____ ; d _____ ; m ____ Slatir (Slater?);
15337.12B32 Zana, b _____ ; d _____ ; m _____ Warren; res Reington, NE
15337.12B33 Pearl A., b 24 Jul 1897 ; d 07 Aug 1991 (aged 94) ; m (1) William John "Bill"Harms; m (2) Lloyd "Bus" Lyman; res Bayard, NE
15337.12B34 Vera, b _____ ; d _____ ;
15337.12B35 Ray O., b 15 Nov 1908 ; d 04 Oct 1912 (aged 3) ;

---
15337.12B4 Perry Reuben 9 Bigelow, b 23 Feb 1882 Omaha, NE; d 23 July 1968 ; m Inez Sarah Nichols (1887-1973); He was a "counter" at Union Stockyards; Inez was dau of William Wesley Nichols and Geneva Inez (Charter ) Moore.
1 child known.
15337.12B41 Glen W. Bigelow, (1904-1989); m Sudie Florance Moore (1913-2001) dau of James Logan and Polly (Duff) Moore;
This additional info from Tamara Artz-Peterson and Bigelow World Facebook page.

---
Modified - 11/14/2021
(c) Copyright 2021 Bigelow Society, Inc. All rights reserved.
Rod Bigelow - Director
< rodbigelow@netzero.net >
---
Rod Bigelow (Roger Jon12 BIGELOW)
Box 13 Chazy Lake
Dannemora, N.Y. 12929

< rodbigelow@netzero.net >