Melvin 8 BIGELOW
---

16251.25A Melvin 8 BIGELOW, son of James 7 ( James 6 , James 5 , James 4 , Jonathan 3 , Joshua 2, John 1), and Louisa (ABBE) BIGELOW, was born at St. Albans, Somerset co., ME on 08 June 1845. Melvin enlisted at the age of 18 to fight in the Civil War for the Union (see below). Melvin married three times. The first marriage was on 05 January 1867 to Caroline P. Harris who was born 29 June 1846 and died 15 December 1879. His second marriage was in October 1882 to Clare Baker who was born 08 September 1849 and died on 31 January 1896. His third marriage was to Emma Upham. Melvin died on 16 February 1909 at St. Albans.

Children of Melvin and Caroline (Harris) Bigelow:

16251.25A1 Alfred Payson, b 30 June 1870 St. Albans; d __ 1951 ; m 22 Oct 1890 Mabel H. Frost; 1 child: Gladys Maud Bigelow, b 20 June 1892 St. Albans, ME.

16251.25A2 Jennie Caroline, b 09 Aug 1874 St. Albans; d 20 June 1890;

16251.25A3 William Melvin, b 24 June 1876; d __ 1939 ; m_____ Katherine Smith (b 16 June 1875 England; d 1971); Res. Pittsfield,, ME.
They are both buried in Saint Albans Village Cemetery; Saint Albans, Somerset co, ME below: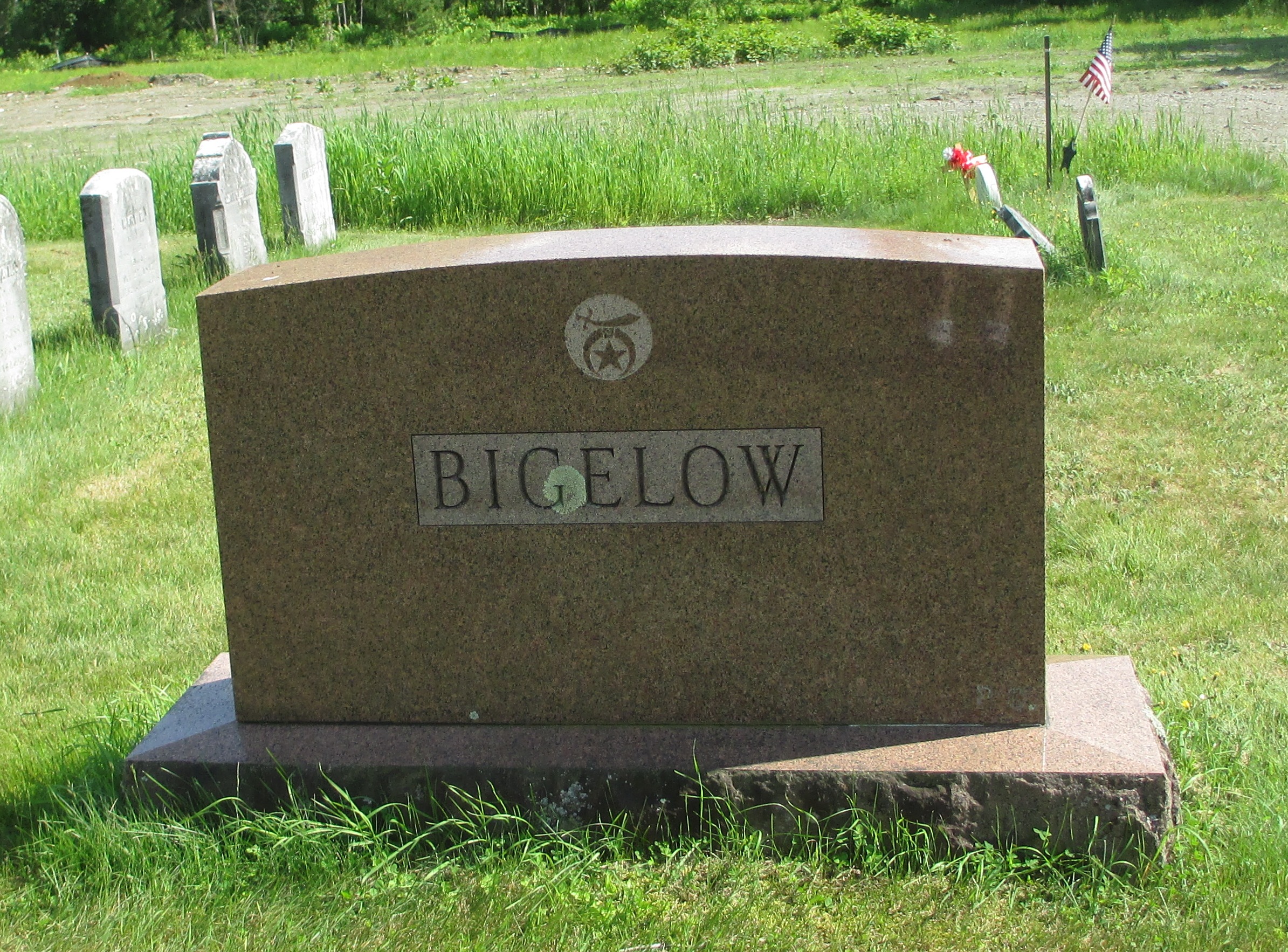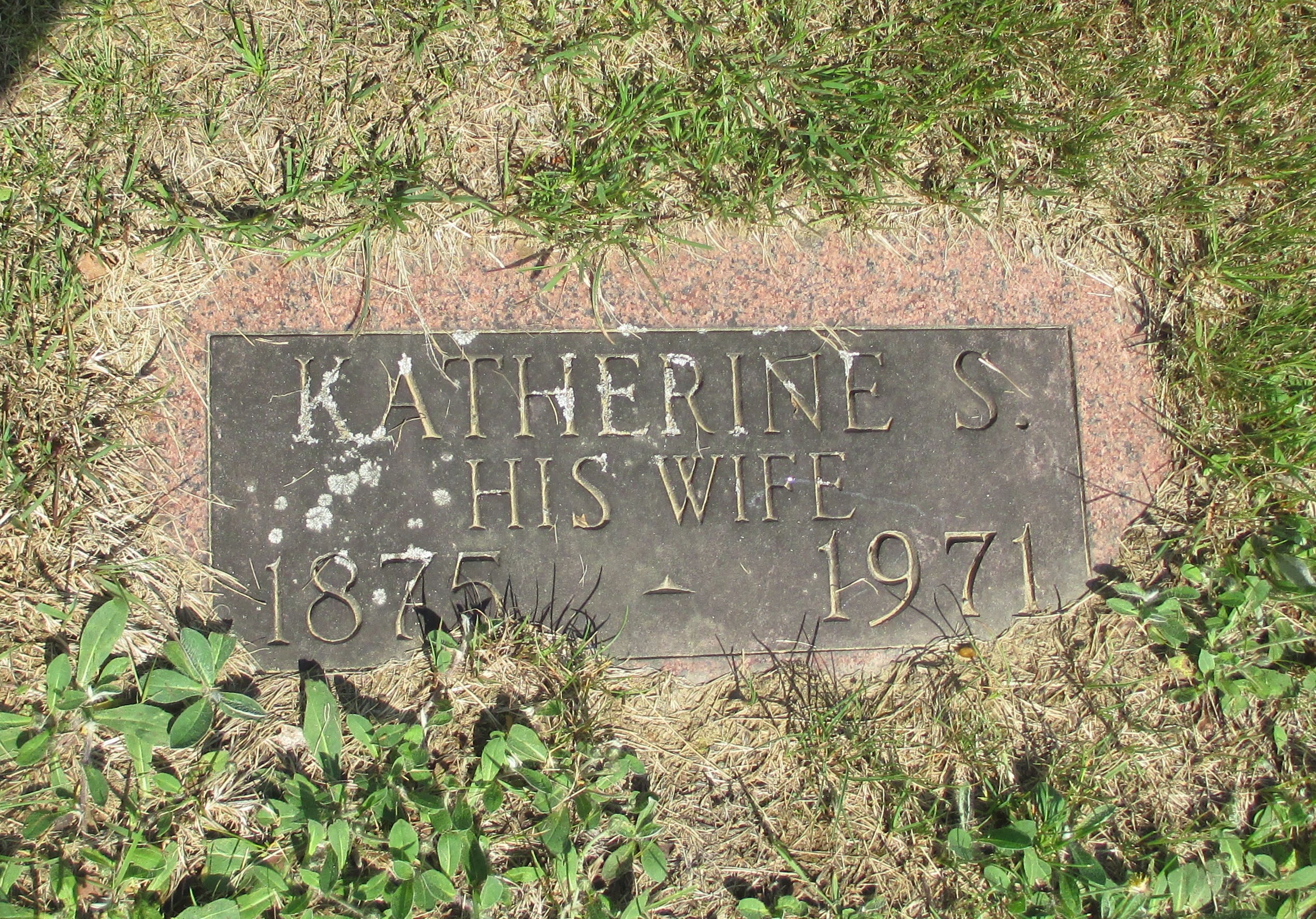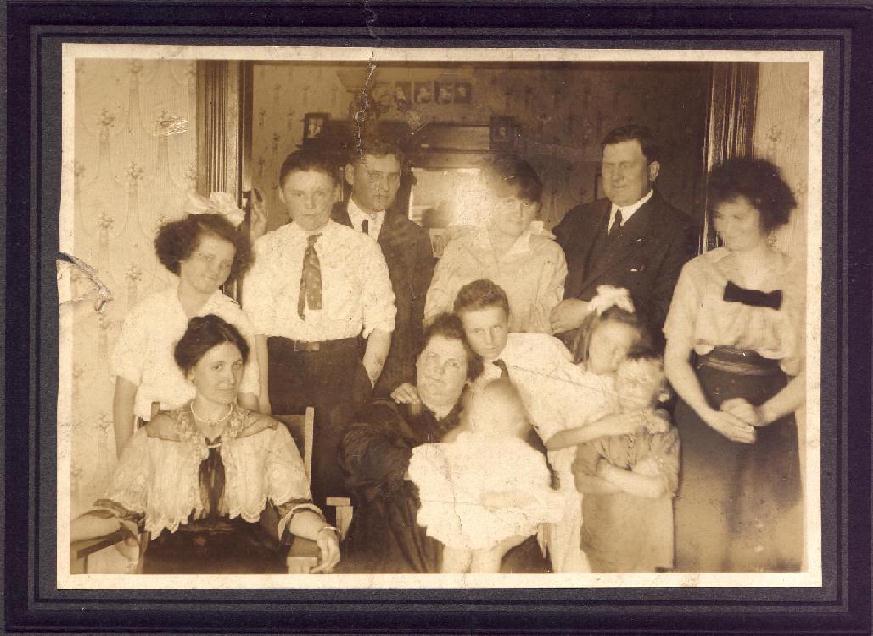 Back row: Muriel, Jack,
William M. Bigelow
, Marion,
John E. Colthurst, Sr.
,
Rita
Front row:
Mrs. William M. Bigelow
,
Margaret Smith Colthurst
holding Sterling, Wally, Dorothy, and Ted
Note: The Bigelow's were cousins of John E. from Pittsfield, Maine
April 7, 1915 (see below)
Sources:
The Bigelow Family Genealogy, Volume II, page 481;
Abbe Genealogy, 1913;
vital records ME.
New Note 2016:
John Paul Beall, the great-great-grandson of John E. Colthurst, sent a letter to me and mentioned that he had seen the same photo on his wall growing up and posed a few questions. He also provided information not previously known to put me into research mode. John Colthurst daughter (Rita in the photo) married Ross Allen Beall, which linked John Beall to this family photo. Now, the woman labeled Mrs. William M. Bigelow in the photo is Katherine Smith and her relative? Margaret Mather Smith was the wife of John Edmund Colthurst, Sr pictured in the back row. The Smith women could not be sisters; Margaret born 04 May 1875 in MA, and Katherine born 16 June 1875 England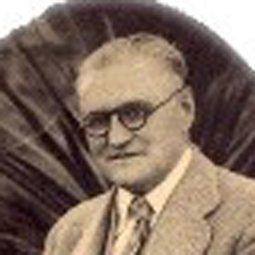 This is a picture of John Edmund Colthurst in later years and a short bio:
John Edmund Colthurst, U.S. Navy
A veteran of the Spainish-American War and WWI, Colthurst started a naval tradition in his family. He is remembered by John Paul Beall.
John Edmund Colthurst was born in Chicago November 29, 1871 in the South Loop, just a few blocks away from where the Great Fire had passed a month prior. He joined the Navy at Mare Island in California in 1893 and served as a yeoman on various ships in Admiral George Dewey's Asiatic Squadron. He was in Vladivostok, Russia for the coronation celebration of Tsar Nicholas II. He eventually became Yeoman Second Class on Admiral Dewey's flagship, USS Olympia, serving directly under Captain Charles Gridley. He was with Gridley when the order to open fire on Manila Bay, Philippines was given. He earned the Battle of Manila Bay Medal, also known as the Dewey Medal, for his service in the Philippines during the Spanish-American War. After the war ended, he wrote a book, The Dewey Souvenir, about his experiences in the Asiatic Squadron and service under Admiral Dewey, with whom he kept correspondence. He served again in World War I as Paymaster for the Atlantic Fleet out of the Naval Academy at Annapolis.
He was also a newspaperman and lawyer in peacetime and came to be elected Superior Court Justice of Solano County, California, accumulating some renown in the California Bay Area as a jurist. He was also active in Veterans of Foreign Wars and American Legion chapters his entire life. He died in 1933, having established a naval tradition in the Colthurst and Beall families of California. His daughter was wife of Lt. Commander Thomas Oberrender, and his grandson was Commander Wallace Richardson Colthurst.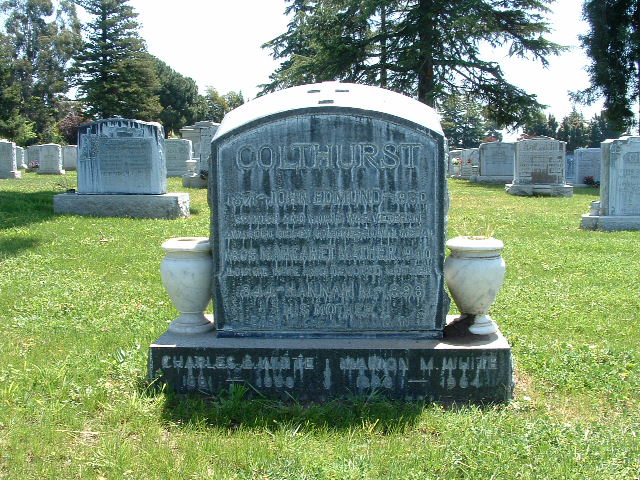 Judge John Edmund Colthurst
From: Find A Grave

Birth:

1871

Illinois, USA

Death:

Jun. 24, 1930

Vallejo

Solano County

California, USA

Veteran of Spanish American War and World War One.

Colthurst served aboard the the USS Olympia as a Yeoman Third Class. He was awarded the Dewey Medal, named after Commodore George Dewey, for action in the Battle of Manila Bay on May 1, 1898 during the Spanish American War.

Family links:
Parents:

John H Colthurst (____ - 1894)

Hannah Marie Colthurst (1844 - 1896)

Spouse:

Margaret Mather Smith Colthurst (1875 - 1940)

Children:

Margaret V Colthurst Beall (1900 - 1968)* (Rita)

John E Colthurst (1901 - 1979)*

Wallace Bernard Colthurst (1906 - 1978)*

Muriel Elinor Colthurst Oberrender (1907 - 1988)*

Dorothy V Colthurst Madigan (1908 - 1985)*

Sterling E Colthurst (1914 - 2002)*

*Calculated relationship

Burial:

Holy Sepulchre Cemetery
Hayward
Alameda County
California, USA
Plot: Section E


and Margaret Mather Smith Colthurst
Birth: May 4, 1875
Boston
Suffolk County
Massachusetts, USA
Death: Aug. 23, 1940
San Francisco
San Francisco County
California, USA

Margaret Mather Colthurst
Wife of the late Judge John E. Colthurst of Vallejo, Calif.
Mother of John, Wallace, Harry and Sterling Colthurst, Mrs. Charles E. White, Mrs. Ross A. Beall, Mrs. Thomas Oberrender and Mrs. Frank Madigan
Grandmother of Peggy, Diane and Bobby Colthurst, Ross, Beverly, Don, Jack and Bobby Beall and Patricia Maureen White
A native of Boston, Mass
Funeral at East Lawn Chapel, Oakland
Requiem mass at St. Marsarel's Church; rosary
Interment, Holy Sepulchre Cemetery

Information from her obituary notice published in the San Francisco Examiner, Monday, August 26, 1940, page 11. It is kindly provided by contributor Nancy Poppin Umland.

Family links:
Spouse:
John Edmund Colthurst (1871 - 1930)*

Children:
Marion M White (1898 - 1967)*
Margaret V Colthurst Beall (1900 - 1968)*
John E Colthurst (1901 - 1979)*
Wallace Bernard Colthurst (1906 - 1978)*
Muriel Elinor Colthurst Oberrender (1907 - 1988)*
Dorothy V Colthurst Madigan (1908 - 1985)*
Sterling E Colthurst (1914 - 2002)*

*Calculated relationship

Burial:
Holy Sepulchre Cemetery
Hayward
Alameda County
California, USA
Plot: Section E


Note:
Subject: James (7) Bigelow page
Date: Mon, 13 Aug 2001 14:06:39 -0700
From: "David Upham" < d-upham@home.com >
http://bigelow.simplenet.com/rod/mel8125a.htm
is the link I was trying for when I got your "oops" page.
Dave Upham

Link provided by Janis Pahnke janis222@sbcglobal.net
From: http://asp6new.alexanderstreet.com/cwdb/cwdb.object.details.aspx?handle=person&id=102059489

Melvin Bigelow (Union)

Enlistment:
- Residing in St Albans, ME at time of enlistment
- 18 years of age at time of enlistment
- Enlisted on Oct 10 1862 as Private

Mustering information:
- Enlisted into K Company, 22nd Infantry (Maine) on Oct 10 1862
- Mustered out from 22nd Infantry (Maine) on Aug 14 1863 at Augusta, ME

Sources for the above information:
- Report of the Adjutant General of the State of Maine, (Stevens & Sayward, 1861-1866)
---
Modified - 08/14/2016
(c) Copyright 2016 Bigelow Society, Inc. All rights reserved.
Rod Bigelow - Director
< rodbigelow@netzero.net >
---
Rod Bigelow (Roger Jon12 BIGELOW)
Box 13 Chazy Lake
Dannemora, N.Y. 12929

< rodbigelow@netzero.net >

BACK TO THE BIGELOW SOCIETY PAGE

BACK TO BIGELOW HOME PAGE