Horace Erastus 8 BIGELOW
---

16355.224 Horace Erastus 8 BIGELOW, son of Horace Ransom 7 ( Erastus 6 , Otis 5, Asa 4, Lieut. John 3, Joshua 2, John 1) , and Cornelia (SHERRILL) BIGELOW, was born 17 May 1867 in St. Paul, MN. He married Grace Upham before 1898, in St. Paul, MN, She was born about 1870 in St. Paul, MN. She died before 1942, St. Paul, MN, and is buried at St. Paul, MN. He worked for his father and was the administrator of his father's will. He married and had two sons. He divorced and his wife moved to Rome where she raised, I believe two sons. Both returned to the United States. She was very active in the Catholic Church in Rome. Horace died 11 November 1942 at St. Paul, MN.

Children of Horace Erastus and Grace (Upham) Bigelow:

16355.2241 Horace Ransom, b ___ 1898 St. Paul, MN; d __ 1980 ; He went to Oxford and later was the Librarian at the New York Athletic Club and he lived at 39 Bayless Ave, Port Washington, L.I., NY. He had children. Chess organizer (see below)

16355.2242 Henry Pratt Upham, b ___ 1901; d ___; he lived in Marine on St. Croix, MN. He supposedly lived in St. Paul and California after he came back from Italy. (see below)

Children of Horace Erastus and Louise (Olsen) Bigelow:

16355.2243 Lewis Sherrill, b ____ ; d _____.

16355.2244 Dudley Dean, b _____ ; d ______ ;

Sources:
Bigelow Family Genealogy Volume. II ;
Howe, Bigelow Family of America;
records of Bigelow Society;
Family Group sheets and record from descendant, Bill Cudlipp August 2000.
Horace's diary; Mr. Cudlipp writes: "I met him around 1970.
St. Paul, MN vital records.


Note 2009:
Friday 08/14/2009 4:10:29pm
Name: Fiona Hamilton
E-Mail: fionad33@hotmail.com
Location: California
Comments: I stumbled upon your page while searching for Horace R. Bigelow and Grace Upham Bigelow.
I have in my possession some personal letters (written by Mr Horace Bigelow to his mother), and I was wondering if you knew if there were any close living relatives of his that I could possibly contact.
Please e-mail me at fionad33@hotmail.com if you any information.
Thank you in advance.
Sincerely,
Fiona Hamilton
Note:
From: Robert Billingsley < robert_billingsley@yahoo.com >
Mr. Rod Bigelow,
Some time ago I sent you this note:
"Note from Robert Jerome Billingsley: My wife is a Bigelow. Her family line starts at John Biglo of Watertown,
then Joshua, John, Asa, Otis, Erastus, Horace, Horace, Horace, and Henry Upham (who is her father). I have been able to find
John - through Otis, but I still need Erastus. I also need the three who are named Horace."
There was an error in that note. I had three Horaces, there should have been only two. There is a third Horace but he was the brother of Henry Upham. I have since filled in all the other information I waslooking for, thanks in great part to much of the information I was able to glean from your website(s). Thanks and best wishes,
More:
Did you ever get the information on Henry Upham Bigelow - who lived in Marine on St. Croix, Minnesota ? When I last heard, you had him wrongly listed as a marine who lived in St, Croix, Minnesota.


From Internet:
'One of our copies of Capablanca's Chess Fundamentals was formerly owned by a figure who learned the game in Switzerland, attended a boarding school in Italy and played chess for Oxford University. His travels also included military service in Ljubljana. As a chess organizer he was involved in one of the greatest of all tournaments, and in the book on the event. He edited a chess column in a newspaper whose earlier columnist was a world champion, and for a famous book by that world champion he compiled the index. Who was he?'

The answer is Horace Ransom Bigelow (1898-1980). We took most of the above biographical details from pages 89-96 of Hobbies for Everybody edited by Ruth Lampland (New York, 1934), i.e. Bigelow's section on chess therein. The great tournament in which he was involved was New York, 1924. The world champion mentioned in our question was Emanuel Lasker, the newspaper being the New York Evening Post. The book whose index he prepared was Lasker's Manual of Chess (New York, 1927), page 377 of which acknowledged his contribution.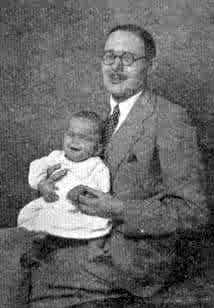 This photograph of Bigelow and his son was published on page 7 of the American Chess Bulletin, January 1929: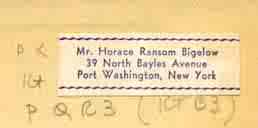 On page 92 of the Hobbies for Everybody chess section mentioned in the preceding item H.R. Bigelow wrote:
'I learned the moves from a Swiss governess in Lucerne, Switzerland, at the age of ten. For several years afterward I did not even look at a chessboard. Then I met a lad slightly my senior, in a boarding school at Mondragone, Frascati, a few miles outside of Rome.

We played together occasionally in the year I spent there. His superior skill awakened on my part a natural desire to surpass him. (He later became one of Italy's strongest players and a member of their team in the international team tourneys. His name is Count Antonio Sacconi.)'

---
Modified - 08/19/2009
(c) Copyright 2009 Bigelow Society, Inc. All rights reserved.
Rod Bigelow - Director
rodbigelow@netzero.net
---
Rod Bigelow
Box 13 Chazy Lake
Dannemora, N.Y. 12929

rodbigelow@netzero.net