Horace Holly 8 BIGELOW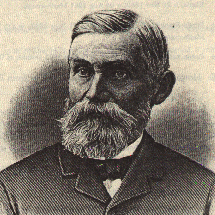 Horace Holly (8) Bigelow (1827 - 1911)
---
15182.429 Horace Holly 8 BIGELOW son of Levi 7 ( Gershom 6 , Ivory 5 , Gershom 4, John 3, Samuel 2, John 1) and Nancy(AMES) BIGELOW, was born at Marlborough, Middlesex, MA on 02 June 1827. . His first marriage was to Lucy Anne Howe on 22 January 1852 (1862?). She was the daughter of Thomas and Patty (Bigelow) Howe (15182.45) and born at Deerfield (?) MA on 30 October 1833. She died, childless, on 25 September 1857 at Worcester, MA. Horace's second marriage was on 0l June 1859 to Adelaide E. Buck. She was born in 1837 and died in Worcester in 1914. Early Horace worked as a shoemaker and when still very young, invented heel pressing and nailing machines. His shoemaking endeavors were in Worcester, MA and he soon branched out into New York, New Jersey and Providence, Rhode Island. One of the most daring acts of his shoe manufacturing was the organization of prison labor at several State prisons. This was to meet the very heavy demand of the Army during the Civil War. In 1870, he withdrew from shoe manufacturing and plunged into other careers. This included railroading, real estate developing, the introduction of roller skating rinks to the public and always acting as a public benefactor. He was a financial backer of the first Bigelow Family Reunion, in 1886, and Howe's book on the Family. His many, many endeavors are too numerous to enter here. He died in 1911 Worcester, Worcester, MA.
also see:
Horace Holly page 2 and:
http://bigelowsociety.com/Horace_Holly_Bigelow.html

Children of Horace H. and Adelaide (Buck) Bigelow:

15182.4291 Adelaide Frances, b 24 Dec 1860 Marlborough; m 23 June 1886 George A. Stevens.

15182.4292t Irving Ellsworth, b 11 Nov 1862 Trenton. NJ; d_1939 Worcester; rn 17 Nov 1887 Lillian A. Drennan; 4 children.

15182.4293t Francis "Frank" H., b 09 Feb 1875 Worcester; d _____ 1950's??; m Edith Jordon; 3 daughters(see below)

Sources:
Bigelow Family Genealogy Vol II , p 327;
Howe, Bigelow Family of America; p 412 plate^;
miscellaneous sources and biographies.
Descendant notes:


New Note 01/17/06:
Hi Rod,
My great great grandmother was Mary Howe Bigelow, sister of Horace Bigelow of Worcester and White City. I have been told that he commissioned portraits of his five sisters (Electa, Cordelia, Mary, Anne and Ada) and that they hung in his roller skating rink at White City. Was it called Bigelow Gardens?
In 1982, the portrait of Electa was owned By Marjorie Field, late of Oregon. The portrait of Mary was owned by Dr. Richard Evans of Cleveland, and the portrait of Cordelia hung in the house where she lived and later owned by Willard Wheeler in Berlin, MA. I have often wondered where Anne and Ada are! I have old Polaroids of the pictures of Electa and Mary. I would love to hear from anyone with more information about the portraits, and Mary Howe Bigelow in particular.
Regards, Bill
----------------------------------------------------------------------------------
William Drury Opera
Chelmsford, MA Railroads
wdrury@alum.mit.edu Genealogy
http://mysite.verizon.net/vzeowl81/

New Note2:
Subject: Janice Bigelow
Date: Tue, 17 Dec 2002 12:49:54 -0500
From: "zephreny parmenter" <zephparm@hotmail.com>
Bigelows, Howes, Parmenters, Rices, Taintors and Cashmans all came in through Boston in the 1600's. Grandma's father was John Bigelow of the Northborough/Marlborough area, and he practiced architecture. Her mother was a Howe
(my great great grandfather was Horace Bigelow, an entrepaneur and social liberal who owned a shoe factory in Worcester Ma. He instituted profit sharing in his company, built the White City amusement park in Worcester and later donated it's electric generating plant to the city). Her first husband was a Murray (2 children, Anne and Margie) and her second was Paul Parmenter (2 kids, Dan- my father- and John, in CA now). She and grandpa Paul were distant cousins, the Bigelows and Parmenters having known each other since at least the 1750's if not longer. My father Dan Parmenter married Kathleen Loughman (pron "Lockman"), the Loughmans being from MA (Cape Cod) and NY (the Bronx- my great grandfather was a military man and moved a lot. He was high ranking officer in the Navy and a set a record for
the deepest sea dive in about 1913). I'm ashamed at the moment to say I can't remember much about the Bigelow line beyond John Bigelow, although I do know family tales dating back to the French and Indian War.
Zeph
---
Donald Ellsworth 12 Bigelow New E-mail: dbigelow@tampabay.rr.com

In the spring of 1861, Horace Holly Bigelow and his wife Adelaide E. Bigelow were enjoying their first child, daughter Adelaide F. Bigelow, who had been born in Marlborough, Massachusetts the previous December 24th. The baby was undoubtedly very welcomed by 33 year old Horace and his 23 year old wife of two years. Horace previously had been married to his first cousin Lucy Anne Howe, but she had died childless on September 25, 1857.

Horace had worked as a shoemaker for many years. He learned this trade from his father Levi in the family's home shoe shop. Early on Horace's creativity allowed him to invent heel pressing and nailing machines. With his entreprenurial talents he was able to build a substantial business in this industry. In fact, he is credited with laying the foundation of the mass-production shoe making industry in Massachusetts, and at one time owned a plant in Worcester which employed some 500 workers. Soon his shoemaking business had branches in New York and Rhode Island.

At Gettysburg, Pennsylvania in that spring of 1861 the Civil War broke out. As the fighting intensified, ever greater demand was placed upon manufacturers to meet the needs of their armies. In the North, the very high demand for shoes for soldiers prompted Horace to develop a shoe manufacturing facility in a New Jersey state prison to help meet that need.

At the outbreak of the war the North soon realized that it's capitol in Washington, D.C. was very vulnerable to attack from the forces of the South just across the Potomac River in Virginia. A 24 year old citizen-soldier, Colonel Elmer Ephraim Ellsworth, is credited with quickly organizing a regiment of New York City firemen to take on the defense of Washington. Ellsworth had studied law under President Lincloln and was highly regarded by him.

Soon after arriving in Washington, Colonel Ellsworth was given the mission of capturing Alexandria, Virginia. Upon entering Alexandria, Colonel Ellsworth saw the Confederate flag still flying over the Marshall House Hotel. With reckless bravery shown by many at the outset of the war, he ran to the rooftop and tore down the Confederate colors. Returning to the ground floor with the flag draped over his shoulder, he was gunned down by the furious owner of the hotel, James Jackson. Ellsworth's companion in this emotion charged attack was Corporal Francis E. Brownell. Brownell killed Jackson and then managed to escape with his own life. Colonel Ellsworth was the first Union officer killed in the war, and the story of his death had a profound effect on Horace and Adelaide Bigelow.

For a time Horace and his young family were living in Trenton, New Jersey where he oversaw the prison shoe manufacturing facility. While there, Adelaide and Horace's second child was born on November 11, 1862, a son whom they named Irving Ellsworth Bigelow in honor of the fallen Union hero, Colonel Elmer Ephraim Ellsworth.

For five generations the middle name Ellsworth has been passed down. The youngest to receive this distinguished name is Vance Ellsworth Bigelow, son of Derald Ellsworth Bigelow, son of Chester Ellsworth Bigelow, Jr., son of Chester Ellsworth Bigelow, Sr., son of Irving Ellsworth Bigelow, the son of Horace Holly Bigelow who started this legacy.

---
New Note:
Subject: Horace Holly Bigelow
Date: Fri, 9 Nov 2001 13:32:52 -0500
From: "Scott Jamieson" < scott.jamieson@sympatico.ca >
Dear sir,
I am the author of Bullard Arms (1988) the story of the Bullard Repeating Arms Company of Springfield, MA circa 1883-91. Horace Holly Bigelow was the money behind the company. In fact it was he who gave the building away in January 1891 for half of its original value.
My question is; do any members of your family know the whereabouts of any of the aforementioned company's records? The Bullard family do not have them but Bigelow may have retained the records. Any help in this matter would be greatly appreciated. I used the picture you have of H.H. Bigelow in my book. The second much expanded manuscript
is now at the publishers.
Best regards
G. Scott Jamieson

---

New Note2:
Subject: H. H. Bigelow
Date: Mon, 3 Feb 2003 15:03:11 -0500
From: "mperna" < mperna@townisp.com >

Hi,
My name is Michael Perna Jr and I live a short distance from where the White City Amusement Park once was. I came across your site and thought I would e-mail you to let you (& your family) know about a book I wrote, published in 1998 - "Remembering Lake Quinsigamond - from Steamboats to White City".
There is a great deal of information on H. H. Bigelow and a whole chapter on White City.
If you think anyone might be interested in this book, I can furnish a bit more detail.
Thanks!

From: Jacqueline Sleeper Russell Jackisr@aol.com
Date: 07/16/2004


Jacqueline Sleeper Russell

Finally got around to doing some census research and discovered that FRANCIS BIGELOW lived next door to my great grandfather HERBERT J. RUSSELL. He was first married to KATHERINE A. FIELD who died in 1910 and then married 2)

LYDIA BIGELOW BAKER

GREAT granddaughter of DAVID BIGELOW and DEBORAH HEYWOOD. Any help on FRANCIS' line of BIGELOW's would be greatly appreciated.

His father was HORACE H. BIGELOW according to 1880 census. JSR

1880 US CENSUS
Francis H. BIGELOW

Male
Other Information:
Birth Year <1875>
Birthplace MA
Age 5
Occupation At Home
Marital Status S <Single>
Race W <White>
Head of Household Horace H. BIGELOW
Relation Son
Father's Birthplace MA
Mother's Birthplace CT
Household:
Name Relation Marital Status Gender Race Age Birthplace Occupation Father's Birthplace Mother's Birthplace
Horace H. BIGELOW Self M Male W 52 MA Retired Merchant MA MA
Adalade E. BIGELOW Wife M Female W 42 CT Keeps House CT CT
Adalade F. BIGELOW Dau S Female W 19 MA At Home MA CT
Irving E. BIGELOW Son S Male W 17 MA At Home MA CT
Francis H. BIGELOW Son S Male W 5 MA At Home MA CT
Hellen SCHAWZ Other S Female W 40 GER Servant GER GER
Source Information:
Census Place Worcester, Worcester, Massachusetts
Family History Library Film 1254568
NA Film Number T9-0568
Page Number 582B
=====================
1900 US CENSUS
BIGELOW, FRANCIS H
Massachusetts , WORCESTER, 1-WD WORCESTER, Age 25, Male, Race: White, Born: MA
Series: T623 Roll: 695 Page: 21 NOTE: LIVING NEXT DOOR to HERBERT J. RUSSELL family res. 23 Institute Rd.
HOUSEHOLD of FRANCIS H. BIGELOW - res. 21 Institute Rd.
BIGELOW, FRANCIS H. head of household age 25 b. Feb 1875 b. MA. father b. MA mother b. CT. occ: Real Estate
BIGELOW, EDITH J. wife age 24 b. Mar 1876 b. MA. both parents b. MA.
(no children)
BEECHER, CAROLINE servant age 26 b. Nov 1873 b. Sweden
==============
1910 US CENSUS
BIGELOW, FRANCIS H
Massachusetts , WORCESTER, 1-WD WORCESTER, Age 35, Male, Race: White, Born: MA
Series: T624 Roll: 631 Page: 88 21 Institute Rd.
HOUSEHOLD:
BIGELOW, FRANCIS H. head of household age 35 married 11 years b. MA. same parental info as 1900 occ: Real Estate agent
BIGELOW, EDITH J. wife age 34 b. MA same parental info as 1900
BIGELOW, CHARLOTTE E. daughter age 7 b. MA
BIGELOW, FRANCES daughter age 6 b. MA
BEECHER, CAROLINE servant age 38 b. Sweden
ANDERSON, ANNA servant age 19 b. Sweden
==============
1920 US CENSUS
BIGELOW, FRANCIS H (1920 U.S. Census)
Massachusetts , WORCESTER, 1-WD WORCESTER, Age 44, Male, Race: White, Born: MA
Series: T625 Roll: 749 Page: 127 # 21 Institute Road
HOUSEHOLD:
BIGELOW, FRANCIS H. Head of household age 44 b. MA both parents b. MA. occ: Real Estate Operator
BIGELOW, EDITH J. wife age 42 b. MA. both parents b. MA
BIGELOW, CHARLOTTE E. daughter age 17
BIGELOW, FRANCES daughter age 16
BIGELOW, NANCY daughter age 9
BEECHER, CAROL servant age 50 b. Sweden
============================
I do not have access to 1930 census with HERITAGE QUEST and would love a lookup if someone could do me this favor.

Jacqueline Sleeper Russell

New Note 09/07/05:
From: Jon Camp < jonc@avttech.com >
My wife stumbled across the Bigelow page last night and insisted I should take a look at it.
Last update I show is 1998? Found some inconsistencies forwarded to me by a lady who
had posted a message last year... I am the youngest son of Nancy Bigelow (youngest daughter of Francis H. Bigelow. Have some info passed down to me by (my aunt) her sister Frances, who seemed to keep better track of family history than her sisters...;)
His wife's maiden name was Edith Jourdan.
Actually was spelled "Jordan" but pronounced as if there was a "u".
She was born in Westborough, MA about 1878. This came from the birth certificate for her daughter
Charlotte. In 1898 Edith may have been a teacher in Portland, ME. (Portland, Maine City Directory, 1898) Unfortunately this is not certain.
Partly true... She was orphaned as a child, raised by her mother's sister's family (Morgan) in MA. Spent most of her life in MA, later years in Madison, CT. She was estranged from Francis in the 1950's; he died in Puerto Rico; don't know the exact date.
Also not certain is the possibility that Edith died a widow in Clinton, Middlesex County, Connecticut (per CT Death Index) February 17, 1966.
True, but in Madison, at the Watrous Convalescent Home. One of her daughters, Charlotte, lived in Clinton, (as my grandmother did for part of each winter) in a house owned by Frances, another daughter, who lived and worked in NYC.
Charlotte did marry and had two children, Frances did not. All three daughters are deceased, last was my mother, Nancy, who died in 1997.
Jon Camp
--------------------------------------------------------------
Friday 06/15/2007
Name: Holly Anne Child Hannum
E-Mail: hannumh@verizon.net
Location: Maryland
Comments: I enjoyed reading about your branch of the family and the Ellsworth name. I am the granddaughter of Horace Holly and the daughter of Anne Tudor Bigelow


---
Modified - 06/22/2007
(c) Copyright 2007 Bigelow Society, Inc. All rights reserved.
Rod Bigelow - Director
< rodbigelow@netzero.net >
---
Rod Bigelow (Roger Jon12 BIGELOW)
Box 13 Chazy Lake
Dannemora, N.Y. 12929

< rodbigelow@netzero.net >