Herbert Lyman 8 BIGELOW

16C43.286 Herbert Lyman 8 BIGELOW,
son of
Lyman Goodale 7 ( George M. 6 , Eleizer 5 ,
Joshua 4 , Eleazer 3 , Joshua2, John1 )
and
Ada (DICKINSON) BIGELOW
, was born at Augusta, GA on 18 October 1888. Herbert was in the motion picture industry and a photographer in Berkeley, CA. There were 3 marriages for Herbert and 4 children. Census records show Ethel J. Calland as one of the wives and mother of Helen and Lyman.
(see below)
Other
wives not listed as of 1996.
He married at unknown date Rebecca Reath Painter
. He died
15 January 1976
, and record states "of Ben Lomond, CA and AZ.
(see below)
Children of Herbert Lyman Bigelow and his first wife (Gertrude K. (Kramer?)(b 1886 IA):
16C43.2861 Herbert Lyman, jr, b __ 1916 IA; d ____; m 08 Dec 1937 Rebecca Painter; 4 children; Naval Officer and in Government Service; (see below).
16C43.2862 Ada Florence (June?), b ___ 1917 IA; d _____ ;

Children of Herbert Lyman Bigelow and his wife, Ethel J. Calland?, (b 1895 Nebraska):

16C43.2863 Helen Calland, b ___ 1925 CA; d _____ ;
16C43.2864 Lyman Calland, b ___ 1927 CA ; d _____ ; m (1) 28 Aug 1948 Norma Lenore Rake in Vancouver, WA (Norma was born 29 July 1931, dau of Lewis Hugh and Millie Mable (Clarke) Rake in McMinnville, Yamhill, OR); 2 dau; res San Jose, CA; possible second marriage-no data;

Children of Herbert Lyman Bigelow and his wife, Rebecca Reath Painter:

16C43.2865t David Lyman, b 18 Apr 1934 Boise, ID; d _____ ; m 17 Dec 1960 Patricia Louise Dill; (David was Airline pilot Continental Air Lines, after serving USAF 1961-66 and 1968-9); 2 children known: David Allen and Daniel Stephen Bigelow (FTM);

Sources:
Bigelow Family Genealogy Volume. II page 521; date of death 15 June 1976 Yuma, AZ
Book of the Locke, by J.G. Locke;
Lyman G. Bigelow autobiography;
FORGE, The Bigelow Society Quarterly; Oct 1979, Vol.8, No.4, p.70.
FORGE, The Bigelow Society Quarterly; Vol.9, No.1, p.14.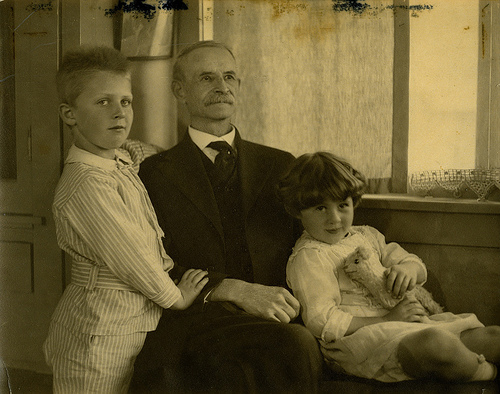 Subject: Herbert Lyman (8) BIGELOW Family
Date: Wed, 25 Jun 2008 10:48:31 -0400
From: "Scott Barker" <sbarker3@ptd.net>

1910 census record for St Joseph Ward 5, Buchanan, MO, shows Herbert Lyman Bigelow still living with parents and family
1920 census record for Coronado, San Diego, CA
shows a Herbert Lyman Bigelow age 3 10/12 (b. 1916 in IA)and listed as a grand son to head of household living with:

Gertrude K Bigelow age 34 b. 1886 in IA as daughter to head of household
Ada Florence Bigelow age 2 6/12 (b. 1917 in IA) listed as grand daughter to Head
Dirk Kramer age 68 (b.1852 in IA) listed as head of house.

Herbert Lyman does not show on this record. There is a WWI Draft Registration Card for him so it is plausible he was still serving or otherwise not available for the 1920 census. This registration notes Herbert as being married with one child. Since Ada was born about 1917 according to the same census it is most likely Gertrude was pregnant when Herbert left for the military.

1930 census record for Berkeley, Alameda, California show the following
Herbert Bigelow head of household age of last birthday is 29 and age of first marriage as 33 so obvious the ages are wrong.
Ethel J Calland age 35 (b. 1895 in Nebraska) wife
Helen age 5 (b. 1925 in CA) daughter
Lyman age 3 (b. 1927 in CA) son
Helen Calland age 65 (b. 1865 in England) mother-in-law

Lou Adelaide Bigelow,
Seeker of Light and Shadow
Lou Adelaide Bigelow by Joan M. Mohr
Andreas Brown Award Photography and Photographers
San Diego Historical Society 1987 Institute of History

Herbert, who was four years younger than Lou and two years younger than sister Ada, is not mentioned in any of the family literature or discussions. In Lyman Bigelow's A Self Biography, Herbert's father does not once mention him. Neither does Herbert's name appear in the list of surviving relatives in the San Diego newspaper obituaries for either Lyman or Lou Goodale Bigelow. During an interview conducted on October 2, 1985, Ms. Jeanette Atkinson, former assistant to Ms. Bigelow, explained Herbert's peculiar absence. He had become estranged from the family after "borrowing" a large sum of money from the Bigelow household and leaving his wife and children behind in Coronado. It was only after the deaths of Lyman, Ada, and Lou Bigelow that Lou's sister Ada Tilly found Herbert in Ben Lomond, California, where he lived with his second family, a family the Bigelows never knew.

According to Nadine Robinson, interviewed on October 5, 1985, Nadine's mother Ada and her father settled kitty corner from the studio. Herbert brought his family from Missouri, but soon left Coronado under suspect circumstances.
Found on the Web: http://flickr.com/photos/12954821@N03/2049079276/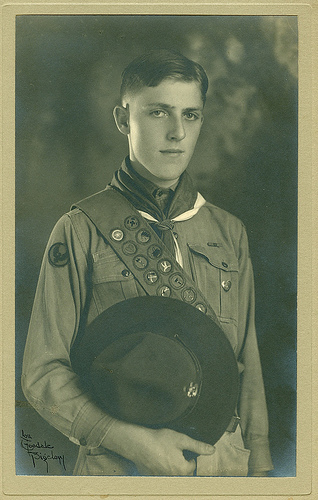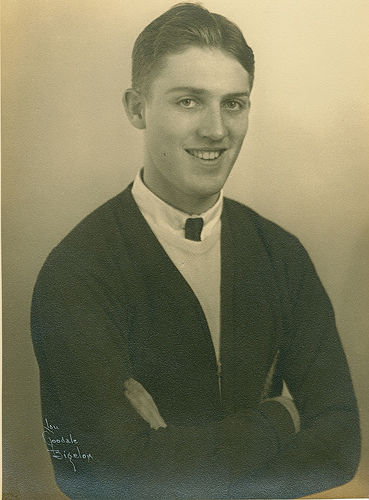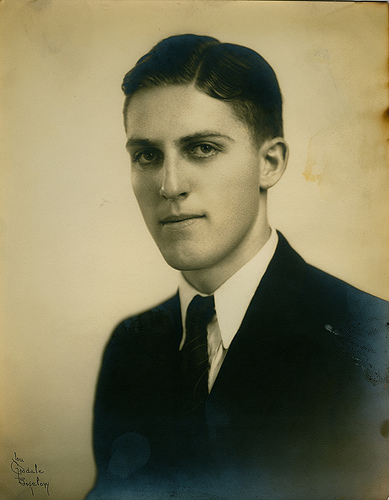 These photos appear to be of Herbert Bigelow (16C43.2861) taken by Lou Goodale Bigelow (see newspaper article below)
16C43.2861 Herbert Lyman 9 Bigelow, jr, b __ 1916 IA; d ____ living 2009; m 08 Dec 1937 Rebecca Painter; 4 children; Naval Officer and in Government Service;

Children:
16C43.2861? Thomas, b ____ ; d _____ ; m
16C43.2861? Richard, b ____ ; d _____ ; m
16C43.2861? Sharon, b ____ ; d _____ ; m
16C43.2861? David Lyman Bigelow, b 18 Apr 1939 Boise, ID; d 16 Jan 2009 Hilo, Hawaii; (see obit below)
David Lyman Bigelow, 69, of Waikii Ranch, Hawaii, died Jan. 16 at the Hilo Medical Center. Born in Boise, Idaho, he was a retired pilot for Aloha and Continental Airlines as well as the Hawaii Air National Guard, member of the Mauna Kea Soaring Club and a veteran of the U.S. Air Force. Visitation from 12 p.m. to 2 p.m. Saturday at the Clubhouse at Waikiki; Celebration of life at 2 p.m. Donations may be made in his memory to the Hawaii Food Bank, Civil Air Patrol or a favorite charity. Casual attire. Survived by wife, Patricia Bigelow of Waikii Ranch; sons, David (Melanie) Bigelow of Huntington Beach, Calif., Daniel (Heidi) Bigelow of Haiku, Maui; parents, Herbert and Recca Bigelow of Keedysville, Md.; brothers, Thomas Bigelow of Islamorada, Fla., Richard Bigelow of Ellington, Fla.; sister, Sharon Draper of Keedysville, Md.; numerous nieces, nephews, cousins. Arrangements by Dodo Mortuary, Kona.

Wednesday, January 28, 2009 10:24 AM HST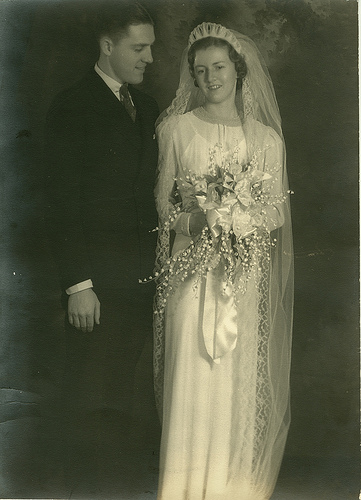 Notice that Herbert above is son of Mrs. Gertrude K. Bigelow Wedding appears to be Herbert 08 Dec 1937 with Rebecca Keath? Painter

---
Modified - 04/15/2009
(c) Copyright 2009 Bigelow Society, Inc. All rights reserved.
Rod Bigelow - Director
rodbigelow@netzero.net
---
Rod Bigelow (Roger Jon12 BIGELOW)
Box 13 Chazy Lake
Dannemora, N.Y. 13662

rodbigelow@netzero.net