Edward Manning 8 BIGELOW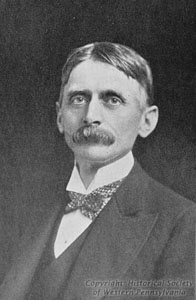 Edward Manning 8 Bigelow (1890 photo)
---

1592C.493 Edward Manning 8 BIGELOW, son of Edward Manning 7 ( Reuben 6 , Amasa 5 , Isaac 4, Isaac 3, Samuel 2, John1) and Mary (STEEL) BIGELOW, was born at Pittsburg, PA on 06 November 1850. He married in 1880 Mary Peabody. She was the daughter of Benjamin H. Peabody; she survived him and died 07 September 1934. He was a Civil Engineer, City of Pittsburg; no children.

He was one of five children and educated where they lived Pittsburgh, PA. He attended Western University of Pittsburgh as a civil engineering student. He was a Presbyterian. His older brother Thomas Steel Bigelow was a lawyer in Pittsburgh, and there were three sisters to complete the family. Edward and Thomas lived in an era which saw phenomenal industrial growth in Pittsburgh, and they knew all the magnates of the city. Edward was a close friend of Andrew Carnegie. Edward became city engineer in 1880. Later, when city administration was reorganized, he became Director of Public Works. Because he developed much of Pittsburgh's present park system as part of his duties, he is known as "Father of Parks". Best known are Schenley Park and Nenley Park, if you visit Pittsburgh, you may want to visit the statue of Bigelow in Schenley Park. He was director of Public Works from 1880 to 1900, and again from 1903 to 1906. He was named by Pennsylvania's governor to be commissioner of the newly-formed State Highway Department from 1911 to 1915 (this was the decade of rising popularity of the automobile). While director of public works, he supervised design of many public buildings and streets including Boulevard of the Allies, and Grant Boulevard, built in the period 1897-1900. Grant Boulevard was re-named in Bigelow's honor immediately after his death, which occurred on 20 Dec 1916. He had married Mary Peabody, daughter of Benjamin H. Peabody; she survived him and died 07 September 1934. they had no children. (Source)

Sources:
Bigelow Society,The Bigelow Family Genealogy, Vol II, pg 155;
Howe, Bigelow Family of America, pg 351-352;
Research by and records of Bigelow Society historian/genealogist
and correspondence with descendants.
Edward Manning Bigelow, the director of the Department of Public Works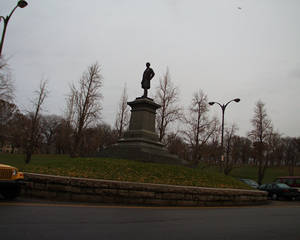 A statue of Henry Bigelow oversees the park and city neighborhood that he helped develop.
You are now approaching the statue of Edward M. Bigelow (on the left; in the middle of Schenley Drive). The sculptor of the statue is Moretti, 1895. It is fitting that we end with his statue because as Director of the Pittsburgh Department of Public Works, in the late 1880's, his vision and the benefactors (Schenley, Carnegie, Frick) collectively made the grandeur and beauty of a "Civic Center" for Pittsburgh possible. Besides various parks for the city, Bigelow planned Grant Boulevard (now Bigelow Boulevard) to link Oakland with downtown Pittsburgh.
Continue walking up Schenley Drive to the parking areas near Botany Hall or Phipp's Conservatory. Take a moment to thank Edward Bigelow before you head back to your car!
Notes:
Bigelow was born November 6, 1850 as one of five children. He attended Western University of Pennsylvania, the predecessor to the University of Pittsburgh. However, he withdrew in the 1870s to become a civil engineer. In 1888 he became the Director of the Department of Public Works, instituting water and sewer systems and creating public parks. He is remembered by a blvd in downtown Pittsburgh.

Lawrence, (Albert, Charles S., Thomas S., Elisha, Paul, Cornelius, Samuel, Samuel, John) Bigelow of Pittsburgh, PA from material found in PA Room, Carnegie Library, Oakland district of Pittsburgh and sent to "Forge" Vol.7, No. 4, p. 71, October 1978, article titled "BIGELOW BOULEVARD."

---
Modified - 05/14/2009
(c) Copyright 2009 Bigelow Society, Inc. All rights reserved.
Rod Bigelow - Director
< rodbigelow@netzero.net >
---
Rod Bigelow (Roger Jon12 BIGELOW)
Box 13 Chazy Lake
Dannemora, N.Y. 12929

< rodbigelow@netzero.net >