Charles F. 8 BIGELOW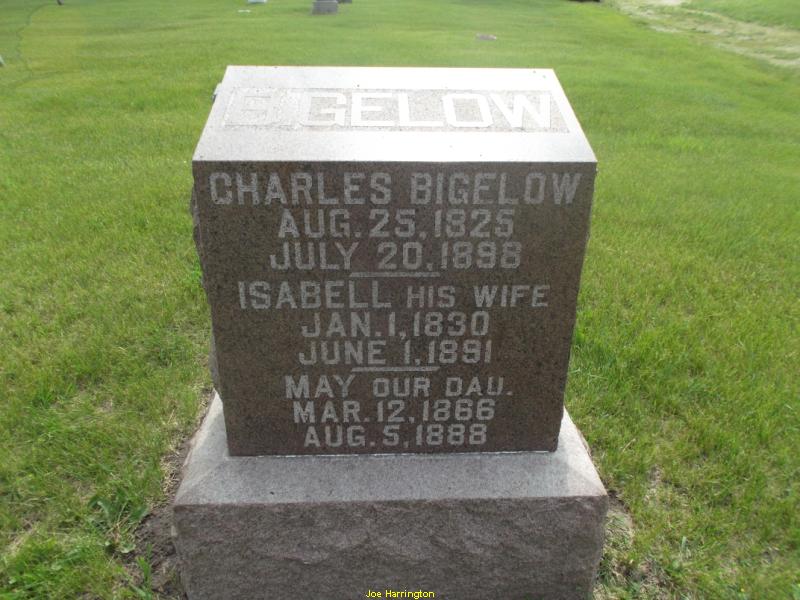 Shreffler Cemetery; Kankakee County, IL
---

16164.413 Charles F. 8 BIGELOW, son of Edmund Clark 7 ( Jonathan Oakes 6, Nathan 5 , John 4 , Joshua 3, Joshua 2, John 1), and Ruby (SHERMAN) BIGELOW, was born 25 August 1825 in Crown Point, Essex co, NY. He spent his boyhood on the family farm receiving what education he could at a rural school and became a life long reader. In 1850 he married (1) Mary Ann Reynolds who died 24 Nov 1851. She was the daughter of Morris and Betsy ( ___ ) Reynolds. In 1853 Charles moved to Joliet, IL where he plied his mason's trade. On 13 December 1854 in Illinois, he married (2) 1854 Isabel Skinner and in 1862 moved to Aroma township, Kankakee co, IL. A couple of years later he bought land in Salina township and farmed - he also owned a broom factory operated by his son. He was living in 1894. Isabel Skinner was born 01 January 1830, and died 01 June 1891; Charles died 20 July 1898. (Obituary)

Children of Charles F. and Mary Ann (Reynolds) Bigelow:

16164.4131 Celia, b 30 Aug 1851 Crown Point, Essex co, NY; d ___1928 Balston Spa, , NY; m ca 1864 Ezra Rupert Clelland;

Children of Charles F. and Isabel (Skinner) Bigelow:

16164.4132 Oscar E., b _ Oct 1855 Joliet, IL; d 24 Mar 1864;

16164.4133 Ella E., b 08 Dec 1858 Joliet; d 27 Dec 1896; m 22 Nov 1876 Oliver Michaels;

16164.4134 Ida May, b 12 Oct 1859 Joliet; d 22 April 1864.

16164.4135 Charles Henry, b 04 April 1864 Herschner, Kankakee co, IL; d 30 Sept 1943; m 05 Aug 1891 Mary Ann Armstrong.

16164.4136 Mary E., b 12 May (Mar?) 1866 Kankakee co, IL; d 05 Aug 1888; unmarried

16164.4137 Nora B., b 14 Aug 1870 Kankakee co, IL; d _____ ; m John Golding;

Sources:
Bigelow Family Genealogy Volume II page 458;
Oaks Genealogy;
The Kankakee County, IL, Portrait & Biographical Record of 1894;
The Kankakee Historical Society was able to link Charles with his father Edmund Clark;
Forge: The Bigelow Society Quarterly, vol. 16, no 2; page 36; April 1987: (see below)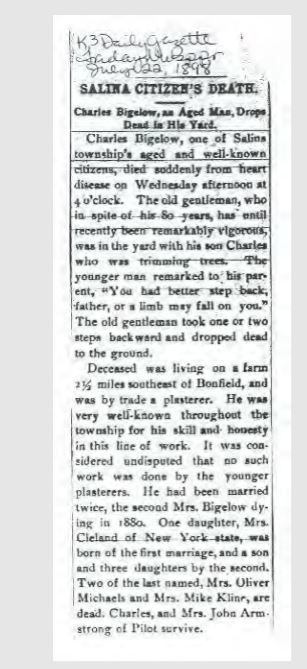 Charles Obituary

Charles F. Bigelow was born 23 Aug 1825 at unknown place, according to Bible rec­ords handed down in the family. His marriage to Isabell Skinner (born 1 Jan 1830) was recorded as 13 Dec 1854—again no place mentioned. The family is under the im­pression that Charles came from New York or the East, which is probably true. The deaths of neither Charles nor Isabel were recorded in the Bible, and local historians says there are no cemetery records for them at Herschner, Kankakee county, IL where they lived, and where at least three of their six children died, and three were born, as follows:
i Oscar, born _ Oct 1855; died 24 Mar 1864, Herschner, Kankakee co, IL.
ii Ella E., born 08 Dec 1857; died 27 Dec 1896—where?; married Oliver Michaels.
iii Ida May, born 12 Oct 1859; died 22 Apr 1864 Herschner, Kankakee, IL.
iv Charles Henry, born 04 Apr 1864 Herschner, IL; died 30 Sept 1945 Rockwood City, Calhoun co, IA; married 5 Aug 1891 Mary Ann Armstrong. Her obituary says they farmed in Illinois until 1906, when they moved to Iowa. 6 children.
v Mary E., born 12 Mar 1866 Herschner, IL; died 5 Aug 1888.
vi Nora B., born 14 Aug 1870 Herschner, IL; no death date; married John Golding.

Descendants would like to be connected to the Bigelow family tree, and as yet we have not adequately researched this family.

---

Subject: Re: Charles F.
Date: Fri, 4 Jan 2002 04:12:24 EST
From: Nancy NANCYLLAMAR@aol.com
. I also have some Bigelow ties. Offhand, I have Stearns, Warren, & Avery on my Dad's lines and Emery on my mother's. Seems like someone sent me a picture they had gotten from you of a Tamsen Bigelow/ Ayer grave.
The Ayer connects through Sarah Emery, m Ayer. She was sister to my 3x gr grandfather, Russell Emery. Richardson,
her father, is my 4x gr grandfather. Russell's son, Enoch, m Alzina Canfield. they had William who m Jennette Cline.
Then Nina Maude Emery who m Isaac Tamer. then, my Mom, Beatrice K. Tamer m Elmer Howard Fayette. I am the
oldest of their seven children.
Let's see if I can give you anything more you might want from the pages I did for Irma. Eza Clelland is the son of Andrew
Clelland and Clarissa Burwell. No dates on them. Claron Williams, b 20 Oct 1875, North Troy, Vt, d Nov 1962 at Lewis.
He m Nellie Clelland 1 June 1904. Claron was the son of Ransom Williams, b 29 Jan 1834, d 19 Dec 1896, Lewis.
Ransom's parents were Henry Williams and Jemima Martin. Ransom m Lavina Hitchcock, b 22 June 1844 in Keene,
Essex, Ny. She d 16 July 1951 in Lewis. Her parents were Obed Hitchcock, b 12 Sept 1806, Washington Co., NY, d 29
Dec 1863, Lewis. He m Nancy W. Fay, b 14 Apr 1817, of Weston. on 17 Aug 1836.
For Edmund Clark, I have him born abt 1750 in New Haven, CT, d 17 Sept 1823 @73 (you have 78). For possible parents I have Daniel Clark, b 8 June 1715, New Haven, d 1804, New Haven, m 14 May 1740, New Haven Phebe Bradley (this is either from LDS or a WFT disk.) Daniel's father, then, would be Stephen Clark, 24 Dec 1680, NH, d 1741, m Sarah Hill (Hill is another of my names) b 29 Jan 1684, d 20 Dec 1726. Phebe Bradley's parents are Joseph Bradley, b 15 Feb 1677/8, New Haven, d 1757, m 14 Apr 1691. Joseph's wife is Hanna Heaton (Heath) b 23 Dec 1682.
I have Jonathan Oakes father as Nathaniel, b abt 1645, d 17 Feb 1721, Westboro, MA. M 20 May 1703 Mary Holloway as his 2nd wf. His first was Mehitable (can't read what I put for the last name.
For John Warren (another line I tie to, I have b 1 May 1585, Nayland, Suggolk, eng, d 13 Dec 1667, Watertown m 13 Jan 1591/2, Nayland, Margaret Bayley (William and Ann Bayley) (GREAT MIGRATIONS). For his father, I have John Warren, b 1555, Nayland, d 4 Nov 1613, Nayland, m 4 Oct 1584, Elizabeth Scarlett. Elizabeth is d/o John Scarlett and Margaret Marten. Daniel Warren's wife is Mary Barron.
Elizabeth Flagg, b 22 Mar 1657, Watertown, Ma d 9 Aug 1729, Watertown, MA. Daughter of Thomas Flagg and Mary
(someone supplied the name Underwood, which is another of my names.) Thomas was the son of Allen Flagg and
Elizabeth Deveroys. Allen's father is John Flagg, mother Elizabeth. Elizabeth Deveroys is the daughter of Edmund
Deveroys and Ursula Pitcher.
Some of this I have with my files @rootsweb.com. Submitter name is nancyfayette.
Thanks again,
Nancy
Forgot to say that I have been Peru Town Historian and just about to be appointed again. Let me know if I can help with
anything here. I have a copy of the Peru Cemetery Records by McClellan.

---
Modified - 03/04/2022
(c) Copyright 2007 Bigelow Society, Inc. All rights reserved.
Rod Bigelow - Director
rodbigelow@netzero.net
---
Rod Bigelow (Roger Jon12 BIGELOW)
Box 13 Chazy Lake
Dannemora, N.Y. 12929

rodbigelow@netzero.net