Benjamin Flagg 8 BIGELOW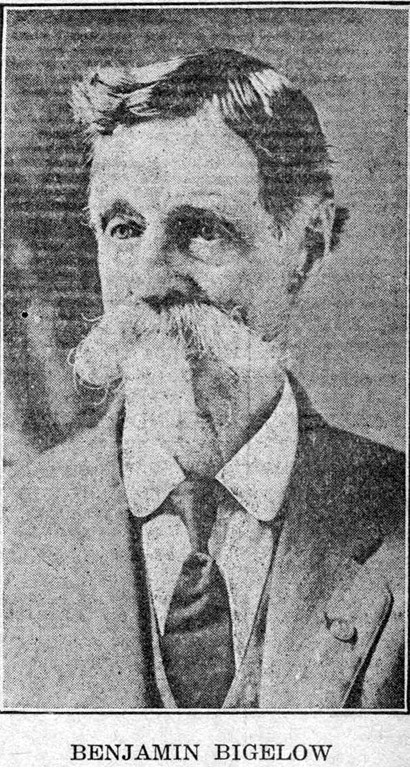 ---
16251.A11 Benjamin Flagg 8 BIGELOW, son of Ephraim 7 ( Levi 6 , James 5 , James 4 , Jonathan 3, Joshua 2, John 1), and Sarah (FLAGG) BIGELOW, was born at Bloomfield (now Skowhegan),ME on 21 December 1839. When a young man, he went to Bath, ME and worked making broom handles, then returned and took up farming. Benjamin served in the Civil War twice, enlisting in Co. K, 21st ME Inf. in 1862-63 and co. B, 1st Bat. ME Inf. until 1866 when he married 26 August 1866 Sarah H. Robinson. In the mid 1890's he sold out and moved to FL and bought land 50 miles from St. Cloud. In 1917 he returned to ME and died there on 23 December 1919 at Hampden - his wife surviving him. (In 1976, Loring Bigelow bought a used copy of Howe from a firm in MA. This Howe belonged to Benjamin and contained his newspaper obituaries). Skowhegan cemetery (Benjamin F. born Dec 20, 1839; Died Dec 31, 1919)

Children of Benjamin and Sarah (Robinson) Bigelow, born at Bloomfield, ME:

16251.A111 Vincent R., b 16 Apr 1872; d 19 Aug 1872 Bath, ME;

16251.A112 Edwin "Lonnie", b 07 Aug 1873; d ___ 1972 Bangor, ME; m Ethilda Hanning; res Hapden, ME; 7 children; (see below)

Sources:
The Bigelow Family Genealogy, Volume II, pg 488;
Howe,Bigelow Family of America;
Descendants of Eleazer Flagg;
obituaries and newspaper articles, Hampden, ME.
Note:
Subject: maine
Date:Thu, 18 Apr 2002 05:12:35 -0700 (PDT)
From: julie soucie <pugimo@yahoo.com>
Hi there,
I am having a hard time figuring out my Bigelow tree. My great grandmother was Eva Bigelow Her father was Edwin(Lonnie) Bigelow and his father was Benjamin Flagg Bigelow. Edwin was born in Bath ME and Benjamin married a Sarah Robinsson of Cornville ME. Any help?



---
Modified - 12/29/2009
(c) Copyright 2009 Bigelow Society, Inc. All rights reserved.
Rod Bigelow - Director
< rodbigelow@netzero.net >
---
Rod Bigelow (Roger Jon 12 Bigelow)
Box 13 Chazy Lake
Dannemora, N.Y. 12929

< rodbigelow@netzero.net >