JOHN BIGELOW OF UNION

(../rod2005/jonbig7c.jpg)
John as a young lawyer in NYC.
16312.74 John7 Bigelow, son of Asa6 ( David5, David4, John3, Joshua2, John1) and Lucy (Isham) Bigelow, was born at Malden-on-Hudson, Ulster, NY on 25 November 1817. He is known as "The Forgotten Citizen" as he had an outstanding career as a lawyer, editor, appointed by President Lincoln to be Consul at Paris (1861); in 1864 from Charge d'Affaires to Envoy Extraordinary and Minister Plenipotentiary to the Court of Napoleon III.
John died in New York City on 19 December 1911. He married Jane Tunis Poultney on 11 June 1850. She was the daughter of Ivan and Jane (Tunis) Poultney and born 16 January 1829 at Baltimore, MD. She died on 03 February 1889 in New York City. (see notes below)
Children of John and Jane Tunis BIGELOW
16312.741 Poultney, b 1851 NY, NY; d 1853 from a fall off a ladder in family library.
16312.742 Grace, b 11 Aug 1852 NY, NY; d _____ ; (see below) (photo)
16312.743t John, b 12 May 1854 NY, NY; d 29 Feb 1936 Washington, DC; m 28 April 1883 Mary Braxton Dallam; 4 children.
16312.744t Poultney, b 10 Sept 1855 NY, NY; d 29 May 1945 Malden, NY; m (1) 16 April 1884 Edith Evelyn Jaffrey, 3 children, (2) 07 April 1911 Lillian Pritchard; res. NY.
16312.745t Jenny (Jane), b 21 June 1859 Paris, France; d____ ; m 28 April 1886 Charles Edward Tracy; res. NY City; 2 children. (photo)
16312.746 Ernest, b_1861 Paris; d 21 July 1865.
16312.747 Annie, b 30 Nov 1863 London, Eng.; d ___ 1922; m 23 Oct 1889 Butler Kenner Harding. (photo)
16312.748t Flora, b 18 Oct 1868 Highland Falls, NY; d______; m (1) 15 Dec 1886 Charles Steward Dodge, m (2) 06 June1905 Lionel Guest; 2 children. (photo) ( and see below)

Sources:
The Bigelow Family Genealogy; Vol II, page 224
Clapp, Margaret A., Forgotten First Citizen: John Bigelow (1947; repr. 1968).
Bigelow, John; Retrospectives on an Active Life;
Howe, Bigelow Family of America; pg
Biographical Encyclopedia of U.S.
Unfailing Moral Standard at link: http://newearth.org/frontier/grintro.html
See more pictures etc at link ....................................

The following is the article from "The Bigelow Family Genealogy" Vol II, page 224, Scanned by Don Bigelow of MI
SEE:
Page 2: Steinway piano once owed by John Bigelow
Page 3: Cornell University articles:
Page 4: John Bigelow in France during the Civil War.
Page 5: John Bigelow, and Union College Library exhibit and papers

Note: Lewis makes mention of a John Bigelow who was apparently an inspector at Sing Sing prison.(see below)
Note2: 05/04/2000 I received correspondence from Charles Hubert, who came to own a Steinway piano once owned by John Bigelow (see page 2)
More Notes:
In 1865, he was Minister to France and was effective in blocking Confederate State's efforts to build ships in Europe. In 1868, he published the "Autogiography of Benjamin Franklin" and in 1874 a 3 volume set: "The Life of Benjamin Franklin Written by Himself". He was instrumental in exposing the graft of the "Tweed Ring" in NY. He spent three years living in Germany giving his 6 children some European education.
Returning to New York, he was elected to the office of Secretary of State for New York (04 November 1875). At the age of 70 his major and most fitting occupation was the development of the New York Public Library. He was a staunch supporter of the Panama Canal idea and did much to settle the American dispute between the two Canal routes. He was a great friend of the young Bunau-Varilia who later brought the proclamation of Independence to John's home and the flag of Panama was made in John's home for the newly proclamed state - Panama.
Thirteen times, after his 70th birthday, he made trips to different parts of Europe, traveled throughout America, Mexico and to Yucatan. John had always believed that the inherent capacity of negroes and whites was the same. He believed that democracy could not flourish, if any group was suppressed. He agreed to serve as President of the Board of Trustees of the Calhoun Colored School, in Alabama.
Then, after years of dedicated effort and with John in the forefront, the cornerstone was laid for the New York Public Library - he was 85 at the time. At the age of 93, he walked beside President William Howard Taft and with 600 guests he attended the completion ceremonies of the Library.
Over 88 published works and many manuscripts of his are on file. Living abroad for many years in his career, it is not strange that a list of his friends should be a roll call of the leaders of his time, American, British, European.
According to the Grolier Encyclopedia and other sources:} John Bigelow, b. Malden, N.Y., Nov. 25, 1817, d. Dec. 19, 1911, was an American diplomat and writer. After a brief career as a lawyer, he became (1848) part owner and editor, with William Cullen Bryant, of the New York Evening Post; for a dozen years thereafter, he wrote editorials vigorously supporting free trade and denouncing slavery. In 1861 he went to Paris as consul general under the Lincoln Administration and in 1865-66 served as the U.S. minister to France. While in France, Bigelow was instrumental in generating support for the Union cause and in discouraging Napoleon III from undertaking an imperial expedition to Mexico. In the latter half of his life, Bigelow produced a valuable analysis of French relations with the Confederate navy (1888), biographies of Edouard Laboulaye (1889) and Samuel TILDEN (1895), and two books reflecting his devotion to the philosophy of the Swedish theologian Emanuel SWEDENBORG. He also edited the works of Benjamin Franklin in ten volumes (1887-88); his Life of Benjamin Franklin (1874) is a version of the famous Autobiography that Bigelow had edited from a manuscript discovered in 1868. His own autobiography Retrospections of an Active Life, was published in five volumes between 1909 and 1913.
Forgotten First Citizen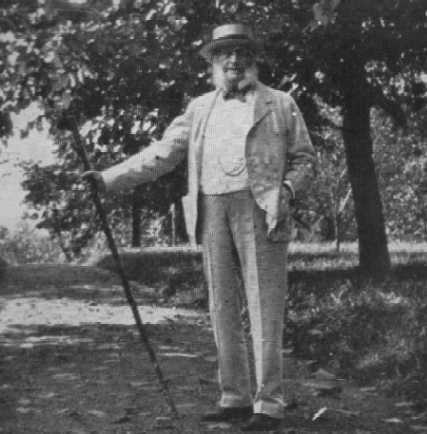 John Bigelow at "The Squirrels." ca: 1905
---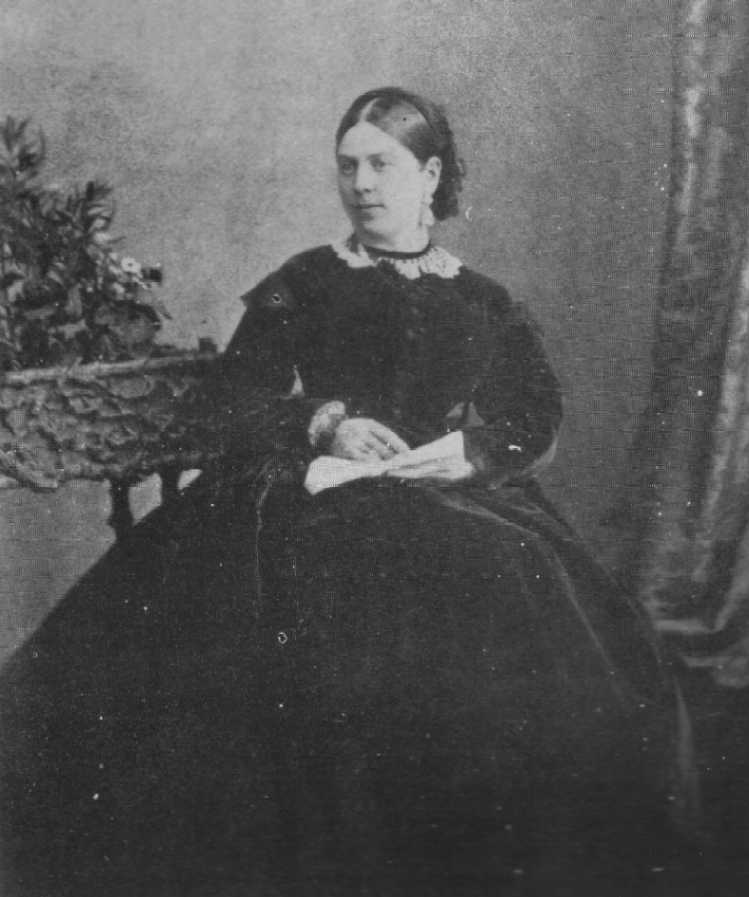 Mrs. John Bigelow

Bibliography:
Clapp, Margaret A., Forgotten First Citizen: John Bigelow (1947; repr. 1968).
Howe,Bigelow Family of America; Biographical Encyclopedia of U.S.
Note2002:
Subject: Research on John (7) Bigelow
Date: 07 Aug 2002 00:37:44 +0200
From: Marc de Banville <marc@canalvalley.com>
Dear Rod,
Thank you so much for maintening this site. My name is Marc de Banville,
I am a French documentarist, living in Panama, and working currently on
a 52 minutes documentary about Philippe Bunau-Varilla, who
was a friend of John 7 Bigelow.

I would like to know if you have some documentation on the
John Bigelow/PBV relationship. More precisely, are they prime
sources (letters, writings, interviews) about the crucial november
1903 days and about a previous trip in 1900 to Paris?
Last but not least. Philippe Bunau-Varilla mentionned that
during his 1886 visit to Panama, John Bigelow came in with his daughter
Grace. I looked all around, but it was impossible to me to find
anything else about Grace than a birthdate in august 1852. Who was she?
What happened to her? Was she really with John in 1886 in Panama, or was it
Jane?
If you can help me in this investigation, I would be very pleased.
With my best regards
Yous sincerely,
Marc de Banville
Via Argentina 61
Panama
Rep. de Panama
---

Note:
Subject: A Bigelow reference FYI
Date: Wed, 16 Feb 2000 13:39:09 -0800
From: "Ron Roizen" < Ron@Roizen.com >
Hi Rod...
W. David Lewis' book, FROM NEWGATE TO DANNEMORA : THE RISE OF THE PENITENTIARY IN NEW YORK, 1796-1848 (Ithaca: Cornell U. Press, 1965), makes mention of a John Bigelow who was apparently an inspector at Sing Sing prison. Bigelow, Lewis writes, was an innovator, and among other things sought to allow prisoners a ration of chewing tobacco. "[I]t will be the source of great happiness to the poor devils," wrote Bigelow in his diary in February, 1846 (quoted in Lewis, p. 242ff).
Lewis describes Bigelow on p. 241 as follows: "Bigelow was young, well educated, and idealistic. He had tried his hand at being a lawyer, a writer, and a journalist, and at this stage of his career was dissatisfied with his accomplishments. At first, he appears to have accepted the inspectorship primarily as 'an office which without complicating my position in politics establishes me in the confidence and respect of men whose consideration it is desirable to maintain,' but soon became genuinely interested in penal problems."
Lewis' footnotes note that an MS diary of this John Bigelow is available at the New York Public Library. Also noted are two books: (1) Margaret Clapp, FORGOTTEN FIRST CITIZEN: JOHN BIGELOW, Boston, 1947 and (2) John Bigelow, RETROSPECTIONS OF AN ACTIVE LIFE, New York, 1909-1913.
All the best, Ron Roizen

---

See John7 Bigelow's Speech link for more history on John, his father Asa, and other relatives. John's speech at a Centennial of the Town of Marlborough in 1903, gives life and detail to the lives of his and our ancestors.

The Bigelow Page, John and Poultney Bigelow A brief history of the Bigelows.A brief biography and an example of the writings of John Bigelow and a brief biography and an inventory of the papers of Poultney Bigelow (his son)

The Unfailing Moral Standard - John Bigelow The Golden Rule. The Unfailing Moral Standard. - from "Toleration" by John Bigelow (1817 - 1911)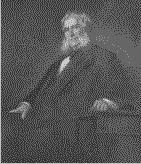 John Bigelow of Union

---

Note:
Subject: John Bigelow of Union
Date: Thu, 04 Mar 1999 11:45:28 -0500
From: David Sitomer < tolstoy@erols.com >
I have been doing Underground Railroad Research for about two months now, looking for connections to Orange County New York, and have a question about John Bigelow you may be able to help me with. William Still's Underground Railroad, Ebony Classics 1970 from the original 1871, tells a story, beginning page 174, of a John Bigelow attorney with offices at 7th and E NW Washington, who in 1854 arranged the departure of a slave girl, Anna Maira Weems, departing from in front of the White House to Philadelphia and hence to Mr. Lewis Tappan on Pearl Street in New York City . Is this the John of Union (1817-1911).? Regards,
David Sitomer

---
Note 09/25/06:
From: Nelson Tennis < nrtennison@aol.com >
From researching my TUNIS side of my family, I discovered Jane (Tunis) Poultney 1796-1861 son-in-law as John Bigelow 1829-1889. Thanks for your posting this information on John and pictures at your website!
Are you aware of Flora Bigelow's two children's accomplishments? Flora was the youngest daughter of John Bigelow & Jane Poultney.
She first married Charles Dodge and had a daughter Lucy and a son John.
John Bigelow Dodge left the States abt. 1915 and became a British citizen, so he could join the R.A.F. He fought WWI & WWII.
Was one of the Great Escaper's at Stalag Luft III, but was also related to Winston Churchill.
I' ve been trying to locate where John died, but to no avail. Do you have any knowledge of this John Bigelow Dodge? All I know is 1960 was the year he died.
Thanks again,
Nelson Tennis
nrtennison@aol.com
---
Note:
Subject: John Bigelow in France during the Civil War.. I wonder where he fits in??
Date: Fri, 03 Jan 2003 17:57:47 -0600
From: Lynn Jones <ljones94@shaw.ca>
From: http://www.archives.gov/publications/prologue/fall_2001_confederate_fleet_1.html

see page 4 as well... also Johnbig2.htm.................................ROD
also see:
http://www.geocities.com/Pentagon/8279/bigelow.html

---
Modified - 10/01/2011
(c) Copyright 2011 Bigelow Society, Inc. All rights reserved.
Rod Bigelow - Director
rodbigelow@netzero.net
---
Rod Bigelow (Roger Jon12 BIGELOW)
Box 13 Chazy Lake
Dannemora, N.Y. 12929

< rodbigelow@netzero.net >