Lt. Colonel John 8 BIGELOW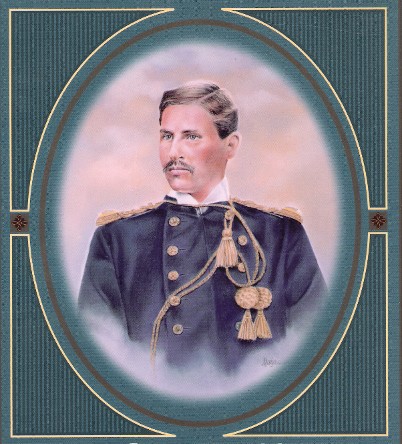 (.../rod2005/johnjr1c.jpg)
From cover
"Frontier Cavalryman." (see below)
---
16312.743 Lt. Col. John 8 Bigelow, son of John7, (Asa6, David5, David4, John3, Joshua2, John1) and Jane (Poultney) Bigelow, was born at New York City on 12 May 1854. As a child he lived in Paris for five years and in Germany from ages sixteen to nineteen. At seventeen, he enrolled at the University of Berlin, and a year later transferred to the School of Mines in Freiburg, Saxony. The following year he accepted an appointment to West Point. He married on 28 April 1883 Mary Braxton Dallam, who was born 24 July 1858 the daughter of Judge Henry Clay Dallam of Baltimore, MD. Mary's mother was Elizabeth Pope Braxton. John was a career officer in the U. S. Army graduating from West Point in 1877, served in the 10th U. S. Cavalry, and in the Adjutant General's Office at Washington, D.C. (1889, according to Howe writting in 1889-1890). He died 29 February 1936 age 81, at Washington, DC. Mary died later at unknown date (about 1941 according to one source). See LINK for more info.

Children of John and Mary (Dallam) Bigelow:

16312.7431 John, b 20 Sep 1884; d 29 Dec 1886;

16312.7432 Braxton, b 17 Jan 1887; d ___ 1917; killed in action near Loos, France; captain of the British Royal Engineers at the time.

16312.7433 Jennie "Jane" Poultney, b __ Dec 1888; d ______ ; m Thomas Ellett; daughter Joan (Jane) Braxton Ellett, b 1918; d ____ ; m William Hoffman Benjamin;( only John jr's daughter Jennie and grandaughter Joan Benjamin survived him in 1936). (see below)

16312.7434 Gladys, b ____ ; d _____ ;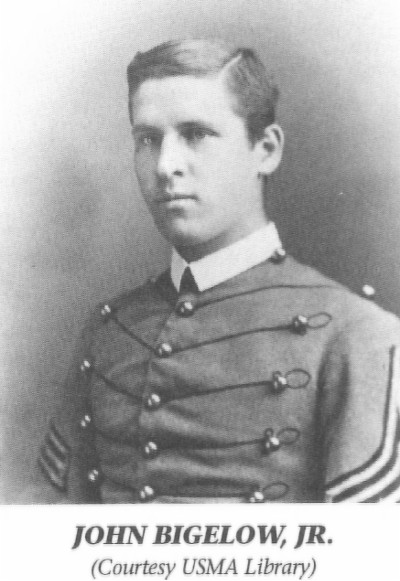 (.../rod2005/johnjr2c.jpg)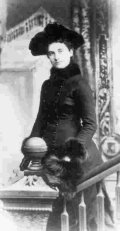 Mary Braxton Bigelow

.....Another officer's wife who remained at Fort Davis rather than travel with the regiment was Mary Braxton Bigelow. Married in Baltimore in 1883 to Lieutenant John Bigelow, Jr., they were the parents of a young son when it was time to leave Fort Davis. Mary Bigelow, would take the train once her husband had set up their new quarters. Lieutenant Bigelow wrote: "Mary and little J. III will not go with me. Mary might, if she were alone and would enjoy it, I have no doubt. I do not like the prospect of her having to travel alone with the baby, perhaps without a nurse."

Sources:
The Bigelow Society,The Bigelow Family Genealogy,Vol II pg. 492.
Howe, Bigelow Family of America; pg 450.
Kineman, Marcos, Frontier Cavalryman;
Lieutenant John Bigelow with The Buffalo Soldiers in Texas; pub 1998 (source of new photographs)
Forge sources below, On the Bloody Trail of Geronimo: about John Jr's military career, Western Frontier, Military Life, a new bride and family, life at Fort David, life at the Frontier with a family etc.
Forge: The Bigelow Society Quarterly; Vol 27, No 2, Apr 1998, pg 27;
Forge: The Bigelow Society Quarterly; Vol 27, No 3, July 1998, pg 49;
Forge: The Bigelow Society Quarterly; Vol 27, No 4, Oct 1998, pg 73;

From: < Mary_L_Williams@nps.gov >
Sent: Thursday, November 05, 2009 11:44 AM
Subject: Mary Braxton Dallam Bigelow
My name is Mary Williams and I am the historian at Fort Davis National
Historic Site. Fort Davis is an old frontier Indian Wars post in western
Texas. As you probably know John Bigelow served at the fort from November
of 1884 until the 10th Cavalry transferred to Arizona in early April of
1885. One of our volunteers has become very interested in Bigelow's wife
Mary and wants to present a program on her to our visitors. We have some
information on her mostly from various publications including a segment of
John Bigelow's journal that was edited by a former Fort Davis employee -
Douglas McChristian - and published under the title Garrison Tangles in the
Friendless Tenth. We also have a number of photos of her that were donated
to Fort Davis by Jane B. Stevenson in 1981. We are hoping, however, to
find additional information on Mary Bigelow to present a program on her and
are hoping that you might be able to help us.
Any information you could provide or an source you could direct us to will
be very much appreciated.
Thank you.
Sincerely,
Mary L Williams
Historian
Fort Davis National Historic Site
P.O. Box 1379
101 Lt. Flipper Drive
Fort Davis, Texas 79734
Phone (FTM)

New Note 10/12/05:
I recently obtained a book called:
"Frontier Cavalryman
Lieutenant John Bigelow with
The Buffalo Soldiers in Texas"
The book was written by Marcos Kineman and published in 1998. I first noticed the book on my recent visits to the Bigelow Homestead in Malden-on-Hudson, NY. I was especially impressed with the color picture above. I will post the flyleaf info for now................ROD

F. R. O. N. T. I. E. R
C.A.V.A.L.R.Y.M.A.N

LIEUTENANT JOHN BIGELOW WITH THE BUFFALO SOLDIERS IN TEXAS
In 1877, John Bigelow Jr. and seventy-five other cadets graduated from the United States Military Academy at West Point, New York, after which he chronicled his experiences, observations, opinions, and musings as a young Cavalry lieutenant in Texas. Sixty of the new lieutenants, including Bigelow and seventeen others who were assigned to black regiments called Buffalo Soldiers, soon departed for the frontier where they were scattered over numerous small and often ramshackle posts and camps. Their work of training soldiers, exploring and patrolling wilderness areas, protecting the mail, travelers, and settlers, chasing and sporadically clashing with unpacified Indians, and enforcing federal laws and policies was usually arduous,
occasionally dangerous and seldom glorious. Yet the value of their accomplishments was immense.
Upon reporting to Fort Duncan, a small post on the Rio Grande, Bigelow became the commanding officer of Company B, 10th Cavalry. Several weeks later a rash of Indian raids in the trans-Pecos region led to his company's transfer to Fort Stockton, where his principal duty was scouting for elusive marauders. He also became increasingly immersed in courts­martial as a prosecutor and court member, as well as a witness in two officer cases, one of which rocked the entire Army, that were tried in San Antonio.
In addition to providing a comprehensive view of army life in the late 1870s, including the social practices and prevailing Victorian customs, the author addresses the widespread attitudes of the times toward the Buffalo Soldiers and how these views changed when black and white soldiers fought side by side against common foes.
Also portrayed are the results of sending poorly prepared officers and men to fight in unconventional conflicts, desertion-inciting conditions and practices, and how an obsolete military justice system developed into a model of fairness far in advance of its civilian counterparts. This informative, lively, and entertaining narrative presents an enduring portrait of frontier army life and the challenges confronting officers and soldiers alike in the nation's relentless drive westward.

Note1:
Subject: Lt. Col. John Bigelow, Jr.
Date: Fri, 08 Sep 2000 11:00:31 +0000
From: Steve & Linda Wilson < slwilson@ionet.net >
Dear Rod:
I have very much enjoyed the Bigelow Family website. I am researching the military career of John Bigelow, Jr., the brother of Poultney. Might you know, or could you direct me to someone who would, if John's granddaughter, Jane Braxton Benjamin (Mrs. William Hoffman Benjamin) is living? She was born in 1918 to John's daughter, Jane Poultney Bigelow Ellett. Also, might you know if Ric Dragon, curator of the Bigelow Homestead at Malden-on-the-Hudson, has a new e-mail address? I used the one on your website, and it was returned. I'd like to contact him regarding Poultney and his family. I'd very much appreciate your kind assistance in this. Sincerely,
Steve Wilson
1510 NW 49th St.
Lawton, OK 73505-3239

---

Note2: From Don Bigelow's wife after his death 1 June 1998. Mentions: Authors, "On the Bloody Trail of Geronimo" published in (?) owned by Poultney Bigelow 1904. He graduated fm. West Point 1877 as 2nd Lt., assigned to the 10th US Cavalry, a negro regiment org. July 28 1866 at Ft.Leavenworth, KS. He was promoted to 1st Lt. Sept. 24 1883 but had to wait
10 years before obtaining his captaincy--April 1893 he was assigned to K. co., 10th, the unit by this time was a crack outfit.
Bigelow Mountain, Vol. 12 #4, p.6
Bigelow Book: Vol.1, #4, p.4.
Major John Bigelow Vol. 25 #2, p. 26
Bol.20 #3, p.50,
John (5) Bigelow Vol.4, No.4, p.9
Kamprath, darymca@aol.com
Cam Miars who sent articles

The following link are the Forge articles noted above and is in three parts by Guy A. Bigelow:
John8a2.htm

---
Modified - 12/24/2009
(c) Copyright 2009 Bigelow Society, Inc. All rights reserved.
Rod Bigelow - Director
rodbigelow@netzero.net
---
Rod Bigelow (Roger Jon12 BIGELOW)
Box 13 Chazy Lake
Dannemora, N.Y. 12929

< rodbigelow@netzero.net >