Helena 11 (DeWitt) Roth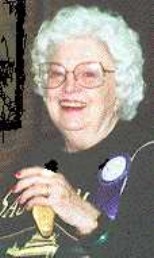 159B3.4123?.? Helena 11 (DeWitt) Roth, dau of Madeline 10 (Bigelow) Dewitt, (William Hiram 9 Bigelow, James C. 8 , Hiram 7 , Jairus 6 , Bond 5 , Elisha 4, Isaac 3, Samuel 2, John1)
Helena 11 (DeWitt) Roth, former Treasurer and long-time active member of the Bigelow Society, died peacefully at her residence in Flint, MI on 12 January 2003 at the age of 86 after a lengthy battle with cancer.
Helena became Treasurer m 1982, a position which at first carried the joint responsibilities of Secretary-Treasurer, and served faithfully in that position until stepping down in 2000, a total of 18 years. Helena attended every Annual Reunion from 1982 to 1996. The last reunion she was able to attend was in 2001 at Springfield, MO.
Helena DeWitt was born 8 September 1916 m Flint, MI, the daughter of Madeline (Bigelow) and George DeWitt. The family resided in Genesee. After high school, she took a business course at General Motors Institute and during World War II worked for Fisher Body in the accounting department.
Helena (DeWitt) Roth was a true businesswoman. In 1945, she moved to Detroit and bought two business, both with telephone-answering services, sub-rental offices and stenographic services. The Executive Service in downtown Detroit handled legal stenographic work and The East Jefferson office specialized in accounting. They consistently grew, and played an important part in opening the Eisenhower campaign in 1952, as they held the contract for distributing information. Utilizing court reporters, electric typewriters and stencils, they had speeches on the wire services as fast as they were ended.
In 1961, Helena married Paul Roth in Detroit. Paul was a man active in politics and in staging sporting events. Helena also acquired a stepdaughter, Paula, who later married John Gambs and moved to New Jersey. Helena and Paul divided their time between Michigan and Florida, plannmg to retire where it was warm. In 1974, Paul had a stroke and died the following year. Eventually, Helena moved back to Flint to be with her widowed sister, Vernadett Wagner.
In Flint, Helena took up real estate and secured licenses in both Michigan and Florida. She also set up a word-
processing department in one of the offices which she had sold. She commuted for a time between Detroit and Flint. spending part of the week in each city.
In thc early 1980's, Helena and a friend contributed a weekly column called Elegant Eating to the Grosse Pointe (MI) News. They also authored a book on low-cholesterol low-calorie cooking.
In 1982, Helena accompanied her Uncle Nell and Aunt June Bigelow to the Bigelow Society Reunion, and that. she laughingly said, "was her downfall." Her cousin and director, Rcva Ferguson, persuaded Helena that thc Bigelow Society needed her, and she never looked back. As Forge Editor and Bigelow Society founder Pat Bigelow said at the time: "She has brought order to our books and instituted several work-saving practices!"
Helena will be sadly missed by the many Bigelows Society members with whom she corresponded over thc years, and especially missed by all the officers and directors she saw every year at the Annual Reunion.
Surviving are her step-daughter, Paula (John) Gambs. granddaughters. Kate Gambs. and Laura (George) Irvin, all of San Francisco: step-sister. Bernice Monroe Burton. MI; half-sister Revena McLaughlin, Lansing, MI; and half-brother, Edwin DeWitt, Birch Run, MI. She was predeceased by her husband; sister, Vemadett; and brothers; William, Wayne and Norman DeWitt.
FORGE: The Bigelow Society Quarterly; Vol 32. No 2; April 2003

---
Modified - 05/21/2003
(c) Copyright 2003 Bigelow Society, Inc. All rights reserved.
Rod Bigelow - Director
< rodbigelow@netzero.net >
---
Rod Bigelow (Roger Jon12 BIGELOW)
P.O. Box 13
Dannemora, N.Y. 12929

< rodbigelow@netzero.net >

BACK TO THE BIGELOW SOCIETY PAGE

BACK TO BIGELOW HOME PAGE