BROTHER BIGELOW'S DEATH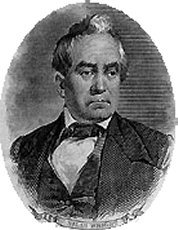 Silas Wright was governor of New York State from 1845 to 1856; in addition he held several state offices and was a U.S. Congressman and Senator. His sister Eleanor was married to Alpheus 6 BIGELOW ( Roger 5,Joseph 4, Joseph 3,
Joshua 2, John 1). The family was a close knit one; Silas Wright's brother Pliney was in latter years to marry Ann (CHAPPEL) BIGELOW. Here follows a letter from Silas WRIGHT to his parents, written after receiving news of Alpheus BIGELOW's sudden death. In the letter are references to Pliney WRIGHT and their sister Lucretia, known as "Creecy".
The original letter was owned by George Elmer of Canton, NY; transcribed and donated by Mary Ruth Beaman, Ogdensburg, NY.

---
Canton, New York
16 June 1833
My dear Parents,

Your two letters by Mr. White were delivered to me on Friday at about six o'clock in the afternoon. The melancholy news of the death of Brother Biglow was as shocking as it was unexpected. Five weeks that day I had left him in the enjoyment of unusual health for him at that season of the year, and while I was anxiously waiting a letter which would inform me of the health of Mother and Pliney and Creecy and Eleanor, I had not even thought about death or sickness to him. So incompetent are we to forsee the future or to prejudge the ways of an inscutable Providence. We anticipate sorrows which do not come and misfortunes which are realized, and we are careless and say all is well (as to our view it is) when death is at the doors.

I found a man from Madrid and wrote immediately to Sam'l Biglow [Alpheus' brother], and on the same night I got an opportunity to send to the Cahoons and to John Shepard. I will publish the account of death in the paper here on Thursday of this week as you request.

I have written today a long letter to Eleanor and shall write often to her. I hope when you get this letter you will drop me a line to inform me how Eleanor and the family now are, and also how Creecy is, as I have had and still have great axiety about her though I hope there is no cause for it. I also want to hear from Pliney and Mother particularly. [ A paragraph concerning personal finances is omitted here.]

I have nothing new to write to you from here at all. Mrs. Moody and her family are well and she and Clarissa and Luman send their respects. The season so far is very unpromising and the rains are constant and abundant. Indeed it began to rain in the morning after I left Middlebury (VT) and wherever I have been it has rained most of the time since that period. The corn here is but just out of the ground, or that part of it which has not rotted in the ground, and I cannot see that it has grown at all in the ten days that I have been here. The crops of grain are said to be very light and to promise badly. The winter wheat has looked very well, but I have been told that within a few days it begins to turn yellow and look like dying.

The people here feel poorer than I have ever known them, and money is more scarce. Still I think if the weather should change with the next change of the moon and should then be favorable, the crops might still be very fair. As it is said there is more seed in the ground than there ever was at any time. [Another paragraph concerning his finances omitted] I shall write to you frequently and always if I have anything important to communicate. My health is good. The papers will inform you as much as I will know of the President's progress.

Your affectionate son,
Silas Wright jr

This Forge article then goes on to relate the data on Alpheus 6 which I have on a separate link. The article also mentions that: "research was done by Mary Ruth Beaman, Ogdensburg, NY, descendant of James Call 6 , Joel 5 , Benjamin 4 , Jonathan 3 , Joshua 2 , John 1 . Mary Ruth has been a frequent contributor of genealogical information to Bigelow Society and to genealogical journals."( This is the same Mary Ruth (now JUDD), who now lives in Canton, NY.

More about Silas Wright including cemetery photos can be found on Page 2.

Notes: Mary Ruth JUDD has contributed most of this material, (She is the above mentioned Mary Ruth Beaman), and it is through her early research that I first became aware of James and Lucretia BIGELOW. I visited the Potsdam LDS Genealogy Research Center in 1994 and found a small file folder with this among other stuff.
This article is from Forge: The Bigelow Society Quarterly; Vol 10 Nos 1 & 2; Jan-Apr 1981 pages 10-11.

---
Modified
- 02/06/2001
(c) Copyright 2001 Bigelow Society, Inc. All rights reserved.
Rod Bigelow - Director
bigelow@slic.com
---
Rod Bigelow (Roger Jon12 BIGELOW)
8 Prospect Circle
Massena, N.Y. 13662

bigelow@slic.com Rod Bigelow at SLIC

BACK TO THE BIGELOW SOCIETY PAGE

BACK TO BIGELOW HOME PAGE