John 8 BIGELOW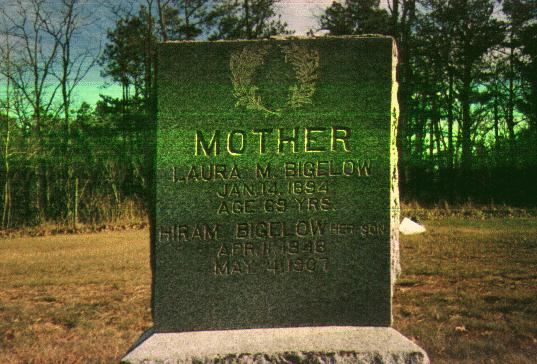 This is the headstone of Laura M. (RICE) BIGELOW, wife of John8
16314.135 John 8 BIGELOW, son of Jared7 ( Ezra6, Ezra5, David4, Lt. John3, Joshua2, John1) BIGELOW and Sarah (BEAMAN) BIGELOW, was born cir 1824 (age 5-10 in 1830);married 29 Jan 1846 in Pownal, Bennington,VT to Laura Mercy RICE, daughter of Mercy (BIGELOW) and Isaac RICE; Laura was first cousin, her mother Mercy was sister of Jared7; Laura was born 18 May 1814 in Bennington, Manchester,VT; John died Cir 1902?; Laura died 14 Jan 1894 Plattsburgh, Clinton,NY; she is buried in West Plattsburgh Union Cemetery,Morrisonville, NY with her son Hiram; There was a John C. BIGELOW Obituary in Plattsburgh Sentinel Feb 21,1902 p4 col 5.1825-1902, but this appears to be another unrelated John Bigelow; Marriage place found in LDS file Cornwall(microfische)4/26/95 RJB.
The following are the children of John and Laura M.( RICE) BIGELOW:
16314.1351 Hiram 9, born 11 April 1848; died 4 May 1907; buried with Mother in Morrisonville, NY. appears to be unmarried. Said to have been a farmer in Ellenburgh in 1892.
16314.1352 John 9, born 1 Mar 1853; died 1 Mar 1940; married 1876 to Susie T. Kent, daughter of Rev. Helmer B. and Sarah Kent.
Sources:
Bigelow Society,The Bigelow Family Genealogy Vol II,pg 233.
Latter Day Saints microfiche records
Census records;
Cemetery inscriptions

---
Rod Bigelow (Roger Jon12 BIGELOW)
8 Prospect Circle
Massena, N.Y. 13662

bigelow@slic.com Rod Bigelow at SLIC

BACK TO THE BIGELOW SOCIETY PAGE

Back to My Roots Page
BACK TO BIGELOW HOME PAGE