Epaphroditus 6 BIGELOW
This picture is from The History of Livingston County by James H. Smith, as is the article attached to the bottom of this long page.
16315.B Epaphroditus 6 son of Daniel 5 (David 4, Lt. John 3, Joshua 2, John 1) BIGELOW and Sarah (CHAPMAN) BIGELOW, was born 4 Feb 1786 at Marlborough, Hartford co, CT. He served in the War of 1812, and taught school in Connecticut several years. He married on 7 Nov 1816, Sarah PHELPS, daughter of Oliver and Mary (HILLS) PHELPS. She was born in Marlborough 23 Oct 1795. In 1818, they with their infant child moved to Geneseo, NY with a yoke of oxen and a covered lumber wagon, covering 330 miles in 18 days. They settled on a farm in the eastern part of the town, where he became a prominent citizen, serving on the School Committee and board of Assessors several years, and holding the position of Justice of the Peace. His wife died 21 Mar 1878, and he on 7 Apr 1874. They are buried in the Mount Pleasant Cemetery, just east of Geneseo at the I-390 exit for same. His house is still standing on the other side of I-390. That information and more is listed after children.... ROD 1997.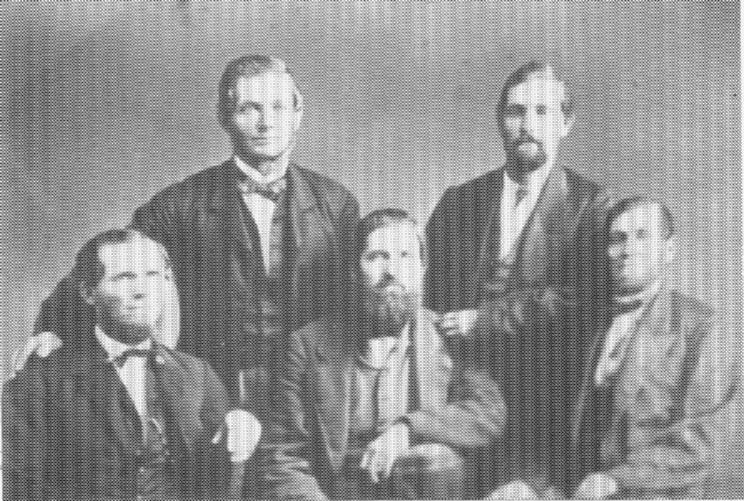 Surviving adult sons of Epaphroditus Bigelow, undated and unidentified. Thanks to descendants Marion Bigelow and Mrs. Dorothy Baer, authors of the article below; I believe the son in the back left is Edward, the youngest. This is confirmed through another photo I've seen recently. The son seated in the middle is probably Orimel and I would take another guess that the picture was taken 1874 or 1878 for a funeral.
Note:
Name: Barbara Kay Warren
E-Mail: warrenwhites
Location: Calhan, CO
Comments:
RE: Edward Bigelow in the photo from Marion Bigelow & Mrs. Dorothy Baer with
5 brothers. Edward was my mother's Grandfather. Her father was Charles
Albert, married to Cora Alma Nate. Her brothers, Raymond Wilbur & Edward
Clayton are still alive & well! We have had the same photo for decades. I
believe Edward is in upper RIGHT - I have two excellent photos of Edward and
Lucy Hart Brown. The single of Edward is striking resemblence to only the
figure in upper right. Mom is 87, very sharp, & yrs ago gave me the following:
U/L-Revilo; U/R-Edward; Center-Harvey; L/L-Daniel; L/R-Orimel. At this time
she is not sure where her info came from. When I acquire a way of getting my
photos on my computer I will be sure to send them to you. I also have a gold
enameled locket Edward gave Lucy during Civil War time, perfect shape with
their photos in color inside, inscribed outside. LOVE your site - Am sure Don
was a male ANGEL and you are truly following in his footsteps. Am just now
getting my family trees built - the best addiction out there!!
Children of Epaphroditus and Sarah (PHELPS) BIGELOW, the oldest born CT, the rest Geneseo, Livingston co, NY:
16315.B1 Orimel, born 3 June 1818; died ; married 27 Mar 1847 Jane Williams; res Groveland, NY. 2 children.
16315.B2 Revilo, born 9 Oct 1820; died 3 Aug 1896 Geneseo; married (1)21 June 1855 Sarah A. Wilbur, and (2)3 Jan 1860 Mrs. Nancy Sinclair. 4 daughters.
16315.B3 Daniel, born 4 Dec 1822; died ; married 8 Oct 1856 Helen A. Whitney; lived on his father's homestead. 2 children.
16315.B4 Harvey, born 1 May 1825; died 29 May 1899 Rush, NY; married 28 Dec 1848 Maria Van Buskirk; a carriagemaker at East Avon, NY. 5 children.
16315.B5 Cyrus Phelps, born 30 May 1827; died 19 Nov 1830 Geneseo.
16315.B6 Alonzo, born 22 May 1829; died 8 July 1837 Geneseo.
16315.B7 Martin Luther, born 19 Sept 1831; died 6 June 1838 Geneseo.
16315.B8 Merit Harmon, born 14 Feb 1834; died 10 Dec 1858; unmarried.
16315.B9t Edward, born 14 May 1837; died ; married 29 Aug 1865 Lucy Hart Brown; lived Austin, MN and Troy, IL. 5 daughters.

---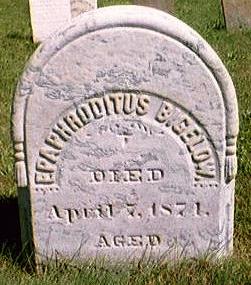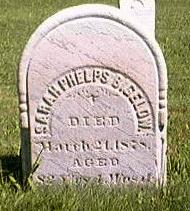 These are the stones of Epaphroditus and wife Sarah Phelps BIGELOW. Their son Merit Harmon's stone is below. All were found in Mt. Pleasant cemetery, near Geneseo.. ROD Aug 1997.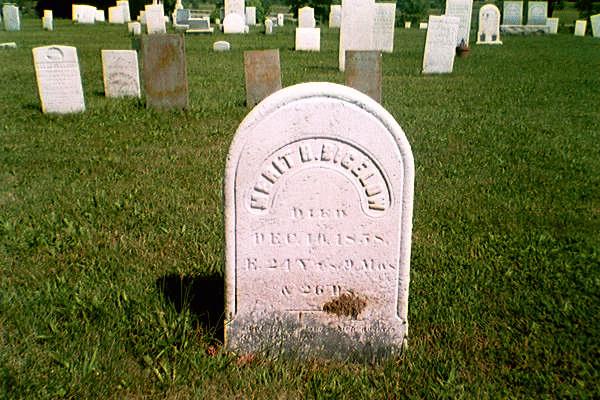 Sources:
Bigelow Society, The Bigelow Family Genealogy Vol I, pg 328.
Howe, Bigelow Family of America;
cemetery inscriptions Geneseo and East Avon, NY
The History of Livingston County by James H. Smith pp 407-408 (below);
Livingston County Review; Nov 1914; pg 10; story of Genesee Valley by Charles Wiseman
Oct 1987 Forge article published on the Internet by Don Bigelow.

---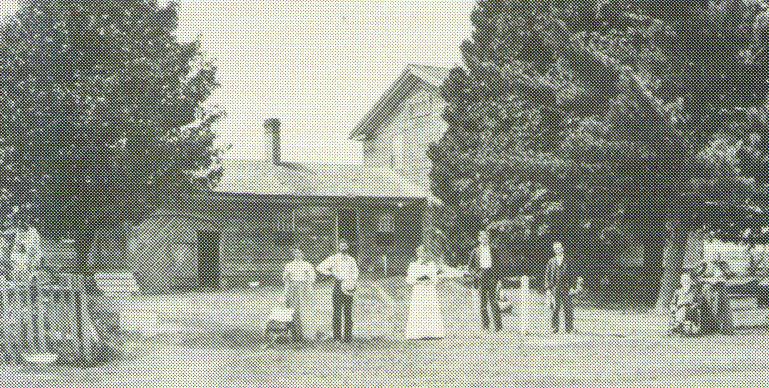 Picture taken 1893 by Meritt Harmon 8 Bigelow, showing home built by his ancestor Epaphroditus 6 about 1820-30.
Left to right: Ruth Bigelow in cart, her mother Rebecca, Edward Everett 8 Bigelow, 3 unidentified Bigelows (may be Harriet Amelia 8 and her husband Lovett T. Davis, and ?), Daniel 7 Bigelow, seated, and wife Helen (Whitney) Bigelow, standing.

---

This is a story of genealogical adventure, with failures and successes. In August 1997, I had business in Buffalo, NY and decided to look for Ezra 5 in Geneseo, Livingston co, NY. He was reported to have died there about 1808. On the first day, I had little luck. I found a few gravestones; Epaphroditus and his son Daniel, but no evidence of Ezra's family.
The next day, on returning from Buffalo, I tried again at the County Historians office. Still no luck with Ezra, but found a lot on Epaph , his sons and other Bigelows in the area. Here is an excerpt of a story told by Charles Wiseman in the Livingston County Review
I was born near Dansville in the early thirties but I never enjoyed a permanent home until after the War. My father was a preacher, -not one of the settled variety who win their way to a parish and live there in blessed content. Not he ! He seldom spent more than a month in a place without having a sufficient reason, the same being a decided lack of religion among the inhabitants thereof. I guess I would call him an exhorter. He embraced the whole valley from northern Pennsylvania to the shores of Ontario as a field for his labors. Everybody knew him and before he had been long among them and passed on his way they grew to look forward to his return.
We didn't live in town like other people, -- our home was a log cabin in the woods near Caneadea. I couldn't exactly call it home for I only lived there in the winter months. The remainder of the year I spent with my father on the circuit. Somehow, as I go back over the path that memory has traced, the little log cabin is the only place I think of when I speak of home.
At one time there was not a prominent personage in the valley whom I did not know, at least by name. I've never made it my business to cultivate the acquaintance of lawyers, doctors and men of the professions. I met them all as a matter of course and took them all as a matter of fact. Some of them, no doubt, were really great men in their chosen lines, but I am one who would rather go ten miles to see a two-headed calf than walk around the corner to view the Washington Monument or the interior of the Garfield Memorial. I much prefer to listen to a wandering minstrel discuss his Philosophy of Life than to squirm through an interview with a learned judge.
I used to know old Epaphroditus Bigelow of Geneseo. I infer no disrespect by saying "old" for he was old when I first knew him. We stopped at his home one night, my father and I. He was one of the most entertaining men I have ever encountered. I was just in the midst of the "curious" age then, and he responded to my inquiries in so genial a manner that I was quite won over to him.
He was born in a small Connecticut village and reared upon the most democratic of places,-- a farm. The limited training he received in the common schools served as a foundation for the excellent education he later obtained through his own efforts. He served through a part of the War of 1812. Five years later he made the 330 mile trip to the Genesee valley in a canvas covered wagon of the prairie schooner type, drawn by a yoke of oxen, with one horse leading. Here he settled down to a life of farming. When you undertook to wrestle a living from the soil at that time you performed a feat that was a feat. He hauled his farm products twenty-five miles to the nearest market, Rochester, selling them for a price you would consider small today.
In spite of this he saved enough to educate a large family, -- as great an accomplishment as Napoleon's trip over the Alps. Bigelow was the kind of man who could sway a mob or stir a nation. He was of the kind who form a nation's back bone,-- steady, energetic, reliable. They may not have known him across the line but he filled his place in the valley. (This time period Wiseman was writing about was just before the Civil War, about 1860)
---
This is the article by Smith in The History of Livingston County
EPAPHRODITUS BIGELOW
Epaphroditus Bigelow was born 4 Feb 1786 in Marlborough, Hartford co, CT and died 7 Apr 1874 at his home in Geneseo, NY, aged 88 years and two months. He was a lineal descendant of John Bigelow, who emigrated from Wrentham, county of Suffolk, England, to new England, and settled at Watertown, Mass., where he died July 14, 1703. He was the son of Daniel Bigelow by his second wife Sarah F. Ingham, he having married for his first wife Mary Brainard of Westchester, CT.
By each of his wives there were born unto him seven children, eight sons and six daughters, ten of whom lived to mature years.
One only of this large family survives, Mrs. Betsey Bigelow Hempstead, who has attained to the ripe age of 97 years (in 1881) and is the oldest person now living in the town of Geneseo. Epaphroditus Bigelow was the fourth child by the second wife. As his father was a farmer by occupation, he received his early training at home and upon the farm in summer, and attended the common schools of his native town in the winter. His early advantages were limited, but he fully improved upon what he enjoyed, and when of age became a common school teacher of quite large experience, having taught eleven winter terms in the schools of Connecticut and in Geneseo after his removal thereto.
In July 1813 he enlisted in the War of 1812, as a private in the 1st Regt, Conn State Troops under Capt. Enos H. Buell, his being the first name upon the company's roll. He served three months, the period for which he enlisted, at New London, CT, and was honorably discharged in the month of Sept. Under the act of February 14, 1871, granting pensions to survivors of the War of 1812, he became entitled to a pension, which he received up to the time of his decease.
He was married at Marlborough, CT, 7 Nov 1816 by the Rev. David B. Ripley to Sarah Phelps, oldest daughter of Oliver and Mary (Hills) Phelps. In the spring of 1818, he removed with his wife and infant son 9 months old, to Geneseo, NY. This son, Orimel, was living in 1881 in nearby Groveland, NY (but in 1850 was living in Michigan). The journey was undertaken in a canvas-covered lumber wagon, the style in those days, drawn by a yoke of oxen and one horse in advance, a distance of 330 miles in eighteen days.
He settled upon a farm in the eastern part of the town, land which he had previously bought of David Haynes, a native of Pennsylvania, who in turn had purchased it from Messrs. Wadsworth in Sept 1792, when the land was unbroken wilderness. Here Epaphroditus entered zealously upon the work of his life, continuing to dwell upon this chosen spot to the end of his days, a period of fifty-six years. In those days before canal or railroad had penetrated the Genesee valley the profits of farming were not large and markets were not near. Rochester, distant twenty-five miles, was the principal market, and here he sold his wheat at three shillings per bushel, and other farm products in proportion.
By industry and economy he in time secured a competency and raised and educated a large family of children. During the active period of his life he took a lively interest in public affairs. Among the town offices held by him were Justice of the Peace, Commissioner of Schools, and Assessor. He was a Whig until that party's dissolution, after which he became a Republican. He cast his first vote for President in the fall of 1808 for James Madison, and in all cast his vote seventeen times for the electors of President and Vice President of these United States.
Epaphroditus Bigelow was of Puritan ancestry, and was early taught the truth of devine revelations and made familiar with that gospel, which for so many years he adorned by a godly life and conversation. On May 22, 1838, under the pastorate of Rev. Horace Galpin, he united with the First Presbyterian Church of Geneseo, and was elected and ordained as a ruling elder Sept 2, 1836, in which office he continued until his death.
He was not a great man as some count greatness, but rather might be called one of those standard, reliable men to be found in every town, who seek to be useful in their day and generation, filling his place creditably and honestly and according to an enlightened judgment. he was a man of stern integrity and of firm convictions. Opinions once formed were tenaciously held. He was benevolent and generously contributed of his means for the good of his fellow men, and those enterprises organized for the purpose of advancing and improving the world had his support. He has acted his part upon the stage and has passed away, and the testimony is that his life's work was well done.
His wife united with the church at the same time as her husbandwhom she survived nearly four years. She was a worthy helpmeet, exemplary and faithful in all the duties relating to her home, to the church, and to her God. She was born 23 Oct 1795 and died 21 Mar 1878, aged 82 years. His children, were nine in number, all sons. Their names in the order of their ages were: Orimel, Revilo, Daniel, Harvey, Cyrus Phelps, Alonzo, Martin Luther, Merit Harmon, and Edward. Of these Cyrus Phelps, Alonzo, and Martin Luther died in childhood. Merit Harmon a young man of more than ordinary promise, died 10 Dec 1858, aged 24 years. Each one of those who lived to reach their majority, received an academic education at Geneseo Academy, Geneseo, NY.
Orimel married Jane Williams, is a farmer by occupation, and resides at Groveland, NY (1881). They have two children, a son and a daughter. Revilo lives at the village of Geneseo, and has married twice. His first wife was Sarah Alice Wilbur by whom he had two daughters. For his second wife he married Mrs. Nancy S. Haynes, by whom he also has two daughters. Daniel dwells upon the homestead of his late father, deceased, and married Helen A. Whitney, of Avon, NY. They have a son and daughter.
Harvey lives at Rush, N.Y., and is a wagon and carriage maker. He married Maria VanBuskirk, and they have five children, two sons and three daughters. Edward lives at Austin, Minn., and is a merchant in the drug and stationary business. He served his country for three years in the late Rebellion, and held a captain's commission, and has been the Principal of several higher institutions of learning in the West. He married Lucy A. Brown, by whom he has three children, two sons and a daughter.

---
Modified
- 01/31/2001
(c) Copyright 2001 Bigelow Society, Inc. All rights reserved.
Rod Bigelow - Director
bigelow@slic.com
---
Rod Bigelow (Roger Jon12 BIGELOW)
8 Prospect Circle
Massena, N.Y. 13662

bigelow@slic.com Rod Bigelow at SLIC

BACK TO THE BIGELOW SOCIETY PAGE

BACK TO BIGELOW HOME PAGE