Daniel 7 BIGELOW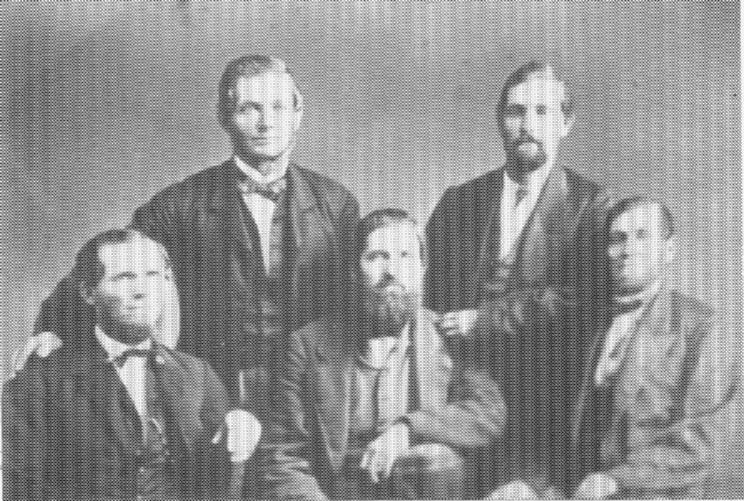 This is a photo of Daniel and his brothers. Don't know which one is Daniel.
This photo shows surviving adult sons of Epaphroditus Bigelow, undated and unidentified. Thanks to descendants Marion Bigelow and Mrs. Dorothy Baer, authors of the article below; I believe the son in the back left is Edward, the youngest. This is confirmed through another photo I've seen recently. The son seated in the middle is probably Orimel and I would take another guess that the picture was taken 1874 or 1878 for a funeral.
---

16315.B3 Daniel 7 BIGELOW, son of Epaphroditus 6(Daniel 5 ,David4, Lt. John3, Joshua2, John1) and Sarah (PHELPS) BIGELOW, was born at Geneseo, Livingston co, NY on 04 December 1822. He married Helen Annabelle Whitney. She was born on 15 April 1828 at Avon, NY and married on 08 October 1856. This family resided in Geneseo and Daniel was a farmer, merchant, teacher, commissioner, superintendant, assessor very active in town affairs. He died on 02 March 1898 and she much later on 0l March 1925. Both are buried at Mt. Pleasant cemetery, Avon, NY, about 4 miles from Geneseo and just a short hike to the old homestead. see Headstone

Children of Daniel and Helen (Whitney) Bigelow, born Geneseo, NY:

16315.B31t Harriet Amelia, b 11 Aug 1858; d ____ ; m Lovett Thaddeus Davis; One child known #16315.B311 Paul W. 9 Davis, married Ruth Marks; 2 children including Harold B. 10 Davis, whom I met in Aug 1997 occupying the same house built by Epaphroditus 6, and occupied by Daniel 7 and other family members including Edward Everett 8 below. I was shown an old photograph of the house with Edward Everett 8 etc identified.(see photo)

16315.B32t Edward Everett, b 30 Dec 1864; d 25 Sept 1942; m Rebecca L. Robinson (1866-1960). One child known, Ruth (1892-1977) (see headstone)

Sources:
Bigelow Society,The Bigelow Family Genealogy Vol II, pg 243.
Howe, Bigelow Family of America;
Bigelow Society records.
Notes:
Harold Davis told me this story in August 1997: "Betsey, Elizabeth 6, sister to Epaph, lived to be nearly 102 years old. She took care of her ailing parents when they wee elderly, and had a nice philosophy about her duty to her parents. The last ten years of her life, she was bedridden in old Epaph's house, then occupied by Daniel 7. Her bed was in the parlor, first floor, and Daniel used to carry her out to the outhouse every day for 10 years." I was able to visit the main room and parlor next to it in 1997. They still have the original hardwood floors, fireplaces, stairways, etc..............ROD 1997
Headstone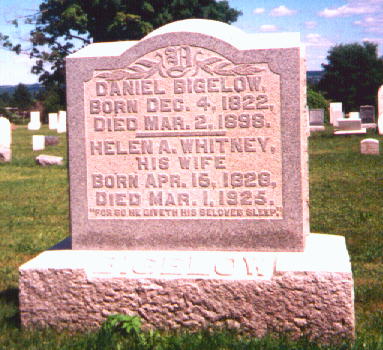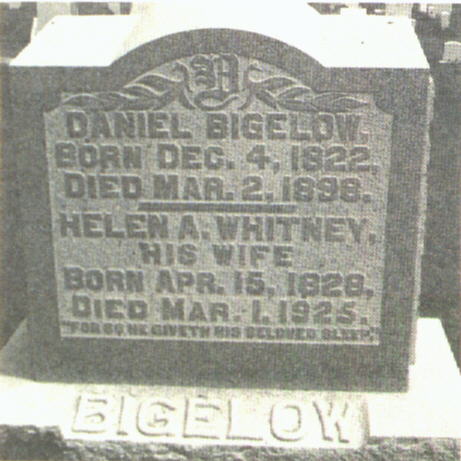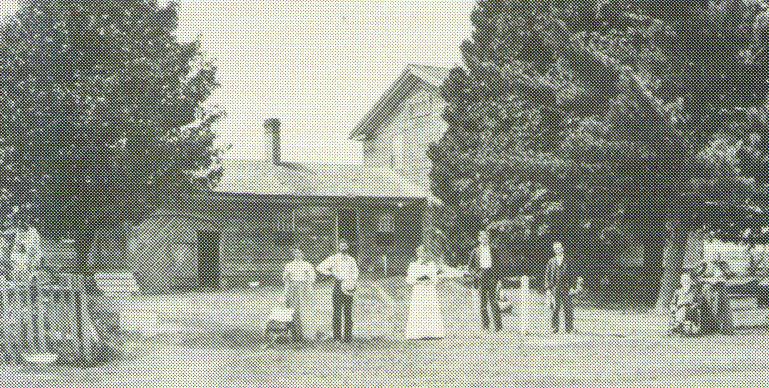 Picture taken 1893 by Meritt Harmon 8 Bigelow, showing home built by his ancestor Epaphroditus 6 about 1820-30.
Left to right: Ruth Bigelow in cart, her mother Rebecca, Edward Everett 8 Bigelow,
3 unidentified Bigelows (may be Harriet Amelia 8 and her husband Lovett T. Davis, and ?),
Daniel 7 Bigelow, seated, and wife Helen (Whitney) Bigelow, standing.

---
Modified
- 05/18/2008
(c) Copyright 2008 Bigelow Society, Inc. All rights reserved.
Rod Bigelow - Director

rodbigelow@netzero.net
---
Rod Bigelow (Roger Jon12 BIGELOW)
Box 13 Chazy Lake
Dannemora, N.Y. 12929

rodbigelow@netzero.net

BACK TO THE BIGELOW SOCIETY PAGE

BACK TO BIGELOW HOME PAGE