Elisha 7 BIGELOW
---

16313.33 Elisha 7 BIGELOW, son of Timothy 6 ( Amasa 5 , David 4 , Lt. John 3 , Joshua 2, John 1), and Elizabeth (ARNOLD) BIGELOW, was born at Williamstown, Orange, VT on 11 September 1798. He married on 05 December 1813 Abigail Rice Crane the daughter of Zebulon Crane. She was born 08 October 1790. They lived in Brookfield, Chelsea and briefly in Williamstown, VT but in 1834, moved to Orwell, Ashtabula co, OH. It was there that Elisha died on 28 October 1868 and Abigail on 08 February 1874 Windsor, OH age 82 yrs, 4 mos; buried in Orwell, OH.(see below). Elisha had been a carpenter-joiner by profession.

Children of Elisha and Abigail (Crane) Bigelow, all but two born in Brookfield, Orange, VT:

16313.331 Nabby Happylona, (this is a local variant of Abigail Appolonia), b 0l April 1816; d 27 May 1816 Brookfield.

16313.332 Rhoda Malvina, b 08 July 1817; d 16 Jan 1910 Orwell, OH; m 02 Oct 1839 Ashtabula, OH John Northway. (see below) (new info)

16313.333t Zebulon Crane, b 10 Feb 1819; d 09 March 1883; m 15 Sept 1854 Ashtabula, OH Samantha Howard; 4 children.

16313.334t Ariel Stevens, b 23 June 1822;d 13 April 1910 Peniston, MN; m 15 Sept 1844 Artilissa Ann Reeves; res. Royalton, MN; 6 children.

16313.335t Silas Stevens, b 0l Dec 1823; d 15 Feb 1902 Cleveland, OH; m 31 Aug l849 Zeruiah S. Morse; res. Sanford, FL 1888; 4 children.

16313.336t George Almeron (or Alamander), b 14 Sept 1825 Chelsea, VT; d 23 June 1867 Elk River, MN (drowned); m 19 Dec 1847 Eliza C. Townsend; 2 children.

16313.337 Hiram Crane, b 26 July 1827; d 03 Feb 1836.

16313.338 Emogene P.(Polly Imogene), b 19 Sept 1829; d 24 June 1904 Orwell, OH; m _______ James E. Williams. (see below)

16313.339 Leander Crane, b 0l Nov 1831 Chelsea, VT; d 18 Jan 1917 So.Thompson, OH; m 19 Nov 1866 Mrs. Mathilda ( __ ) Heath. (Geuga county records state m 17 Nov 1865 Mathilda Knapp ?); 3 or 4 children - no data. Mathilda died 06 Aug 1916, both buried Thompson Centre, OH. (see below)

Sources:
The Bigelow Family Genealogy, Volume II, page 228;
Howe,Bigelow Family of America;
1850 census Orwell, OH; vital records OH.


Rod, I am Roger Bigelow My dad was Harry Bigelow born in Thomson Ohio in 1900 of, Arther and Emma, He then moved to Canton around 1922 and Married Thelma Volzer. My sister Dorothy born 1923 and I was born in 1935. He had a brother George who remained in Thomson and had a son Arthur, a sister Verna who married Harry Cox in Canton, Ohio

I have attached some old Bible inserts that may have some connections.

Thank You

roger_bigelow@yahoo.com
More: Rod you hit it on the nose, I have a shoulder epaulet with the following note attached.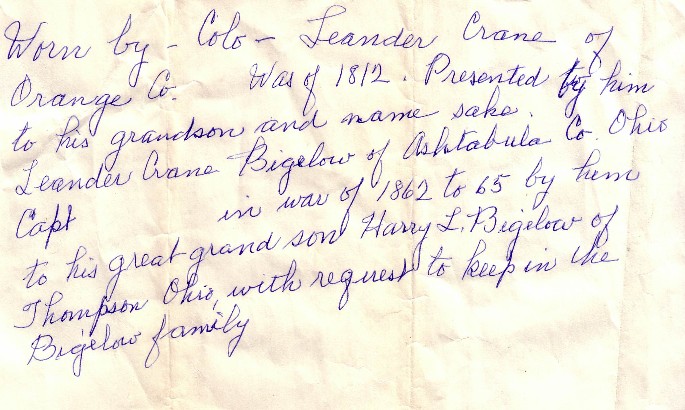 Arthur "is" the son of Leander Crane Bigelow of Thomson, OH....................ROD
Arthur and Emma had at least 3 children:
1. George, had son Arthur
2. Verna, m Harry Cox in Canton, OH
3. Harry L., b 1900; d ____ ; m Thelma Volzer; 2 children:
a. Dorothy, b 1923
b. Roger, b 1935; (above note)

Bible scan from Roger Bigelow: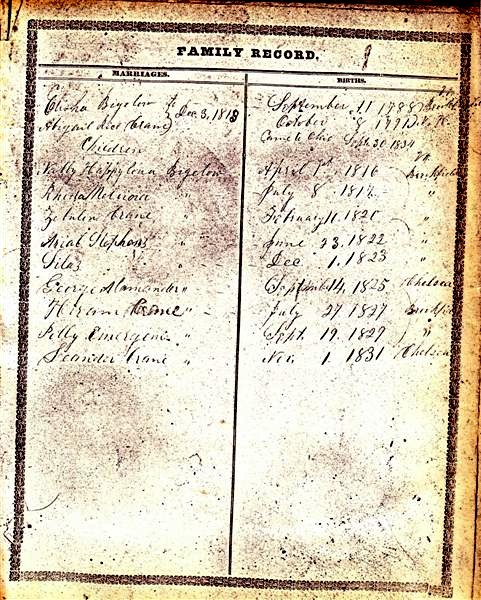 bible7aa.htm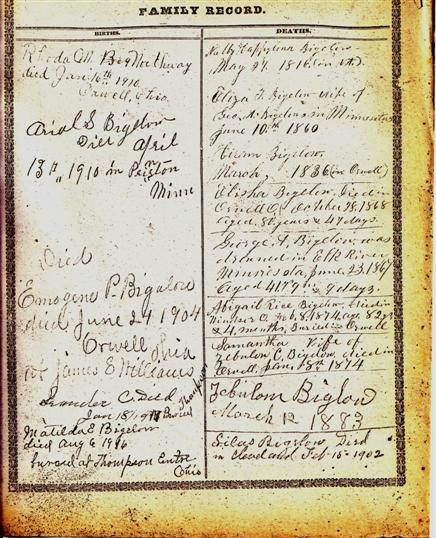 bible7b.jpg
Subject:
Rhoda Malvina Bigelow & descendants
Date: Sat, 13 Oct 2007 05:37:03 -0500
From:
Jen Northway < genenorthway@hotmail.com >
Rod Bigelow
Dear Sir:
I do not know if I am addressing this to the correct person or e-mail address, please advise me if I should submit this information somewhere else. I have information on descendants of the Bigelow line.
My line is as follows:
John 1
Joshua 2
Lt. John 3
David 4
Amasa 5
Timothy 6
Elisha 7
Rhoda Malvina (Bigelow) Northway
8
Francis Marion Northway, Sr. 9
Francis Marion Northway, Jr. 10
Milton Oliver Northway 11
Richard Lee Northway 12
and finally myself
Jennifer Northway 13
I would love to have my line added to the "Bigelow Society." Please let me know where I may submit the information. I also have some (limited) personal information on Ariel Stevens Bigelow. Any direction you can give me would be greatly appreciated.
(see new link)
Sincerely,
Jennifer
---
Modified - 10/20/2007

(c) Copyright 2007 Bigelow Society, Inc. All rights reserved.

Rod Bigelow - Director

rodbigelow@netzero.net

---
Rod Bigelow (Roger Jon12 BIGELOW)
Box 13 Chazy Lake
Dannemora, N.Y. 12929

rodbigelow@netzero.net

BACK TO THE BIGELOW SOCIETY PAGE

BACK TO BIGELOW HOME PAGE