Daniel Richardson 7 BIGELOW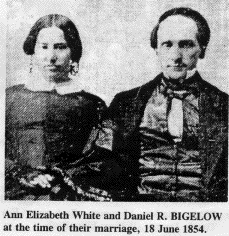 see Page 2 for more pictures of Daniel, etc.
---
15197.66 Daniel Richardson 7 BIGELOW, son of Jotham 6 ( Joel 5 , Jotham 4, John 3, Samuel 2, John 1) and Celinda (BULLOCK) BIGELOW, was born at Belleville, Jefferson, NY on 21 March 1824. He was educated at Harvard, became a lawyer and on the 1850 census was located in the state of WI. By 1851, he had joined a wagon train and proceeded to (then) Oregon Territory, thence up the coast to Washington. Daniel married Ann Elizabeth White, daughter of William White, born 03 November 1836 in IL. The House of Daniel and Ann Elizabeth is an historic one located in Olympia, WA and 4 generations have lived in it. Interesting articles from Daniel's diary and life have appeared in the Bigelow Society's: FORGE. He was very prominent in the early days of Oregon as a lawyer, judge and legislator. His wife died 08 February 1926 at Olympia, Thurston, WA. He had died there earlier on 15 September 1905. They are buried in Forest Memorial Gardens, Olympia. With them is buried DeLafayette J. Bigelow (15197.611), son of Lovell and Susan.

Children of Daniel R. and Ann E. (White) Bigelow, all born at Olympia:

15197.661t Tirzah, b 21 Sept 1855; d 14 Dec 1927; m 19 Aug 1877 Miller G. Royal; 3 children. (see below)

15197.662t Evaline, b 21 Mar 1858; d 02 Dec 1959; m 17 Aug 1882 William P. Bonney; 4 children.

15197.663 Ruth, b 03 July 1860; d 16 May 1950; m 12 Feb 1910 Albert D. Wright; no children.

15197.664 William Ellis, b 11 Aug 1862; d 04 April 1898; m 24 Nov 1887 Jennie (Osborne) Bigelow.

15197.665 Anson, b 24 Jan 1869; d 29 Jan 1869.

15197.666 Jotham Duncan, b 05 April 1871; d 06 Sept 1945; m 06 Dec 1893 Sarah Caroline Markham.

15197.667t Richardson Lee, b 25 July 1873; d 21 March 1967; m 18 Jan 1900 Belle Lucretia Knox; 3 children.

15197.668 Margaret Elizabeth, b 05 Jan 1878; d 31 March 1927; unm.

15197.669t George Royal, b 07 Oct 1881; d 19 Feb 1961; m 29 June 1910 Edith May Sylvester; 5 children.

Sources:
Bigelow Family Genealogy Vol II , p 57;
Howe, Bigelow Family of America;
FORGE: The Bigelow Society Quarterly; Vol. 11, No.1, Jan.1982 Pg 9;
Correspondence with family descendants;
cemetery inscriptions;
newspaper clippings;
diary of D. R. Bigelow.
Note:
Subject: Bigelow/Hardman/Royal
Date: Tue, 13 Feb 2001 15:55:52 -0800 (PST)
From: Crescent
My name is Crescent

---

Note2:
Subject: Questions
Date: Wed, 29 Aug 2001 17:24:12 -0700
From: Rod Bigelow < RBigelow@TacomaArtMuseum.org >
My name is Rod Bigelow, and I grew up in Olympia. My father's name is Keith, and his father was Carl, married to Florence (Lathrop) Bigelow.
Do you know how I might fit into the "big" Bigelow scheme??
Rod A. Bigelow
rbigelow@tacomaartmuseum.org
www.TacomaArtMuseum.org
Note:


Thank you for including information about the Bigelow House Preservation Association on your webpage

http://bigelowsociety.com/BigelowMuseum.html

. We are in the process of expanding our own web page for the museum to give visitors additional information.

Would you please add the following contact information to your page?

Museum phone number - (360) 753-1215

Thank you for your assistance in this matter!

Sincerely,

Annamary Fitzgerald

Executive Director

Bigelow House Museum

PO Box 1821, Olympia, WA 98507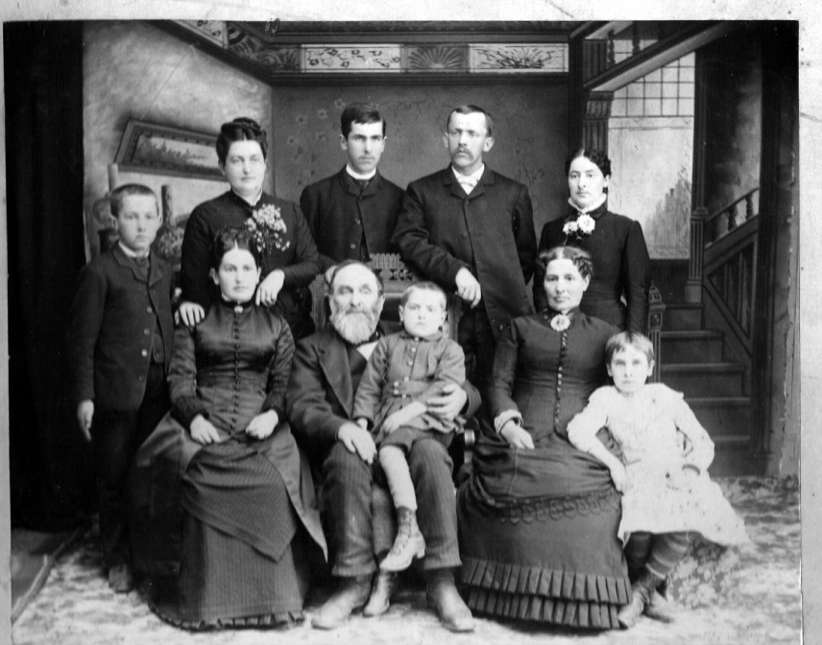 This family portrait was taken in 1889 and shows all eight of their children.
In the back row
(left to right) are Richardson Lee "Ray" Bigelow (1873-1967), Tirzah Bigelow Royal (1855-1927),
Jotham "Duncan" Bigelow (1871-1969), William Ellis Bigelow (1862-1891), and Ruth Bigelow Wright (1860-1950).
In the front row
(left to right) are Eva Bigelow Bonney (1858-1960), Daniel Richardson Bigelow (1824-1905),
George Bigelow (1881-1961), Ann Elizabeth White Bigelow (1836-1926), and Margaret Bigelow (1878-1937).
---
Modified - 07/10/2011
(c) Copyright 2011 Bigelow Society, Inc. All rights reserved.
Rod Bigelow - Director
rodbigelow@netzero.net
---
Rod Bigelow (Roger Jon12 BIGELOW)
Box 13 Chazy Lake
Dannemora, N.Y. 12929

< rodbigelow@netzero.net >