Daniel 7 BIGELOW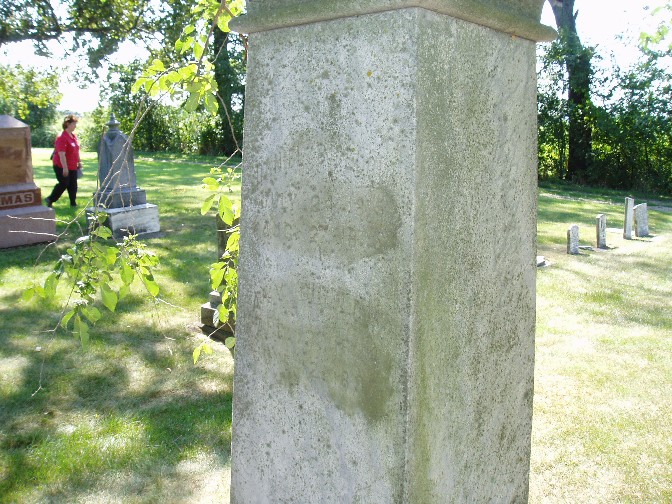 Daniel 7 and Amy (McCart) Bigelow (Sugar Creek cemetery)
---

1592C.37 Daniel 7, BIGELOW, son of Daniel 6 ( Amasa 5 , Isaac 4, Isaac 3, Samuel 2, John1) and Emma (JOHNSTON) BIGELOW, was born at Horton, Kings, NS on 24 July 1815, and on 21 October 1841 married Amy McCart in Richland county, OH. She was the daughter of Henry and Mary ( __ ) McCart, Sr. and born 12 August 1824 in OH. Amy's mother, Mary McCart, married Gideon Bigelow (1592C.5)after the death of her husband, Henry. This family later moved from OH to WI where Daniel died on 27 August 1895 at Sugar Creek, Walworth county. She died there on 12 June 1897.

Children of Daniel and Amy (McCart) Bigelow:

1592C.371 Ladora, b __1839; d____ ; m Robert Hall.

1592C.372 Mary Jane, b 1845; d ; m Charles Kinney; res. Elkhorn, WI.

1592C.373t Amasa Daniel, b 1852; d ___; m Melissa Welch; res. Elkhorn; 2 children.

1592C.374 Ella, b 12 Aug 1854 Walworth co.; d __; m 06 Sept 1876 Osmer Robb; 1 son, Herman.

Possibly another child: Alissia, m 14 Nov 1891 John Merrill, b 05 June 1855, Boston; res. Delavan, WI.

Sources:
Bigelow Society,The Bigelow Family Genealogy, Vol II, pg 151;
Howe, Bigelow Family of America;
Walworth Counly History;
1880 census WI.

---
Modified - 08/27/2006
(c) Copyright 2006 Bigelow Society, Inc. All rights reserved.
Rod Bigelow - Director
rodbigelow@netzero.net
---
Rod Bigelow (Roger Jon12 BIGELOW)
Box 13
Chazy Lake
Dannemora, NY 12929

< rodbigelow@netzero.net >