Clarence Otis 8 BIGELOW
page 3
back to page 2
---
15197.536 Clarence Otis 8 BIGELOW, son of William Martin 7 ( William 6 , Joel 5 , Jotham 4, John 3, Samuel 2, John 1) and Margaret (DYE) BIGELOW, was born 29 Nov 1851 at Warwick, RI. He married Grace Bird on 07 September 1905; she was born in Montclair,, NJ. (Grace was married previous to A. White and had child Marguerite B. White [Mrs. Walter Simpson]; Grace was born _ Mar 1856 according to 1900 census; she married A. White ca 1875, Marguerite was born in Feb 1879) Clarence died 28 March 1937 in New York City,, NY. She had died previously 1916 in NYC. Clarence owned Bigelow's Pharmacy in NYC, which still stands at the same location. (see below)
Sources:
Census 1900, 1910, 1915; (see below)
Note:
Subject: Clarence Bigelow
Date: Sat, 13 Nov 1999 13:47:58 -0500
From: Joe Tomaino < >
We are interested in knowing more about Mr. Bigelow's life. We have found 2 newspaper obituaries ( NY Times and NY Herald) that offers some information. Apparently, Mr. Bigelow started a Bank, and was involved with Columbia University as a Trustee of the College of Pharmacy.
Thank you for your consideration. Joe Tomaino jtomaino@ttiarchitects.com
photos courtesy of Joe Tomaino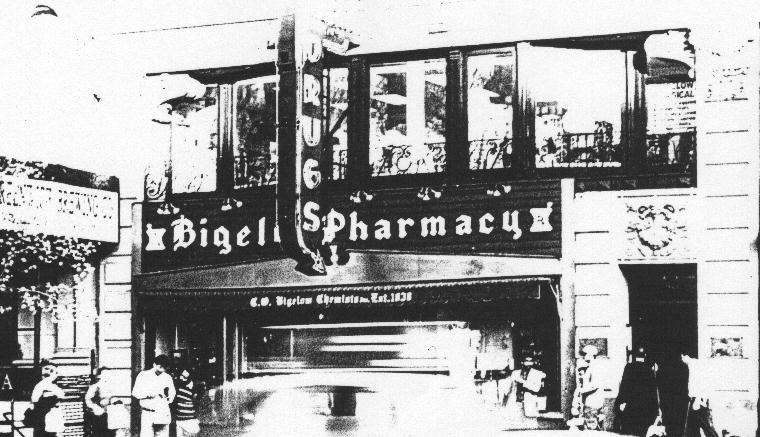 Bigelow Pharmacy in 1998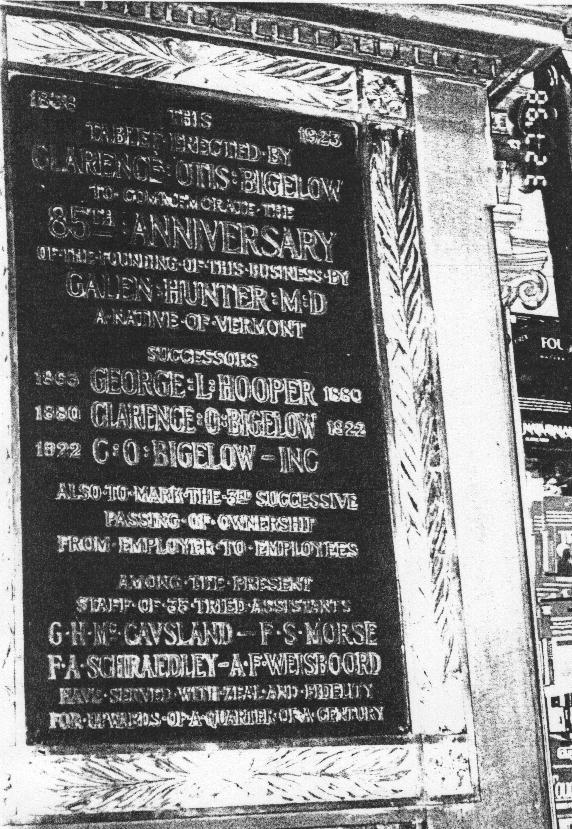 Tablet erected by Clarence O. Bigelow in 1823.
Joe also sent census records of 25 Apr 1910 Manhattan:
133-101-199-Bigelow, Clarence O.-Head-54 yrs-born CT-father born RI-mother born VA-Druggist.
next line---------------- , Grace B. -wife-50 yrs-born NY-father born NY-mother born NY-None
followed by 3 servants including chauffer from Sweden, waitress and cook from Ireland.
01 June 1915 census-district no 15 county NY, 133:
Bigelow, Clarence - head - WM - 60 yrs - wholesale druggist
Bigelow, Grace - wife - WF - 60 yrs - No occupation and the same 2 Irish servants.
1900 census 6 June 1900 District 471 Manhattan: Clarence was a boarder in house with Grace and Husb.
7-164- White, August__ - head - b 1854 - age 56 - mar 25 yrs - pob MA - fa MA - mo MA - Real Estate
White, Grace B. - wife - b Mar 1856 - age 44? - mar 25 yrs - pob NY - fa NY - mo NY - none
White, Marguerite B. - dau - b Feb 1879 - age 21 - sing - pob NJ - fa NY - mo NY - none
Bigelow, Clarence O. - boarder - b Nov 1851 - age 48 - pob RI - fa VT - mo VA - Apothecary
and 2 Irish servants in household, one of whom was later in Bigelow household.

---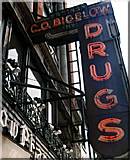 A 160-year-old mixture of old-world luxury and modern efficiency.
The Store
A West Village mainstay for generations, the family-run Bigelow is home to countless lines of beauty products as well as a pharmacy.

Tip Sheet
One of New York's Best
Nominated as best place for beauty junkies because it's packed to the rafters with unique and hard-to-find potions and lotions to suit all budgets, and has been for generations.

Also nominated for best celebrity-spotting hangout, because it's long been the drug store of choice for the beautiful and famous, from Mark Twain to Matt Damon. Fans of Alchemy, the house brand, include Liv Tyler, Minnie Driver and Michelle Pfeiffer.

A Spoonful of Sugar
Not only does the pharmacy still offer citywide delivery, but the staff will also custom-flavor liquid medicines to help them go down easier. (For both kids and adults.)

Also Nominated for Best Place for Beauty Junkies
Sephora, Savon, Henri Bendel, Zitomer Pharmacy

Also Nominated for Best Celebrity-Spotting Hangout
Lotus, Tribeca Grill, Joe's Pub, Barneys

Today, the place is jam-packed with products from around the world. But it's also where Mark Twain bought his toothpaste and John Belushi slumped at the (now-gone) soda fountain amid Rockettes, and there's still a definite old-world feel here—from the museum-like display of men's shaving tools to the back prescriptions area, where the staff greets many customers by name.

The Brands
C.O. Bigelow stocks some of beauty's trendiest names and its most unusual items: Check out chic lines like Tipton Charles, Terax, Mason Pearson and Bloom, as well as English import King of Shaves, Italy's Barofalco and something called Grandpa's Pine Tar Toilet Soap. Victorian paper books of pressed powder share shelf space with Uncle Luigi's Licorice Pastilles, and racks of homeopathic cures sit near more traditional medicines. At the front of the store, glass cases house one-of-a-kind hair accessories, makeup mirrors from Germany and even a gold-beaded MetroCard case.

The Customers
Everyone from Greenwich Village grandmas to savvy socialites to celebs like Winona and Gwyneth.

---
Modified
- 02/25/2010
(c) Copyright 2010 Bigelow Society, Inc. All rights reserved.
Rod Bigelow - President
rodbigelow@netzero.net

---
Rod Bigelow
Box 13 Chazy Lake
Dannemora, N.Y. 12929

rodbigelow@netzero.net

BACK TO THE BIGELOW SOCIETY PAGE

BACK TO BIGELOW HOME PAGE