Lewis Lyon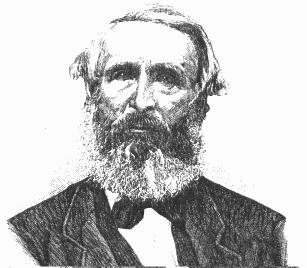 This is a portrait of Lewis Lyon, son of Nathaniel Lyon,
after whom the mountain and town were named.
---
..... Lewis Lyon was born 18 September 1814, in Royalton, VT. His father was Nathaniel Lyon who settled in Saranac in 1803 or 1804 and was one of the first settlers in that part of the county. He was a relative of Gen. Nathaniel Lyon, who was killed at the battle of Wilson's Creek, MO, in August 1861. There were but two or three families living in Saranac when Mr. Nathaniel Lyon came. The first female child born in the town was Fanny Lyon, now Widow Curtis, in 1804. Mr. Lyon lived a few years on the place where he first settled, and then moved back some four miles, well up towards the base of Lyon Mountain, where he cleared a farm. Miss Hattie Lyon, granddaughter of Nathaniel, was the first lady to ascend to the summit of Lyon Mountain, 11 August 1876. During the War of 1812, Mr. Lyon, apprehensive of danger from marauding bands of Indians infesting the country, abandoned his farm and returned to Royalton, VT. He later returned to his farm at the end of the war. It was during this sojurn in Vermont that Lewis Lyon was born. Lewis Lyon , at the age of twenty two (ca1836), was married to Joanna Ryon.
Their children were:
1. Seymour Lyon, member of 118th Regiment, NY Volunteers, died in the army and buried at Yorktown, VA;
2. Ransom Lyon,
3. Harriet N. Lyon,
4. Emma E. Lyon,
5. Nelson N. Lyon,
6. Elmore L. Lyon,
Note:
Subject: A Dannemora Girl
Date: Fri, 11 Oct 2002 13:31:22 -0500
From: "Marshall, Beverly J." <bmarshall@sidley.com>
I was browing on internet -- looking up my ancestors (Nathaniel Lyon).
Came up with Lewis Lyon (my grandmother was Mabel Lyon - Tim Healy's wife).
My name is Beverly Marshall (lived across the street from Dannemora School). Remember me???
Beverly J. Marshall
Sidley Austin Brown & Wood
1501 K Street, N.W.
Washington, DC 20005
Note2:
Sunday 12/15/2002 8:23:26pm
Name: Jan (Lyon) Rodger
E-Mail: rootschaser@yahoo.com
Location: New Milford,CT
Comments:
Lewis Lyon2, Nathaniel Lyon1-I have obit. of Nathaniel Lyon (see below), nephew of Gen. Nathaniel Lyon.
Searching Lyon roots. Thought Lyon Mt. may have been haven for Revolutionary Loyalists.

---
Go to Page 1 of The History of Lyon Mountain.
Go to Page 2 of The History of Lyon Mountain.
Go to Bulletin Board for Lyon Mountain.
Go to Page 3 of The History of Lyon Mountain.
Note3:
Subject: Lewis Lyon
Date: Wed, 8 Jan 2003 14:52:50 -0800 (PST)
From: Jan Rodger <rootschaser@yahoo.com>
My grandmother Alice(Baldwin) Lyon did a lot of genealogy when she was alive.Unfortunately she died before I was born. I have some items that she saved or wrote notes on. In the books, "Lyon Memorial" by Elizabeth?(last name slips my mind) printed in 1906/8, she states that three brothers Henry, Thomas and Richard Lyon sailed from Scotland to CT in the mid 1600's after they stood guard with Cromwell's army at the regicide of King Charles I. Nathaniel Lyon is supposed to descend from one of these brothers, but I have not researched that far as of yet. My Lyon line descends from bro. Richard,
(I just typed up all of his descendants from the book, "History and Genealogy of Families of Old Fairfield" by
Donald Lines Jacobus printed in 1930 for the local D.A.R. The obituary goes as follows:
NATHANIEL LYON,
NEPHEW OF GENERAL, DIES AT 78./
Special to The Hartford(CT) Times./Williamantic, Aug. 25.(no yr.given 1930?)
Nathaniel Lyon, 78, died at his home in Eastford Saturday morning. He was born in that place, July 27, 1852, son of Lorenzo and Mary(Lyon) Lyon, and leaves one nephew and several nieces. He was a nephew of the late General Lyon of Civil War fame.Funeral services will be held in the Phoenixville chapel Tuesday afternoon at 3
o'clock. Burial will take place in Eastford.
(Towns mentioned are near Rhode Island. I have this piece that my
grandmother copied from something. I have seen it in a book or points of interest type periodical. There is a state
park in Putnam,CT (his birthplace) in his memory./Nathaniel Lyon-North Windham-Right on this road thru the
Natchaug State Forest to the junction with a grandroad at 1.4.miles left on this grandroad about 100 yds. is the site
of the Birthplace of Nathaniel Lyon, the first union general killed in the Civil War. Only the chimney foundation
remains. The wooded area surrounding his birthplace has been converted with the Nathaniel Lyon State Park
continuing with this grand road joins the old Phoenixville road at (2.4 miles) at the junction is the Phoenixville
cemetery, the burial place of Gen.Lyon a 15 ft. shaft, 3 old cannons on knoll, Barberry hedges-for his service in
Missouri. Gen. Lyon's memory has been ______by city of St. Louis which has erected 2 equestrian statues and
name a school in honor. I would educate a guess that any Lyon's who lived in Vermont were either originally from
Dorchester or Roxbury,MA or may have settled there after The Revolutionary War was all said and done. An
excellent source of information about the Lyon's is "The Lyon(s) Families Association of America which I'd heard
about and found on a search engine. There are two addresses I will give you for this: (1) Bruce C. Lyon, LtCol,
USMC (Ret)/Database Manager, Lyon(s) Families Association/Willington,CT/ E-mail-brucelyon01@earthlink.net;
(2) Ted T. Lyons, Treasurer/Lyon(s) Families Association/524 Mark Lane/Belton, MO 64012-1829. We maintain
a database of over 100,000 Lyon(s) and relatives. Your questions about The Lyon(s) Families Association may be
directed to Porter Lyon (palyon@juno.com). I would be glad to hear from others who are searching their Lyon
roots, and will gladly take inquiries through my E-mail. I have one Lyon ancester who was a loyalist and fled to
Canada. So my 1st assumption was that Lyon Mountain, N.Y. was settled by some loyalists.
---
Sources:
Adirondack Museum photos, Blue Mountain Lake, NY;
Hurd; History of Clinton County, New York; page 366

---
Rod Bigelow (Roger Jon12 BIGELOW)
P.O. Box 13 Chazy Lake
Dannemora, NY 12929

rodbigelow@netzero.net

BACK TO THE HISTORY PAGE

BACK TO BIGELOW HOME PAGE