Levi 8 BIGELOW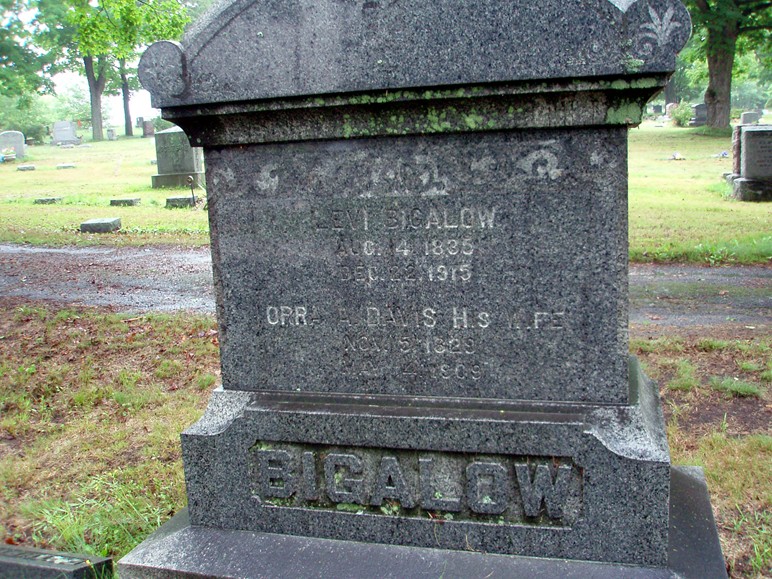 "LEVI BIGALOW
AUG. 14 1835
DEC. 22, 1915

ORRA A. DAVIS HIS WIFE
NOV. 5, 1829
MAY. 8, 1909"
Port Henry, NY cemetery
---
16164.143 Levi 8 BIGELOW, son of Ransom 7 (Levi 6 , Nathan 5, John 4, Joshua 3, Joshua 2, John 1), and Laura (BUTTERFIELD) BIGELOW, was born at Crown Point, Essex co, NY on 14 August 1835 and married (1) 07 November 1858 Orra Ann Orinda Davis who died 1909 at Port Henry, NY. He married (2) in 1914 Lucy Adeline Nichols - his cousin. She was always known as L. Adda. In addition to Levi's three children, he also raised brother Orville's son, Norman. Levi died at San Diego, CA in 1915 wrong. This is in direct conflict with another record in our files that shows Levi to have died at Port Henry, NY where he was a sawmill owner and that date to be 26 October 1898 wrong (see stone above). This needs substantiating as second marriage was in 1914. His second wife died at Nashville, MI 11 September 1920.

Children of Levi and Orra (Davis) Bigelow:

16164.1431t Truman Alva, b 25 Aug 1860 Crown Point, NY; d 30 May 1932 New Haven, VT; m (1) 5 Sept 1882, Nina Black; m (2) 1 Nov 1887 Bertha Earellie Farewell; (see below)


16164.1432 Ella Lura, b 18 July 1862 Crown Point; d 27 Mar 1938 New Haven, VT; m 1894 Frederick H. Conant;

16164.1433 Laura Celinda, b 12 Apr 1867; d _____ ;

Sources:
The Bigelow Family Genealogy, Volume II, page 457;
Howe,Bigelow Family of America;
vital records and censuses of NY;
research by Bigelow Society genealogists.
Bigelow Society record; Anna Marie LaChance, Bigelow Reunion in August, 2001 at Springfield, MO, gave the Society marriage, birth and death records for this family of Port Henry, Moriah and Crown Point, NY.
Note: Marriage record from Anna Marie LaChance of Fort Smith, Arkansas,
gives Levi's wife's name as Aria Ann Davis (not Ann Orinda). Which is correct.

---
16164.1431 Truman Alva 9 Bigelow (Bigalow), son of Levi Bigelow, was born 25 August 1860 at Crown Point, Essex co., NY. On 5 September 1882, he was married to Nina (Black) Bigelow, age 29, Caldville, NY when a son was born. Truman was then a farmer, age 22, Crown Point, NY, attended by C. B. Warner. On 1 Nov 1887 (age given on marriage record, 28, he married Bertha Earellie Farewell, age 17 in Moriah, NY, born at Crown Point, NY, 1870, daughter of Edsen A. and Maria (Green) Farewell, by C. E. Farewell, Minister. They were in Moriah, NY Nov. 7 1890 when daughter Roma Mae Bigelow was born. Truman Alva was then age 30 and a Lumberman.
---
Modified - 06/28/2008
(c) Copyright 2008 Bigelow Society, Inc. All rights reserved.


Rod Bigelow - Director

rodbigelow@netzero.net
---
Rod Bigelow
Box 13 Chazy Lake
Dannemora, NY 12929

rodbigelow@netzero.net