Franklin Dean 8 BIGELOW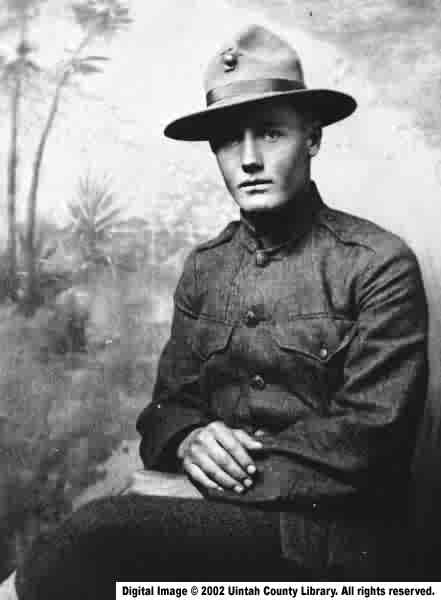 Franklin Dean Bigelow
---
16167.347 Franklin Dean 8 BIGELOW, son of Asa Elijah 7 ( Nahum 6 , Simeon 5 , John 4 , Joshua 3, Joshua 2, John 1), and Julia Ann (COOK) BIGELOW, was born at Provo, Provo co., UT on 21 December 1855 and married Mary Alvira Batty on 14 December 1891. She was born 27 March 1870 at Wanship, Summit, UT. Incomplete data submitted to me shows that Franklin died 26 April 1934 at Lapoint, Uintah co., UT and Mary on 13 January 1941 also at Lapoint. Both are buried at Vernal Memorial Park Cemetery, Vernal, UT.

Children of Franklin and Mary (Batty) Bigelow:

16167.3471 George Franklin, b 12 Sept 1892 Wallsburg, Wasatch co, UT; d 19 May 1970; m 02 Apr 1914 Lillian Hair; 5 children.

16167.3472 Marvin Dean, b 07 Mar 1895 Wallsburg; d 07 May 1957 Salt Lake City; m (1) 03 Oct 1919 Grace Glines (b ___ ; d 25 Aug 1931); m (2) 26 July 1947 Mary Matilda Rasmussen; 5 children includes set of stillborn twins.

16167.3473 Minnie Addie, b 21 Apr 1897 Wallsburg; d 10 June 1974; m Alonzo F. Reynolds; 5 children. (see photo)

16167.3474 Charles Albert, b 02 Dec 1898 Wallsburg; d 06 Oct 1965 Vernal,, UT; m 23 Jan 1924 Avonda Zilah Swensen; 5 children.

16167.3475 Carl Burton, b 17 Dec 1902 Vernal,, UT; d 20 Dec 1902;

16167.3476 Raymond Miles, b 23 Mar 1907 Vernal; d 31 Oct 1951; m 26 Apr 1930 Vera Christina Lee; 5 children.

16167.3477 Orpha Elvira, b 02 Mar 1928 Vernal; d ____ ; m Adrian Reynolds Kump; 4 children.

Sources:
The Bigelow Family Genealogy, Volume II, page 470-471;
Howe, Bigelow Family of America;
Book of Rememberance, Bigelow Family, Descendants of Asa Elijah and Moroni Bigelow;
records of Bigelow Society.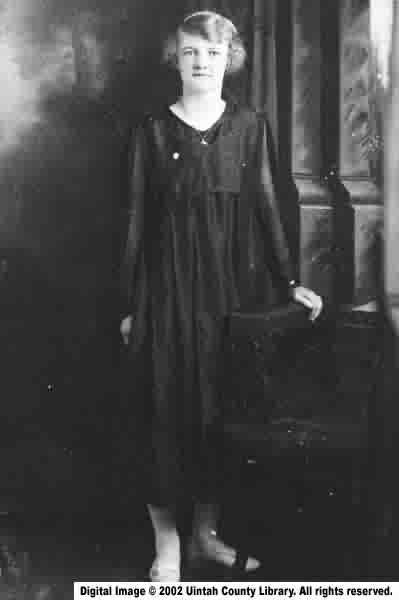 Minnie Addie (Bigelow) Reynolds

---
Children of
Marvin Dean Bigelow and Grace (Glines) Bigelow:


16167.3472?
Dallas Bigelow
, b _______ ; d 22 Sept 2016 Tucson, AZ; m (1) Mary _____ ; m (2) Carmen ____ ;
Children in Obit Below

Dallas Bigelow
In Loving Memory
Tucson, AZ - Dallas Bigelow, 90, passed away peacefully on Thursday, September 22, 2016 in the presence of family.
He leaves his loving wife, Carmen, and his daughters Linda Beisel (Salt Lake City, UT), Ruth Tripp (Lake Havasu City, AZ), and Janie Campbell (Newberg, OR) from his first wife, Mary.
Born in LaPoint, UT, to Grace Glines and Marvin Dean Bigelow. Dallas enjoyed farm life in his early years and then moved to Salt Lake City where he became a premiere wall-paper and painting contractor.
Dallas enjoyed boating with his family and entertaining with his harmonica later in life. He was always ready for a game of pool - eight ball.
He is also survived by Carmen's children Debi Sells, Bill Terry, Sean Terry, Carmen Beaton, Shannon Wenaas, and numerous grandchildren and great-grandchildren.
Preceded in death by his first beloved wife, Mary, brother, Lynn Bigelow, and granddaughter, Melissa Beisel.
Private services will be held at a later date. In lieu of flowers please contribute to your local Hospice or the American Heart Association.
Published in Deseret News from Sept. 27 to Sept. 28, 2016
---
Modified - 09/06/2017
(c) Copyright 2017 Bigelow Society, Inc. All rights reserved.
Rod Bigelow - President
< rodbigelow@netzero.net >
---
Rod Bigelow (Roger Jon 12 Bigelow)
Box 13 Chazy Lake
Dannemora, N.Y. 12929

< rodbigelow@netzero.net >