Charles Arthur 8 BIGELOW

# 15337.AA7 Charles Arthur 8 BIGELOW, son of Samuel Elijah 7( William F. 6 , Noah 5, Cornelius 4, Samuel 3, Samuel 2, John 1) and Amelia ( EVANS ) BIGELOW, was born at New Haven, Gratiot, MI on 16 October 1891. When his parents separated about 1908, he went with his mother to NE and later to homestead in CO. He married twice: his first marriage was to Ella Pearl Burgess (see below) at unknown date. She was born 29 September 1899 and committed suicide in 22 September 1917 at Sligo, CO. On 05 October 1925, in Willard, CO, he m (2) Ruby Pearl Fortune, who was the daughter of Kilburn Kelly and Susannah (Pixler) Fortune. She was born 12 October 1902 (1892?) at Dallas, IA. Charley went into the Army and served in WWI in Europe. The family lived in CO and WA and Charles died in Grandview, WA on 19 November 1976 and is buried there. Ruby died 02 February 1991 at Walnut Grove Nursing Home, Prosser, Benton Co, WA.
Children of Charles Arthur and Ruby (Fortune) Bigelow, born at Snyder, CO:
15337.AA71t Aletta Ruth, b 20 Aug 1925; m 19 Oct 1947 Eldred Fortune; 3 children.
15337.AA72t Loyd Eugene, b 03 Sept 1928; d 13 Mar 1994, in Portland OR; m 14 Dec 1948 M. Elaine Hughes, b 07 July 1928 Rapid City, SD; res. OR; 2 children.(see below)
15337.AA73 Ethel Mae, b 16 Mar 1933; m 22 Sept 1950 Donald Standler; 2 children.
Sources:
Bigelow Society,The Bigelow Family Genealogy Vol II, pg 387;
correspondence with descendant: Darrel Fortune (Bigelow) Website: Darrel's Homepage.
From: Grandview, WA USA : I have been interested in genealogy for several years but haven't been able to find much on the Bigelows. My grandfather's name was Charlie Arthur Bigelow. His father was (John)??. His mother's name was Amelia Evans.
Note from Darrell: Charley Arthur (8) Bigelow, b 16 Oct 1891 at New Haven, Gratiat co, MI. He went with his mother to NE and later homesteaded in CO.; m (1) Pearl Burgess __ ?date she b __ ?; committed suicide 1917 at Sligo, CO. Charley went into the Army and served in WWI in Europe; m (2) Ruby Pearl Fortune on 05 Oct 1924 at Willard, CO. She was the daughter of Kilburn Kelly and Susannah (Pixler) Fortune and was born 12 Oct 1902 at Dallas, IA. She died 02 Feb 1991 at Walnut Grove Nursing Home, Prosser, Benton Co, WA. ( I added the extra info above.ROD)

---
New 01/05/2004:
Greetings Cousin,
I just recently heard of your web site from my cousin Darrel Fortune and thought I should send you this update.
Addition: I am Kenneth Charles (10) Bigelow, son of Loyd (9) Eugene Bigelow and M. Elaine (Hughes) Bigelow. I was born on Sept. 12, 1949 at Prosser Wa. I married Dianne Darlene Trautman on June 26, 1976. We have one son, Johnathan Charles (11) Bigelow. (He is named for John (1) Biglo and my grandfather Charles A. (8) Bigelow.) He was born in Sunnyside, Wa on July 13, 1985. We reside in Grandview, Wa.
Update: My father, Loyd Eugene (9) Bigelow, (15337.AA72t) passed on on March 13, 1994, in Portland Or. (Note the spelling of Loyd is with one "L" only.
Thank you.
Ken Bigelow
kdbigelow@earthlink.net

New 01/29/07:
From: James Louis Starks < seamus76@comcast.net >


My name is James Louis Starks, and I'm a descendant of Elisha Pratt, born 02/10/1774 (15921.9), the son of

Abigail Bigelow

(15921) and Daniel Pratt.

On your website, I was reading about another branch of the Bigelow family, and came across Charles Arthur Bigelow (15337.AA7) whose first marriage was to Pearl Burgess, who committed suicide at Sligo, Colorado, in 1917. I grew up just a couple hours away from the former sight of Sligo, CO, and used to spend a lot of time exploring that area. There are three towns in that area: Sligo, Keota, and Grover, CO... all within a few miles of eachother. I looked through my photographs from the Keota Cemetery, and found the grave of Charles Arthur Bigelow's wife. On her grave stone, her name is listed as "Ella P." Here's a picture of her grave marker. I'm not surprised that that branch of the family didn't stay in that area for too long, before continuing on to Washington. It's a very barren area, which must have been extremely difficult to live in, back then. The town of Sligo is completely gone now. Keota is now a ghost town, the last residents of which moved out a few years ago. Just a few miles from Keota is a place called Pawnee Buttes. In the movie "Centennial", based on the book by James Michener, they filmed a scene at Pawnee Buttes, calling it "Rattlesnake Buttes".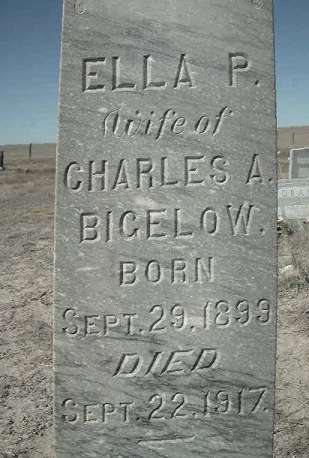 Ella P. (Burgess) Bigelow, Keota Cem., Keota, Weld co, CO.
---
Modified - 07/14/2010
(c) Copyright 2010 Bigelow Society, Inc. All rights reserved.
Rod Bigelow - Director
< rodbigelow@netzero.net >
---
Rod Bigelow (Roger Jon12 BIGELOW)
Box 13 Chazy Lake
Dannemora, N.Y. 12929

< rodbigelow@netzero.net >