Chauncy James 8 BIGELOW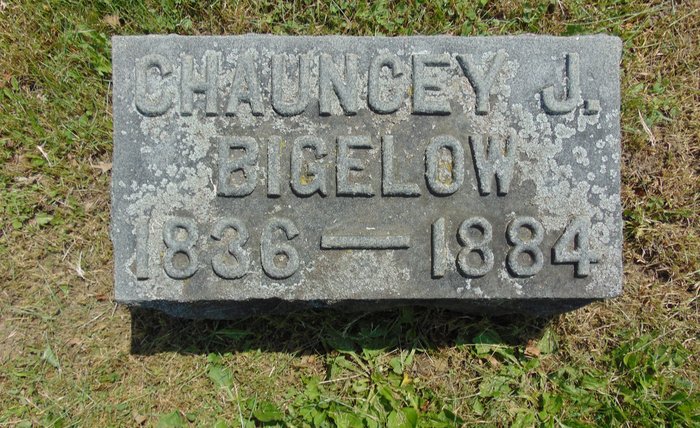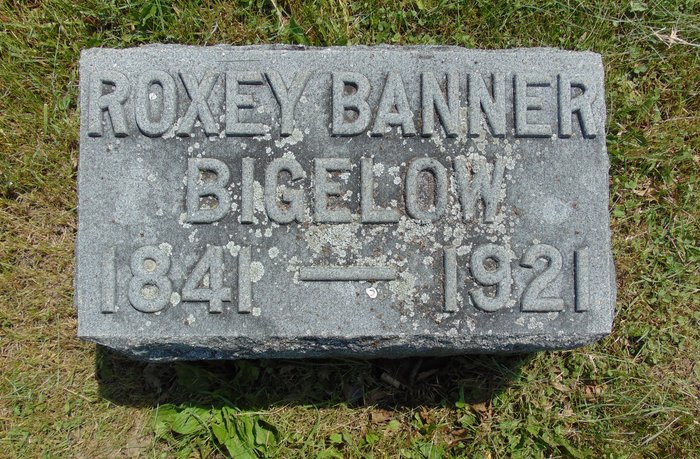 Burial Oakwood Cemetery, Sharon, Walworth County, WI (Find a Grave)

15924.541 Chauncey James 8 BIGELOW, son of Timothy 7 ( Timothy 6 , Timothy 5 , Isaac 4, Isaac 3, Samuel 2, John 1 ) and Julia (EDWARDS) BIGELOW, was born at Collins Centre, Erie co, NY on 31 August 1836 (30 Aug 1834 Perrysburg, Cattaraugus co, NY, and the son of Sabrina ____ ; (1812-1834 buried Sanders cemetery, East of Perrysburg, Cattaraugus co, NY) and married Roxy Ann Banner (Benner) at McHenry co, IL, on 04 March 1859 (1857?). She was born ca 1841 in New York State. Chauncey raised hogs and had a dairy farm after going into IL in 1849 with his parents. He died at Union, McHenry co., IL on 06 April 1884 and buried in Franklinville cemetery. (Obituary below)
census: 1860 Federal Census: McHenry co., IL, Seneca twp family 1663.
Children of Chauncey J. and Roxy Ann (Banner) Bigelow:
15924.5411 Fred J. (James Fred), b 21 Feb 1860 Seneca, McHenry co, IL; d 27 Mar 1933 Sharon, Walworth County, WI; m 21 Feb 1884 Gertie D. Havens at McHenry co, IL (marriage license #70961 page 84); wrote and published history of Bigelow Family. 3 children (FTM)

15924.5412 Della May, b 16 Apr 1862, IL; d __1926, WI ; m 15 Oct 1879 Frank Adelbert PALMER (Lic# 9946, page 215); 2 children (FTM)

15924.5413 Stella Julia, b 30 Aug 1865 McHenry co, IL; d 25 May 1936; m 28 Mar 1883 George FARR; also m unknown date Bert Ray Stocking (1875-1970)

15924.5414 Carrie May (Maude?), b 26 Dec 1877/8 Franklinville, McHenry co, IL; d 11 Nov 1974 ; m 1898 Frank J. Henn (1875-1963); bothbur Oakwood Cemetery,Sharon, Walworth County, WI

Sources:
The Bigelow Family Genealogy Vol. II Page 420;
Howe, Bigelow Family of America; page 347 child;
Fred Biglow, History of the Bigelow Family, 1880; Marengo, IL.
Information from descendant: Linda Fetters; Smith Center, KS;
1860 Federal Census McHenry Co., IL, Seneca Twp family 2663;
Tim Janzen, 12367 S.E.Ridgecrest Rd., Portland, OR 97235, e-mail Janzen@pacinter.net,
descendant of Russel Bigelow, brother of Freedom 143;
Richard Kirk, e-mail TKirk@compuserve.com.
Obituary: Woodstock Sentinel, April 10, 1884
McHenry Co., IL
Seneca:
Chauncy Bigelow, one of Seneca's most respected citizens
died Sunday after a very short illness. Had been a prominent
man of the town, and will be greatly missed.
DIED AT HIS HOME IN SENECA, APRIL 6, 1884
Chauncy J. Bigelow was born in Cattaraugus Co., New York
on August 30, 1834. In his early life he came West having
been a resident of Seneca so long as to be called one of its
old settlers. A large concourse gathered at his funeral
which showed great respect for him. Married to his now be-
reaved wife March 4, 1857. Leaves 1 son, 3 daughters. His
aged father and mother still survive him. His health had
been poor for about 2 years, but sickness brief. Just 2
weeks before he died, he was in his accustomed seat in church
of which he was a member and Trustee. Funeral was held in
Franklinville ME Church, Rev. Hoover. Interment in the
church cemetery.
Obituary submitted by: Linda Fetters

---
Modified - 06/17/2021
(c) Copyright 2021 Bigelow Society, Inc. All rights reserved.
Rod Bigelow - Director
rodbigelow@netzero.net
---
Rod Bigelow (Roger Jon 12 BIGELOW)
Box 13 Chazy Lake
Dannemora, N.Y. 12929

rodbigelow@netzero.net