Erastus Brigham 7 BIGELOW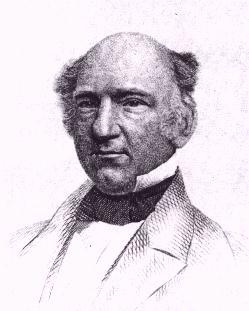 The photo above was obtained from book: American Portraits:"Erastus Brigham Bigelow (1814-1879) Inventor, economist; developed power loom for carpet manufacture. Engraving by W.G. Jackman. This may be the same portrait hanging in the National Portrait Gallery in Washington, DC
(see link)
---

15383.62 Erastus Brigham 7 Bigelow, son of Ephraim 6 , Abel 5, Amariah 4, Samuel 3, Samuel 2, John1) and Polly (BRIGHAM) BIGELOW, was born at West Boylston, Worcester, MA on 02 April 1814. His inventive genius early showed itself when early at the age of 14, he invented a machine to manufacture piping cord, for which he received $100. This enabled him gain additional education. He later was able to secure employment as a clerk in a dry-goods store, and even to teach penmanship. He then invented a power loom for weaving knotted counterpanes. Next his attention turned to a power loom to weave coach lace and took his brother, Horatio, in with him. Their attention turned to the weaving of carpets and Erastus invented a carpet loom by which his name became widely known. Of the 50 patents taken out by Erastus, the larger portion were directly or indirectly connected with the textile art. The first successful power loom for weaving coach lace, wire cloth, ingrain, tapestry, Brussels and Wilton carpets and silk brocatel, were all his inventions. He was an original incorporator of the Massachusetts Institute of Technology, a member of the London Society for the Encouragement of Arts, Manyfactures and Commerce, a member of the MA Historical Society and a member of the American Acadamey of Arts and Sciences. He married, for his first wife, Susan KING - their intentions to wed were filed 20 Oct 1838 and she died in 1841. His second marriage was to Eliza MEANS of Amherst, NH, the daughter of Col. David MEANS of Amherst. This second marriage was at Concord, MA on 16 May 1843. Erastus died on 06 Dec 1879 at Boston, MA.

Child of Erastus and Susan (KING) BIGELOW:

15383.621 Charles, born 1841 (1840?); died age 6.(b. 1841-d. 3/11/1847) (see below)

Child of Erastus and Eliza (MEANS) BIGELOW:

15383.622 Helen, b 14 July 1844; d 25 July 1933; m Rev. Daniel MERRIMAN (b. 12/3/1839-d. 9/18/1912)
(see below)

Sources:
Dictionary of American Biography;
The Bigelow Family Genealogy, Vol. II page 107;
Forge: Related Forge article: April 1986.
Forge: April 1996 article: scanned by Don Bigelow and presented below;
Addendum 2003:
Vol. II, Page 107, make the following Additions/Corrections:
Charles Bigelow, b 1840/41.
Ellen (Helen) Bigelow, b 14 July 1844; d 25 July 1933; Daniel b 03 Dec 1839 and d 18 Sept 1912.
Another child shows up, possibly adopted: Robert, no info except he m Dorothea Foote and at least one child: Frances Eliot; there is a monument to the three at Clinton, MA.

Note:
From: "Jenn Bigelow" <rarejewel@hotmail.com>
Date Fri, 07 Mar 2003 16:10:28 -0500
Rod,
I have gone on the Bigelow website for many years and I have been dying to update your information. I am attaching what I have for Ephraim, Horatio, and Erastus Bigelow, my uncle has the full family tree of our side. I will keep you posted should I come across any new discoveries. You will find me 5th generation down on Horatio's side. Please feel free to contact me with any questions. Thanks.

Jennifer Bigelow
Sudbury, MA
Erastus married Susan King, their child:
Charles (b. 1841-d. 3/11/1847)

Erastus married Eliza Means, their children:
i. Helen (b.7/14/1844-d. 7/25/1933)
She married Reverend Daniel Merriman (b. 12/3/1839-d. 9/18/1912)

Roger, son of Helen and Daniel Merriman
He married Dorothea Foote and their child Frances Eliot is buried in Salem.
There is a tombstone in Clinton memorizing the three.
There was a bit in there where I had no idea who Roger Bigelow Merriman was. I don't know if I sent
you the info or not but he is Daniel Merriman and Helen Bigelow's son. Roger married Dorothea
Foote.

---
Also see:
Bigelow Carpet - As America's oldest and most respected carpet manufacturer, has been beautifying American homes since 1825. And now Bigelow has joined forces with Carpet One.
http://www.carpetonetx.com/html/bigelow.htm

---

Subject: Information on Clinton Massachusets.. Bigelow Brothers textile business.
Date: Fri, 03 Jan 2003 21:01:40 -0600
From: Lynn Jones <ljones94@shaw.ca>

http://www.clintonmass.com/history.html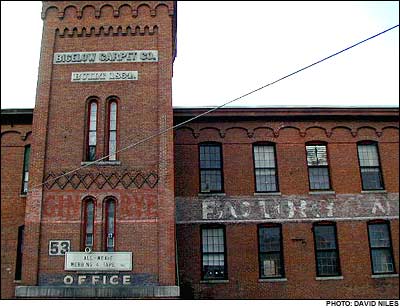 1. The Town of Clinton straddles the valley of the south branch of the
Nashua River and is the site of the Wachusett Reservoir, formed by
damming the river in 1905 to provide drinking water for the City of Boston.
Clinton's terrain was partly shaped by retreating glaciers which created the
present landscape.
The town's abundant water power potential invited textile manufacturing,
and a diverse ethnic population followed the creation of mill jobs. These
included Irish, German, Scots and English immigrants who worked in the
cotton and fabric mills and made combs. The invention of power looms
brought young women from New Hampshire and Vermont to tend the
looms. The town was incorporated in 1850 and was already a sizeable
community with over 3,000 in population and the fourth largest
manufacturing center in Worcester County. Clinton benefited greatly from
the ability and ingenuity of the Bigelow brothers, who invented new kinds
of power looms and set up profitable mills to house them.
By 1850 five million yards of cloth was woven by 700 mill employees and in
the following year an additional 2 million yards of lace, tweed and pant
fabric was being turned out at the mills in Clinton. The Bigelows continued
to refine their equipment, developing rug weaving looms and wire cloth
looms. Ancillary industries sprang up in town, such as foundries and
machine shops, to service the mills and companion factories for making
clothing, shoes and boots were also established. Clinton became
successively the state, national and world leader in the manufacture of
carpets, cotton gingham and wire cloth and by 1885 was the largest carpet
maker in the world. Not unexpectedly, there are also early records of labor
movement activity in Clinton, which was the site of the notorious Lancaster
Mills strike in 1912 with its mass meetings, picketing and riots. The huge
mills of the early 19th century still remain in use, housing a diverse group of
manufacturing uses.
2. Rural Lancaster, formed in the mid-1600s, originally included the area
now known as Clinton. The first industries in the region were combs and
textiles. The Bigelow brothers, Horatio and Erastus, originally from West
Boylston, came to the Lancaster area to set up a new textile business for
weaving an ornamental cloth bordering known as coachlace. Erastus
invented a power loom to mass produce this cloth and Horatio created a
company to manufacture it. They chose the name, "The Clinton Company,"
because of their love for the DeWitt Clinton Hotel in New York. Thanks to
this new industry, the district first became known as Factory Village, then
Clintonville. Bigelow's invention dropped production costs of coachlace from
22 cents a yard to 3 cents a yard and created many new jobs in the area.
Within ten years another Bigelow loom was invented for the power
weaving of counterpane, a heavy raised-design cloth. This brought even
more people to the area seeking employment. In 1845, Erastus Bigelow
received a patent on a new loom that revolutionized the making of gingham
cloth, and the brothers went to work and created a new company,
Lancaster Mills on Green Street, to manufacture this bright, plaid cloth. The
influx of engineers, merchants, and professionals brought about a building
boom to the area. New roads were laid out, houses and tenements built,
and stores and shops formed - Clintonville had its first major industry!
It was becoming more and more evident that Clintonville was taking a
completely different path than her "mother" town, Lancaster. Clintonville
was a hustling, bustling little manufacturing village; Lancaster was a quiet,
farming community. Lancaster's population was scattered over many miles;
Clintonville's population was very highly concentrated - 90 percent of the
population lived within ONE square mile! Clintonville had fresh young blood
and intense enthusiasm; Lancaster was a rather settled, static, and
conservative community. Finally, in 1850, Lancaster accepted the inevitable
division and "Clinton" became legally incorporated on March 14, 1850.
The Bigelow brothers influence was far from over, however. Their crowning
achievement was the development of the carpet loom. The Bigelow Carpet
Company in Clinton manufactured the world's best carpets from 1849 to
1933. Its carpets could be found in the White House, the U.S. Senate and
House, the State House, the Waldorf-Astoria, St. Patrick's Cathedral, the SS
Titanic, and many of the finest restaurants and theaters in the world. The
Bigelow brothers final company, the Clinton Wire Cloth Company, produced
woven metal screening and fencing.
Erastus and Horatio Bigelow not only gave Clinton its name, but actually
created wealth in this village that would prove to be our economic base for
many years.
Although Erastus was the famous inventor, Horatio had an even greater
impact on this community. The school department, fire department, library,
local banks, and many churches in town all got their start thanks to Horatio
Bigelow. Central Park, the town common, was given to the town by Mr.
Bigelow.
---
April 1996 FORGE.- The Bigelow Society Quarterly Vol. 25, No. 2
ERASTUS BRIGHAM 7 BIGELOW, INVENTOR
Ephraim 6, Abel 5, Amariah4, Samuel 3, Samuel 2, John 1
---
Trivial Pursuit Question: Who invented a steam-driven machine to make carpet in 1840?
Answer:Erastus Brigham Bigelow.
Erastus Brigham Bigelow (15383.62) is perhaps best known in our day as the founder, along with his brother Horatio, of the well-known Bigelow Carpet Company. Most people are not aware, however, that it was as an inventor, a man who registered some 50 patents in his lifetime, that Bigelow really made his mark. The majority of his inventions were related to the textile arts, and they were to revolutionize the entire textile industry.
Erastus, the second son of Ephraim and Polly (Brigham) Bigelow, was born at West Boylston, Worcester, MA on 2 April 1814. His father Ephraim, a native of West Boylston, was a small farmer who plied as well the trades of wheelwright and chairmaker. Young Erastus proved early his love of learning when at the age of eight he taught himself the fundamentals of mathematics. His fervent longing for an education was overridden by the practical need to earn a living at a young age, as the family resources were scarce. He began working out at the age of ten on a neighbouring farm, and later played violin at country dances to earn some extra cash.
His true calling showed itself early in life when at the age of 14 he invented a machine to manufacture piping cord. For this invention, he received $100, enabling him to secure further education. He later was able to secure employment as a clerk in a dry-goods store, and even to teach penmanship. By 1831, Erastus's father had established a small cotton mill where both his sons began to work. Erastus's first major invention came in 1837, when he invented a power loom to weave coach lace. This machine already contained most of the distinctive and vital features which were to be included in his future more important carpet looms. The success of this lace loom brought Erastus instant recognition. He formed a company with his older brother, Horatio, to produce and operate the new looms. It was incorporated 8 March 1838 under the name of The Clinton Company, supposedly because of a favourite inn of the inventor at New York called the Clinton House. The location of the new plant was near Lancaster, and the factory village soon came to be known as Clintonville and finally Clinton.
Over the next twenty years, Bigelow's inventive genius did not diminish. It is interesting to note that despite his active imagination, Erastus was apparently unable to make anything with his own hands, or even to sketch his own creations. He always worked through a draftsman in drawing up the plans for his inventions.
Turning his attention next to the weaving of carpet, Erastus in 1840 invented a power loom for which his name became widely known. Two-ply ingrain carpets, which previously had been woven on hand looms at two yards a day, were soon being turned out at the rate of twenty-five yards a day. The first successful power loom for weaving coach lace, wire cloth, silk brocatel, and Brussels, Wilton, tapestry and velvet carpets were all Erastus's inventions. Many of the plants for producing these textiles were located at Lowell MA and Derby CT, but Clinton was to remain the centre of the Bigelow enterprises.
Erastus had become well-known for his inventions by 1850, not only in the United States but also overseas. He visited Europe frequently on matters of manufacturing. He amassed six volumes of his English patents between 1837 and 1868 which are preserved along with the original drawings by the Massachusetts Historical Society, to which he belonged. His contribution to the development of the textile arts is said to be greater than that of any other man.
As well as an inventor, Bigelow is also recognized as a respected economist. Uninterested in business matters, he left the management of the Clinton Company to Horatio. He became very interested in the question of tariffs, advocating a protective policy. He published two major works, in 1862 and 1877 , on the role of tariffs in the American economy. In 1860, he ran for Congress as a Democratic candidate but was defeated in a close contest. He was always interested in education and became one of the founding members of the Massachusetts Institute of Technology. Erastus has been described as a man of medium stature, with a fair complexion, gray eyes, and the typical Bigelow high forehead and jutting eyebrows. His main mental trait was his overriding power of concentration. Bigelow lived in Boston and maintained a summer home called Stonehurst in North Conway, NH; in both he loved to entertain guests. Stonehurst is now a guest inn and restaurant.
Sometime after filing intentions to wed on 20 October 1838, Erastus married Susan W. King who died in 1841. He married for a second time 16 May 1843 at Concord, MA to Eliza Frances Means. Eliza was the daughter of Col. David Means of Amherst, NH. Erastus died 6 December 1879 at his home in Boston.
After the death of the Bigelow brothers, the Bigelow Carpet Co. in 1899 merged with Lowell Carpets, and then in 1929 with its largest competitor. The headquarters moved in the second half of this century to Greenville, SC. Today there are no Bigelows in charge at the Bigelow Sanford Carpet Company, which is a subsidiary of Sperry-Hutchinson. The old New England buildings where once the Bigelow looms resided now house other manufacturing endeavors. If you visit the National Portrait Gallery in Washington, DC, you may see a group of 19th century inventors displayed under the heading, "Men of Progress. " Among them you will find a large painting of Erastus Brigham Bigelow, foremost inventor in the textile industry.
Children:
Charles, born l840; died age 6. (Erastus and Susan (KING) BIGELOW)
Ellen, b 1844; m Rev. Daniel MERRIMAN (Erastus and Eliza (MEANS) BIGELOW)
Other works of interest:
A Century of Carpet and Rug Making in America, published by the Hartford-Bigelow Carpet Co., 1925.
Another HTML Document on Erastus and his brother Horatio may be found at Bigelow Carpet Company.
also see a Brief History of Clinton, MA http://bigelowsociety.com/rod7/clintonv.htm
---
Modified - 09/30/2011
(c) Copyright 2011 Bigelow Society, Inc. All rights reserved.
Rod Bigelow - Director
rodbigelow@netzero.net
---
Rod Bigelow (Roger Jon12 BIGELOW)
Box 13 Chazy Lake
Dannemora, N.Y. 12929

< rodbigelow@netzero.net >