Cornelius Jeremiah 7 BIGELOW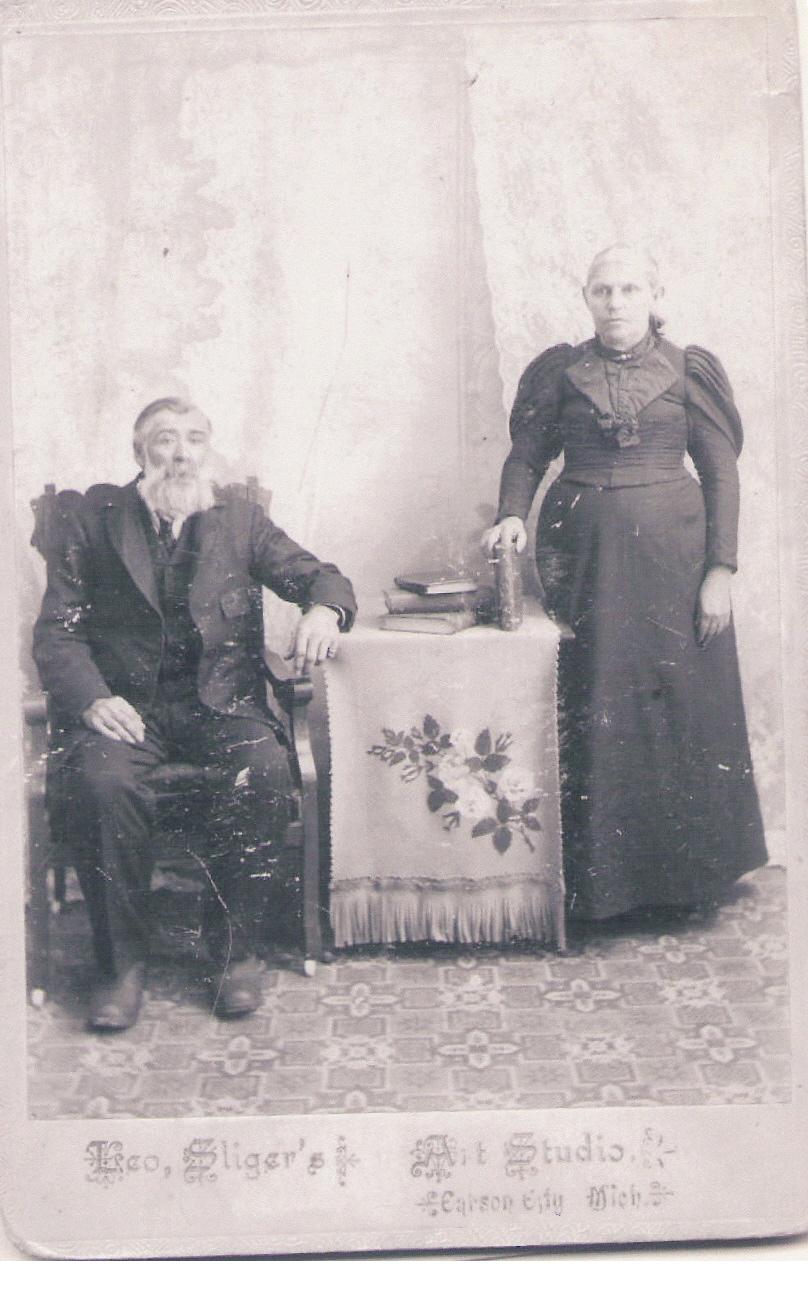 This is a picture of 15337.A5 Cornelius Jeremiah Bigelow and his wife Rosannah Osterhout.
On the back of the picture written in pencil it says. Mr. C Jerry Bigelow and his wife Rose 1895.
Photo from Bob Montgomery navy83@aol.com

---



15337.A5 Cornelius Jeremiah "Jerry" 7 BIGELOW, son of William F. 6 ( Noah 5 , Cornelius 4, Samuel 3, Samuel 2, John 1) and Elizabeth (EARL) BIGELOW, was born 13 March 1842 in Andes township, Delaware, NY. The family moved to Montcalm county, MI in 1853 and Cornelius was listed in 1860 census as living at home. He married, Montcalm county, on 09 December 1861 Rosannah Osterhout, daughter of William and Lena (Seaton) Osterhout. She was born 16 August 1840 in Cayuga county, NY. Cornelius enlisted during the Civil War and served in Company D, 3rd MI Infantry. They lived in New Haven, Gratiot county, all of their married lives. Cornelius was nicknamed "Jerry" to distinguish him from other Cornelius Bigelows in the family. He died 0l March 1899 New Haven township. His widow died 15 February 1908. Both are buried in New Haven.

Children of Cornelius and Rosannah (Osterhout) Bigelow, all born Gratiot county, MI:

15337.A51 Charles, b 25 Nov 1862; d 11 June 1863.

15337.A52 Cornelius, b 20 Nov 1863; d 11 Feb 1872.

15337.A53 George, b 1865; d after 1870 census.

15337.A54t James Albert, b 05 July 1867; d 1934; m 26 Sept 1894 Gratiot co., Ada Belle Derrick; 5 children.

15337.A55 Ada E., b 15 April 1869; d 20 Dec 1908 Marne, MI; m 21 Feb 1892 Franklin P. Wells; res. Marne; had children.

15337.A56 Eugene, b 04 Dec 1871; d May 1923.

15337.A57 Laura M., b 02 Aug 1875; d 17 April 1903; m Feb 1902 Herbert 1. Wells; had children.

15337.A58t Melvin William, b 10 Sept 1877; d 29 July 1939; m (1) 09 Oct 1900 Gertrude Ann Ladd, from whom divorced 1913, she later m Norman Buehan; (2) Cynthia Seaton on 15 April 1917; 6 children total.

15337.A59 Arthur L., b 05 Aug 1881 New Haven, MI; d 15 Aug 1882.

Lula, an adopted daughter was b 03 March 1890 and mentioned as "Laura" in Rosannah's obituary.

Sources:
Bigelow Society,The Bigelow Family Genealogy, Vol I ;
Bigelow Society,The Bigelow Family Genealogy, Vol II, pg 97-98;
Research done by Bigelow Society historian/genealogist and correspondence between her and descendants.
New Note 03/20/07:
Photo from Bob Montgomery navy83@aol.com
Thought I would share some pictures in case you wish to use them for your website.

Note from board:
In Reply by Tammy Staver staver09@jobe.net


I don't know much about this family, as I am not related. I do have some photos of Cornelius'children, including Albert, his son. This Bigelow family was in Gratiot Co.,MI in the 1880 census and Cornelius was married to a Rosanna. His children were Albert, Ada, Eugene, Laura and Melvin. I do believe that Cornelius' father was William F. Bigelow, based on the 1860 census in Bloomer, Montcalm Co.,MI. Would like to exchange what info I do have.
---
Modified - 03/20/2007
(c) Copyright 2007 Bigelow Society, Inc. All rights reserved.
Rod Bigelow - Director
< rodbigelow@netzero.net >
---
Rod Bigelow (Roger Jon12 BIGELOW)
Box 13
Chazy Lake
Dannemora, N.Y. 12929

< rodbigelow@netzero.net >