Charles Nolton 7 BIGELOW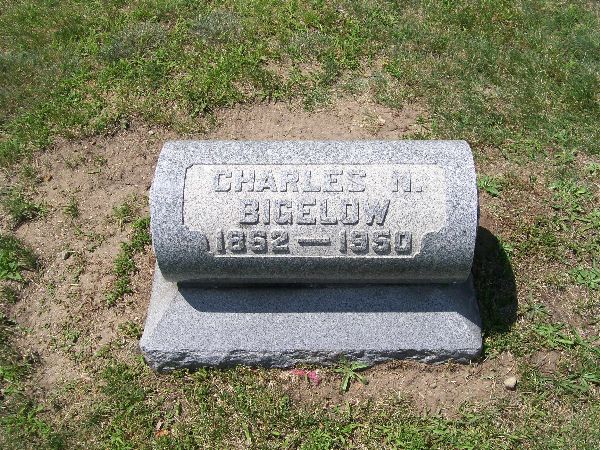 Lakeside Cemetery; Holly, Oakland County, MI
---
16C43.73 Charles Nolton 7 BIGELOW, son of Nolton 6 ( Eleizer 5 , Joshua 4 , Eleazer 3 Joshua2, John1), and Letitia (PARKER) BIGELOW, was born at Springfield township, Oakland co., MI on 22 April 1862. He married Mary MacGregor Maybee on 29 May 1884 in Oakland co., MI. She was daughter of Jesse and Martha Ann (Beardslee) Maybee and born in 1864. Charles Nolton died 13 March 1950 (aged 87), but a report of 1939 is in error. (see below) Mary died at Springfield, MI on 22 July 1899.
Children of Charles and Mary (Maybee) Bigelow:
16C43.731 Frederic Nolton, Dr., b 22 Oct 1885 Davisburg, MI; d 13 Feb 1924 Boston, MA; m 26 Apr 1917 Laura HUNTER; 2 children: Nolton Hunter and Meryl Bigelow.(see below)
16C43.732t Jesse Maybee., b 10 Aug 1888 Davisburg, Oakland County, MI ; d 02 May 1956 (aged 67 Windsor, Essex County, Ontario, Canada; m 08 Nov 1911 Rosa May Van Duesen who was the daughter of Henry and Annie May (Sutton) Van Duesen. Jesse was a banker at Holly and Flint, MI. 4 children: Nolton, Frederick, James Russell, and Donald Maybee.
There might have been others, as there is a record of Jess Tanny d age 3 days, no dates, daughter of C. Nolton Bigelow.
Sources:
Bigelow Family Genealogy Volume. I page.363-364;
Bigelow Family Genealogy Volume. II page.282-283;
History of Oakland co, MI;
correspondence with descendants.
Bigelow Society historian/genealogist records (prior to 1995)
Descendant Note:
Rod. Can you find any information on Dr Fred Bigelow. I have his birth date as Oct 22 1885, Died Feb 13 1924. He Married Laura Hunter April 26 1917.He had 2 children: Nolton Hunter and Meryl Bigelow. I would like to find any of his family living in and around the Boston area, this is where Fred died. Any information you could find would be helpful.
rgbigelow@aol.com

Note from Janis Pahnke < janis222@sbcglobal.net >
Dear Rod:
An email correspondent of mine sent me the attached picture of Charles Nolton Bigelow's family. He is #16C43.73. She thought it might be one in my line. He is not. The notation on her email said:
Studio photo
Location:Cass City, Tuscola Co., Michigan, USA
Date: ca 1895
Attached to: . Sarah Parker (1819-1910)
.Sarah Ann Foster (1849 -)
.Charles Nolton Bigelow (1862 - 1939)
The Photo that was previously posted here is actually Nolton 7 Bigelow ...................see below

The lovely photo on this page is not of Charles Nolton Bigelow who married
Mary Maybee. It is Nolton Bigelow 1848-1924, son of Edmund James Bigelow
and Eleanor Butler. This Nolton married Sarah Ann Foster (1849-1928),
daughter of Samuel Foster and Sarah Parker. Sarah Parker's sister Letitia
Parker married another Nolton Bigelow (1815-1864), son of Eleizer Bigelow
and Lydia Spencer.
Nolton (1848) and Charles Nolton (1862) were first cousins.
On the Tuscola County web page you will find digitised images of some of the
newspapers and there are some interesting items on the Bigelow family who
lived in that area. They owned a hardware store in Cass City for many
years.
I am a Parker descendant and would be interested in any more information on
this family.
Barbara Lee Page
Courtenay BC
barbleepage@shaw.ca

---
Modified - 11/21/2021
(c) Copyright 2009 Bigelow Society, Inc. All rights reserved.
Rod Bigelow - Director
rodbigelow@netzero.net
---
Rod Bigelow (Roger Jon12 BIGELOW)
Box 13 Chazy Lake
Dannemora, N.Y. 12929

rodbigelow@netzero.net