Anson Hardin 7 BIGELOW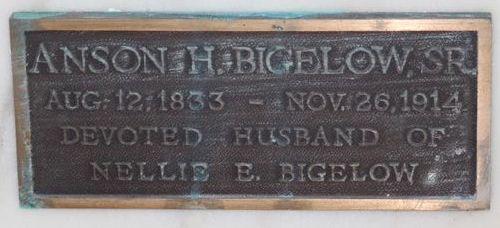 Woodlawn-Hillcrest Memorial Park; Omaha, Douglas Co., NE
---
16A43.21 Anson Hardin 7 BIGELOW, son of Hardin 6 ( Moses 5 , Moses 4 , Ebenezer 3, Joshua2, John1), and Cynthia "Thirza" ( ___ ) BIGELOW, was born on12 August 1833 at Rochester, NY. This is a corrected number from Vol.1 of "The Bigelow Family Genealogy". Anson was born at Rochester, NY on 12 August 1833. We have two undated marriages for him: (1) to Mary Brazil, b 03 Apr 1830; who died 08 Apr 1886 at Wheeler co., NE where they had moved 5 years earlier and (2) Nellie Elizabeth Connerton, who was born 17 Apr 1852, Illinois, and died 11 Aug 1948 (aged 95–96) Seattle, King County, WA. Anson died at Omaha, NE on 26 November 1914. (more)

Children of Hardin and Mary (Brazil) Bigelow:

16A43.211 Myron I., b 28 Mar 1864 IL; d 24 Feb 1899 Lincoln, NE; m __ March 1891 Edith T. Mockett; Myron was a harnessmaker and electrician with brother Charles W.

16A43.212 Charles Wesley, b _1861 IL; d 18 Mar 1942 (aged 80–81) California; m He was an educator and electrician with Myron, his brother.

16A43.213 John J., b ___ ; d after 1914 Burlington, IA; He lived in Galesburg, IL in 1899-1900 and Burlington, IA in 1914. (see below)

16A43.214 Anson Hardin jr., b 23 Aug 1867 in IL; d 06 Feb 1952; He married 3 times. Marguerite - 2 daughters in 1900 census. He lived in Omaha, NE. He was a long time lawyer?? there. (see below).

Anson had by second marriage:

16A43.214 Annie A., b _ Sept 1890 NE; d ____ ; m William Holmes; res Kansas City, KS.

Sources:
Bigelow Family Genealogy Volume. I page.351;
obituary Hardin Bigelow;
funeral notices, various papers, including NY Times;
l940-44 news stories from Sacramento Bee and Sacramento Union, concerning rediscovery of Hardin's grave.
Inquiry from John Cumming, Clarke Memorial Library, Mt. Pleasant, MI 48859.
Check Library at Marshall, Calhoun co., MI.


Find a Grave
Omaha World Herald, Friday, November 27, 1914:
"Anson H. Bigelow, Sr., died at the residence of his son, A. H. Bigelow, Jr., at 4 p.m. Thanksgiving Day of nephritis, aged 81 years, 3 months and 14 days.
Mr. Bigelow came to Omaha in 1880, but went to Wheeler county, Nebraska, in 1882, where he remained until 1911. He was a county superintendent of schools for several terms and engaged in farming thereafter. In 1911 he went to southern Missouri in search of a milder climate, but becoming quite ill last May was brought to his son's home in Omaha in September.
He is survived by his wife, Mrs. Nellie Bigelow, three sons, C. W. Bigelow, principal of the West Denver high school; John J. Bigelow, engineer, Burlington, Ia., and A. H. Bigelow, attorney at law of this city, and a daughter, Mrs. William Holmes of Kansas City, Kan.
Funeral will be from the Bigelow residence at 3139 Mason Street, Saturday, at 2 p.m., and interment at West Lawn Cemetery."


Descendant (Possible) Note:
Subject: LOOKING FOR FAMILY
Date: Sun, 11 Oct 1998 20:02:33 -0700 (PDT)
From: immidget@webtv.net ( Charlene Bigelow )

THE BIGELOW NAME IS MY HUSBANDS...HE HAS A SMALL FAMILY. HIS FATHER WAS DON JOSEPH BIGELOW, AND GRANDFATHER WAS JOHN JOSEPH BIGELOW...THEY ARE FROM IOWA...DO KNOW IF YOU ARE RELATED TO THEM OR NOT, OR HOW I CAN FIND OUT? THANK YOU FOR ANY INFO YOU CAN GIVE ON THIS MATE. CHAR BIGELOW
There is a John J. Bigelow from Burlington, IA in 1914.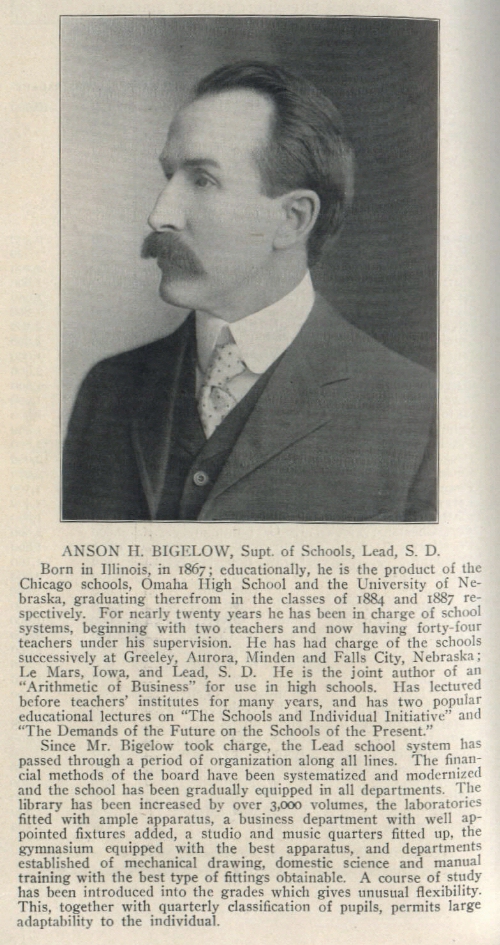 16A43.214 Anson Hardin jr., b 23 Aug 1867 in IL; d 6 Feb 1952; He married 3 times. Marguerite - 2 daughters in 1900 census. He lived in Omaha, NE. He was a long time lawyer?? there
Children:
a. Mary Blair BIGELOW
b. Lucille Blair BIGELOW
---
Modified - 12/17/2021
(c) Copyright 2005 Bigelow Society, Inc. All rights reserved.
Rod Bigelow - Director
rodbigelow@netzero.net
---
Rod Bigelow (Roger Jon12 BIGELOW)
Box 13 Chazy Lake
Dannemora, N.Y. 12929

rodbigelow@netzero.net at SLIC