Hardin 6 BIGELOW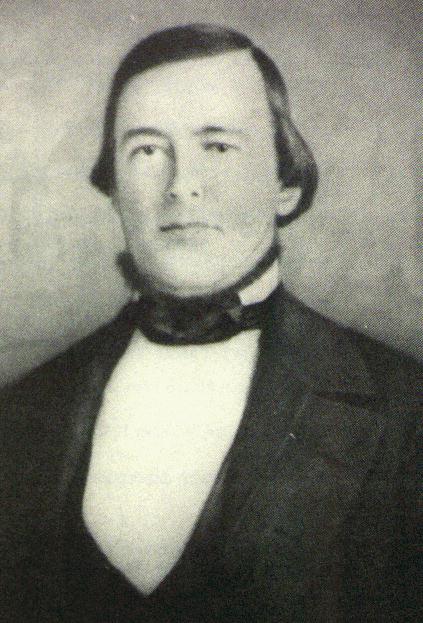 Hardin Bigelow, born VT, lived NY & MI; first mayor of Sacramento, CA.
---
16A43.2 Hardin 6 BIGELOW, son of Stephen Moses 5( Moses 4 , Ebenezer 3, Joshua2, John1), and Phoebe (WING) BIGELOW, was born circa 1801 in Vermont. As a young child he moved to New York state, where land deeds exist in St. Lawrence county showing that he owned land there; on the transfer of title his wife's name is given as Cynthia. By the 1840's he was in business in Marengo, Calhoun county, Michigan, but failed financially. Cemetery inscriptions for two young daughters who died at Marengo, state they were daughters of "Hardin and Thirza". His obituary mentions that "in the explosion of the Moselle and the Wilmington" Hardin suffered severe losses, and barely escaped with his life. He served in the Black Hawk War in Illinois. He was over two years in the West Indies, New Grenada, Peru, Chile, and Central America, during which time he acquired a knowledge of prospecting for minerals and became a practical engineer. He reached California on the first steamer to arrive at San Francisco, and spent some time in the mines on the Mokelumne. He then moved to the Sacramento, and was involved in a project for building a railroad from Sacramento to the heart of the gold mines. During an early flood that threatened to wipe out the community of Sacramento, he organized its inhabitants into sand-bagging the rising river, and later into building levees against the annual floods. He was instrumental in helping putdown a Squatters' Riot during his mayorship of Sacramento. During the riot he was shot and severely wounded, which led to the amputation of his thumb, then when infection set in, he went to San Francisco to have his arm amputated, but developed cholera and died 27 Nov 1850. He is buried in Helvetia cemetery, Sacramento.

He left at least one son, whom we are now able to trace.

Known family of Hardin Bigelow:

16A43.21 Lydia E., b ca 1827 NY; d ____ ; in 1850 was married to Solomon Franklin; resided Wheatland, Monroe co, NY; her 2 brothers lived with them;

16A43.22 Anson Hardin 7, b 12 Aug 1833 Rochester, NY; d 26 Nov 1914 Omaha, NE; m (1) Mary BRAZEIL; (2)
Nellie ___ .

16A43.23 Myron, b ca 1835 NY; d ____ ; in 1850 he and Anson lived with sister Lydia; by 1860 Myro and wife Sarah lived Rochester, Monroe co, NY;

16A43.24 Annette, b ca 1838; d 1 Mar 1842, ae 3 yrs; bur Sampson cemetery, Marengo, MI.

16A43.25 Almira, b ca 1842; d 24 Feb 1843, ae 8 mos; bur Sampson cemetery, Marengo, MI.

Sources:
Bigelow Family Genealogy Volume. I page.351;
Howe, Bigelow Family of America;
news items Marshall (MI) Statesman;
land deeds St. Lawrence co, NY and Calhoun co, MI;
obituary Hardin Bigelow;
funeral notices, various papers, including NY Times;
history Sacramento county;
city council notes, Sacramento, CA, during period of Hardin Bigelow's mayorship;
l940-44 news stories from Sacramento Bee and Sacramento Union, concerning rediscovery of Hardin's grave.
Inquiry from John Cumming, Clarke Memorial Library, Mt. Pleasant, MI 48859.
Check Library at Marshall, Calhoun co., MI.

---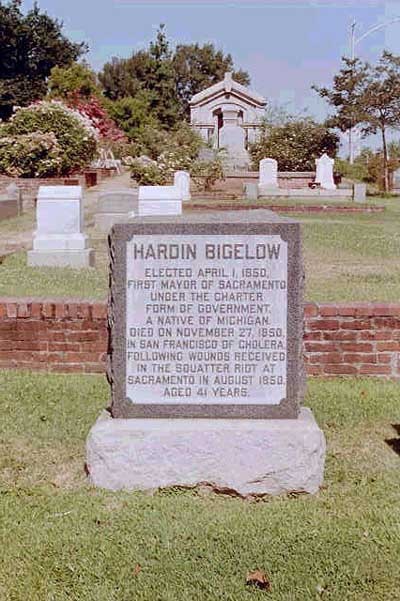 (hardin6.jpg)
---
Modified - 02/07/2015
(c) Copyright 2015 Bigelow Society, Inc. All rights reserved.
Rod Bigelow - Director
< rodbigelow@netzero.net >
---
Rod Bigelow (Roger Jon12 BIGELOW)
Box 13 Chazy Lake
Dannemora, N.Y. 12929

< rodbigelow@netzero.net >