Lucy 6 BIGELOW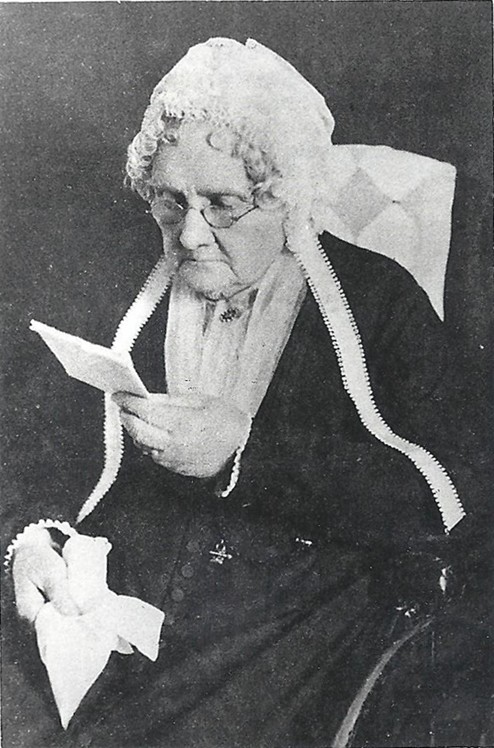 Lucy 6 (Bigelow) Williams
---
15578.8 Lucy 6 BIGELOW, dau of Abijah 5 ( Jacob 4, Thomas 3, Samuel 2, John1) and Mercy Amelia (SPRING) BIGELOW, was born 04 October 1794 at Waltham, Middlesex county, MA. She married, on 19 August 1822 at Brooklyn, CT, Herbert Williams, son of Roger W. and Polly (Scarborough) Williams. He was born 27 May 1795 at Brooklyn, CT. They followed her parents to Indiana, and Lucy died there 06 August 1890 at Michigan City, IN.

Children of Herbert and Lucy (Bigelow) Williams:

15578.81 Wolcott Bigelow Williams, b 13 Aug 1823; res Charlotte, MI.

15578.82 Amelia Sumner Williams, b 23 Mar 1826; d 25 Mar 1826.

15578.83 Amelia Sumner Williams, b 29 June 1829.

15578.84 Lucy Maria Williams, b 25 Dec 1831; d 31 July 1832.

15578.85 Ellen Dickinson Williams, b 05 Oct 1837; m Joseph Clary Haddock. (see photo)

Sources:
Bigelow Society,The Bigelow Family Genealogy, Vol I, pg 263;
Howe, Bigelow Family of America;
Mrs. Wm. Harris, Abijah Bigelow, Revolutionary Soldier, 1976
(including manuscript Brief Sketch of My Mother's Life, by Ellen D. Williams Haddock).
Note1:
Subject: Lucy Bigelow Williams
Posted by: Darleen Bunker darleenb@juno.com
I have a picture of an elderly woman found in the family pictures which was taken at Houser's in Michigan City, Indiana, on the back is written Lucy Bigelow Williams April 11, 1797-1890. Can anyone help with further information
More:
I am trying to see if there is a connection between my family and Lucy Bigelow Williams. I found her picture in the family
pictures with her birth date and the year of death on the back. This picture was taken at Houser's in Michigan City Indiana when she was an elderly woman. I have since found her in the Bigelow family pages. My family connection is possibly through my great grandmother Mary Margaret (STEELE) WALKER b. Aug 27, 1846 d. Jan 26, 1897 in Carleton Place Ontario. She was married to a John WALKER and all we know about him is that he died in 1888. We don't know birth place for either of them or where they were married or the date or where he died. My grandmother Mary Ella Walker was born September 16, 1886 possibly in Springfield Illinois, however there is a picture of her as a baby under a years age taken at Robinson of Michigan City Indiana. Any light you could shed on this would be greatly appreciated.

---
Modified - 09/03/2009
(c) Copyright 2009 Bigelow Society, Inc. All rights reserved.
Rod Bigelow - Director
< rodbigelow@netzero.net >
---
Rod Bigelow (Roger Jon12 BIGELOW)
Box 13 Chazy Lake
Dannemora, N.Y. 12929

rodbigelow@netzero.net

BACK TO THE BIGELOW SOCIETY PAGE

BACK TO BIGELOW HOME PAGE