Louisa 7 BIGELOW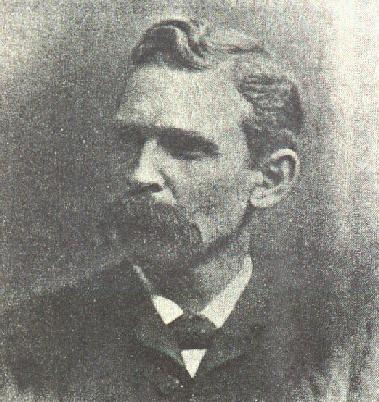 Gilman Bigelow Howe (grandson)
---
15182.49 Louisa 7 BIGELOW, dau of Gershom 6( Ivory 5, Gershom 4, John 3, Samuel 2, John 1), and Mary (HOWE) BIGELOW, was born 09 September 1806 and married on 16 September 1824 Eber Howe, son of Sylvanus and Sarah (Gleason) Howe (see below), born 0l December 1795. Louisa died 18 January 1862 and Eber on 08 March 1872. They had resided in Marlborough, MA and were the grandparents of Gilman Bigelow Howe who edited Howe, Bigelow Family of America, published in 1890. Sarah (Gleason) was the daughter of Ithamar and Sally (Temple) Stowe.

Children of Eber and Louisa (Bigelow) Howe:

15182.491 Lucy Howe, b 17 Nov 1825; m 06 April 1854 Luke H. Wood; d 21 Aug 1877; res. Marlborough; 1 child.

15182.492 Silas Howe, b 17 Jan 1828; m 0l Aug 1849 Ann Gilmore Snell; res. Northborough, MA; 3 children, one of which was Gilman Bigelow Howe, editor of the above genealogy, b 29 April 1850 - d __ 1933; (see photo)(see below).

15182.493 Augusta Howe, b 31 Jan 1830; d 08 Aug 1854; m 04 Oct 1847 Alanson S. Howe; 1 child.

15182.494 Lydia Howe, b 28 April 1832; d 13 April 1852; m 14 Jan 1851 Austin B. Lawrence; no children.

15182.495 Mary Howe, b 17 Aug 1834; d 17 March 1875; m 06 April 1854 Austin B. Lawrence widower of her sister; he d 29 April 1876; 1 child.

15182.496 Everett Howe, b 11 Dcc 1836; d 13 March 1837.

15182.497 Cordelia B. Howe, b 10 Sept 1838; m 06 June 1855 Alanson S. Howe; res. Marlborough; 5 children.

15182.498 Edward Howe, b 22 June 1841; d 24 March 1843.

15182.499 Annie L. Howe, b 07 April 1844; m 06 June 1872 Lewis B. Wheeler; res. Berlin, MA; 1 child.

Sources:
The Bigelow Family Genealogy, Volume II, page 48;
Howe,Bigelow Family of America.
Note:
See: FORGE, Bigelow Society Quarterly, Apr 1997, Vol. 26, No. 2. While a young man (1886) the first Bigelow family reunion was held at Worcester, MA with Bigelows attending from all over the United States [see "The Original
Bigelow Family Reunions" same FORGE]. A permanent committee was formed and Gilman Bigelow Howe, already a recognized genealogist, wasthe logical choice to head the committee. His position as an employee of the U. S.Census Bureau
in Washington, DC enabled him to communicate with Bigelows in every part of the country. Between 1886 and 1889 he corresponded with cousins. Bigelows of many towns helped search local records for births, deaths, marriages, old wills and land records. References to these are found throughout the Bigelow genealogy. Gilman had no children but at least one Bigelow was named "Gilman" as a result of correspondence with distant kin. He died 1933. His widow, Lena Puplesse, had his files of correspondence and untraced Bigelows destroyed. The library was inherited by a cousin, John A. Bigelow, who
corresponded with Laurel (Bigelow) Barkalow, the modern society's first President several times prior to his death. The Bigelow genealogy was published by Charles Hamilton of Worcester in 1890. It is no longer in print. I purchased a 1st edition on the internet............ROD
Note2:
Subject: Gilman Bigelow Howe
Date: Wed, 8 Nov 2000 15:07:31 -0800
From: "Jill Jessen Hernandez" < kpitblu@home.com >

Which immigrant HOWE is Gilman related to? I am from Edward HOWE came on the Truelove to MA. Jill Jessen Hernandez
Note3:
Subject: Gilman Bigelow Howe
Date: Fri, 2 Feb 2001 23:37:29 -0500
From: "Don Howe" <don@howefamily.com>

I do have some information on Gilman Bigelow Howe. He is a descendant of Abraham How of Marlborough, Mass. Gilman was born, 4-29-1850 in Marlborough. His father was Silas Howe and his mother was Ann Gilmore Snell. If you
would like, I have his entire family history back to Abraham. It will take me some time to compile the data and send it to you.
Let me know
Don

Howe genealogy:
Sylvanus Howe married Sarah Gleason at unknown date. She was the daughter of Ithamar Stowe and Sally Temple. They had another daughter:
Mahala Stowe, who married Lucas Bigelow, son of Gershom 6.

---
Rod Bigelow
Box 13 Chazy Lake
Dannemora, N.Y. 12929

rodbigelow@netzero.net

BACK TO THE BIGELOW SOCIETY PAGE

BACK TO BIGELOW HOME PAGE