Joshua 5 BIGELOW
Joshua Bigelow, died 10 Mar 1831, ae 72 yr Howe #176-540
BIGELOW FAMILY CEMETERY, New Lebanon, Columbia county, NY
---
16B25. Joshua 5 BIGELOW, son of Jabez 4 ( Gershom 3, Joshua2, John1) and Susanna (ELDERKIN) BIGELOW, was born 02 January 1759 at Pittsfield, MA (but the birth recorded at Hebron, CT). The family moved after the Revolution to New York state. There, circa 1788, he married Huldah Hunt of Shoreham, VT. They lived on a part of his father's farm at New Lebanon, Columbia county, NY. He died there 10 March 1831. His wife, Hulda, was born 30 January 1768, and died 04 November 1831 at New Lebanon, NY.
1790 census: NY-Columbia-Canaan-Joshua Bigelow: 1-1-1-0-0.
Children of Joshua and Huldah (Hunt) Bigelow, all born New Lebanon, Columbia co, NY:
16B25.1 Asher, b 19 Feb 1789; went south, and was an overseer on a plantation near Charleston, SC; died there ca 1825.
16B25.2 Lowisa (Louisa), b 17 Apr 1791; d 19 May 1822; Howe's Bigelow genealogy says unmarried, but an obituary of the time says married to Simeon Rice. (see stone below)

16B25.3 Sarah, b 17 Oct 1793; d 23 Aug 1825 New Lebanon, NY; unmarried. (see stone below)
16B25.4 Samuel, b 04 Oct 1795; d 25 Sept 1857 New Lebanon, NY; m Polly Pratt (born 10 Feb 1793, d 02 Jan 1849) of Canaan. No issue. (see below) (see stone below)
16B25.5 Susanna, b 04 Mar 1797;d 10 Nov 1819 New Lebanon, NY; unmarried.
16B25.6t Hiram, b 05 Mar 1800; d 28 Oct 1863 New Lebanon; m 2 June 1831 Lucina Haight. 9 children.(see below)
16B25.7 Eliza Ann, b 24 Dec 1805; d 14 Oct 1823 New Lebanon; unmarried. (see stone below)
Sources:
Bigelow Family Genealogy Volume. I page.178;
Howe, Bigelow Family of America;
cemetery records, New Lebanon;
newspaper obituaries from collection at NY State library.

BIGELOW FAMILY CEMETERY, New Lebanon, Columbia county, NY
In Memory of Hulda
Bigelow
wife of
Joshua Bigelow
, died Nov. 4 1831, aged 63 yr, 9 mo, 4 das
Photos by Rod Bigelow 16 Nov 2011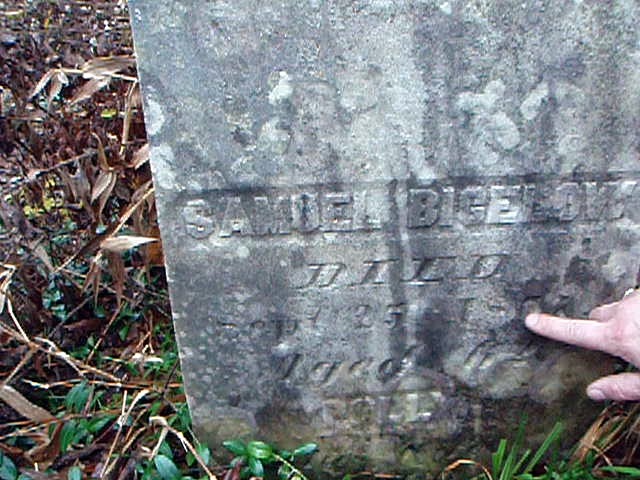 SAMUEL BIGELOW
DIED
Sept 25, 1857
Aged 62
[POLLY]
(unreadable)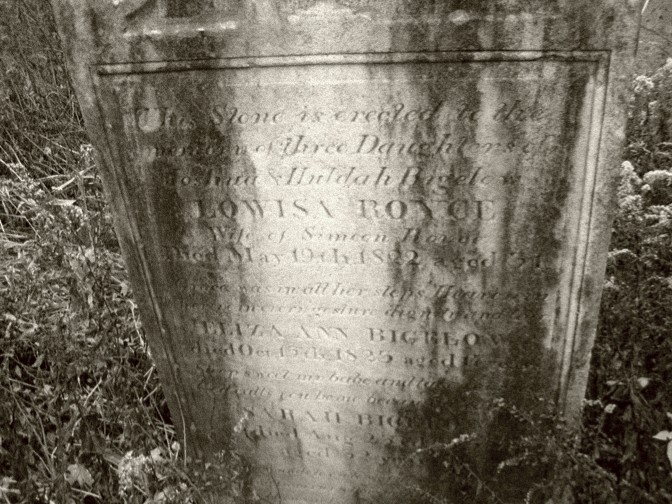 This Stone is erected to the momory of three Daughters of
Joshua and Huldah Bigelow
LOWISA ROYCE
Wife of Simeon Royce
Died May 19th 1822 aged 31
Grace was in all her steps
........................................
ELIZA ANN BIGELOW
died Oct 15th 1823 aged 17 years
Sleep angel my babe and ......
..............................................
SARAH BIGELOW
died Aug 25 1825
aged 32 years
.........................................
BIGELOW FAMILY CEMETERY, New Lebanon, Columbia county, NY
FORGE: The Bigelow Society Quarterly Vol. 11 No. 4 Page 67:
BIGELOW FAMILY CEMETERY, New Lebanon, Columbia county, NY
Name dates identity,as in Bigelow genealogy:
Joshua Bigelow, died 10 Mar 1831, ae 72 yr #176-540
Hulda his wife, died 4 Nov 1831, ae 63yr, 9mo, 4das
Samuel Bigelow died 25 Sept l857, ae 62 yr #540-1274
Polly his wife died 2 Jan 1849
Jabez Bigelow jr died 30 May 1829, ae 69 yr #176-541
Almy, wife of Jabez jr, died 22 Feb 1813, ae 58 yr
Mary, consort of Jabez jr, died 20 Apr 1838, ae 68 yr
David Bigelow, died 28 Jan 1846, ae 46 yr, 4 mo, l6 das #541-1281
Gale Bigelow died 10 Oct 1843, ae 76 yr #176-545
Lucina, wife of Hiram Bigelow, died 28 Oct 1863, ae 57 yr, 8 mo, l2 das #540-1276
(there was no stone for Hiram her husband)
Susanna Bigelow,wife of Jabez, died 16 Apr 1797, ae 7Syr #53-176
conbributed by Barbara Greene, Royal Oak, MI

---
Modified - 11/15/2011
(c) Copyright 2011 Bigelow Society, Inc. All rights reserved.
Rod Bigelow - Director
< rodbigelow@netzero.net >
---
Rod Bigelow (Roger Jon12 BIGELOW)
Box 13 Chazy Lake
Dannemora, N.Y. 12929

rodbigelow@netzero.net