Jabez 5 BIGELOW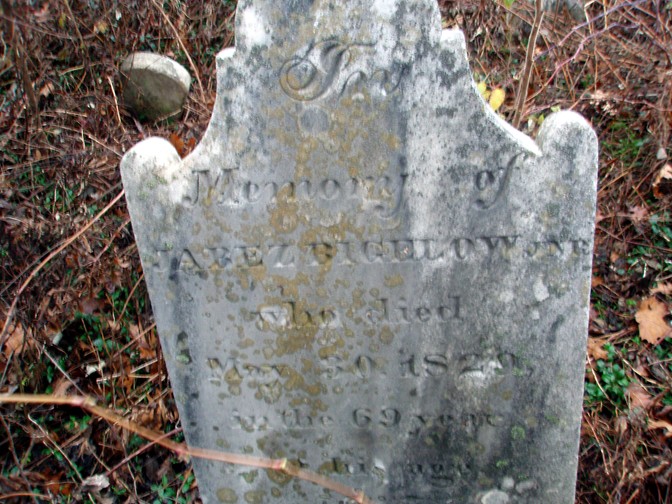 In Memory of
Jabez Bigelow
who died
May 30, 1829
in the 69 year
of his age

BIGELOW FAMILY CEMETERY, Lebanon, Columbia county, NY
---
16B26. Jabez 5 BIGELOW, son of Jabez 4 ( Gershom 3, Joshua2, John1) and Susanna (ELDERKIN) BIGELOW, was born 30 August 1760 at Pittsfield, MA [but the births of the entire family are recorded at Hebron, CT.]. The family moved to New Lebanon, Columbia county, NY. Jabez married, on ____ , (1) Almy Gardner. She was born circa 1755, probably at Providence, RI. They lived at New Lebanon, where Almy died 22 February 1813, aged 58 years, according to her headstone. He then married (2) Mary Fenn of CT, born circa 1770, died at New Lebanon 20 April 1838, aged 68 years. Jabez had died some years previously, on 30 May 1829 age 69. They are all buried at the West Lebanon cemetery.(see below)
Children of Jabez and Almy (Gardner) Bigelow, all born New Lebanon, Columbia co, NY:
16B26.lt Job Gardner, b 31 Dec 1792; d 27 Dec 1837 Milford, Oakland co, MI; m ____ 1818 Thankful Enos (in 1840 she married David Darrow, and in 1850 was living in NY state). 7 children.
16B26.2 Ann, b 21 May 1795; d____ 1888 Flint, Genesee co, MI; m William Blackinton.(see below)
16B26.3t Waterman, b 19 Mar 1798; d 1873 (estate probated 5 Feb 1873) Elkhart, Elkhart co, IN; had lived many years Cass co, MI; m Mary _____ ,who preceded him in death. No issue, his estate falling to nephew James A. Bigelow, son of Augustus.
16B26.4t David, b 12 Sept 1799; d 28 Jan 1846 New Lebanon, NY (ae 46 yr, 4 mo, 16 das); (see below)

16B26.5t Augustus, b 18 Sept 1801; d 29 Apr 1882 New Canaan, CT; m 1 Feb 1831 (Canaan, CT) Frances P. Fenn. 2 children.
Some questions about birth dates of Augustus and David; see respective links:
Sources:
Bigelow Family Genealogy Volume. I page.179;
Howe, Bigelow Family of America; page.149;
vital records Canaan and Hebron, CT;
cemetery records West Lebanon, NY and Charles Hale Index (CT);
probate records Elkhart Co, IN;
censuses 1850 NY, MI, and WI;
early marriages Oakland co, MI;
papers of Melville M. Bigelow;
This David: (stone: died 28 Jan 1846, ae 46 yr, 4 mo, 16 das) Howe #541-128
David, b 20 Dec 1800; d 17 Oct 1860 Dodgeville, IA; (see below) in 1850 was living Clyde twp, Iowa co, WI; m, unknown date, Minerva Levake. 4 known children.

Addenda 2003; Loring Bigelow;
Forge: The Bigelow Society Quarterly, Oct 1982; vol.11, No 4, page 67,
Descendant note:
Just found your web site through a FTM search and connect to Ann BIGELOW daughter to Jabez and Almy Bigelow...... through Ann m. William BLACKINTON.....It is my husband's line, his is the 4th great grandson to Jabez Bigelow....
I have information on the Blackinton family.....I am just beginning and have some but not all and some is not documented yet but I am willing to swap info if you are interested. Sandy and L.V. Patterson email pattt@concentric.net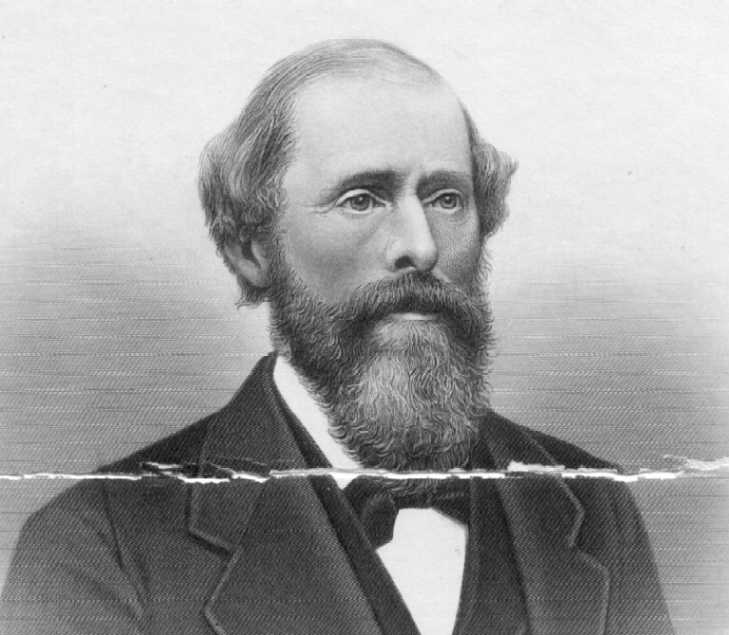 (blink6.jpg)

Sketch of William Sumner Blackinton. He went into business with his father and brother as a Shuttle Manufacturer (W. Blackinton and Sons). He later left this business and in 1857 went into business with his son William at W&S Blackinton.
I have information on the Blackinton Family that married into the Bigelow family on my website.
http://worldconnect.genealogy.rootsweb.com/cgi-bin/igm.cgi?op=GET&db=tcwlmo&id=I27709
Thomas Wright: email: tom.wright@themedco.com
Marriage 1 William BLACKINTON b: 1782 in Attleboro, MA
Death: 1871 in Michigan
In 1820 was living in Wayne County, Michigan and was working as a farmer.1824 received a land grant (Township 3 N, Range 10 E, Section 36) of 80 acres in Michigan. In his father's (1826) will he is listed as living in Detroit, Michigan.
1870 was living in Genesee, Flint, Michigan with the family of his son Jabez Blackinton.
Married: ABT 1815 in New Lebanon, NY to Ann Bigelow above
Children
1. Jabez Bigelow BLACKINTON b: 1815 in NY
2. Charles BLACKINTON b: 1817 in NY
FORGE: The Bigelow Society Quarterly Vol. 11 No. 4 Page 67:
BIGELOW FAMILY CEMETERY, Lebanon, Columbia county, NY
Name dates identity,as in Bigelow gen.
Joshua Bigelow, died 10 Mar 1831, ae 72 yr Howe #176-540
Hulda his wife, died 4 Nov 1831, ae 63 yr, 9mo, 4das
Samuel Bigelow died 25 Sept l8~7, ae 62 yr Howe #540-1274
Polly his wife died 02 Jan 1849
Jabez Bigelow jr died 30 May 1829, ae 69 yr Howe #176-541


Almy, wife of Jabez jr, died 22 Feb 1813, ae 58 yr


Mary, consort of Jabez jr, died 20 Apr 1838, ae 68 yr
David Bigelow, died 28 Jan 1846, ae 46 yr, 4 mo, 16 das Howe #541-1281
Gale Bigelow died 10 Oct 1843, ae 76 yr Howe #176-545
Lucina, wife of Hiram Bigelow, died 28 Oct 1863, ae 57yr, 8 mo, l2 das Howe #540-1276
(there was no stone for Hiram her husband)
Susanna Bigelow,wife of Jabez, died 16 Apr 1797, ae 75 yr Howe #53-176
contributed by Barbara Greene, Royal Oak, MI

---
Modified - 08/25/2008
(c) Copyright 2008 Bigelow Society, Inc. All rights reserved.
Rod Bigelow - Director
< rodbigelow@netzero.net >
---
Rod Bigelow (Roger Jon12 BIGELOW)
Box 13 Chazy Lake
Dannemora, N.Y. 12929

< rodbigelow@netzero.net >