Horace E. 7 BIGELOW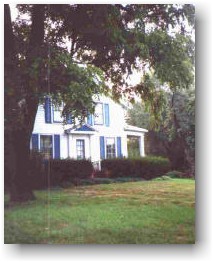 By 1986 this Greek Revival house was the only privately-owned pre-Civil War house still used as a residence in East Lansing.
Horace Bigelow (c. 1822-1891) built it in 1849.
According to the 1874 Atlas of Ingham County, Bigelow was "a farmer, stock and wool grower, and a breeder of Essex hogs,"
He was also a member of the Marble School Board.
His daughter, Jennie Kuhn (1853-1925), long-time secretary of the Marble School Board, lived in the house all of her life.
---



15198.82 Horace E. 7 BIGELOW, son of Elisha 6, (Josiah 5, Jotham 4, John 3, Samuel 2, John 1) and Maria (REED) BIGELOW, was born at Constantia, NY on 03 October 1821 and married Helen (Almira)(see below) Sturgis on 29 January 1845 at Batavia, Genesee co, NY. Helen was born 03 June 1827 in Cattaraugus co, NY. She died 12 May 1894 at Okemos , Ingham co, MI. Horace had died earlier at Okemos on 08 June 1891. Both are buried in Old Okemos Cemetery. Horace was a farmer, stock and wool grower in that area and had resided on the farm in 1849.

Children of Horace E. and Helen (Sturgis) BIGELOW:

15198.821t Helen M., b __ Feb 1846 NY; d 19 July 1923 Lansing, MI; m 20 May 1868 George F. FULLER; 9 children.

15198.822 Jennie D., b __ Jan 1853 Ingham co, MI; she was unmarried in 1920; m ____ Kuhn.

15198.823 Lewis E., b ca 1856/57 Ingham co, MI; d ____ ; m 14 Dec 1880 Ellen HAGGERTY; res Oklahoma

15198.824t James H., b __ Apr 1865 Meridian twp, Ingham co., d ___ ; m 25 Aug 1892 Pauline Mary DWYER; res in NY after 1910.

Sources:
Bigelow Society,The Bigelow Family Genealogy Vol I,pg 228;
Bigelow Society,The Bigelow Family Genealogy Vol II,pg 65;
Howe, Bigelow Family of America;
correspondence with descendant.
Mark Jamieson, 218 Arcola Ct., Bay St.Louis, MS 39520-3002, e-mail, crownfire@msn.com 7/2000 (Rod-Bul.Bd.)
Note:
Subject: Bigelow names
Date: Sat, 20 Mar 1999 20:01:35 -0500
From: Clarice Thompson < Thomps61@msu.edu >
Organization: Michign State University

As part of a series on local East Lansing MI pioneers, I did a story on the Horace Bigelow (15198.82) family. Using information from the Bigelow web site I said his wife's name was Helen Sturgis. I have been corrected that the name on her gravestone and in official papers is Almira. They had a daughter Helen M. Bigelow (15198.821). In rechecking the web
site I find that her mother was Ann Jenette (Fitch) Bigelow. Information from the site says that Horace and Helen were married in 1845 and Helen M. was born in 1846. I know that the mother was a Sturgis because the two families (Bigelows and Sturgises) moved to what is now East Lansing and settled neighboring farms. There seems to be something wrong about
the Ann Jenette Fitch information. The Helen or Almira information may have a problem, although Helen might have been a middle name.
Jack Thompson
606 Gunson
East Lansing MI 48823
---
Modified - 12/02/2011

(c) Copyright 2011 Bigelow Society, Inc. All rights reserved.

Rod Bigelow - Director

rodbigelow@netzero.net

---
Rod Bigelow (Roger Jon12 BIGELOW)
Box 13 Chazy Lake
Dannemora, N.Y. 12929

rodbigelow@netzero.net

BACK TO THE BIGELOW SOCIETY PAGE

BACK TO BIGELOW HOME PAGE