Henry 6 BIGELOW
---
16167.1 Henry 6 BIGELOW, son of Simeon 5 ( John 4 , Joshua 3 , Joshua 2, John 1), and Sarah (FOSTER) BIGELOW, was born 16 September 1781 at Conway, Franklin county, MA. The family moved to Brandon, VT and there he married, on 10 October 1810, Lucy Barnes. She was born 01 November 1790 at Brandon. Lucy was the daughter of Deacon Moses Barnes. Henry served in the military Capt. of Militia in Brandon, VT. They lived a few years in Brandon, then moved to Salisbury, Addison county, VT, and from there to Williamsville, Erie county, NY. There Henry died 13 March 1859; his widow Lucy died 24 November 1885. (see new notes below)

Children of Henry and Lucy (Barnes) Bigelow:

16167.11t Harry Foster, b 16 Sept 1811 Brandon, VT; d ____ Williamsville, NY; m Mary Lucy Staples. 5 children.

16167.12 Lucy Leonora, b 07 Dec 1812 Brandon, VT; d ____ ; m 16 Sep 1855 Jacob Van Brunt; in 1888 res Westmoreland, KS, where she was in business. No issue.

16167.13t Lovine, b 22 June 1814 Brandon, VT; d 18 June 1872 Kalamazoo, MI; m 01 Oct 1847 Simon Bothwick; res Kalamazoo, MI. 4 children.

16167.14 Louisa, b 30 Apr 1816 Salisbury, VT; d ____ ; m 16 Apr 1880 Philip C. Schuyler; he was first Secretary of State in KS, and d 16 July 1872; in 1888 she was living Westmoreland, KS. No issue.

16167.15 Laura Tenney, b _ Apr 1818 Salisbury, VT; d 09 Jan 1842 Amherst, NY; m ____ 1838 Charles J. Campbell. 2 children.

Sources:
Bigelow Family Genealogy Volume I page 305;
Howe,Bigelow Family of America.
Janice Notes:
Henry BIGELOW, served in the military Capt. of Militia in Brandon, VT. He was born on 16 Sep 1781 in Shelburne,
MA. He died on 13 Mar 1859 in Amherst, NY. He lived in Salisbury, Addison Co., VT. He lived in Barre, NY. 5 Children.
Henry BIGELOW and Lucy BARNES were married on 10 Oct 1810 in Brandon, VT. Lucy BARNES (daughter of Deacon
Moses BARNES) was born on 1 Nov 1790 in Brandon, VT. She died on 24 Nov 1885 in Williamsville, NY.
Henry BIGELOW and Lucy BARNES had the following children:
+233 i. Harry Foster BIGELOW (born on 16 Sep 1811).
+234 ii. Lucy Leonora BIGELOW (born on 7 Dec 1812).
+235 iii. Lovine BIGELOW (born on 22 Jun 1814).
+236 iv. Louisa BIGELOW (born on 30 Apr 1816).
+237 v. Laura Tenney BIGELOW (born in Apr 1818).

---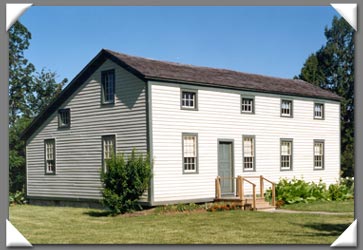 Bigelow Saltbox House, Amherst, New York Museum


Circa 1860. This house, in a style more commonly found in New England, was probably built in 1840 by Henry Bigelow. The house stood on the Bigelows' Ransom Creek farm and may have been occupied by the farm manager and his family during the mid-19th century.
We believe that Henry Bigelow built the left side of the house in the 1840s and added the right side in the 1850s. Henry died in 1857 and his wife deeded the house to their son, Harry Foster Bigelow, in 1859. Harry sold the property to John Blocher in 1890. The building was moved to Amherst Museum in 1975.
Because a "salt-box" shaped house was very popular in colonial New England and Bigelow was from Brandon, Vermont, he most likely built the kind of structure that he knew from his childhood. The older section of the house has exposed corner beams while the newer section does not; the floorboards are different in each part. The house was built with the two stairways but no connecting doorway upstairs. This was rare, but not unheard of in older homes. Though we do not know how all the rooms were originally used, we have chosen to use the first room on the left as a bedroom for the parents and the room on the right as the parlor. The rooms in the rear of the house are interpreted as the kitchen, workroom, and storage area.
The wallpapers in the parlor and bedroom are reproductions from the 1860s. The striped wall-to-wall reproduction carpet is typical for the same period. The furniture in all of the rooms are mid-19th century. The 1860s cooking stove was purchased in 2000 from a company in Maine that specializes in antique cooking and heating stoves.

---
Modified - 12/30/2005

(c) Copyright 2005 Bigelow Society, Inc. All rights reserved.

Rod Bigelow - Director

rodbigelow@netzero.net

---
Rod Bigelow
Box 13 Chazy Lake
Dannemora, N.Y. 12929

rodbigelow@netzero.net

BACK TO THE BIGELOW SOCIETY PAGE

BACK TO BIGELOW HOME PAGE