Baguley History
---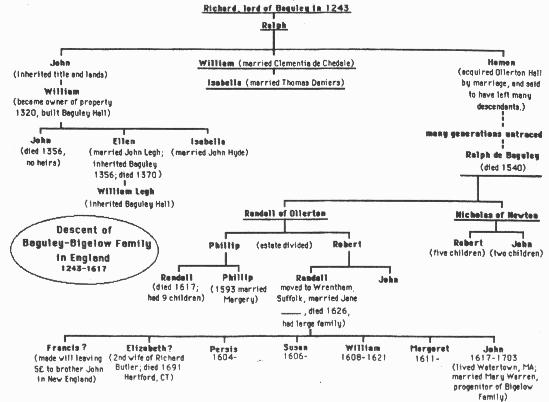 The chart above is from a Bigelow Society document found in Volume I of The Bigelow Family Genealogy. I'm unclear how the following info fits into that but I'm open to suggestions. I did notice that William, lord of Baguley 1320, had 3 children and the chart shows Ellen marrying Sir John Legh, not Isabella. This fact is covered in Vol I page 4. And notice the ancestor list at the bottom of the page
Historical Beginnings: Baguleys
It appears that when the Normans came in William the Conquerors' time (1066-1087) the area known as Baggiley in Cheshire was held by Hamon Massy, Baron of Durham Massy, who was given it as reward for his Knights service and it was to be handed down to his heirs and successors. (Refer 1)
Around the time of King John, (1129-1216), the heir of Hamon Massy, another Hamon Massy, gave Mathew Massy of Bromhale: Bromhale, Duckenfield, and two parts of Baggiley. At this time the "Hamon Massy" heirs adopted the name Baggiley, as well. Later to be known as Baguley.
It is certain that this town gave the name to the family Baggiley (Baguley). There were certain Baggileys known to be resident as early as the reign of Henry III, (1216-1272). Baguley is about twelve miles from Manchester.
The International Genealogical Index indicate births as early as 1170 in the area. If the above statement is true then our original name was therefore Massy.
As to whether Hamon Massy, Baron of Durham was a direct ancestor of Sir William de Baggiley (aka: de Baguley) still has to be established.
Sir William de Baggiley (aka: de Baguley) born c1260 was knighted by King Edward I, and later married one of the King's daughters. Her name was Lucy Corona. (see below) She was born out of wedlock. This was quite common in those days for the King to have children from someone other than the Queen. Lucy's mother (a Lady in Waiting) worked in the King's court. Sir William and Lucy had five children. The children married into well-to-do families. During this time the Baguley family were quite well up in the aristocracy of England. They owned the Salt Mines in Cheshire and a mill for processing. This is where they made their money.
In the reign of Edward II, (1284-1327), Sir William de Baggiley (aka: Sir William de Baguley) born c1260, was Lord of Baguley. Sir William built Baguley Hall c1320 and was Lord of the Manor until his death. At the time of his death, he also owned a manor at Hyde and another at Levenshulme in Lancashire, plus an inn called The Ryle Thorn in Baguley. He was succeeded by his son John Baggiley (aka: John Baguley) born c1290; who died around 1356(Refer 2) and his daughter Isabel as joint heirs of his property. Isabel married Sir John Leigh of Booths, a widower. Their eldest son William inherited Baguley. The manor remained in the Leigh family until the late seventeenth century, when the line terminated in Edward Leigh. He had married Elinour Tatton of Wythenshawe Hall. And although they had three daughters, there was no son to succeed him. (Refer 3)
An effigy of Sir William is housed in St. Mary's Church, Bowden Parish, Cheshire. (Refer 4) Not far from the old Baguley Hall. Originally there was a Baggiley (Baguley) coat of arms vis: The losenges were asure on an orange background. It is understood that this coat of arms was demolished when the property of John Baggiley (Baguley), Baguley Hall was made over to Sir John Leigh of Booths near Knutsford around 1353.
Refer 1 - Barry Baguley - @compuserve.com - Family Tree Data
Refer 2 - The History of Cheshire according to Leycester
Refer 3 - Harry E. Baguley-Sweet, RR#1, Lowbanks, Ontario, CANADA , N0A 1K0
Refer 4 - See Cheshire by R.N. Dore
see also: Baguley Hall
and and : Baguley History 5:
Baguley History 1
The following is an outlne of Sir William de Baggiley (aka: de Baguley) Family Tree.
The information was obtained from the above references and from information contained in the Bigelow Society Home Pages and Bigelow Home Pages. Edited by Rod 1997.
1 - - - 2 - - - 3 - - - 4 - - - 5 - - - 6 - - - 7 - - - 8 - - - 9 - - - 10 - - - 11 - - - 12 - - - 13 - - - 14
1. Sir William de Baguley of Baguley, b.c1260, d. ,
s. Lucy Corona, b. , d. , daughter of Edward I and mother (?).
2. Isabel de Baguley, b. , d. ,
s. Sir John Legh of Booths, b. , d. ,
3. William de Baguley-Legh, b. , d. ,
2. John de Baguley, b.1290, d. ,
spouse unknown.
2. Ellen de Baguley, b. , d. ,
s. John de Venables-Legh, b. , d. ,
3. Robert de Legh of Adlington, b. , d. ,
3. John de Legh of Books, b. , d. ,
3. Sir William de Legh, b. , d. ,
2. Geffery de Baguley, b. , d. ,
s.
2. Sir William de Baguley, b.1310, d.1350,
s. Clementia de Cheadle, b. , d. , daughter of Rodger de Cheadle
3. Hamon de Baguley, b. , d. ,
s.
3. Isabel de Baguley, b. , d. ,
s.
3. Richard de Baguley, b. , d. ,
s.
3. Sir John de Baguley, b. , d. 1353,
s. Ellen de Baguley, b. , d. ,
4. Richard de Baguley, b. , d. , acq Ollerton Hall through mar(1400's)
s. Alice de Verdun of Ollerton Hall, b. , d. , dau of Ralph de Verdun
5. Ralph de Baguley of Ollerton, b. 1500, d. 1540,
s.
6. Hamon de Baguley, b. , d. , is heir to Ollerton Hall
6. Nicholas de Baguley of Newton, b. , d. 1558,
s.
7. John de Baguley, b. , d. ,
7.Robert de Baguley, b. , d. ,
6. Randall de Baguley, b. 1526, d. 1556,
s. Eleanor , b. , d. ,
7. Robert de Baguley, b., d. ,
s.
8. Randell de Baguley, b. , d. 1626,
s. Jane
9. Francis ?
9. Elizabeth, b ?; d 1691
9. Persis, b 1604;
9. Susan, b 1606;
9. William, b 1608; d 1621.
9. Margaret, b 1611; d ;
9. John, b 1617; d 1703;
s. Mary Warren, b
8. John de Baguley, b. , d. ,
7. Phillip de Baguley, b. , d. ,
s.
8. Randall de Baguley, b. , d. ,
8. Phillip de Baguley, b. , d. ,
---

Historical Baguley information: The third manor, that of Baguley which formed part of the parish of Bowdon, came into the hands of the Baguley family from the Masseys certainly by the early thirteen century. They took their name from the place. They retained it till the year 1355 when John, the son of Sir William de Baguley granted his manors there and at Hyde and Levenshulme to John Legh of Booths near Knutsford who married Isabel, daughter of Sir William and sister of John. The Baguley's became a family of importance in the late twelfth and early thirteenth centuries, being witnesses of many important charters, e.g. in Northendon and Stockport. A charter of 1316 confirms the ownership by William de Baguley of land in Wythenshawe lying in Middle Eye near the land of William Mascy (probably near the Mersey-eye meaning an island or land liable to flooding). As we have seen in 1318 Nicholas de Eton, Lord of Stockport, granted Ruyul (perhaps near Ryle Thorn or Royal Thorn) and Alveley Hey (now Haveley Hey) to Sir William de Baguley and his heirs. The Baggeleghs were among the wealthy lay families owning the Cheshire salt mines. A Thomas de Baguley fought for King Edward III at the battle of Poitiers and later from Knutsford pleaded for more recognition of his services. It is probable that Sir William built the great Baguley Hall, the most important building in our area at the period of the greatest eminence of the family in the early fourteenth century in the style of the times (Smithills Hall at Bolton is a close parallel) using timber, so tradition says, from Lyme Park, with the owners of which, the Leghs, he was connected by marriage. This hall is the earliest and most massive of the three medieval manor houses in the area. Ormerod gives a list of the members of the Legh family who held the manor until the seventeenth century. It finally passed into the hands of the Tattons in 1825 when all three manors for the first time came into common ownership.

Extract from Wythenshawe A History of the townships of Northendon North Echells and Baguley

The article above was sent to me by Barry Baguley........ROD 10/04/97

The top article and family tree above was sent to me by Cecelia........ROD 07/25/97

Cecelia M. Johnson-Baguley
CECJOBA FAMILY (GENEALOGY) ENTERPRISES
Return Path: CECJOBA@LOON.NORLINK.NET
405-114 May Street South,
Thunder Bay, Ontario,
Canada P7E 6M4
FAX:625-6319
VOICE:622-1221

---
Lucy Note:
Subject:
Baguley Family
From:
Steve Aderholdt loungeleviathan@hotmail.com

Lutherville,Maryland
Date: 05/24/2004
Rod,
Hello. I recently saw your site on the Bigelow/Baguley family. I descend from this family,from Ellin Baguley who married John Leigh(Venables).
On your chart of the Descent of Baguley/Bigelow family in England (
http://bigelowsociety.com/rod/baghist1.htm
) you have Ellen as dau. of William,son of John,son of Ralph,son of Richard. On another part of your site (
http://bigelowsociety.com/rod/baguley5.htm
)you show this a bit differently. Could you confirm or deny the descent of Ellen as shown on the chart?
Also I see that you show Lucy/Lucia Corona as a dau. of Edw. II,not Ed.I as I would think by the dates,in one spot,but show Ed.I as her father in another. I gather you meant Ed. I in both areas.
I thought you'd be interested that Lucia also married Hugo de Corona (Jr.),who also married Anabell de Bamvill;Lucia had son Thos.de Corona with husb. Hugo de Corona (Jr.)(Ref.Visitation of Cheshire,1580,pedigree of "Pro Leigh de Lyme".
Sincerely,
Steve Aderholdt Lutherville,Maryland
---
Rod Bigelow
Box 13 Chazy Lake
Dannemora, N.Y. 12929

rodbigelow@netzero.net