Chazy Lake Connections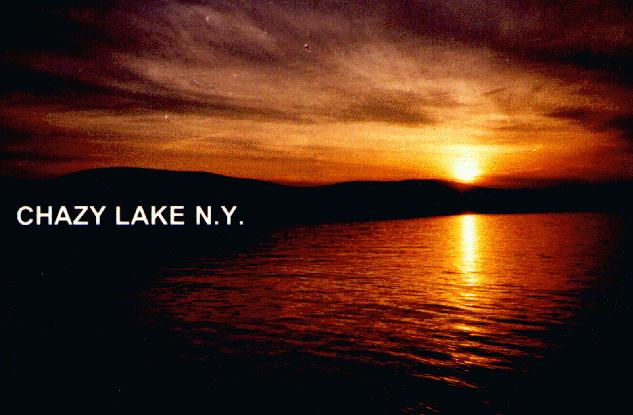 This page is for people who wish to have a connection to Chazy Lake and Dannemora area. Many have moved away, but still try to keep in touch. I will list anyone who wants to be listed and maybe we could form some online forum someday.

Chazy Lake Pictures 2004; taken by my daughter in law Sheri
http://www.designsimply.com/gallery/slideshow.php?set_albumName=chazy2004
There is a Bulletin Board below, for messages pertaining to area.
Re: SUNSET.......This is a letter to God from a young child:
Dear GOD,
I didn't think orange went with purple until I saw the sunset you made on Tuesday. That was cool! -Eugene >>

Aerial pictures of the Adirondacks and Chazy Lake: http://www.comcomtech.com/Aer_6.htm
This site has been added to Adirondack Links at www.adirondacklinks.com .
This site was mentioned in A Trail Marker Books guide to Kayak and Canoe Paddles in the New York Champlain Valley; by Jack Downs.
See link for book:
http://trailmarkerbooks.com ....................


---
Subject: Haley Family Party
From: Dorie Haley < doriesw@wildblue.net >
The Haley families celebrated 50 summers at Chazy Lake in August 2005.
Russell Haley and Wally Haley bought adjoining land and built camps, which
now belong to Tim Haley and Dorie, Syd & Wally Haley respectively.
We had a wonderful day celebrating with around 200 old and new
camp friends. What an awesome place!
Chris and I enjoyed this party very much. Great to see all our friends from near and far..ROD

---
Subject: Dannemora High School
From: Stephen J. Coulon < dhsknights@yahoo.com >
Date: 08 June 2004
Hi Rod,
If anyone would like a look inside their old school go to

http://www.dannemorahighschool.com/
Steve
---

Subject: Chazy Lake Info
Date: Wed, 30 Apr 2003 23:28:12 -0400
From: "Dwayne & Abby Powers" <dnapowers@usadatanet.net>
Mr. Bigelow,
I am hoping that you might be able to help me. I have been searching for place that I believe is
near Chazy Lake. I was told that somewhere near the prison ( I believe adjacent) there was
once a place called "Saddle Lake Camp" It was owned by the Salvation Army back in the 70s
early 80s. Afterwards, it was sold and I'm trying to find its location. I used to attend this camp
as a child and I have been searching for it ever since.
If you happen to have any information or a site on the internet where I might be able to get some
history would be appreciated. I spent 3 days on your website and links hoping to find any
information to no avail.
I thank you for your time.
Dwayne Powers
Gouverneur,NY
can anybody help this guy.............................ROD

---

Thanks to Jack Glasgow for writing article about "Plattsburgh Platoon" and John Ryan for bringing it to my attention.......ROD
http://www.mca-marines.org/Gazette/1102glasgow.html
---
Subject: 1895 Adirondack Map Link
Date: Mon, 22 Apr 2002 23:55:21 -0400
From: Cheryl King < Redstreamcottage@comcast.net >
I found this map online showing the Adirondack region in 1895. It shows the Chateaugay railroad, and the wagon roads throughout the mountains. I was especiallyinterested that it shows Chazy Lake Station! Also there is a place called Coalkin Jct. which looks like it is near Mud Pond or just at the base of Elbow Hill... no wayto make a better guess from the scale of this map. I've never heard of Coalkin Junction. Maybe someone knows.
http://www.rootsweb.com/~nyhamilt/maps/adiron1895.html
---
Subject: ice leaving
Date: Mon, 1 Apr 2002 21:25:37 -0500
From: "Scott King" < kings@capital.net >
Rod,
I thought you might like this picture of the pump house I entiled it "Ice Leaving". It was taken on Sunday the 30th. If you
would like you can put it on your chazy lake home page.
I love to go there and see all the new people in the connections corner as you might have guessed I broke down and
bought myself a digital camera and I love it.Scott kings@capital.net
see Connect 3 page for picture...................................ROD

Seeing this web page is called Connections, I would like to recommend a few:
Pictures Odilon Talbot: http://msnhomepages.talkcity.com/ResortRd/j1203/
Plattsburgh Today: weather , chat, news, etc: http://www.nowplatt.com/Default.htm
WIRY radio from Plattsburgh "LIVE", chat, news, etc: http://www.wiry.com/
King Family of Chazy Lake, Genealogy and pictures: http://members.tripod.com/mviens/
Plattsburgh Press Republican on line: http://www.pressrepublican.com/newsfront.htm
---

Chazy Lake Connects to the world:
The Drudge Report..........................has connections to all kinds of news reports and reporters.
Slate.com...........................ditto, from a more liberal point of view.
WGN Radio in Chicago....Real network radio news and talk.
Assignment Editor.com..one page, hundreds of links to newspapers of the world
Other good links
http://ceoexpress.com/
http://www.csmonitor.com/
http://www.lifestyle.co.uk/fawo.htm

---

(Adamski), Laura & Zane Zeeman zalazeeman@estreet.com ; former Chazy Lake resident (see note)
Bigelow, Rod ; < rodbigelow@netzero.net > ; address below; Camp:(518) 492-7181.
(Bigelow), Sheri and David Thompson ; my sister from CT.
Bilyeu, Keith ; CATBILYEU@aol.com ; former Chazy Lake Assoc.
Bingle family of Chazy Lake; see Suhocki, Bob; robertsuhocki@sprintmail.com ; (see note)
Boissey, Bruce and Marjie; boissey@earthlink.net . Chazy Lake neighbors.
Brannigan, Jim;< jameseb@mitchell.main.nc.us >; Dannemora, Chazy Lake (see note)
Brennan, Ellen; (m Wanzung) new email: Mejjs@aol.com; Chazy Lake and Chicago.
(Brennan), Ellen; contact daughter Michelle (Wanzung) Kennedy: MWanzung@aol.com
Brockway, Bill and Grace; tooldude@together.net ; 524 Wilfred King Road; Ellenburg Depot, NY 12935
(Buck), Mary Anne Binger; rodbigelow@netzero.net Depoe Bay, OR; formerly Dann. seenote:
Buckley, Pat and Kathy; kahuna54@northnet.com from: Dannemora (see below)
Chase, Tricia and Andy ; TAAC99@aol.com ;Chazy Lake Road side of Lake....year round residents.
Chevalier, Liette ; Lchevalier@sympatico.ca ; from Hemmingford; hikes Lyon Mt, etc.
Cooper, Mike ; Mike.Cooper@GSC.GTE.Com ; Dannemora, Chazy Lake; now in Boston area
Corcoran, Dave ; rvrsege@mcn.net ; Dannemora now Bozeman, MT seenote:
Couture, David and Jan ; chipmunka@westelcom.com; Eagle Point and Saranac seenote:
Daigle, Greta ; pandabear26@worldnet.att.net ; from Schen; sister Grace Brockway lives Chazy Lake.
(Drollette), "Betty"; now Liz Risney Manning; <liz.risney.manning@sap.com>; form. Dann seenote:
Douglas, Neal A.; cvnx4@northnet.org ; 65 Park Street, Gouverneur, NY 13642.
(Ducharme) Mary Ellen Seymour; MRSEYMOUR@aol.com ; now in Phoenix Ariz near bro. Duke.
Dunkley, Christoper < cdunkley@sympatico.ca >; Pump Hse Rd and Montreal see note
Emery, Monti; Monti.Emery@Paxar.com ; son of Ken and Monica (Brennan) Emery, res. Elmira
Favaro, Rog and Marlene (Dame);mrfav@localnet.com, Maple St, Dannemora seenote:
Gilroy, Brendan, gilroyfam@mindspring.com ; son of Carlton, now in North Carolina (see below)
Gioiosa Family, see Kenneth W. Ransier" kwrcmr@blazenet.net; seenote:
Glasgow, Jack and Chris; j.glasgow@mca-marines.org ; changed address.
Glasgow, Joanne; joglasgow@netzero.net ; now lives on Chazy Lake
(Glasgow)Moell, Pat; pmoell@bellsouth.net ; Raleigh, NC. Jack & Joanne's sister.
Gonyea, Ken ; Sorry to report Ken died July 2003;
Green, Sarah ; sgreen@tves.org frequent visitor to "The Shanty" in the 1950's; seenote:
Haley,Tim, Suz, Trish, & Laura ; haley4@together.net ; Dannemora, Chazy Lake.
(Haley), Dorie Sweeney; doriesw@wildblue.net ; husband Tom Sweeney; seenote:
Haley, Wally, Karen, Graham and Scott; wkgs4@aol.com ; WHALEY@dot.state.ny.us;seenote: seenote:
Haley, Karen (Rasmussen), Rasskl@aol.com ; ; seenote:
Harrica, Dick & Elaine; harrica@together.net ; still lives in Dannemora.
Henry, Elmon; ehhenry@adelphia.net from: Dannemora now Atlanta.see note:
Hess,Wayne ; CADDYNY@aol.com ; former president of defunct Chazy Lake Assoc.
(Hickey) Ginny & John Hay ; hayj@starband.net ; Beekmantown.
Holderle, Susan B < sbh1023@rochester.rr.com >grandfather, Ed Hayden, built camp seenote:
Howard, Tom & Lynn ; lynntomh@northnet.org ; Dannemora.
Hurd, Roy; Hurdsongs@aol.com ;
Iwanowski, Nick and Allison (Kelly) allison.kelly@sympatico.ca: Dorval, PQ & ,Chazy Lake
Jackson, Don & Eileen ; stoneyd33@aol.com ; Chazy Lake, & Florida.
(Jordon), Susan Heller; razin@theriver.com ; Dannemora, died in Arizona Dec 2006.
Kells, Marjorie; ekells@twcny.rr.com; from Syracuse, new to Chazy Lake seenote:
Kennedy, Bill; bk7771@citlink.net ; Dannemora, Chazy Lake, ? seenote:
(Kennedy), Carolyn & David Field; dfield86@yahoo.com ; Florida and Chazy Lake seenote:
(Kennedy), CarolAnn Cartwright < ccartwright@RightMinds.com; seenote:
King, Scott ; kings@capital.net ; Wilfred King Rd, Chazy Lake.
King, Cheryl ; Redstreamcottage@home.com I grew up in Chazy Lake,(see below)
Knoche, Rose; rknoche@webtv.net from Garmish Street, Chazy Lake, year round.
Kokinda, Noreen & Wayne noreen@a-znet.com ; moving to Cortland; houses for sale seenote:
LaDue, Don and Beth (Abrahamson);DBladue@aol.com ; Dannemora, now Snohomish, WA seenote:
LaDue, Gary & Pat GLadue2@aol.com; Dannemora, now in Spring Lake, NC seenote:
LaDue, Ron and Helen (White) LaDue Farmer1Ron@aol.com ; Dannemora class of "54" MD seenote:
Lafontaine, Bill, Ltwrl@aol.com ; Dannemora, now VT, with Paula Beal pbeal@sover.net ;
Lagarde, Victoria, <vlagarde@cfl.rr.com> My uncle was a guard for many years, (see note)
LaMare, Louise; mar name Lou Jones;
Singlu2@comcast.net ; former Chazy Laker; grad DHS (see note)
Leonard Family, see Kenneth W. Ransier" kwrcmr@blazenet.net; seenote:
Lobdell, Robert; RHLOBDELL@msn.com; Garmish St, Chazy Lake and Florida seenote:
Maggy, Skip and Phyllis;

psmaggy@aol.com ; Maggy Pharmacy; always there when needed.
Magoon, George and Maureen;deercot1@alltel.net; Dannemora Class of "53"; seenote:
Mann, Craig and family; mann@total.net ; Craig, Nancy, Philip, Thomas and William; see note
Marshall, Beverly; < bmarshall@sidley.com >; Dannemora girl; now Wash. DC (see note)
McKinney, Rod, RMckin2383@aol.com Thayer Ave, Dannemora, now Calif. (see note)
McVinney, Coleen, wpmc_1@yahoo.com or mcvinney@penn.com; Plank Road
McVinney, W.P. "Cookie", mcvinney@adelphia.net; Plank Road (see note)
Patnode, Louis G. and Carol (Higgins); winx40@earthlink.net ; Dannemora, now in Virginia.
(Provost) Betty Helvie; EHelvie@aol.com ; Dannemora, now Ocala, FL(see note)
Robinson, Helen Taylor (Robinson)taylor@platinum1.com ; 493 Wilfred King Rd. see note
Ryan, John and Jean; < jtr45@charter.net > web page Saranac, now Peru, NY
Ryan, Terry ; changed email tmryan@twcny.rr.com ; 142 Pleasant Beach Rd.; Syracuse, NY
Ryan, Tim ; bonesttr@sover.net ; resident of Vermont now see note
(Safford) Barb and Bob Smith ; CHAZYBARB@aol.com ; Chazy Lake Mansion.camps for rent 492-7740.
Schaefer, John & Pat ; schaefer@together.net ; Chazy Lake residents.camps for rent 492-1069
Siebke, Charles and Hope; Grammyhope@aol.com ;1552 Chazy Lake Rd.
Stevenson, Aimiee; AIMSTEVENSON@YAHOO.COM; Barbie (Brennan's) daughter (see note)
Stiles, Dave; < new.cordia@verizon.net >; from Dannemora Gratto family (see note)
Suhocki, Bob; robertsuhocki@sprintmail.com ; Bingle family of Chazy Lake. (see note)
Sullivan, Gail ; gms9@cornell.edu ; daughter of Barb Martin at Cornell.see below
Sullivan, Gail (Martin), dans@clarityconnect.com ; Chazy Lake (Cooper Camp), now in Ithaca, NY
Sullivan, Joe & Mildred; < cticret@msn.com >; grandparents, Tot and Lucy LaFontaine. (Mother, Ginger)(see below)
Sweeney, Doris (Dorie Haley);dorie@together.net ; husband Tom Sweeney; seenote:
Sweeney, Pat and Jim; Patricia.Sweeney@med.va.gov ; Dannemora and Chazy Lake (see note)
Tokarz, Joe and Kay; tokjoekay@aol.com from Dannemora now from: Queensbury, NY (see below)
Tolosky, Craig; ctolosky@nycap.rr.com ; Albany? (see note)
Tolosky, Margot Tolosky Elacqua; BunchSouth@aol.com (see below)
Tolosky, Bernard; < bskynet@westriv.com > Dannemora, now Beulah, North Dakota (see below)
Trombly, Keith and Chris

; pa15@localnet.com ; Year round Chazy Lake (see note)
Wanzung(Brennan), Ellen; new email: Mejjs@aol.com; Chazy Lake and Chicago.
Wanzung(Brennan), Ellen; contact daughter Michelle (Wanzung) Kennedy: MWanzung@aol.com
White, Ruth Ann, irishborn2@aol.com Dannemora, now Maryland. work: rcrisafulli@iitri.org .
Wolcott, Jim ; jwally53@adelphia.com ; Bouck St, Dannemora; now Queensbury (Glens Falls), NY
Zeeman, Zane & Laura (Adamski) zalazeeman@estreet.com former Chazy Lake resident (see note)

---
Continued on Page 2:
---

Odilon Talbot
610 Wilfred King Rd
Ellenburg Depot NY 12935
(518) 492-7094
Email: tabi@mlink.net
Photograph

---

BULLETIN BOARD
---
Subject: Tolosky connections/ Chazy lake Bulletin Board
Date: Sat, 6 Jan 2001 15:50:48 -0700
From: Bernard Tolosky < bskynet@westriv.com >
If anyone has information on email addresses and homepages for relatives of the Tolosky family of Lyon Mountain/Dannemora, we'd appreciate hearing from you. My dad, James Tolosky (1917-1995) was the son of Jacob & Eva (Ryan) Tolosky. Jacob ran the Tolosky grocery & liquor stores in Dannemora, and was a postmaster there. I believe there is also a connection to the DuCharmes of Lyon Mountain. Anyway - any info would be great! Bernard Tolosky, Beulah, North Dakota

---
Subject: Chazy Lake Book
Date: Thu, 27 Apr 2000 21:31:41 EDT
From: Carla Clinendoll@aol.com
I am looking for a copy of a book "History of Chazy Lake, NY" I do not know who wrote it but I am told My GGGrandfather and GGGGrandfather are mentioned and pictured in this book, There last name is St Germain. They are from the Dannemora, Chazy Lake, Plattsburgh area. Any help in locating a copy of this book would be greatly appreciated.
Carla
also:
Am interested in ordering the above titled book on Chazy Lake from either the authors or you.
Which ever is best? I do need address to send money order. Thanks
A Poitras MemeP@aol.com
My reply:
Judy LaPoint was one of the writers of that book. You can get a copy by writing to her and sending a check for $11.50 to address below. ($10. for book $1.50 postage)..ROD
Judy V. LaPoint
882 Wilfred King Rd.
Ellenburg Depot, NY 12935
(518) 492-2455
---
Subject: Chazy Lake Connection
Date: Fri, 8 Dec 2000 17:31:01 -0500
From: "Noreen & Wayne" < norway@westelcom.com >
Hi Rod!
We moved up to Chazy Lake 4 years ago and after a short time we are moving.We own 2 homes on the west side of the lake and I just placed an ad for ours today in the PR. We have tenants next door, I thought they were going to buy, but last night told us it was too small. They are in there until March 31st. You can also add me to the list as there are some friends on the list I can stay in touch with.We are moving to the Cortland, NY area.
Thanks for your help.
Noreen Parrell-Kokinda

---

Subject: Chazy lake
Date: Sun, 12 Nov 2000 20:14:03 -0500 (EST)
From: rknoche@webtv.net (Rose Knoche)

I just got hooked on the web and a friend sent me your Chazy Lake page!! We built our house on the Garmish Street about nine years ago!!! We love it here. We are here year round.

---

Subject: Dannemora
Name: Pat and Kathy Buckley kahuna54@northnet.com
From: Dannemora
Time: 2000-10-29 17:43:57
Comments: We've already started e-mailing with one of the "TB Hill Gang".

---
Subject: Dannemora
Name: Joe and Kay Tokarz tokjoekay@aol.com
From: Queensbury, NY
Time: 2000-11-11 00:04:29
Comments: I ran into Harriet DelSole in the market the other day and she e-mailed your address to me. Just thought I'd check it out to see what you were doing. I wouldn't have recognized you from your picture, but did remember you from my years growing up in Dann. We are retired from teaching in South Glens Falls, Kay with 30 yr. and me with 33. That was enough. We are enjoying retirement. We've got enough hobbies to keep us busy all of the time, especially with grandchildren. Enjoy your retirement. Maybe our paths will cross some day. Joe

---

Subject: Chazy Lake Connections
Date: Wed, 2 Aug 2000 17:35:59 -0700 (MST)
From: Debby Lee Lambert dllambert@webtv.net

Hi Rod,
I just found your site today. Through genealogical research this week, I realized that my earliest beginnings were from Chazy Lake, it looks like a wonderful place. My great-grandparents were both born in Dannemora, their names are William and Dela (Jarvis) Cadrette. William was born in 1885 and Dela in 1886. I believe 7 out of 9 of their children (one being my grandmother) were born in Chazy Lake area. A couple of the children were born in Lyon Mtn. Their first names are Willard, Irene, Euclid, Chester, Ida, Velma, and Blanche. They were born between 1905-1919. I would like to know where or through whom, that I would be able to purchase some pictures from this time period. Thank you for this beautiful site, the connection, and your time.

---

Subject: Chazy Lake
Date: Wed, 3 May 2000 23:17:14 EDT
From: Margot Tolosky Elacqua BunchSouth@aol.com
I enjoyed reading/looking at your pages on Chazy Lake and Lyon Mountain. I lived in Lyon Mountain as a small child from 1959-1968. My dad (Joseph Tolosky, Jr. - Judd) was transferred to Moriah and that is where I grew up and my mom still lives. My grandparents (Joseph and Margaret Tolosky) owned Bunchberry Lodge on Chazy Lake and that is where I spent my summers. Some of your pictures brought back some very bittersweet memories. Whenever I think of a peaceful place in my life - it is sitting on the dock and listening to the water at Chazy Lake. Thank you!
Margot Tolosky Elacqua

---

Subject: Connections
Date: Sat, 26 Feb 2000 01:21:51 -0500
From: Cheryl King < Redstreamcottage@home.com
Please add me to the connections page. I grew up in Chazy Lake, leaving "home" in 1964. The best fireworks I ever saw were at the little park near the dam one Fourth of July! They weren't the biggest ever, but they were spectacular reflected in the surface of the lake. Thanks for a great page.
More:
The picture below is copied from your site.
A number of things intrigue me about the picture. The first is the hat on the man in the boat. While this type of hat was quite common at the lake, it was Grandpa's winter trademark when I was growing up. The second is the boat. Grandpa had a boat like this when I was very little. It was an inboard with a mahogany top. The boat was painted red and white. Third, is the dock and the orientation to the point. Memory doesn't always serve well, but this dock is in what was King/Breyette territory back
then. Fourth. The ice is only recently off the lake (must have been the first week of August ... just kidding!). You can see it piled up on the north side of
the point in the back of the picture. Grandpa always had to be among the very first on the lake with all his boats. So I'm thinking that this is a picture of Howard King, Sr. in his inboard boat. Out for some early trout fishing.
Do you know anymore about it. It appears to be a postcard, which would not surprise me if it were indeed Grandpa.
Cheryl King
Cheryl King
Redstreamcottage@home.com

---

Subject: Chazy - Heart's Delight Farm and surrounding area
Date: Tue, 25 Jan 2000 10:06:01 -0500
From: Sally Morris < cemeterysal@voyager.net >

I'm writing in case you'd like to add my name to the list of people on your site or add this message to the bulletin board. My great grandaunt, Gertrude Troxel (later Patterson) came to Chazy in the early 1900's, to work for William Miner, at Heart's Delight Farm. It's not clear whether she was a secretary there or a teacher, but I've got lots of old pictures of the Farm, the surrounding area, the Adrondiacs, etc. Also, she collected postcards from the farm and has saved a big stack of them. We've
got her calendar from the farm, which is in mint condition, and also several interesting letters. If anyone's interested in obtaining
photographs of the farm, or is searching for information about it, they can e-mail me and I'll do whatever I can to help. Also, if anyone's got any information on Gertrude, or anything about the farm, I'd love to hear from them. Thanks! Take Care, Sally Morris, White Pigeon, Michigan

---

Subject: chazy lake and dannemora
Date: Tue, 11 Jan 2000 22:32:18 EST
From: Joe Sullivan JSulli6315@aol.com
Rod,
I grew up in Dannemora until 1970 and have many fond memories, especially of Chazy Lake. As a matter of fact, I lived right up the street from Clarence Brennan with my grandparents, Tot and Lucy LaFontaine. (Mother, Ginger) Retired from the Navy in 1996 and continue to live down here in Chesapeake, Virginia. Would love to hear from anyone who remembers me from TB Hill or Dannemora High School. Great pages, by the way...Joe Sullivan
---

Subject: Chazy Lake Connections
Date: Sat, 8 Jan 2000 14:32:52 -0500
From: Brendan Gilroy gilroyfam@mindspring.com

Add me to the Chazy Lake connections site. I grew up in Dannemora, one wall away from you at 60 Cook Street, in the home your dad rented to my dad, Carlton Gilroy. I am Brendan Gilroy, and will always remember swimming in Chazy Lake. I am now in North Carolina, and I can't get anyone in my current family to swim in Chazy Lake as it is "too cold".
Thanks for the great photos and history. I recognize many of the family names associated with the 1927 drownings. This is the first time I was made aware of that event.
Brendan Gilroy and family - gilroyfam@mindspring.com

---
Subject: Chazy Lake Connections
Date: Thu, 18 Nov 1999 16:18:33 -0500
From: Dan Sullivan < dans@clarityconnect.com >
Hi! Sign me up for your connections list. I really enjoy logging on to see your photo's of the lake. Gail (Martin) Sullivan, Dannemora, Chazy Lake (Cooper Camp), now in the Ithaca, NY area.

---

Subject: I would like information about a lady called the ''moccassin lady''
Date: Sat, 16 Oct 1999 20:02:19 -0400 (EDT)
From: johnathonhart@webtv.net

She made moccassins to sell. She may have a relative living in orange,connecticut.She could be about 100 years old if still alive today,she was a canadian citizen who moved to Chazy Lake.

---

Subject: Add Me to Chazy Lake Connections Page
Date: Sat, 21 Aug 1999 14:09:35 -0400
From: "Patricia G. Moell" < pmoell@ibm.net >
Hi, Rod,
Please add me to your Dannemora/Chazy Lake connections page. I grew up in Dannemora and remember it fondly as my home town. Thank you for doing these pages. Pat Glasgow Moell pmoell@ibm.net
4812 Deerwood Drive
Raleigh, NC 27612

---

Name: Nick and Allison (Kelly) Iwanowski < allison.kelly@sympatico.ca >
From: Dorval, Quebec and Wilfred King Rd. on Chazy Lake
Time: 1999-08-09 02:43:22
What a great idea to build a Chazy Lake web site! We look forward to seeing you on the lake someday.
We've been at Chazy Lake since 1991, having purchased Harold Wrisley's camp. We love the lake for its clean water and surrounding wilderness. We have climbed to the top of Lyon Mountain every fall since arriving, and really appreciate the arial shot of the lake on your web site. Our camp is one of the last before the dead end, in a small sandy bay. We keep hearing about how the lake used to be much shallower, and how there was a very big sandy beach all along our side. We experienced this back in '93 or '94, when they opened the dam. Do you by any chance have pictures of the lake when it was that low? We regret not having taken any ourselves. Good luck with your new house, it looks great.
Nick and Allison (Kelly) Iwanowski
---
Subject: Lyon Mt.
Date: Mon, 3 May 1999 20:40:31 EDT
From: RWBenjamin@aol.com
Hi = Thanks for the Lyon Mt. photos,it was worth spending a few minutes looking for you. My father was a driller in the mines and my mother was Dr Keysors nurse. Live away from there now and since selling our summer home at Chazy Lake we have little contact but it still has a place in our hearts. Would like to do some writing about the area and the stories I half- remember
from my youth.It's good to know you and your family value these people and their history. Do you know anything about the LaMare or Benjamin families? Yours in the past-S
---
Name: Donna Bourey Allen DMAllen@flash.net
From: Carrollton, TX
Time: 1999-04-26 03:48:48
Comments: I am from Lyon Mountain, a 1969 graduate of Lyon Mt. High. Just decided to see if there was something on line
about Lyon Mt. My dad, Arthur Bourey, was a miner, and the Bourey family have been long time residents of Lyon Mountain
and Standish, NY.
---
Subject: Chazy Lake
Date: Tue, 06 Apr 1999 15:23:53 -0400
From: TAYLOR ELECTRONIC DESIGNS < tayelect@interlog.com >
Dear Rod
My family (Robinsons) have been going to Chazy Lake for over 45 years - We have our camp on the pump house side of the lake - We are located next door to where the Dames used to have their camp. Can't think of our number right now. We have spent many happy summer days there and still get down there for a week or two each summer. It is like heaven on earth. It makes it a lot closer when we can reach it thru the computer. Keep up the good work.
Helen Taylor Toronto Ontario
---
Subject: your website "LYON MTN"
Date: Sun, 17 Jan 1999 05:27:46 -0500
From: "P.Anthony McLeod" < TonyMcLeod@worldnet.att.net >
CC: "Joe & Debbie" < JoeSeadog@fan.net >
Hello, Rod:
I agree with my cousin Joe Yanulavich (your page two entry)... my mother was his father's sister so we have a lot of the same family memories.. the picture is older than 1967, because, in the 50's the houses were well along in years, so your picture was probably taken in the late 30's or early 40's....AND the ore sand pile is "WAY" smaller than I remember it!
Good to see someone is working on keeping the history alive! Tony McLeod
---
Subject: Chazy Lake
Date: Tue, 02 Mar 1999 20:16:57 -0500
From: Brian Heermance < bheerman@mail.mm-m.com >
I was surprised to find your web site regarding Chazy Lake. As a young boy, my father and I would visit his Aunt and Uncle there every year. They had a place on the lake but have long since passed on. I've got two young boys of my own now and would love to rent a place on the lake, preferably with use of a motor boat for fishing. This, I think, would be a great birthday present for my dad- just the four "guys." Do you know happen to know anyone that has a place that would fit the bill?
---
Subject: Great Site! Any info on Mincklers?
Date: Mon, 4 Jan 1999 16:15:56 -0800
From: "lfdbks" <lfdbks@Massed.net>

I found your site most interesting and informative. I was able to print much information from your site for my two daughters. My Grandfather (Leo Dudley) worked at the prison. He died before I was born. He and my Grandmother were married in Lyon Mountain. She was born there on 14 Sept. 1895 Mary Louise Minkler or Minckler. If you have any information on the Minckler family I would be most interested in it. Would glady send any additional info I find on to you.
My Best!
Lloyd F. Dudley
46 Cross Street
P.O. Box 2116
Norton, MA 02766
lfdbks@massed.net

---

Subject: Chazy Lake
Date: Sat, 28 Feb 1998 03:50:38 EST
From: CHAZY SON <CHAZYSON@aol.com>

Hi,
My name is Sally Belden (Cummings) I also grew up in Dannemora and am very interested in your history of Chazy Lake. Thanks Sally

---

Subject: Chazy NY
Date: Fri, 12 Jun 1998 00:26:09 -0400
From: "gary lawyer" <30crunch@sprintmail.com>

ROD I lived in Chazy during my early childhood. my father was a guard at Dannemora. my grandparents and my baby sister are buried at Chazy cemetery. I have only been back to Chazy twice in the past 15 years / last time being 9 years ago. It felt really great to see these pictures that you had of Chazy. Thanks Gary from Syracuse. I now have something to show my kids.

---

Subject: fellow laker camp devils delight
Date: Wed, 5 Aug 1998 20:05:40 -0800
From: "Thomas Strain" <tstrain@ptialaska.net>

Greetings fellow laker, my name is Thomas Strain , I also spent my childhood and summer months at Chazy Lake, were I grew for my appreciation of the great outdoors. I now reside in kodiak alaska but brothers and sisters still have camp there, which is located about at half way point east side of lake the old turners log cabin which was my great gre,,,,,, grandfather so it hasn't left the family. Last time i was there was about three years ago in early november which had record rain that weekend , never seen lake so high water at dam was steaming out. great place love your pictures lyon mnt. always fun to climb. maybe some day we can meet and swap stories it sure is a small world thanks to the internet, my address is tstrain@alaskaptinet so long and enjoy those sun sets.
Glad to have visited your site again, can't get over those great arial shots. I've spread the location of your site to brothers and sisters who own camp on lake . A nephew has taken intrest in contacting you also would like to swap stories history and photos with you and also maps. Have you ever met the witch ? thomas strain 34 family of six own family of three.

---

Subject: History information
Date: Tue, 29 Sep 1998 15:39:45 -0400
From: Judy Harris <explorer@Northnet.org>
Dear Mr. Bigelow,
Found your history page through a patron and am very interested in your Chazy Lake information. I am the librarian at Dannemora Free Library and we will be establishing a web page soon here. I am trying to find links to information such as yours. If you connect to any other links or have any further historical or geneological information, please let me know.
Thanks, Judith Harris (explorer@northnet.org)

---

Subject: Chazy Lake page
Date: Fri, 9 Oct 1998 19:21:01 EDT
From: DennyAT@aol.com

Greetings -
I'm a "born and bred" Chazy laker ...... great grand daughter of Wilfred King. My childhood was spent at the pump house beach. After exploring your web pages, I felt i had to write and tell you just how much i enjoyed them. The pictures are incredible. My family still owns and enjoys a camp on the opposite side of the lake.
Sincerely,
Denise (Denny) Tourville

---

Subject: Hello from an old resident
Date: Sat, 10 Oct 1998 12:04:01 -0700
From: "Susan Heller" < razin@theriver.com >
Hi Rod,
This is Susan Jordan Heller. I walked by your house on my way to school everyday. I must say I don't miss that cold and snow. I live in Arizona now and have for the past 25 years. I was surprised to find anything when I searched for Dannemora and there was all this information. I have several old pictures of my great grandfather, Jerry Haley in front of the wardens house in 1902. Thanks for the information. If you have time write a note and tell me how you and Chris are doing.
Susan Heller
razin@theriver.com

---

Subject: Finding Chazy Lake.
Date: Sun, 25 Oct 1998 14:29:49 EST
From: Lottarocks@aol.com
Hi; I'm a new user from Sunset Rd., Lyon Mountain. My good friend Barb Martin gave me the address for Chazy Lake and your address. After 4 weeks searching for it I found it this PM. Maybe you know my husband the Ford dealer? Would appreciate a reply. Presently I am involved with the project for the Chateaugay Lakes Arts Asso. planning a day on July
17,1999 in Lyon Mountain depicting the history of this town. Can you help?
Make sure to give instructions for dummies!

---

Subject: Old snapshots from Lyon Mt
Date: Mon, 26 Oct 1998 16:20:55 EST
From: MaeKawish@aol.com

What a bit of nostalgia for my Mom and her family. Do you happen to have any kind of dates for these? My Mom was born in 1922 and she is one of nine children of John and Dorothy Smithrovitch. John was a miner and work in and around Lyon Mountain and was involved in a fatal mining accident. Peter, Anthony, Joseph and Charles all worked in and around Lyon Mountain and were employed at one time or another at the local furnace in Lyon Mountain. If you can furnish any information about the family it woul.d be interesting to know and greatly appreciated by all. Best regards, yours sincerely,
Arlene Gambill

---

Subject: Standish, New York
Date: Fri, 25 Dec 1998 19:24:40 +0000
From: Marilyn LaFountain < marilynl@tds.net>
Hello and what a welcome site to visit! My Family, The La Fountain's,are from Chazy Lake and Standish. We have lived in Va. for 20 years now, but, my heart is forever lodged in the north country. I am 31 yr. old Brian La Fountain and I am so very interested in old photos of Standish. If you can help me I would be grateful beyond measure. Please let me know of any sources you might have or know of, if you would, and mysteries might be solved. Here I await,
Brian La Fountain

---


Note1:12/31/98
Please include me in the Dannemora/Chazy Lake gang. Atlanta does not seem that far with e-mail. Anybody aware of a camp to rent next summer on Chazy Lake during first or second week of August?? It would be great to catch up with everybody. We missed the get-together at Barb's in August of 1997 by a week..........Elmon

---

Note2: 12/20/98
Corcoran, Dave ; rvrsege@mcn.net ;
3400 Waterhole Trail,
Bozeman, Montana 59715 ;.
(406) 586-5373
web page www.theriversedge.com.

---

Return to Chazy Lake Page.
The History of Chazy Lake.
The History of Chazy Lake Part II.
The History of Chazy Lake Part III.
The History of Chazy Lake Part IV.
The History of Chazy Lake Part V.
Histories of the surrounding areas such as Dannemora and Lyon Mountain are linked on History Page 1.
This is a view of Chazy Lake taken from the summit of Lyon Mt. summer 95.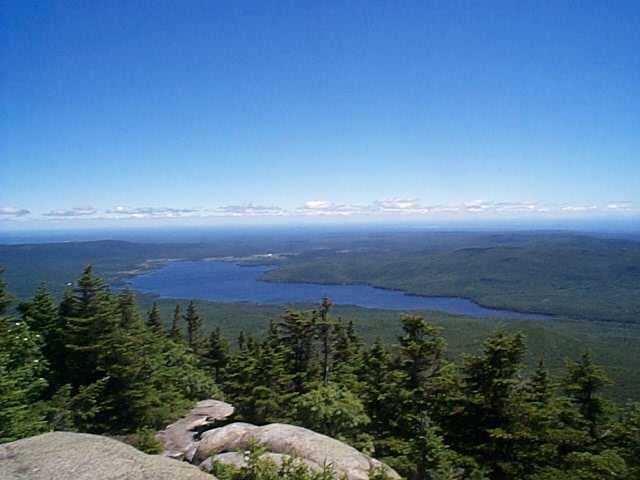 This is a digital picture of Chazy Lake from the summit of Lyon Mt. summer 2000.
Thanks to Jack Wanzung.
Connections continued on Page 2:



GO TO
|| Home Page || History Page || Chazy Lake Page || Stories of Chazy Lake ||

---
Rod Bigelow
Box 13 Chazy Lake
Dannemora, N.Y. 12929

rodbigelow@netzero.net