Charles Henry 8 BIGELOW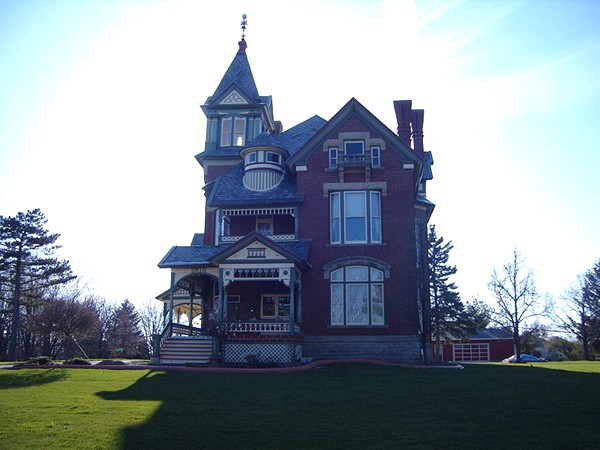 The Charles H. Bigelow House is a historic building in Findlay, Ohio, (see below)
---

16317.552 Charles Henry 8 BIGELOW, son of Phillip Doddridge 7 ( Henry 6 , Azariah 5 , David 4, Lt. John 3, Joshua 2, John 1) and Harriet (FRISBIE) BIGELOW, was born at Findlay, OH on 05 June 1854 (06 May 1854?). He was educated in Findlay, OH and married Flora May Vance on 15 October 1879. He was engaged in early part of life, in banking and became Secretary-Treasurer of the Commercial Bank Savings and Trust Co., in Findley, OH in 1908. He was a member of societies and clubs; Sons of American Revolution, 32nd Mason, Presbyterian. His address was Bigelow Hill, Findley, OH.


Child of Charles Henry and Flora May (Vance) Bigelow:

16317.5521t Bernard Barton, b 05 Aug 1882; d _____ ; m Mable Rhgonny;


Sources:
Bigelow Society,The Bigelow Family Genealogy Vol II, pg 245 child;
Howe, Bigelow Family of America;
Bigelow Society records;
Hine Genealogy and History of the Descendants of Thomas Hine of Milford, CT;
pub. 1898, by Robert C. Hine

New Note 04 Feb 05:
From: Stephanie Reiner farm@metroparks.net
I am searching for the Bigelow family that lived in Marcy, Ohio 1889-1913. I do not know their names, only that they came from Findlay, Hancock Co., Ohio. They may have traded farms with the Samuel Oman family in 1889. A couple of Bigelow are buried at The Trinity Lutheran Cemetery aboout 1 1/2 miles down the road from our farm. I am doing research on the people that inhabited a farm in Marcy from the early 1800's to 1970's. The Farm is an 1880s living historical farm. I just want to fill put family histories for our visitors. I would appreciate the help.
Sincerely,
Stephanie Reiner
House Interpreter at Slate Run Living Historical Farm


Article from "Centennial Biographical History"
CHARLES HENRY BIGELOW:
Born on a farm now included in the corporate limits of Findlay and resident here all his life, the subject of this sketch has pursued the "even
tenor of his way" unobtrusively, fulfilling without ostentation all those duties and meeting all the obligations required of a good citizen. He has
devoted all his time to the peaceful pursuits of farming, his only ambition being a desire to be considered a worthy member of that class whose ingenuity
and enterprise have placed Ohio among the first of American states in all that relates to advanced agriculture. Mr. Bigelow is descended both on the
side of father and mother, from an ancestry that takes us back to the earliest history of America, and to a period very remote in the chronicles of
England. the genealogy runs to 1243. Henry Bigelow, grandfather of the subject of this sketch, was born in Colchester, CT, Feb 20, 1778, and became
a man of distinction in new England. He attended yale college, was graduated there in 1802, subsequently achieved fame as a congregational minister and
died at Middletown springs, VT., June 25 1832. His son, Philip D. Bigelow, was born at Middletown springs, VT, Dec. 1, 1812, came to OH in early manhood
and settled in Hancock co., in 1841. He engaged in merchandising at Findlay, which he followed until 1853, when he purchased a farm near the city and
lived there until his death, which occurred Aug 13, 1868. During his residence in OH he acquired a position of standing influence, serving on the State Board of Equalization in 1859-60, and for a long period as justice of the peace in Fairfield co. July 10 1839 he was appointed by General Wilson Shannon as major of the OH Militia, and in the discharge of this, as of all other trusts conferred upon him, showed himself to be a man of energy and good business qualifications. May 5, 1840 he married in Erie co., Harriet Hine Frisbie, d/o Calvin Frisbie, and the three sirvivors of their five children are Frank F., Charles H. and Ella J., the latter, now the wife of George L. Cusac of Findlay.
Charles Henry, second child, was born 5 Jun 1854 on the farm where he now reisdes, in the present corporate limits of Findlay, OH. He grew up in this place and nearness to town gave him the benefits of good schools, of which he availed himself to acquire a fair education in youth. After leaving college, Mr. Bigelow returned to his farm, the cultivation and care of which has furnished his continuous occupation from that time up to the present. He has made a success of his business and the appearance of his place indicates that he is a painstaking as well as an industrious husbandman. On October 15, 1879 Mr. Bigelow married Miss May, d/o H. M. Vance, member of a substantial family at Findlay. Bernard Barton Bigelow, whose birth occurred on the 5 of Aug 1882, is the only child of this union. Mr. Bigelow is a member of the Sons of the American Revolution and politically in accord with the principles set forth in the platform of the Republican party.


Note:
Subject: Bigelow/Cusac
Date: Mon, 20 Aug 2001 17:51:50
From: "Martha Kincade" < >
Mr Bigelow,
I came across your site while trying to find information on the daughter of Ella Jane Bigelow (16317.553) and George L. Cusac. If you would like to add Ella's date of death to your site, she died in Findlay, Ohio Feb 1, 1922. (Hancock County Ohio Deaths, Volume 3804, Death Certificate #9545 ) She is buried in Maple Grove Cemetery.
There is a slight error on the Phillip Doddridge Bigelow (16317.54) page. Findlay is in Hancock County instead of Erie County.
Sincerely,
Martha Kincade


The Charles H. Bigelow House is a historic building in Findlay, Ohio, United States, that was listed on the National Register of Historic Places on March 29, 2006. The home is considered to be a fine example of a Painted Lady, or polychrome Victorian architecture.
The house was built between 1888-1889 during a period of rapid economic growth in Findlay. The 7,500 square foot house was designed by architect Henry Oswald Wurmser in the Queen Anne, Stick/Eastlake style. The owner, Charles Henry Bigelow, was a son of an early settler and community leader, who built on his father's achievements to become a successful farmer, livestock breeder and business leader. Bigelow was one of many Findlay residents whose fortunes grew along with the booming regional economy of the late 19th century, spurred by discovery of gas fields nearby. Bigelow later married May Vance, a relative of former Ohio governor Joseph Vance.
The construction of the home during the gas boom of Findlay is evident by the many gas using fixtures original to the home. It originally had seven gas fireplaces, and many gas lamps. The original oriental brass light in the newel post is shaped like a dragon which breathed fire when the gas was lit. All have since been converted to wood burning fireplaces or electric lights. In 1989, the exterior of the home was restored and repainted in a cracker cream, cottage red, village green, and lighter green in order to highlight the woodwork.
In 1992, the house appeared in Elizabeth Pomada and Michael Larsen's America's Painted Ladies: The Ultimate Celebration of our Victorians, a catalogue of exceptional polychrome Victorian or Edwardian homes. In 1995, the house appeared as a featured act of David Copperfield's The Magic of David Copperfield XVI: Unexplained Forces, although its history was falsified and it was referred to as the "Barclay House".

---
Modified - 02/05/2005
(c) Copyright 2005 Bigelow Society, Inc. All rights reserved.
Rod Bigelow - Director
< rodbigelow@netzero.net >
---
Rod Bigelow (Roger Jon12 BIGELOW)
P.O. Box 13 Chazy Lake
Dannemora, N.Y. 12929

< rodbigelow@netzero.net >