DAVIS Family
2005
---
This page contains more pictures from Beverly Barnhart
Back to holden05.htm


Davis Genealogy from Beverly Barnhart



Robert Davis was born in 1608 in England. He came from South Hampton in 1638 as servant to Peter Noyes. Robert moved to Yarmouth, MA in 1643, where he married Ann. They moved to Barnstable, MA in 1645 where Ann became a member of the church in 1685. Robert's will was written on April 14, 1688 and probated June 29, 1693. Ann was born in 1608 and died in 701. Her will was written May 6, 1699 and probated on April 1, 1701. They had the following children.
1. Deborah Davis, born January 1645 at Yarmouth, married Thomas Green, and died in
1736.
2. Mary Davis, born April 28, 1648 in Barnstable, married Benjamin Dexter and died in
Yarmouth.
3. Andrew Davis, born March 1650
4. John Davis, born March 1, 1652
5. Robert Davis, born August 1654 and married Sarah Archer
6. Josiah Davis, born September 1656, married Anne Taylor and died in 1710.
7. Hannah Davis, born September 1658, married a Dexter
8. Sarah Davis, born October 1660, married Joseph Young
9. Joseph Davis, see below
10 Mercy Davis married 1st Nathaniel Young and 2nd Nathaniel Mayo.

Joseph was born on March 28, 1665 in Barnstable. He married Hannah Cobb, daughter of James Cobb and Sarah Lewis, at Barnstable in March of 1695. She was born March 28, 1671 in Barnstable. Joseph joined the local church on July 14, 1706; Hannah had joined early on March 6, 1702. Joseph was a proprietor of the new meetinghouse built in 1717. Joseph died on August 10, 1735 at age seventy and Hannah died on May 3, 1739, aged sixty-eight, both at Barnstable. Their children were:
* 1. Robert Davis, born March 7, 1696, married Jane Annable, and died Jul 1765
2. Joseph Davis, born March 23, 1698, died in 1698
3. James Davis, born July 30, 1700, married Thankful Hinckley, and died in 1745.
4. Gersham Davis, See below
5. Hannah Davis, born March 5, 1705, married Samuel Hinmcock and died on
September 13, 1755.
6. Mary Davis, born June 5, 1707, married Mathias Gorham
7. Lydia Davis, born February 12, 1709, died on December 30, 1763
8. Daniel Davis, born August 28, 1713, married 1st Mehitable Lothrape and 2nd
Mehitable Sturgis. He died on April 22, 1799, aged eighty-five.

Gershom Davis, born September 5, 1702 in Barnstable, Massachusetts, married Elizabeth Sturgis, who died after the birth of their first child in 1727.
**1. James Davis, born June 2, 1727, married Jean Bacon
Gersham married 2nd Mary Hinckley, born February 25, 1702/3 in Barnstable on September 23, 1731 at Barnstable. Mary was the daughter of Joseph and Mary (Gorham) Hinckley, both from Barnstable, but whose ancestry goes back to North Hampton, England. Mary died March 31, 1756 at age fifty-four. They had six children, all born in Barnstable.
**1. Robert Davis, born July 12, 1732
2. Samuel Davis, see below
3. Elizabeth Davis, born September 12, 1734
4. Mary Davis, born December 5, 1740
5. Abigail Davis, born September 12, 1744
6. Marcy Davis, born February 4, 1747/8
Gersham married 3rd Thankful Skiff in 1757.

Samuel Davis, born September 13, 1734 in Barnstable, Massachusetts, married Mary Gorham, born June 16, 1735 in Barnstable. Her parents were Ebenezer and Temperence (Hawes) Gorham, both from Barnstable. Samuel died in 1791 in Gorham, Cumberland, Maine aged fifty-seven, and Mary died September 13, 1784, aged forty-nine. They had seven children, all but the last born in Barnstable.
***1. Gershom Davis, born November 30, 1785
2. Ebenezer Davis, born July 6, 1760 and died young
3. Samuel Davis, born June 11, 1762, married Mary Skillings, born January 13, 1762 in Gorham, Cumberland, Maine, on November 11, 1748 in Gorham. They had fourteen children. Both Samuel and Mary died in Standish, Cumberland, Maine, Samuel on January 22, 1856 and Mary July 25, 1825.
4. Mary Davis, born September 25, 1763
5. Ebenezer Davis, see below
6. William Davis, born January 9, 1771 and died in Jackson, Waldo, Maine
7. Elizabeth Davis, born April 14, 1777 in Gorham, Cumberland, Maine

Ebenezer Davis, born February 14, 1765 in Barnstable, married Mary Paine, born October 23, 1767 in Eastham, MA, on February 18, 1790 in Gorham, Maine. Mary's parents were William and Sarah (Mayo) Paine. William's family came from Massachusetts and Sarah's from Maine. William was a shoemaker as well as a soldier in the Revolutionary War. He traveled with his parents to Gorham, Maine in 1770, there meeting Sarah.
Ebenezer was a soldier in the Revolutionary War as well, and afterwards likely he and Mary moved to Wilson, New York. Ebenezer and Mary both died in Wilson, Ebenezer on April 20, 1818 and Mary on August 5, 1839. They had at least three children:
****1. Sarah Mayo Davis, born October 10, 1799 in Gorham, Maine
2. Nathaniel Emmons Davis, see below
3. Robert Davis, born 1808, married Orpha Pomeroy in 1835, and died in 1869.
Their daughter was:
*****1. Anna Roanna Davis, born 1837, married Isaac Longyear, born 1829, in 1857.
She died in 1925. They had three sons.

Nathaniel was born probably in Gorham, Maine in 1807. He became a farmer and married Sarah Ann Holmes in 1829 at Saratoga, New York. Sarah was born in January 9, 1812, the daughter of Daniel and Sally (Taylor) Holmes. Sarah finished her education at Cazenovia in April of 1829, and then married Nathaniel. They had three daughters and six sons. Two of these sons died from disease in the Union Army the first year of the Civil War. Nathaniel died April 2, 1883 at age seventy-six, and Sarah October 2, 1864, aged fifty-two, at Wilson, Niagara, New York.
*****1. Sarah Maria Davis, born May 31, 1830, married Jabez Seldon Woodward, born April 4, 1831 in Phelps, Ontario, New York, on June 1, 1854. He was a farmer, hardware merchant, editor and proprietor of the Rural New Yorker and resident of Lockport, New York.
They had two daughters and a son:
****** 1. Etta (Sarah) Woodward, born 1857 in Lockport, married Thomas McCombe in 1880. They had two sons.
2. Elida Woodward
3. Milton Woodward

2. Samuel Davis, born December 14, 1831, married Proxy Barnes in November of
1854. He entered the Union Army on December 16, 1862 and died at Lagrange,
Tennessee. They had one daughter:
1. possibly Jennie Davis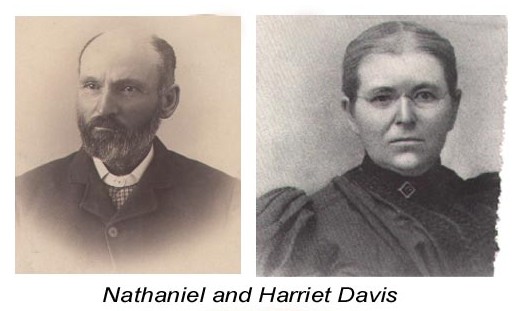 (natdavis.jpg) Picture from Beverly Barnhart


3. Nathaniel Emmons Davis was born January 21, 1834 in Wilson, New York. He was educated at Union Academy near Wilson. He volunteered for the Union Army and became a courier and bodyguard for General Rosecrans. On one mission, he was confused as to which side of the Mason-Dixon line he was on and was captured by four Confederate soldiers. They took his dispatch case, but didn't search him thoroughly. He had hidden some Union money and gold in his inside shirt pocket. He was then sent to Libby prison for a short time, and then transferred to Andersonville. Nathaniel was a quiet man and rarely talked about his time in the prisons, in fact, when asked, he said, "There is only one word for war, and it is not appropriate to say in front of people." One day, while herding sheep with his son, Robert, several stories did come out. During one situation, water was scarce, and the prisoners would have to wait half an hour to get water. Many of the men couldn't get to the water so they were dying. The prisoners decided to call a prayer meeting. Before their very eyes a spring broke out within the walls of Andersonville. Nathaniel and several of his buddies decided to dig a tunnel under the walls of Andersonville. They dug at night and hid the dirt under their sleeping board so the guards wouldn't see it. The night they were to escape, Nathaniel decided to stay as they had heard rumors of the war nearly ending and there were hundreds of miles of enemy territory to cross before they would be safe. Thus Nathaniel gave him his Union money and gold and sent them on their way.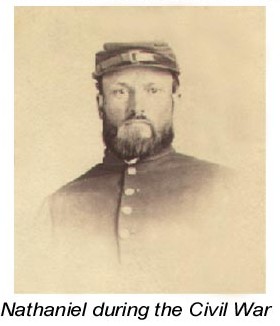 Role call was given every day and there was a particularly mean guard who would call it. He had been known to shoot any man who did not answer roll call. Nathaniel had become very ill and was so ill that his buddies would hold him up so he could answer it. He eventually became so ill that he didn't know when the war was over. They surrounding people took the soldiers into their homes and nursed them back to health. After recovering, he returned to his hometown. Later, after settling in Fairbury, Nebraska, he received letters from two of his three friends who had escaped. They had sent the equivalent of the money he had loaned them.
Nathaniel then traveled west to Fairbury, Nebraska and took up a homestead, building it up before returning to Wilson to get the girl he left behind, Harriet Elizabeth Holden.

They traveled by train to the end of the railroad line in St. Joseph, and then traveled by wagon, hooked on one side by a horse and the other an ox. This was Harriet's honeymoon. They settled four miles south of Fairbury, near the Little Blue River. Many times the river would flood and Nathaniel would set out to get theirs and the neighbor's mail. He would take a washtub down to the river, put his clothes in it and push it across the river, and then when he got to the other side, he would put his clothes back on and go into town. They raised their four children there. Both Nathaniel and Harriet died in Fairbury.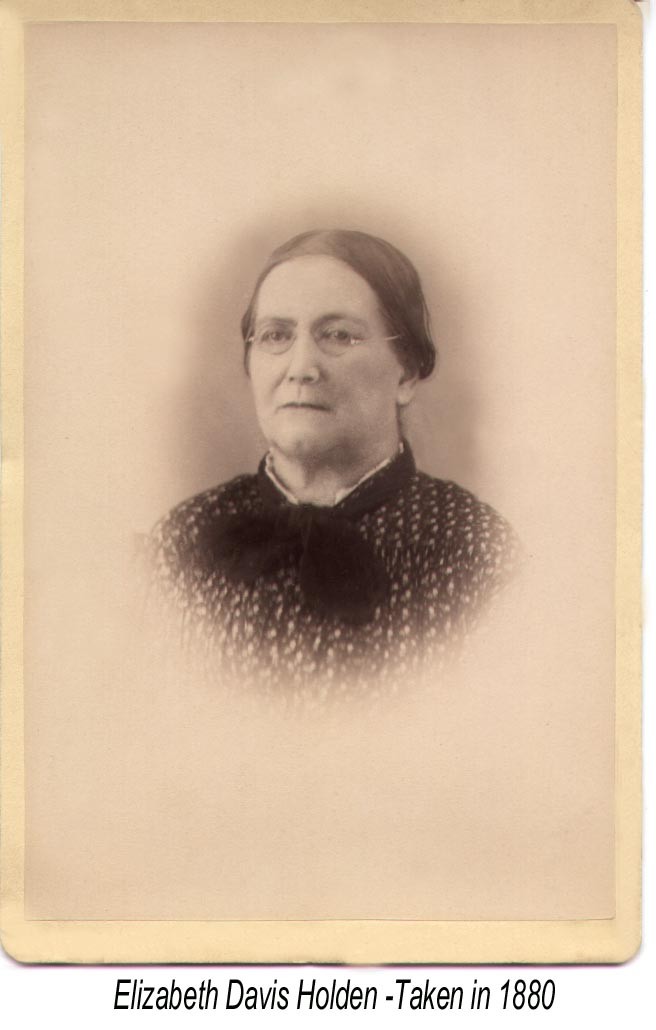 (lizdavis.jpg) From Beverly Barnhart
I believe this is Harriet Elizabeth (Holden) Davis wife of Nathaniel



Children of Nathaniel and Harriet (Holden) Davis:
****** 1. Lucinda Davis, born November 28, 1870, died September 7, 1871
2. Jabez Emmons Davis, born December 4, 1872 near Fairbury, Nebraska and became a teacher in Jefferson County, Nebraska for several years. He also became a stationary engineer and went with a threshing machine through central United States, up the Red River Valley into Canada and there in about 1904 took a homestead near Rainy River, Ontario, Canada. He died May 20, 1907 of heart failure in Rainy River. Friends in Rainy River Cemetery interred his body. He was thirty-five and had not married.
3. Robert Elton Davis, born October 19, 1874 married Daisy Gertrude Whorley, born May 2, 1876 on June 6, 1906. Robert became a circuit-riding preacher leaving his wife on their homestead for weeks at a time to travel his circuit. Gertrude was very frail and unable to cope. She was hospitalized in an institute for the mentally handicapped. She was kept there until her death on September 30, 1957. Robert died February 10, 1947 at Wendell, Idaho. They had five children.
******* i. Stanley Dean, born August 14, 1908 near Phillips, South Dakota, married Olive Edith Mattox Pedro, born August 19, 1904 and had three children. He was a laborer and truck farmer.
******** a. Carroll Dean, born February 14, 1940 and married Mary.
b. Sharon Kay, born March 11, 1941 and married William Cockron
c. Karen Faye, born March 11, 1941

ii. Stella Maude, born March 18, 1912, married James Ranson Pennington, who was born August 18, 1899, on September 6, 1932. He died in the spring of 1961. They had one daughter.
******** a. Judy Ann, born May 24, 1942, married Neal Allen, born November 28,
1943 on December 21.

iii. Phillip Claude, born March 18, 1912, married 1st Grace Goff on July 4, 1935 and 2nd Mary Holridge, born March 26, 1918. Grace and Phillip had two sons:
******** a. Richard Phillip, born October 30, 1936
b. Gerald Robert, born October 31, 1838

iv. Sarah Mary Davis, born January 21, 1916, married Chester Kay Peak, born August 5, 1911 on October 14, 1935. She died February 23, 2003. They had three children:
******** a. Earl Davis, born June 5, 1936
b. Charles Alvin, born October 7, 1937
c. Mary Marlene, born July 14, 1940

******* v. Faith Elizabeth Davis, born March 28, 1917, never married and became a nurse, working in the Salvation Army with the rank of Lieutenant. She is still living as of July 2004.

******4. Jason Davis, born ? married Mary ? and had one son:
******a. J. Leroy Davis, born August 2, 1808 married Mary

5. Sarah Elizabeth Davis was born June 29, 1881. She was educated at the Quaker Academy in Kansas and graduated and taught school for over ten years in Nebraska. In March of 1914, she homesteaded a site in eastern Colorado and taught for three years there. It was a Literary that she met William McCormick, born February 16, 1873. He had a homestead just a mile and a half from hers. They married on December 25, 1916 in Seibert, Kit Carson, Colorado. They had three children all born on the homestead. After things became too difficult for them to care for things, their son, Cecil moved them to his homestead in Adrian, Oregon. It was there that both William and Sarah died, William on September 15, 1955, and Sarah in 1963

*****4. Henry M. Davis, born December 13, 1835, was a teacher, professor, farmer, justice, and lawyer in Wilson, New York. He married Christine Turner in 1875. They had two children:
****** a. Fred
b. Jessie

5. Eliza Davis, born January 15, 1838, died May 15, 1859 of fever in full vigor of young and accomplished womanhood at the age of twenty-one.

6. Daniel Holmes Davis, born April 14, 1839, was the first in his town to volunteer when President Lincoln called for 75,000 men to quell the rebellion in 1861. He was in the 28th New York Inventory. He died May 14, 1862 of a fever in a field hospital, and his brother Nathaniel took his body home to Wilson. Amid sadness and gloom, he was the first soldier buried in his native town. He was twenty-three.

7. Mary Elizabeth Davis, born January 26, 1842, married George W. Perrigo on April 26, 1864. They had three daughters and two sons.
****** a. Sarah A
b. Elizabeth A.
c. William George
d. Henry L.
e. Mabel

*****8. Luther Crocker Davis, born October 3, 1846 in Pendleton, Washington County, New York, was educated at Wilson Collegiate Institute and married Amanda E. Foot, on January 1, 1877 in Fairbury, Jefferson County, Nebraska. She was born January 9, 1848 in Pendleton. She died May 18, 1874 at Fairbury, Nebraska, leaving their daughter.
******1. Cora Davis, born February 1872
Luther then married Marietta Babcock, born about 1850, on February 7, 1877. They had two daughters and three sons.
2. Marietta
3. Bertha
4. Charles Luther
5. Norman married and had son Luther who died in Colorado
6. Holmes

9. William Edward Davis, born August 2, 1850, was educated at Wilson and at Commercial College in Poughkeepsie, New York. He was railroad ticket agent at Hannibal, Missouri for several years and then was assistant-general ticket agent of Chicago and Grand Trunk Railroad Company. He married Mary Long on March 17, 1870. They had one son.
****** 1. William E., born 1871
Sources:
Howe, Bigelow Family of America pg ;
Bigelow Family Genealogy Vol I;


Note:
Subject: Ezra and Deborah (Bigelow) Holden
Date: 08/27/2005
From: Beverly Barnhart < bevjbarn@yahoo.com >
Hello,My name is Beverly Barnhart. I have been researching my family, which through a long line leads back to Ezra and Deborah Bigelow Holden. Their son Ezra Shattuck married Elizabeth Davis, who is my 3 greats grandmother. I don't know if you are interested, but I have her birth and death date, as well as Ezra Shattuck's as well as pictures. Are you interested in these to have posted on your site? I also have pictures of Elizabeth's parents, Jason and Martha (Phillips) Davis, and Ezra and Elizabeth's children. (They had nine, only four living to adulthood.) I also have pictures that are unidentified, am curious if you know of anyone who might help me. They are somehow associated with the Holdens. I also have pictures of Joseph and Susan (Brown) Holden, who was Ezra Shattuck's brother.

Do you have pictures of Deborah and Ezra or any of their kids, besides Ezra S. and Joseph? Also do you have any info regarding Ezra and Deborah, besides birth and death info, maybe an obit (may be too soon for that) Anyway, if there is anything I can do for you, let me know.

Beverly Barnhart

Beverly sent me many pictures and Genealogies of Family: Davis, Holden page 1 , Holden page 2, Holden page 3, Holden page 4, Darby,
Holmes pictures, Baguley and Flagg family .....................ROD 10/20/2005



---
Modified - 10/22/2005
(c) Copyright 2005 Bigelow Society, Inc. All rights reserved.
Rod Bigelow - Director
< rodbigelow@netzero.net >
---
Rod Bigelow (Roger Jon12 BIGELOW)
P.O. Box 13 Chazy Lake
Dannemora, N.Y. 12929

< rodbigelow@netzero.net >

BACK TO THE BIGELOW SOCIETY PAGE

BACK TO BIGELOW HOME PAGE